news from oneida - news from oneida - news from oneida - news from oneida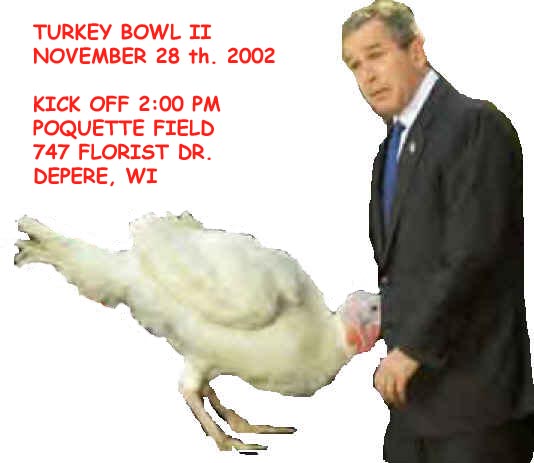 "AT THE KAT AND MICK REPORT WE DON'T MAKE THE NEWS, WE JUST REPORT IT"

4-7-02

PICKETT - KAMKE WEDDING SHOWER HUGE SUCCESS AS WINTER HOLDS A GRIP ON NORTHEAST WISCONSIN.

Oneida WI - With winter and daylight savings time working against the event planned at the now Village Hall in Hobart, success by planners can be claimed.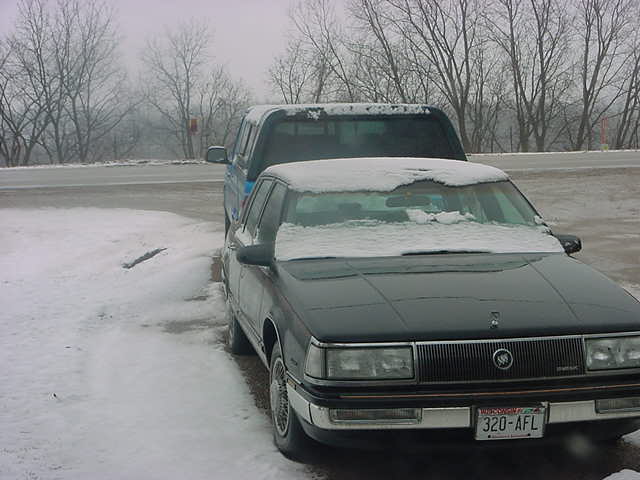 Snow fell as guests left the festivities at the village hall, but as they left they could be heard talking about the good time they had and a large number rejoiced in the fact that they had won door prizes. Many people on the Kamke side were wondering if they would make the coverage in

WINTER HOLDS TIGHT ON N.E. WISC. AS THIS PHOTO TAKEN THIS MORNING SHOWS

THE KAT AND MICK REPORT for Apr. 6. There was a lot of great food on hand from Marie Krohn and deviled eggs compliments of Rosie Poquette.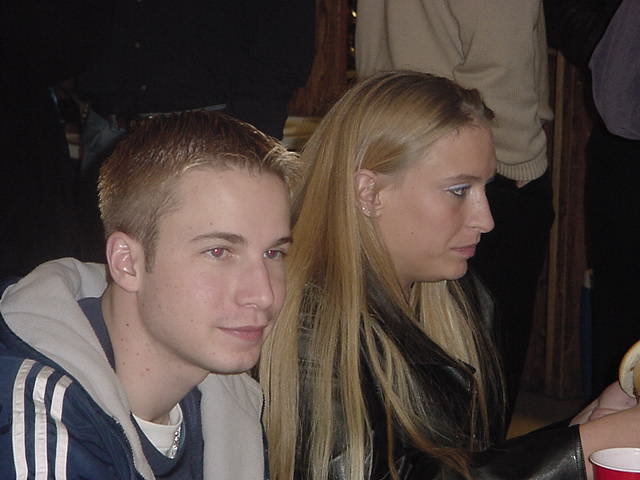 Music was provided by myself and I was assisted by Sarah (more commonly known as Saratonen). Rick and Rick helped pick up and move equipment. Thanks to everyone who helped out to make this party a succuss.

BEN AND KELLY VISIT WITH ZEUS AND SPONGE BOB

Shelly and Joel Sobieck's absence from the shower is understandable as Shelly closes in on her delivery date of April 13th. With only six days left before delivery her, tall frame now carrying the child high off the ground has disrupted her natural center of gravity causing her to topple over with out notice. With the concern that people could become injured should they unknowingly be caught in the impact zone of her falling body, it was thought that it would be better for her not to attend. Thus saving the embarrasement of having to whisk away injured, smashed people to the hospital. There is still time to get in on the pool on when her delivery date is and what the sex of the baby will be by calling Trixie at 920-869-1364 or e-mail at
esobieck@msn.com
.
    Speaking of babies, as reported Stephanie is impregnated and the delivery date is November 10th. Research done on this date in the Chinese calandar reveals that the child will be a boy! The calandar was unable to tell us however if the boy will become President of the United States.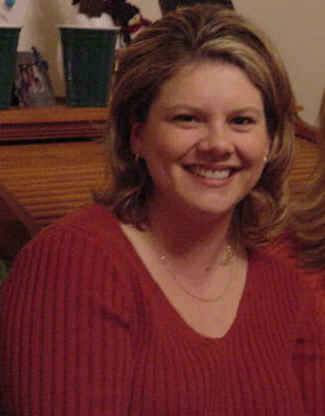 We were assured by Rick though, that he will become a productive member of society as opposed to a non producer. Rick says that he would not be able to endure the ridicule should he take a job with government.

    Cheryl finds that Bellville Ill. is too cold to make this place a permanent home. Placed in the middle of a corn field on the outskirts of St. Louis, the Air Force base she is stationed at has proven to be an isolated camp with little in the way of ammenities.

STEPHANIE FINDS HERSELF IMPREGNATED WITH A BOY BABY (PREDICTED BY CHINESE CALANDAR)

Steve and Cheryl have decided to keep their house in Fort Walton Beach, and make the stay in Bellville a temporary assignment. When the duty for Cheryl is up in Belleville Ill. they will return to their house in FWB. This is good news for visitors (like Kat and me) who would rather visit in a warm climate rather then in the heart of corn country.

    Tim Lade who with two partners has started their own company now has a new website up.
www.nu-techcorrugatedsystems.com
offers an insight into the new company and a little background into the founders. It is a nice professional looking website that is sure to grow in pages as the company grows.
    The web poll on the bottom will run one more week with the voting now standing at nine votes total. The choice of having the election for a new head cheerleader is leading by only one vote. There has also been little in the way of nominations for a head cheerleader with only one nomination being e-mailed in. If no other nominations are e-mailed in by April 14th. then Dick Poquette will win by default and become the new head cheerleader. If you know someone who you think could do better click
NOMINATE A HEAD
and submit your selection. Thats all the news that is news, see ya.
4-14-02

SOBIECK BABY BORN - IT'S A GIRL!

Oneida WI - Unable to hold it any longer, Shelly Sobieck gave birth on Saturday to a baby girl. Her water broke on Friday Night and the ordeal ended on noon Saturday with the announcement of the delivery of a 7lb. 14 oz. baby girl. At this time it is unclear who has won the contest to guess the arrival of the the new family member because Lola Sobieck (a new grandma again) has the official list of guesses locked away in her safe and under guard 24 hrs. a day.

    The Kat who is a daily walker has now trimmed her walking time down to 18 minute miles from the starting point of 30 minutes. She attributes this to her great loss of weight which is now over the 100 lb. mark. When the Kat reaches her goal weight THE KAT AND MICK REPORT will feature a montage of photos by the month of her weight loss.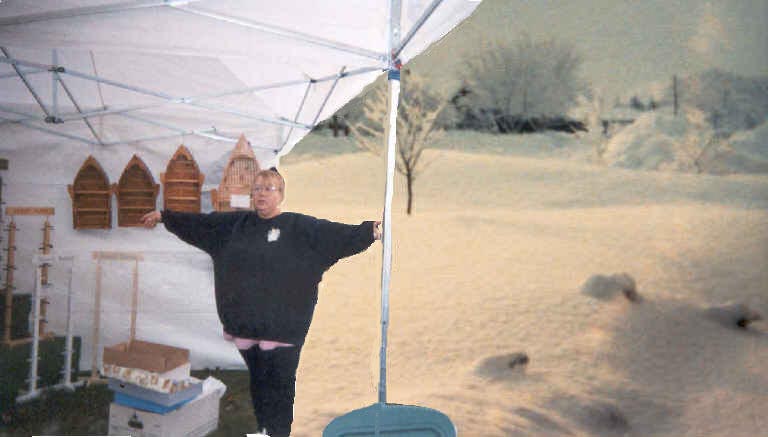 THE KAT SEEN AT CRANBERRY FEST IN EAGLE RIVER BEFORE THE WEIGHT LOSS PROGRAM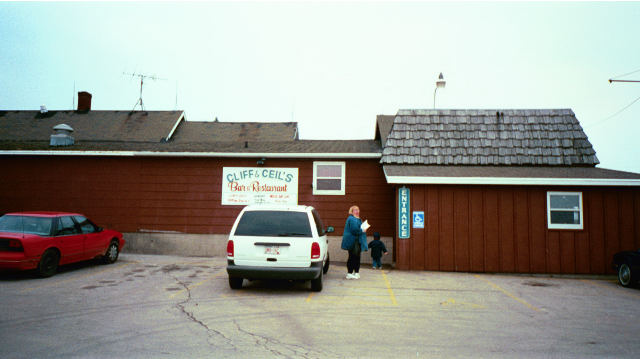 Chicken Night saw a pair of newcomers this week with the appearance of Joe and Amy Siehr.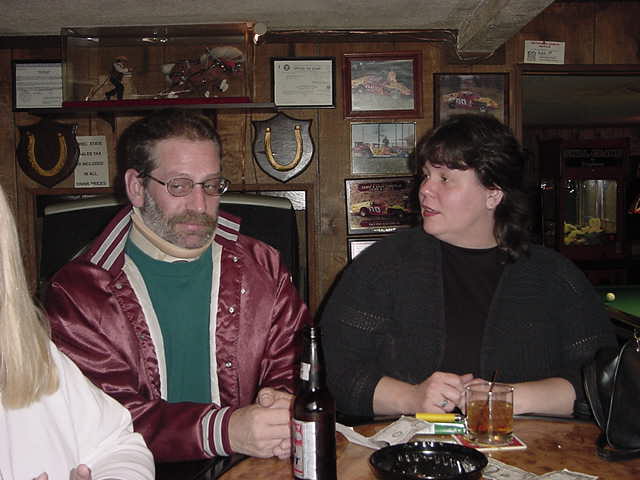 Somewhat hesitant at first to experience the Chicken Night ritual Joe and Amy said at the end of the night that it was fun and they may do it again. Joe, seen in the photo is still in a collar after his surgery to install a bionic neck.

As required by the XPFL at least one official is required to have a neck that will rotate 360 degrees, and Joe had graciously volunteered to have the surgery to have this done. However there is a problem with the bone inplanted in his neck from a dead guy, or guys, who knows how many dead guys this bone was in. They may just keep using it over and over I don't know how many times. Amy announced that she has had an addition to her tattoo and displayed it proudly for the readers to see.

A SMALL FROG POKES HIS HEAD OUT FROM BEHIND THE SHAMROCK

As usual Trixie was trying to set up Brittany with one of the buss boys, which she named Kevin. His real name is not known to the CN crowd and is now being kept secret from Trixie especially, so as not to give her a

chance to stalk him as she has done in the past. She commonly finds young boys and badgers them into proposing marriage to her daughter Brittany. So far this has not worked, but she has not been arrested yet under the new stalking law.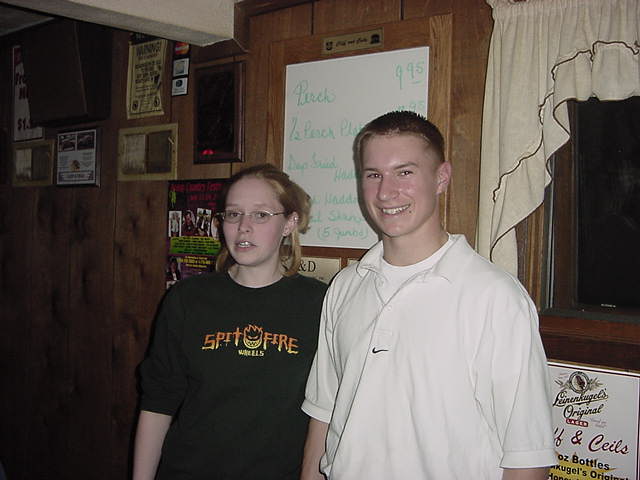 BRITTANY WITH UNKNOWN BUSS BOY

Perhaps the highlight of the night, was the appearance of an unlikely combination of a major science fiction writer and director, and a historical figure wanted for many evil acts during World War 2. Arriving late, well after the consumption of the

wonderful bird, these two icons endured the jeers of the Chicken Night crowd refusing to turn their faces toward THE KAT AND MICK REPORT cameras.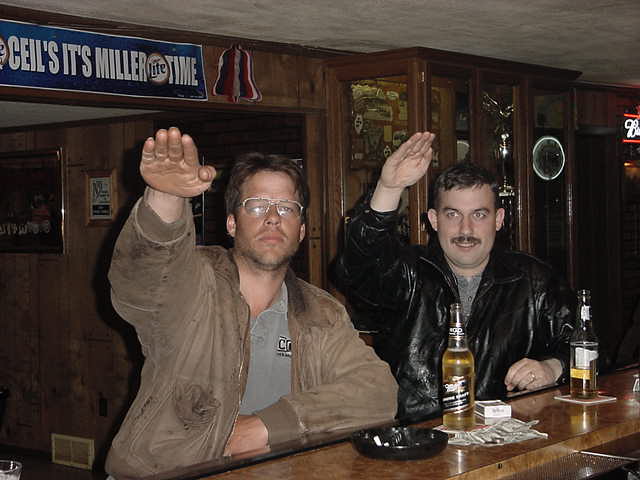 STEPHEN KING AND ADOLF HITLER TOGETHER AT CHICKEN NIGHT

Only a free round of malted beverages convinced the pair to show their true alliance to the world as caught on Kat and Mick cameras.

There were many candidates for head cheerleader submitted this past week, and the election will be held in next weeks newsletter. The poll to have an election was a resounding yes, with 11 yes votes and 4 no votes. The candidates for Head Cheerleader will have one week to decline their nomination by getting word to THE KAT AND MICK REPORT offices by 8 PM next Saturday of their withdrawl. Here is the list of candidates - Dick Poquette, Stephanie Prevost, Trixie Sobieck, Cheryl Purshock, Scott Stangel, Jean Poquette Hansen, and Sue Wenzel. Nominations are now closed. That's all the news that is news, see ya.

4-21-02

WEATHER IN ONEIDA BREAKS HEAT RECORDS - KAT AND MICK FORCAST HOLDS TRUE

Oneida WI. - As predicted in previous news letters the mercury shot up as did vegetation in the Oneida area due to summer like temps and sunshine during the past week. If you recall, that weather was predicted right here in the Newsletter, proving once again you need not go anywhere else for weather information. Remember to keep coming back for further predictions of local weather.

    As reported last week Joel and Shelly Sobieck had their baby and mother and child are doing well. The winner of the Baby pool was not available at press time last week but can now be reported. Justin Sobieck predicted the event to the day as well as the gender of the child, while your reporter predicted the day right but was unable to predict the correct gender of the newborn.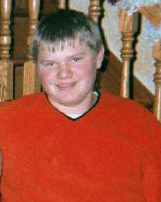 I would have won over Justin if I would have picked the gender right due to the fact that I did pick the time of birth closer. I consider this to be a flaw on the Sobiecks part. Justin has decided that the huge pot of money won on this event would be best utilized by the Child itself. Baby girl Sobieck has had a college fund started for her and the winnings from the pool are the first deposit.

Congratulations Justin!

JUSTIN SOBIECK PREDICTS CORRECT DATE AND GENDER OF SOBIECK BABY

    Tim Lade is a Grandpa, with the arrival of his son Dennis'  child.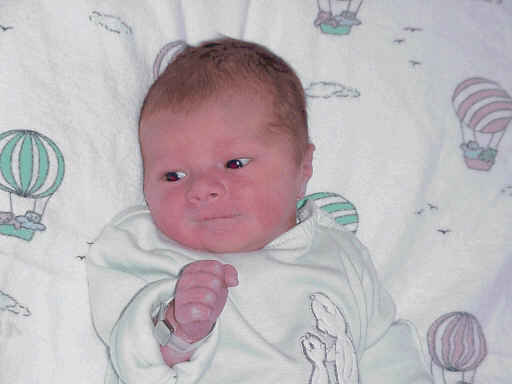 The childs name is Michael (a wonderful selection)  mother, and child are doing well. The baby photo once again proves my theory that all newborn babies  look like baby gorillas.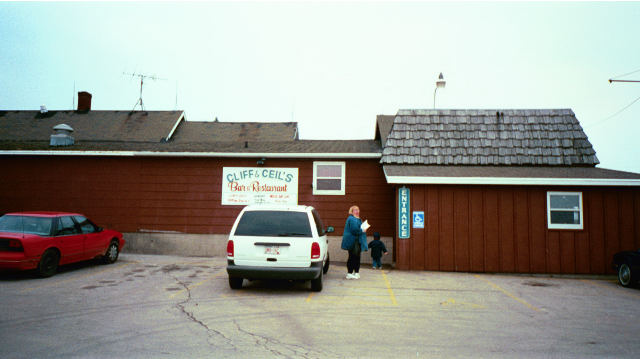 Chicken Night this week was rather poorly attended with only the Lades and the Picketts on hand. We were also joined by Tim's adopted son, Andy,  from a previous workplace,  and his main squeeze Jen. The staples of Chicken Night, and two out of the three members of the Axis of Evil,  Queen Jean Poquette Hansen, and Trixie Sobieck were not on hand. As a matter of fact no Sobiecks showed up at all. Once again with many CN members not in attendance, amenities not usually offered to the large group were offered up as incentives for past CN visitors to return. Extra Chicken and free drinks were a plenty for those in attendance this week.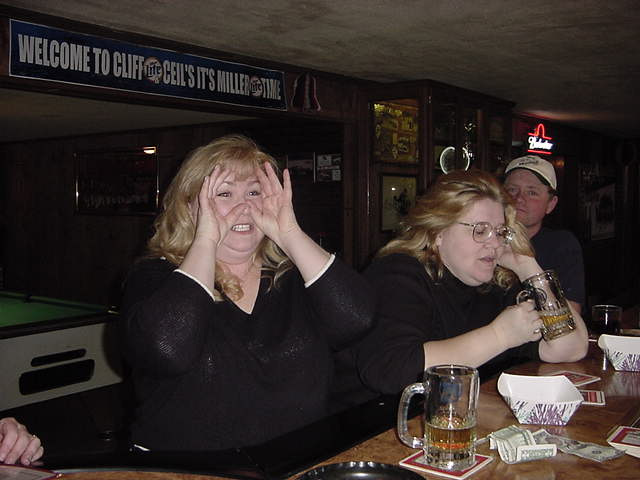 TWO OF THE THREE MEMBERS OF THE AXIS OF EVIL NOT AT C.N. THIS WEEK

It was also quite nice to relax and have a few drinks without the Queen and her throng of Zealots badgering unknowing patrons of the bar into some embarrassing circumstance. Only when the Queen and her entourage have left do they realize their dignity has been violated. Perhaps future Chicken Nights will produce a more calm respectful environment, but I doubt it. Chicken Night is every Friday Night at Cliff and Ceils bar, join us if you can stand the antics of the regular Chicken Night crowd.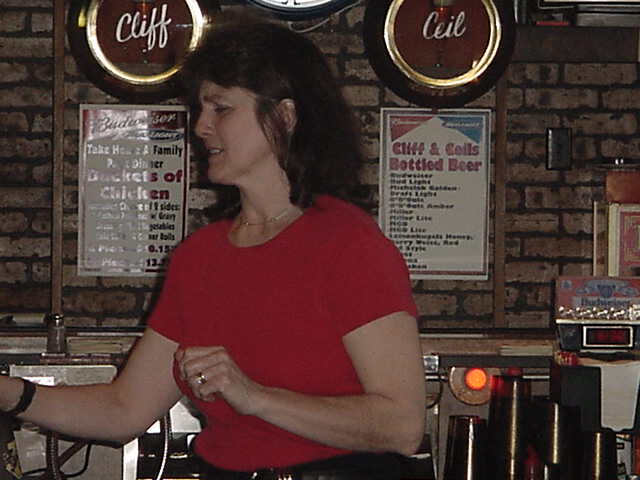 WYNONA SERVES FREE DRINKS TO THE FEW MEMBERS WHO SHOWED UP AT CHICKEN NIGHT THIS WEEK

    This of course is the week of the big election for the Head Cheerleader. No candidates have withdrawn, so the ballot will contain many choices. Voting will be available for two weeks from today ending at midnight May 4. Remember for the good of the XPFL vote with your head not with your heart. Good luck candidates!

VOTE FOR ONE CANDIDATE ONLY

Thats all the news that is news, see ya.

4-28-02

KAT AND MICK REPORT ADDS SPORTS COMMENT PAGE

Oneida WI - Yes it is true,
THE KAT AND MICK REPORT
long known for it's fair, accurate and comprehensive local news reporting has added a sports comment page. Now in addition to news you can trust you can also enjoy local and national sports views by a leading sports columnist. S Lyle O'Connor joins
THE KAT AND MICK REPORT
crack staff of reporters and writers to bring you sports comment like no other website can provide. Articles in the 
SPORTS PAGE
will be published when the need arises to comment on timely sports issues (that's means it's when S Lyle O'Connor feels like it) and of course it will be fair and accurate just as the
Newsletter
is.
THE KAT AND MICK REPORT
welcomes O'Connor to it's staff and knows that he will carry on the time-honored tradition of reporting sports in the same way we report news. "We don't make the news, we just report it."
    Brian Pickett and Sue Stevens were wed on Saturday in a ceremony at the Episcapal Church on County E, town of Hobart. After the 45 minute ceremony the guests were directed to the Gas Light Inn for coctails and then a dinner was held at the mission building accross from the church. The beautifully restored building was the perfect place for dinner which was catered in by Julie's Cafe.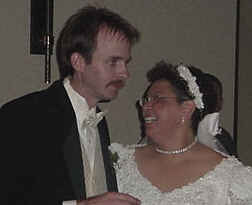 MR. AND MRS. BRIAN PICKETT

After the meal the guests moved to the Iroquois room of the Radison Inn for dancing and Coctails. Music was provided by Music in Motion who did a fantastic job (I would have cranked up the bass and brought the midrange down though) The Bride and Groom who met while

babysitting for each others children will live in Green Bay, in a house they have purchased on Henry St.

Dancing and coctails continued on late into the night and everyone had a good time. Many family members on both sides who haven't seen each other for some time got caught up on the news and reminisced with traditional family stories. Anyone who was invited and did not attend certainly missed a fun night and unless you have a good excuse will certainly be severly reprimanded upon the next public gathering.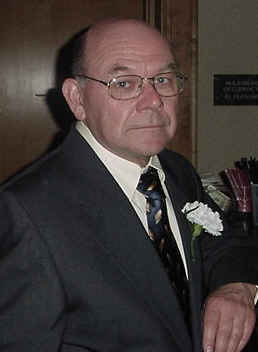 FATHER OF THE GROOM, TOM PICKETT

     Scott Stangel who is leading the election for head cheerleader says he will not accept if elected. It is not known if he is serious about that statement, or if he said that in a moment of frustration. I do not know if leading the cheerleaders in practices would be a burden for him or if it is truly something he is looking forward to. I do know though that he did have one week to withdraw from the election and did not act. That leads me to believe that he secretly does want to be head cheerleader.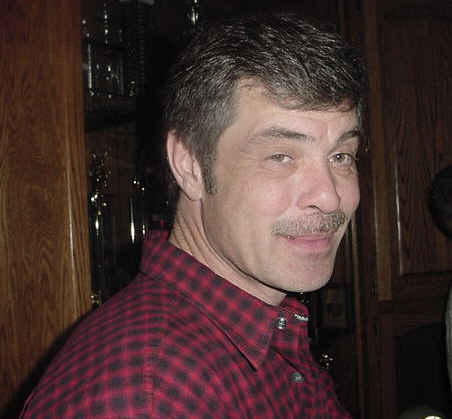 SCOTT STANGEL WHO LEADS IN VOTING FOR HEAD CHEERLEADER

If Scott does win the election and refuses to accept the high profile position in the XPFL he would then be disqualified from any further positions in the league and  would never be allowed to carry pom poms again for the Blue Jello's or the Red Gobbler's. The election ends this week on Saturday so if you have

not yet voted, get on the stick and get your ballot cast.

That's all the news that is news, see ya.