news from Oneida from Oneida from Oneida from Oneida

  NOVEMBER 22   2001     2  PM POQUETTE FIELD

April 1, 2001

Oneida WI. - Well it seems that the races for Hobart town offices have been ratcheted up a notch. The incumbents have answered to the signs put up by tribal members hoping to capture some or all of the seats up for election. The incumbents have put up their own signs around town in an effort to "one up" the tribal signs.

    There was a large turnout of 12 people  at chicken night this week, but the group was unsure what to do about the conspicuous absence of Princess Jean Poquette Hansen. It seems quite strange that the originator of chicken night now finds it to be on the lower part of her priority list.


Princess Jean Poquette Hansen forgetting the importance of Chicken Night

Of course the buzz this week was the upcoming bachlerette party for Shelly. The evening will start out at Los Banditos East at about 4:30 PM Sat. and about 7PM it will Move to Darlows

house (Darla Krueger.) I'm sure the deviates who are planning the party will have many lewd games and prizes, and probably exhibitionist type guests to entertain everyone. 


Shelly hardly able to contain herself anticipating her bachelor party

It's definitely worth a couple minutes of your time to check it out,and a great way for O and E

employees to find out where each other got jobs, and what else is going on in their lives.

    A couple more acts have been announced for Rock Fest and will be found on the party page,  bringing the total to 14 with 4 yet to  be announced.

    Check out the new birthdays in the birthday corner and the new photo of the week and a bonus photo on the bottom of the home page. That's it for this week.

April 8, 2001

Oneida WI. - BJ'S JEANS AND MORE should open on Thursday of this week. In case you missed it in the previous newsletter that's Brandon's and Jodie's clothing store located in the mall by Henri's Music and Viand's. The entire counter is not done yet but there is enough there to operate with and a temporary top on it seems to be O.K.  The dressing rooms were completed on Saturday and a cash register was picked out and on the way. The Phone is hooked up and all that's needed yet is to finish pricing and hang the curtains on the dressing rooms and they should be able to open.

    Alex is no longer Mr. West DePere. Sad to say he surrendered his crown to Chris Cunningham on Saturday April 7 who won Mr. West DePere 2001.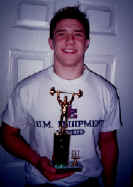 Alex had some fine parting words as well as some advice for his successor. Even though there is a new Mr. West DePere Alex can always say that he was the FIRST Mr. West DePere. Congratulations to Chris Cunningham, Mr. West DePere 2001.

Mr. West DePere 2000 Alex Pickett proudly displays his 3rd. place trophy in the weight lifting at East High

Of course THE KAT AND MICK REPORT heard protests in the form of electronic mail from Jean Poquette Hansen. She informs us that her and her whole family were at chicken night on Apr. 6 and voices protest that this writer, or any reporter from THE KAT AND MICK REPORT was not present. Here's the deal, we are not the originators of Chicken Night and are not the glue that holds it together, therefore if we fail to attend sometimes or maybe never go it's no big deal. But with Jean Poquette Hansen she is the glue that holds it together and she is the one developed the concept of chicken night and made it popular as little piece of Americana. If this trend of missing Chicken Night continues by Jean Poquette Hansen I can see another American tradition disappearing forever.

    Here's the latest news from the bachelorette party. It seems the evening started out good with a meal at Los Banditos and then it was on to Darla Krueger's house for an evening of drinking and smoking and strippers. Except that the stripper or strippers as they thought, were lame, apparently the guy who was actually dancing was gay and his partner was somewhat large and did nothing but watch. All and all it seems that they all had a good time and no one was injured. We will publish the news from the bachelor party next week, if we can get it that is. There may be sections of that story left out, now that I think about it.

    Don't forget to check out the party page for new photos from Halloween, as well as a new photo of the week on the home page. Remember if you have one of those great photos that would work for the photo of the week send it in electronic mail to us so we can use it. We can also accept traditional paper photos as well. That's it for this week.

April 15, 2001

Oneida WI. - There's trouble in the Queens City and THE KAT AND MICK REPORT has a breaking story concerning the rioting and Aimee Poquette. This reporter has exclusive information that Aimee was instrumental in organizing the riots in Cincinnati and was an active participant in them.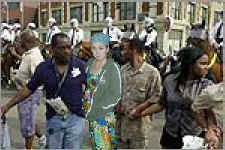 AIMEE SHOWEN HERE ORGANIZING PROTESTERS TO VIOLENCE

It's apparent to us here at THE KAT AND MICK REPORT that Aimee was the true organizer of the demonstrators as our undercover photos will show.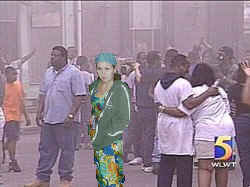 AIMEE SHOWEN HERE TRYING TO BLEND IN TO THE CROWD AS A PROTESTER AND NOT AN ORGANIZER

    Once again Princess Jean Poquette Hansen was no where to be found at Chicken Night, even though her son was present that will not exonerate her from her weekly responsibility to reign over the Chicken night feast. It is plain to this reporter that she no longer cares about Chicken night and further more is evading the press refusing to answer questions about the future of Chicken Night. It was decided Friday night by the angry mob at Cliff and Ceil's that the title "Queen of Chicken Night" and Jean Poquette Hansen will never be used in the same sentence.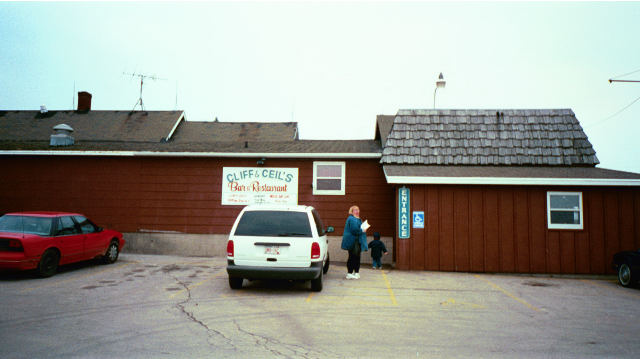 CLIFF AND CEIL'S SOON TO HAVE A NEW CHICKEN NIGHT QUEEN

   Princess Jean Poquette Hansen has reported to us that TB-01 will have a schedule conflict with the Green Bay Packers who will also play on Thanksgiving Day. She worries that many people will be attracted to the Packer game thus diminishing the attendance to TB-01. This may be a possibility, however remember the Turkey Bowl happens only once a year, the Packers play every week. Let us all try to promote the Turkey Bowl and grow the attendance.

    During Chicken Night this week I noticed that Trixie's teeth are remarkably white, unnaturally white. I don't know if she has some kind of whitening thing going on, or if it's just cheep spray paint from Wal-Mart or Sams in her case. Whatever the case may be it sure looks good, oh and I love that space between her two front teeth. Now she speaks of filling in the space, please everyone we must talk her out of it, when you see Trixie please say to her: leave your crack alone and don't put anything in it.

    BJ's Jeans and More is finally open, they opened on Friday and reported that they had a fair day of sales for their first day. Stop in and see for yourself, and visit them on this website, just click on
BJ'S JEANS
on the home page.
    I also wanted to share with you a website I heard about on the radio this may come in handy for you Mafioso types, this is the actual person that the movie Good Fellas is based on. The Federal government has hidden  this guy away for his protection, but he is willing to share his secrets with us via his web site at
www.goodfellahenry.com
check it out its very interesting.
    If you didn't catch it on the home page we now have an e-mail directory. If you don't see your address on there send an e-mail with the phrase "put me on the list" and it will be done. It's "take me off the list" to get off. See ya next week.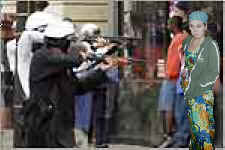 AIMEE FINALY CAUGHT, SHE DIDN'T BLEND IN

April 22, 2001

Oneida WI.- It's amazing how your imagination can take something and turn it into something familiar to your everyday life, in this case my imagination took over and turned a mountain into a persons face! At the time I didn't know why, but I took a picture of it when we were on our trip to the southwest. There was a railroad tunnel in the mountain and after finding the photo now I see what attracted me to the scene, see if you get the same impression I did when I looked at the photo.
Click here to see the photo.
Of course Brittany's birthday was Friday and after a celebration at Chicken Night THE KAT AND MICK REPORT sent her to Hollywood to the site of the latest NSYNC concert.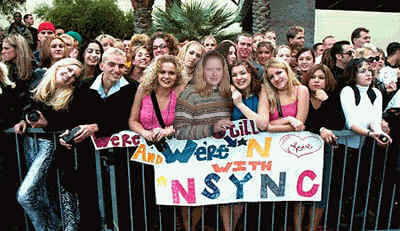 Brittany Sobieck seen here joining in the fun with the NSYNC fan club, even in Hollywood she still wears a sweater.

While waiting for a brief glimpse of the boys, Brittany was singled out by Justin Timberland and invited to dinner by him, but still full from the Chicken Night feast she declined.

  There is a new member in the Family with the new arrival of Gary Freewards new son Damien. Once again Doats is a Grandma.

    Rick Prevost is on a fishing tournament this weekend but still found time to attend the wedding between acquiring bait and tying flies.

     Judy's daughter Kaitlan was able to sneak off and find a pay phone where she could dial 911 at Perkins during the FAT CLUB weekly meal.

    Of course the annual Memorial Day cookout at Peggy's house is in the planning process now and we've been asked to let everyone know that if you wish to attend the show downtown that tickets should be purchased now as there is a limited number. Tickets are available at Ticket Master and the featured act will be the Bodeens. Actual times of the events will be announced in future newsletters.

    With the absence of Princess Jean Poquette Hansen from Chicken Night again on Friday, it is felt that a new queen should be crowned for the feast. Therefore we here at THE KAT AND MICK REPORT feel a pagent is in order to crown a new queen for the event. Jean Poquette Hansen could but would not have to be barred from participating and would have a chance to retain her title. We are letting the readers decide what will happen here, please vote on the web poll set up on the home page on the bottom to determine the future of the Chicken Night Queen. There will be one vote per computer, thus limiting the vote to one per household thus limiting vote tampering.

    Of course the big news this week is the marriage of Joel and Shelly. It was a great success and no one got out of hand or had to be cut off, except of course for Eileen Sobieck (Trixie) who crashed and burned at about 10:30 PM. Almost everyone showed up except for protester Aimee Poquette, who I'm sure didn't attend due to her incarceration for leading the rioting in Cincinnati.  There were many photos taken by my cub photographer the Kat which will be developed soon and placed in the party page of this web site. If any one else has any  unique photos, e-mail or stop in and get them scanned for publishing. There will also be photos of Brittany's birthday on the page as well.

    Jean Poquette Hansen has asked us all to keep the last weekend in June open to attend a Benefit for Marie to be held a Cliff and Ceils. We will have more details on this as they become available, and look for that in the upcoming events.

    That's it for now see ya next week.

April 29, 2001

Oneida WI. - I hope you were all able to guess last weeks puzzler question about who's face was in the mountain, it was Trixie in case you couldn't make it out. Evidently Trixie was outraged by the photo and sent an E-Mail outlining her objections, and unfortunately the corrective actions she has ordered her thugs to perform. That was forwarded to THE KAT AND MICK legal department for possible litigation.


TRIXIE SOBIECK THREATENS KAT AND MICK REPORTERS

We are using some different equipment here at NEWSLETTER desk, thanks to Tim Lade. Our old 75MHz. processor was taken out of the system and a 333MHz processor put in it's place. Things happen much faster on this one and programs will run on this one that would not run on the old one. Upon startup of the new processor I

was unable to get the video card working properly. I thought I was going to have to cart the thing back out and put the 75MHz. processor back in. But Tim came over and in a matter of minutes he had video with beautiful color and all was good.

    Alex was confirmed on Wed. of the past week as was Justin Sobieck, and Ashley Hansen. Chris Agnew was his sponsor, Darla Krueger was Justin's sponsor, and Jessica Poquette was Ashley's sponsor. After the service cookies and crackers and cheese and sausage were served in the church basement.

    Speaking of Darla Krueger there is a rumor going around that she is changing the name of her wonderful little beauty shop from Sheer Dementia to Darlo's Curl up and Dye. I think I like the new name better because it better describes the clients appearance then the former name Sheer Dementia does, that name is more well suited to the employees in the shop.

    Princess Jean Poquette Hansen made a grand appearance at Chicken Night on Friday sporting a new crown that is only to be worn by the Chicken Night Queen. For the moment she retains her Chicken Night Queen title, but the poll on the home page could force her out, or to compete for her own crown. Don't forget to vote for the future of Chicken Night on the bottom of THE KAT AND MICK REPORT home page. Jean Poquette Hansen leads only by four votes, of course at press time there is only five votes cast. The last day to vote will be May 5th. at 8 PM so don't wait too long, and by the way there is only one vote per computer so don't waste your time trying to stuff the ballot box.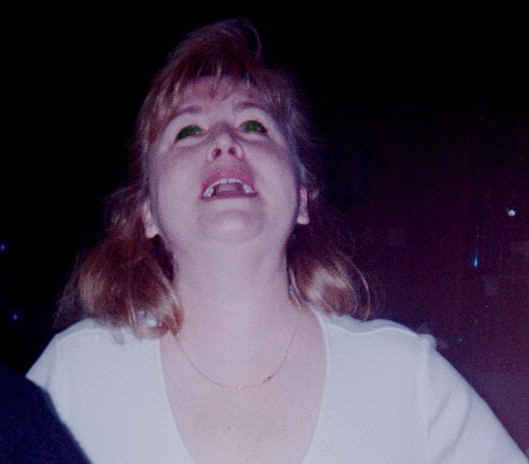 JEAN POQUETTE HANSEN RETAINS CHICKEN NIGHT QUEEN TITLE FOR THE TIME BEING

   Jean Poquette Hansen also is in the running for the grand prize in a contest about Barry Manilow trivia. She is sure she at least won a T-Shirt or a Coffee Mug from WROE.

    Trixie was told the secret ingredient in the mix for the pancakes at the pancake house, She has already told Brittany and I'm expecting that

some night in a drunken spree she will tell the world the secret that we all have been waiting for to make those pancakes.

    On Saturday4/28 Tim, Joanie, The Kat, and Myself took a ride down to Kenosha to the out-let mall where I purchased a nice Sony digital camera.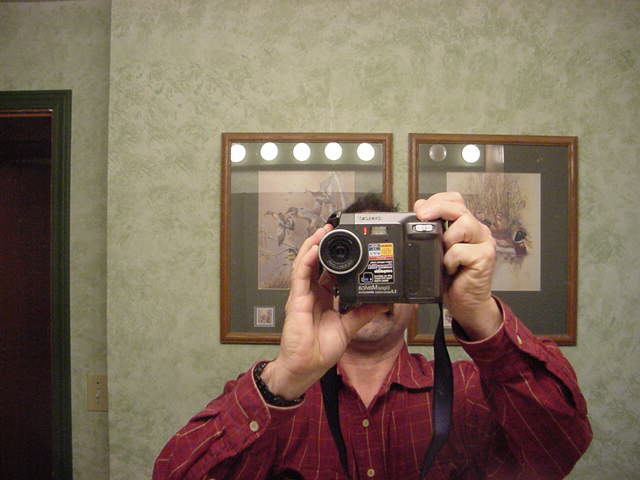 This camera will allow photographs to be placed on THE KAT AND MICK REPORT instantly. No more waiting for film to come back and the two week delay to get photos to the net. While on our way to the outlet mall we stopped at the 7 mile fair on 7mile road, just south of Milwaukee.

THE SONY MAVICA MVC FD85 HELD BY DALE ERNHARDT LOOK ALIKE MIKE PICKETT.

At the fair I purchased some nice looking sun glasses that had blue blocker lenses, and immediately people started to tell me how much I look like the now deceased Dale Ernhardt. Soon race fans from all over where surrounding me commenting on the uncanny resemblance to the King of late model stock car racing. I signed no autographs however.

    Justin Sobieck fell victim to the new Hobart Police this past week with a speeding ticket in DePere. Jean Poquette Hansen said that Justin should have said to him "you have no power here, now be off with you before some one drops a house on you."

    That's it for now, see ya next week.