news from Oneida - news from Oneida - news from Oneida - news from Oneida




"AT THE KAT AND MICK REPORT WE DON'T MAKE THE NEWS, WE JUST REPORT IT"

Wanted: Lots of fun loving,
party going, sun seeking individuals to take an exciting trip to Mexico! Looking for lots of people, the more the merrier to go to Mexico, leaving in February 2006. Mark your calendar and save $$$$$. Call Shelly Sobieck for any questions and let her know your interested, she will update you with new information. Call 920-865-2330 for all the details, or click
sandsobieck@aol.com
to e-mail her.
For Sale: Oil painting
of a Lighthouse and Ocean Scene. 40" X 28" with offwhite wood frame. Colors in the scene are pastel blue, salmon, pink, and green. Includes matching decorative floral silk spray from Home Interiors. Price is just $75. Call Rae Poquette at 920 - 660 -2102 if interested or e-mail her by clicking
repoquette@aol.com

For Sale: Framed Calla Lily Artwork
This is a Black and White photo of a painting.....large by a famous photographer. Very contemporary. Asking only $20.00     For more information or to purchase contact Patty Sobieck-Skinkis 765-423-1342 or e-mail me at
psobieck@purdue.edu
FAT CLUB MEMBER REVEALS SCALE SECRET

      ileen Sobieck known to all as "Trixie" confided in fellow members of the much touted Fat Club as she told them of habits she kept quiet because they were too embarrassing to reveal. Sobieck who has lost much weight in the past several months is nearing her weight goal and feels a little more comfortable sharing a secret that was particularly painful for her during her overweight period. Sobieck who confided in the Kat explained that she was unable to weigh herself on the family scale and would plan a trip to Kat and Mick offices when the Kat was out on a bus run. Knowing that no one would be here to witness the weigh in on the highly sensitive Kat and Mick scale, Sobieck would take advantage of our high quality equipment.  Sobieck would also note the setting on the scale before she began her own weigh in process and reset it to that precise setting when she finished so as not to alert anyone who might be keeping track of the settings in a book or something. Sobieck had even gone so far as to acquire a pair of the Kat's shoes so that when she arrived during snow periods her foot prints would match those already in the yard. Once inside the Kat and Mick complex Sobieck would make her way to the scale wearing her latex gloves so as not to leave finger prints that could link her to the illegal use of the scale. She made sure not to disturb any of the strategically placed furnishings knowing that the Kat is a perfectionist when it comes to the house and she would notice the smallest piece out of place. Sobieck would then make her way back to her vehicle parked a half a mile away on a side street so it would not be seen in our yard by a passer by that might mention something. Her plan had worked well, the Kat had never suspected anything, all the items in the house that the Kat had kept her watchful eye on had not moved during her visits, there were no unusual foot prints in the yard, and no settings askew on the scale. Trixie had fooled everyone.

POOR ATTENDANCE AT RUMMAGE SALE

A rummage sale planned for this weekend at the Joel and Joe Sobieck residence failed to fulfill the expectations set by the planners. Shelly and Lola Sobieck along with help from Trixie Sobieck and Brenda Josephi worked to make the sale a grand event acquiring merchandise from five families. The sale opened at six in the morning on Friday and ran through Saturday at four in the afternoon. Because sales and attendance were poor the sale has been extended. The crew will rework the merchandise and tweak a few items and open again in two weeks. The Kat, one of the few customers at the sale, was able to add to her collection of exercise equipment with a surplus recumbent exercise bike offered by Joe and Lola Sobieck for a modest price. Lola explained that she sold the bike because neither her or Joe need exercise so they decided to sell it to someone who did. The Kat who already has an exercise bike along with a whole host of other exercise equipment explained that she is a collector of exercise equipment and keeps up a small display of her collection in the workout museum section of her home on County E.  In spite of Lola's wishes the bike will not be used by someone who needs exercise, it will simply be put on display by someone who does.

TIM LADE LANDS TEMP JOB

Tim Lade who has been searching for a job recently has accepted a job at Schneider National. Placement at the company was through a temp agency however Schneider has a track record of hiring individuals full time if everything works out and everyone is happy. Lade will start his work week on Sunday and will be working afternoons. Lade does not know if this will turn into a permanent position or not at the facility, he is the first person to perform the job in the newly created position. That's all the news that is news, see ya.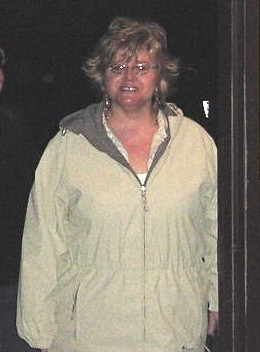 TRIXIE NEAR IDEAL WEIGHT WILLING TO SHARE SECRETS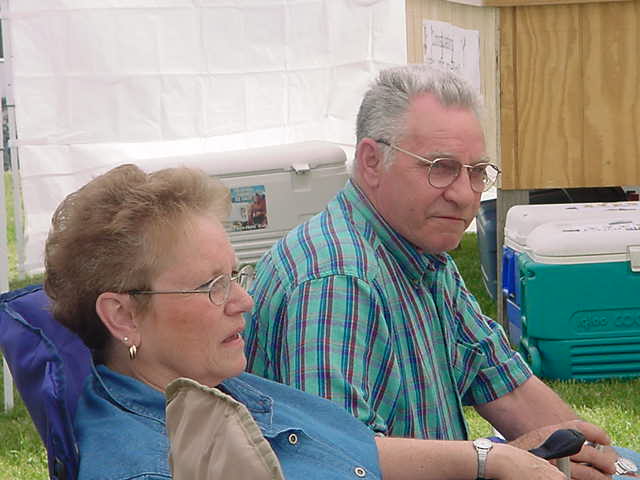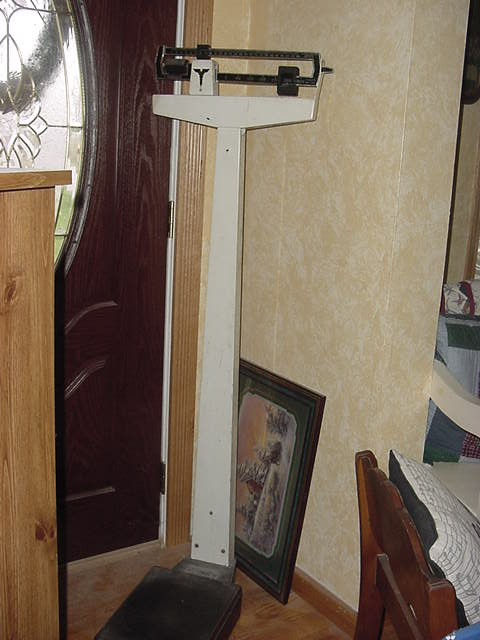 TRIXIE USED THIS SCALE SECRETLY FOR THE LAST 20 YR

LOLA AND JOE SOBIECK SELL EXERCISE BIKE TO KAT


PEUNICE IS NO MORE - WEDDING CALLED OFF

   he KAT AND MICK REPORT has learned in an exclusive phone interview with Dave Poquette of Lettica Freight Lines out of Clarksville Tennessee 37040 that the wildly popular couple has called off plans for their late summer nuptials. Poquette explained that a disagreement last Sunday led up to the change of heart and as of the present time it is unknown if the two will even exist as a couple in the future. Apparently Eunice Wallace has returned all gifts including the engagement ring for the time being and has not spoken about the future of America's favorite couple. Poquette puts partial blame directly on THE NEWSLETTER with the paparazzi type tactics continuously hounding the couple for new photos and stories. Eunice cites differences as the reason of the break up. In an e-mail to THE NEWSLETTER she thinks Dave is a nice guy but has different needs and priorities then hers. In speaking with both parties THE NEWSLETTER has determined that neither side bears malice for the other. While there will be no Vegas wedding in August for Dave he still plans to continue with his plans for a vacation in the sin city with anyone who was planning to attend the wedding. Dick and Colleen Poquette have not changed their plans for the August vacation, while others have not yet said if this will affect their plans.

TIM LADE QUITS SCHNEIDER TRANSPORT JOB

Almost as quick as the announcement was made in finding the job, Tim Lade terminated his employment with the major league trucking company. Lade had acquired the job through a temp agency and felt the job itself had been misrepresented by the agency or Schneider themselves, citing changes in hours and duties as the reason. The job entailed tracking loads that could possibly late for delivery to key clients in the system and making any changes that could help get the load there on time. Lade felt the job had some merit however his take on the situation led him to believe that he could perform the job much better at home, performing his checks over a much longer period of time many times perhaps when others would be at rest.

MOMMAERTS AND HAHN WEDDING

Heather Hahn and Adam Mommaerts were made man and wife Saturday April 30 th. at the Annunciation church on Gray St. in Green Bay. Mommaerts the son of Steve and Debbie Mommaerts (Pickett) is their youngest child making Steve and Debbie officially old. The reception and a very tasty dinner at the Humbolt Haus on Humbolt Rd. east of Green Bay capped the event perfectly. Dance music was provided by a DJ who was also the best man in the wedding party making the grand march slightly difficult. While the music could have been louder I was pleased at times that it wasn't when goat roping selections were played. Our night at the wedding ended with a dead battery in the car when the Kat accidentally left the lights on. Fortunately Dick Gabriel had a set of jumper cables on hand we were able to get a jump start and we were on our way home. Thanks Dick for your help.

There's a new Birthday Page to look at 
Click here
to see it. That's all the news that is news, see ya.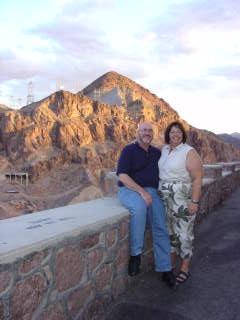 PEUNICE AT THE HOOVER DAM IN NEAR LAS VEGAS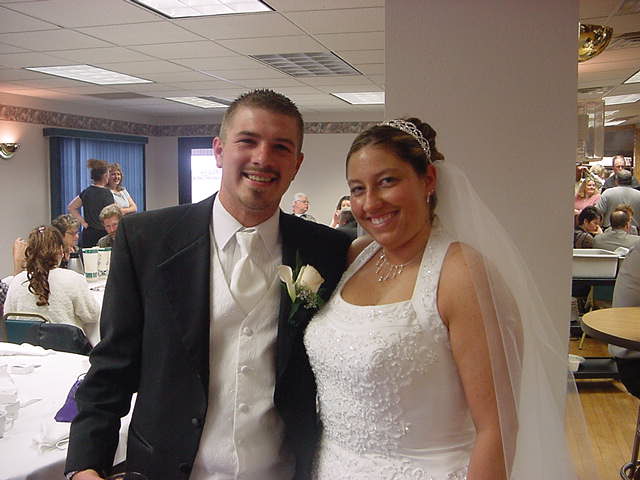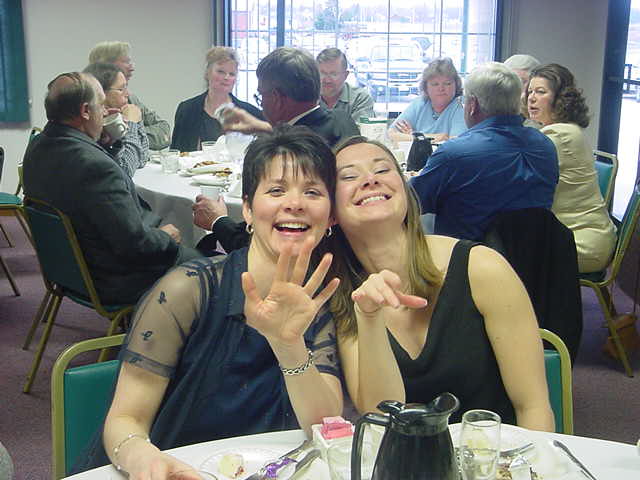 ADAM AND HEATHER MOMMAERTS

MOTHER OF THE GROOM DEBBIE MOMMAERTS ASKS ONLOOKERS TO CHECK THE INSIDE OF HER NOSE

SISTERS JAYNE PICKETT AND ANN LOCKWOOD POSE FOR A PUBLICITY PHOTO