Are You Tired of Going to the Church of the Worthless Miracle with no results. Now you can get 10 minutes with your loved one for less than $2 - Limited time offer. Hurry before they "pass on" forever.


Hi, this is Dick Meeusen

For years people have wondered what I did for a living. Well now through this one time offer you can find out. Click my website link below and find out

For more details e-mail me at:

              ith her knees hurting and the yard full of aluminum cans picked up from the side of the road Trixie Sobieck beamed as she announced she had been hired by the Wal Mart.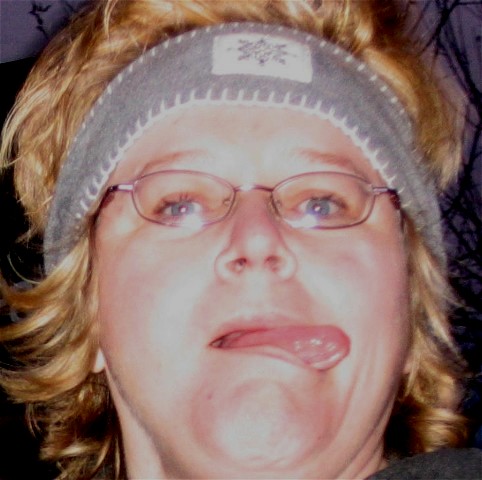 Sobieck the 47 year old housewife from Hobart has been seeking gainful employment for several years since the bottom fell out of the craft business and babysitting.

To make ends meet the wife of Kevin Sobieck sold scrap aluminum and rags

much the same way the Jews did in this country during World War 2.

This past week Sobieck has already undergone orientation and rigorous technical training to make her ready for her new employment. Sobieck already has been told she will be a greeter in the plant department, a position I'm told that is reserved for only a select few.

One concern of Sobieck's in her new job is the danger of the remaining members of the Axis of Evil appearing during her shift, disrupting the plants and getting her fired. Recently a power struggle occurred in the Axis of Evil and it is unclear which of the women emerged as the ultimate evil doer. Disagreement in the ranks could result in debauchery ultimately causing expulsion from the well known discount store for Sobieck.

Sobieck is excited to be working with the public and can hardly wait to be released into the store on her own. She has not been told however when she will be actually working on her own. No plans have been discussed as to what the new greeter will be doing once the plant season is over and that end of the store is turned into the Christmas Department.

POQUETTE - RICHEY CELEBRATION THIS WEEK

Saturday, this week marks the day that Mr. and Mrs. Chris Richey will be honored during a gathering at Four Seasons Park in Hobart celebrating their recent marriage.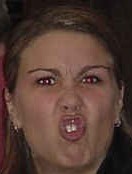 In February Aimee Poquette, the daughter of Joanne Lade was married to Chris Richey in Mexico surrounded by a small circle of friends and family. The Richey's now live in a modest home in Kentucky which is close to where both work. Chris Richey is an Indiana State Police officer while Aimee works for an insurance company.

CLARA SNELL GRADUATION PARTY

Saturday May 12 Brandon Pickett will be holding a graduation party for his fiance Clara Snell. Snell the daughter of Linda and Paul Snell in Lawrence has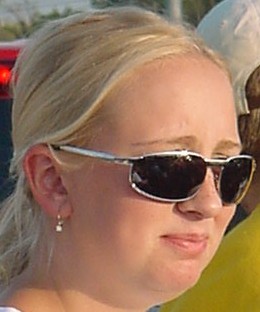 completed college and will receive a diploma in accounting. The 22 year old wispy blond has already received and accepted a job offer with the firm Schenck Business Solutions 2200 Riverside Drive Green Bay.

The graduation party will be held at the Hobart Town Hall

on the corner of Pine Tree Road and Florist Drive. The location has a playground for children and a shelter where there will be food, music, and a bar. The celebration begins at 3 PM and is expected to last well into the night. That's all the news that is news, see ya.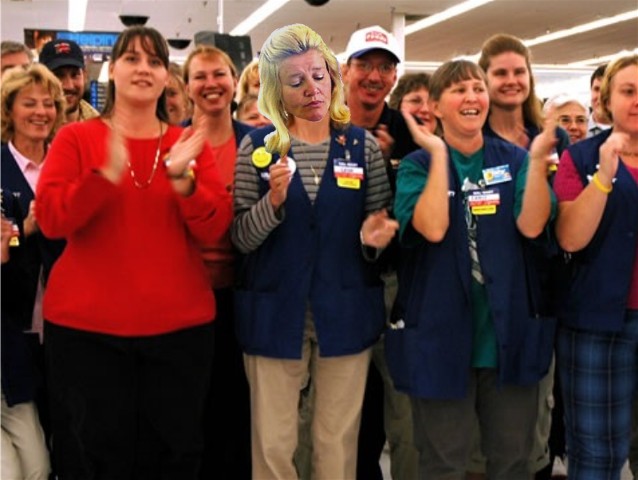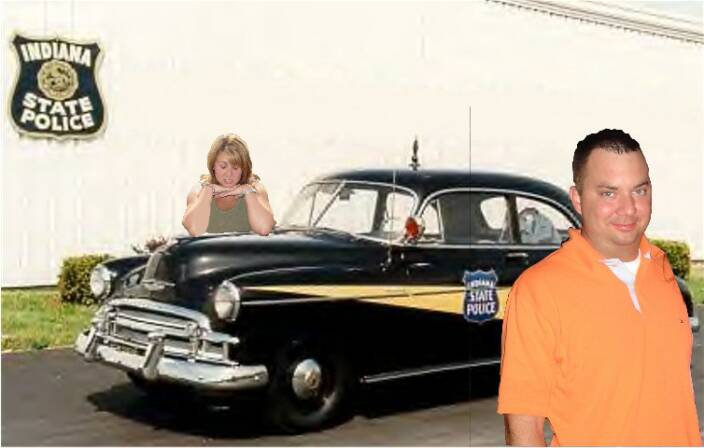 Sobieck, sporting 3 pieces of flair on her vest appears unenthusiastic as she practices the Wal-Mart cheer during her rigorous training

The Richeys take a spin in one of Indiana's standard squad cars