news from Oneida - news from Oneida - news from Oneida - news from Oneida




"AT THE KAT AND MICK REPORT WE DON'T MAKE THE NEWS, WE JUST REPORT IT"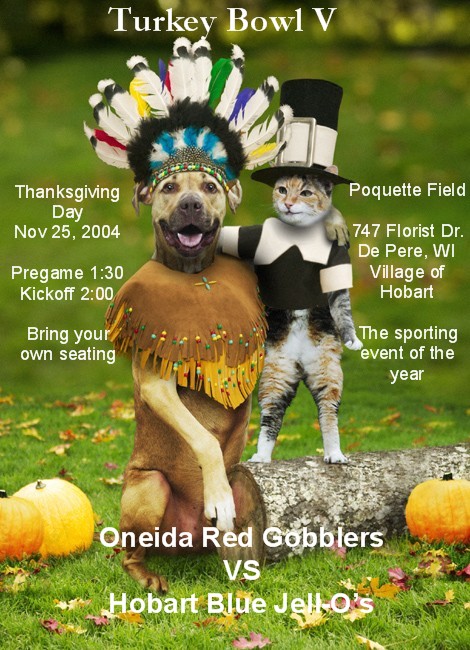 4 year old Japanese slot machine for sale.Excellent condition.

Comes with an owners, maintenance manual on CD, extra light bulbs, a stand,

and 5000 coins. These coins are slightly different in size from a quarter, making the machine legal.

It can be modified to accept quarters, however.

$200.00 or best offer

Contact Tim at 866-1257.

Electric Range to give away.
Well used electric range in perfect working condition to anyone who wants it. Montgomery Wards, about 15 yrs. old with self cleaning oven. One large burner element recently replaced. Contact Kat or Mick               920-869-2368 or e-mail at
katandmick@aol.com

JUSTIN NO LONGER UPSET OVER BRITT'S BREAK UP

    With fresh news that Brittany was to break up with her boyfriend Justin Sobieck became upset and agitated at his sister at what he felt was an unjustified action. Justin who had become good friends with the now former boyfriend Tim, felt that it was all over and his friendship he had worked on for months was all in jeopardy over his sisters disconnected love life. Taking the blame out on her directly  he told her that "she was dead to him", and that he was "disowning her" only to ask his mother several hours later if Brittany would want something to eat because he was buying dinner for the family. Why the sudden change of heart? Apparently it took several hours for Sobieck to figure out that his sister was breaking up with Tim and he wasn't. Sobieck afraid that his sister would have the boy banished from the kingdom of Hobart thought he would never see his friend again. Sobieck was outraged at his sister because he thought he would loose one of the last few friends he had because of her actions. Brittany could not be reached for comment because she has moved to Milwaukee on Tuesday 8-24-04 to start classes at UWM but stated in other recent interviews that she broke up with Tim because his time was up. It was inaccurately reported last week that she had been taken to her new abode by her parental units on the previous Saturday. Apparently they had only gone there to fix the place up a bit with some drapes and drop off some belongings of hers at the new place. She had taken her own car there and is now self sufficient. Justin, who starts school himself on Wed. working on a plumbing apprenticeship, states that he is planning to visit his sister when she gets settled in. Trixie, Brenda, Darla, and Dave, are going to bring Megan Krueger to her new home on Tuesday also in Milwaukee where she is also attending UWM. Megadeth who opted out of taking her own car, an older Mercury Topaz with 78,000 miles, will be relegated to taking mass transit and accepting rides from strangers when she can get them while staying at her new home in Milwaukee. Megadeth who does not trust her older vehicle feels more secure with strangers. As you recall she had numerous problems with the automobile and had nearly run the local hardware store out of wire and duct tape repairing the vehicle her self.

    Tim Lade is going in to have his knee scoped on September 9 after he returns from his trip to a NASCAR racing event. He is hoping that the procedure will lead to a nasty infection necessitating a health dose of morphine and a prolonged time off of work. Lade who is in his late 50'S said in a phone interview he has never had a debilitating procedure and hopes to take advantage of one before he goes to retirement. His wife Joanie could be heard in the background grunting and snorting. As Lade went on speaking of the pain he endures in his knee, his wife Joanie could again be heard speaking in a much deeper different voice ..... another personality had taken over her sturdy body and it spoke of a new life growing inside of her. Again and again she bellowed out with sub-audible tones about the baby inside of her and how we would all pay when his hooves left her womb. Lade who had obviously coped with this situation before tried to drown her out by talking about his knee louder and louder but to no avail, Joanie could still be heard over his attempts. An agreement was then reached to finish the interview at a later date face to face at an undisclosed location. That's all the new that is news, see ya.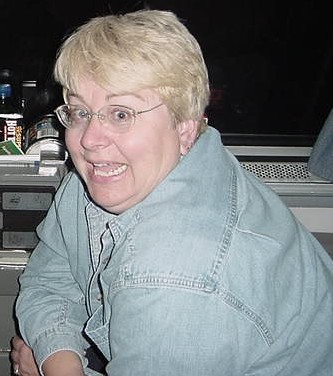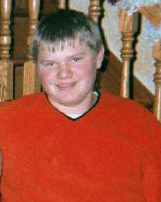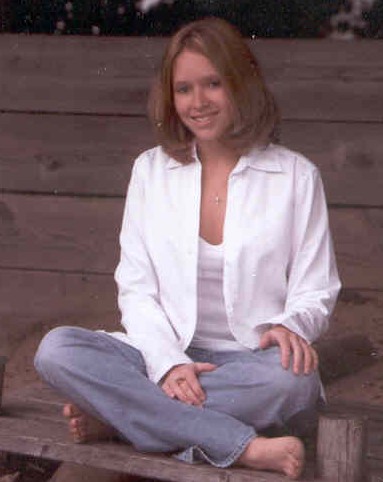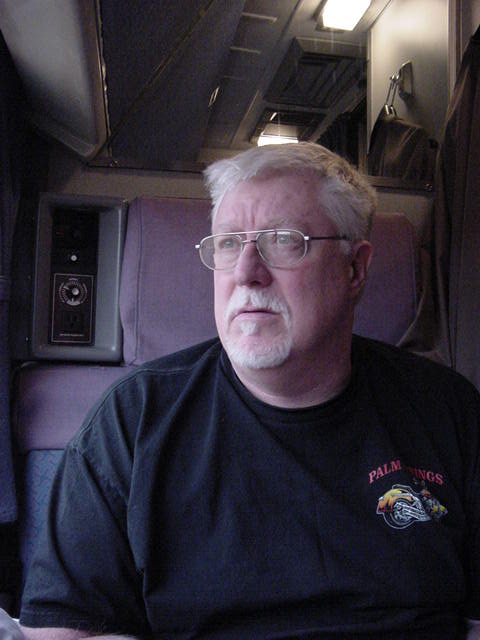 JUSTIN SOBIECK  NOT UPSET NOW

BRITTANY SOBIECK NOW AT UW MILWAUKEEE

TIM LADE TRIES TO HIDE HIS TRUE FEELINGS ABOUT HIS  WIFES CONDITION

JOANNE LADE CAUGHT AT A BAD TIME

BRITTANY SOBIECK NOT TO GRADUATE FOR YEARS

    As many of you know Brittany Sobieck has left home to attend college to become a pharmacist. If you're like me and have been waiting for Brittany to graduate so we can start receiving an endless supply of barbiturates and amphetamines then you will be as sorry as I was to learn that it will be years before she receives that sheep skin. Yes as heart breaking as it sounds we will have to wait as much as six years before the now student becomes a full fledged pharmacist and starts supplying the good drugs to parents, grandparents, uncles, and aunts. Many of us thought that she would be gone a couple of months at most learning about potions and poultices before they printed up a diploma with her name on and sent her on her way with a bag full of complimentary samples of hallucinogenic's. But alas, through research here at THE KAT AND MICK REPORT we have determined that there is almost as much schooling involved in pharmacy as there is to become a physician.  It will be hard to overcome this shock I know, but I just hope that the rest of you have not burnt your bridges with your regular suppliers in anticipation of Brittany taking over the regular supply chain.

    Alex Pickett has been sent on temporary duty in Kuwait. He arrived on Monday and said that it was 130 degrees that day, he called the newsroom here at the KAMR on Saturday Sept. 4 and said they had set a new record for that region that day with 134 degrees F. It's a dry heat though. He is confined to the base pretty much and is not able to do much of anything. He will be sending his new address soon and when he does we will publish it. His e-mail address is;
alex.pickett@salem.af.mil
if you care to write to him. This is his current e-mail address in Kuwait.

    Not to be outdone by Pally in military accomplishments Bob VanLanen has been shipped out to Iraq. He is on a secret mission and his where about's have not been disclosed. Keep your eyes on the network news to see if you can spot someone in American BDU's driving a three wheeler ATV in the desert. That will be Bob.

    Colleen has announced the date for the Halloween Party this year. October 30 has been chosen for the ghoulish festivities and will be held in Dick's garage again. Start planning your costume now because there will be a contest for Costume of the Year. The traveling trophy will again be handed out to the winner. I just saw a program on Hugh Heffner and at his Halloween Party's some of the girls would paint a costume on to their bodies and that's all they wore, just an idea for some of you girls if your having a hard time deciding. Food, music, games, prizes, and fun will again be the agenda for this year. Tell your friends, lets see if we can make this the biggest year ever. There's a new Birthday page with new people added if you care to see it
click here.
That's all the news that is news, see ya.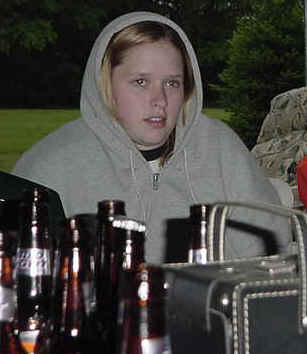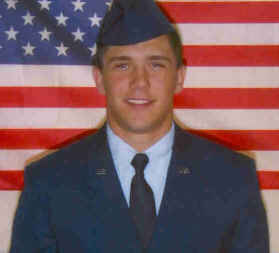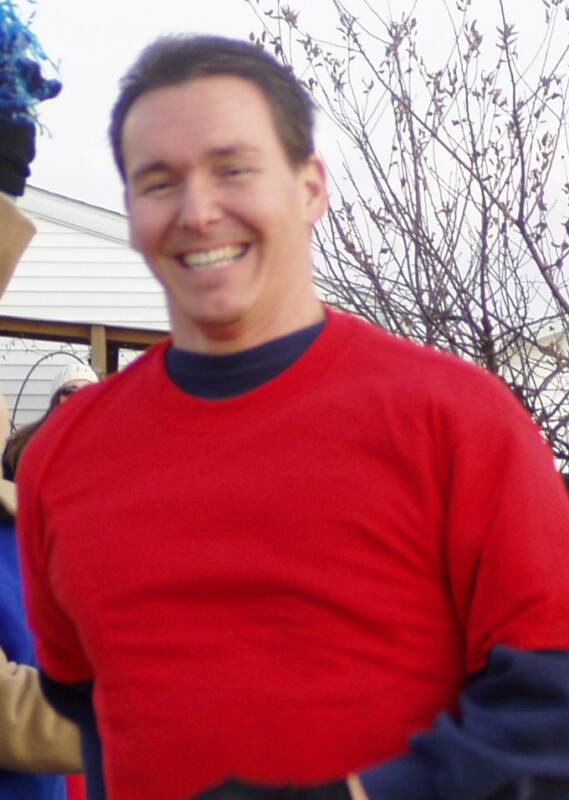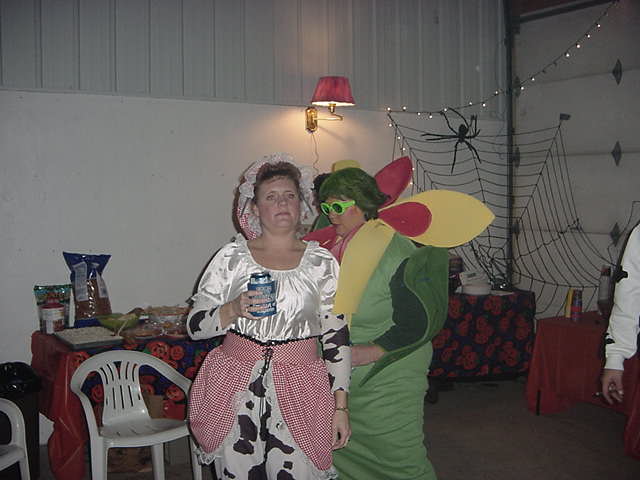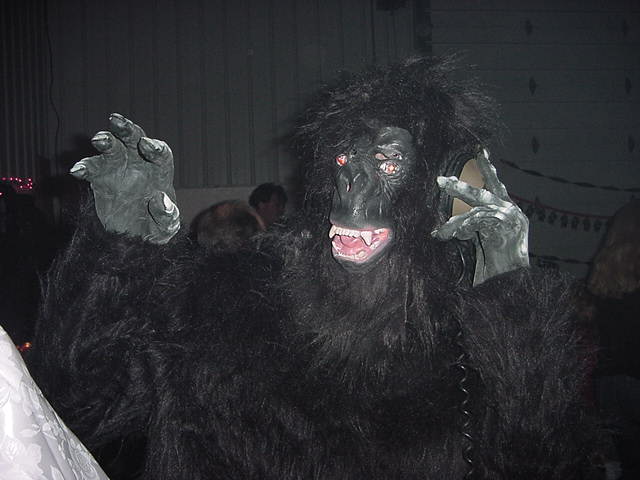 BRITTANY LOOKING TO HAND OUT SOMETHING A LITTLE MORE POTENT THEN BEER IN THE FUTURE

ALEX NOW SHIPPED OUT TO KUWAIT

BOB VANLENEN DOING SOMETHING IN IRAQ WE DON'T UNDERSTAND

ODD PEOPLE AND ODD COSTUMES ARE THE NORM FOR THE ANNUAL HALLOWEEN PARTY AT DICK AND COLLEENS