news from Oneida - news from Oneida - news from Oneida - news from Oneida




"AT THE KAT AND MICK REPORT WE DON'T MAKE THE NEWS, WE JUST REPORT IT"

Carpet Cleaning:
  Perry Peterson, First Choice Carpet LLC says "My company is the
CHOICE
that makes the difference". New this year is pressure washing. Do you have an oil spot in your garage that you would like to get rid of? Well, we can do that and more, give us a call at (920) 884-9963 or e-mail me at
perryp@greenbaynet.com
Perry is the son of Bob and Mary Phillips.


New Unsportsmanlike Comment

From: S. Lyle OConnor

I believe that in a back room of the White House stands a control console interfaced to powerful antennas.  It is sending an electronic beam, directly and exclusively at me.  24/7!  The purpose of said beam is to make me appear unattractive to members of the opposite sex, so as to insure that I will NOT reproduce again.

TREMLS - CLEAN DRINKING WATER BATTLE NOT OVER

         ven though Scott and Judy Treml have not received a dime for their efforts, their battle for preserving clean drinking water and preventing manure runoff from farming operations goes on. The Tremls who had their well contaminated almost two years ago by a large farming operation in their neighborhood have kept a watchful eye on the DNR and other regulatory agencies regarding winter spreading of liquid manure. Thursday night the DNR held a hearing on rules regarding manure handling by farmers at the Bay Beach Wildlife Sanctuary and Scott Treml was there. Many people spoke in favor of leaving the rules alone and were satisfied with how they are managed, however Scott took issue with the management of manure handling and told the DNR "You have the opportunity to ban this practice of spreading liquid manure in the winter," he said. "You guys got it wrong the first time and it's time to get it right."  According to information obtained from The Green Bay Press Gazette it seems that Treml was the only voice speaking in favor of more regulation while farmers and county agents took more of an, enforce the rules we have approach.

FIGHT AT SOBIECK'S OVER DOUGHNUT HOLES

A frantic Trixie Sobieck called The Kat and Mick Report offices Thursday night demanding that an online poll be conducted regarding the naming of "doughnut holes". According to her son Justin the so called treats are the byproduct of doughnut making and are so called because of it. Trixie contends that there is no such thing as a doughnut hole and that the "doughnut balls" in her words, are in fact made separately and in no way are they the  byproduct of the doughnut making process. Sobieck while explaining her opinion on the phone was interrupted by Justin which resulted in a violent outburst from her directed toward Justin. Jean Poquette Hansen who arrived on the scene in the middle of the dispute was immediately called upon to take sides and settle the debate. Hansen seeing just how vicious the debate became refused to comment and withdrew from the conversation fearing bodily harm should she pick the wrong side. Please feel free to take our web poll just to the right of this text and Trixie says that she will present the results to Festival Food stores, I expect she presumes it will go in her favor. The poll will close at midnight Sept. 3, 2005.

AIMEE ANNOUNCES PLANS TO LIVE IN SIN

With a phone call placed to her mother Joanne Lade, Aimee Poquette formally announced she is planning to live in sin with her current friend and acquaintance of the opposite sex Chris Richie. Richie an Indiana State Trooper lives in a modest home in the outskirts of Cincinnati. Poquette will move her meager belongings and her dog the first of next month which is when she can get out of her lease. With this latest development in the continuing saga is seems clear where this is heading. Poquette has had hot and cold relationships her whole life but this one seems to be going places that no other has.

There's a new Unsportsmanlike Comment from S. Lyle OConnor,
click here to see it.
That's all the news that is news, see ya.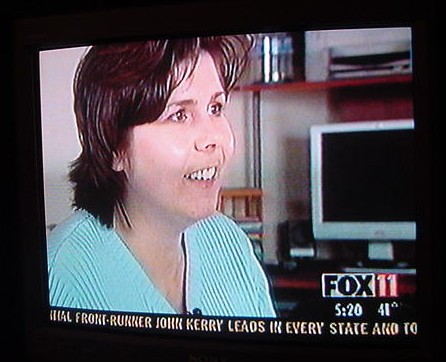 JUDY TREML INTERVIEWED BY CH. 11 ABOUT THEIR CONTAMINATED WELL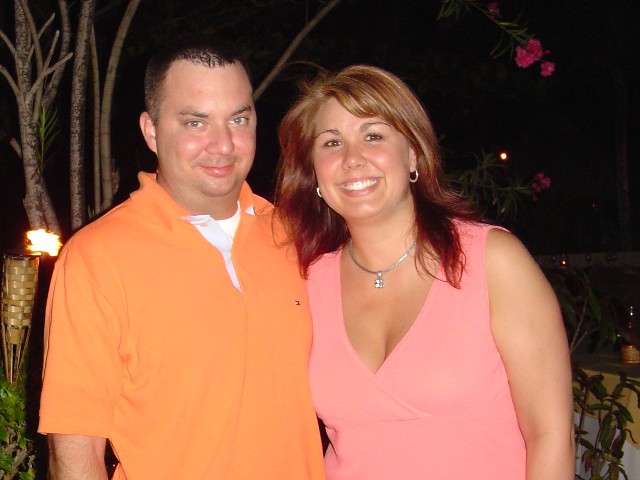 CHRIS RICHEY (LEFT) AIMEE POQUETTE PLANNING TO LIVE IN SIN

Are there such a thing as doughnut holes and should stores sell them by that name?

No, a hole is a void and cannot be sold as a tangeble item.(2) 8%

Yes, they are a byproduct of the doughnut making process and can be sold as such.(3) 12%

There are no such thing as doughnut holes but the stores can sell them by that name.(12) 48%

There are doughnut holes but I would like to see them sold under a different name.(1) 4%

This whole thing is horse hockey and I don't give a flying fried cake about it.(7) 28% 

25 total votes since 08/28/05

Poll ended: 09/03/05

KAT AND MICK REPORT POLL RESULTS

NEW FISH DISCOVERED BY KAT TO BE NAMED FOR HER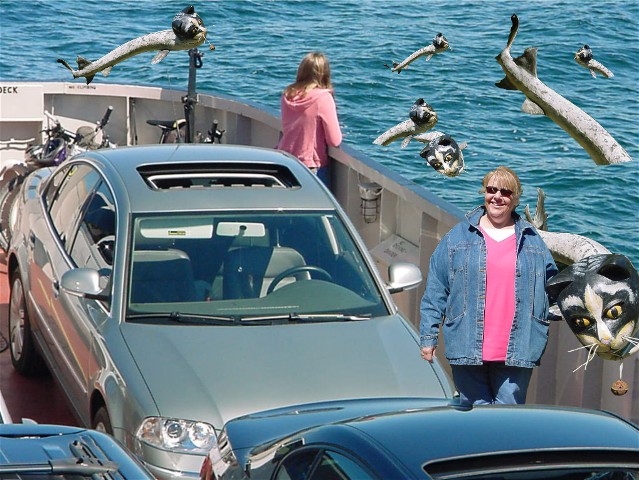 nowing that late summer is the time that most new fish are discovered the Kat felt lucky as we departed the shores of Door County on our boat the Robert Noble. Joanne and Tim Lade accompanied us as the Kat searched for the new species. Knowing there were more of her kind in the sea, the Kat kept her sharp eyes peeled for the new fish. Soon we heard her shouting from the car deck while we were below in the banquet room loading our plates with food. We put down our cocktails we had just gotten on the bar deck and grabbed our cameras to make our way back topside. I was the first to arrive after cutting through several couples playing shuffle board and the rush certainly paid off with the image I snapped of Kat holding her new discovery around the gills. Others on the boat seemed amazed to see the new fish and wondered why the species had never been seen before. The Kat explained that it was her presence that drew them out and they sensed the genetic link that was made millions of years before. Someone aboard from the Smithsonian Institute exclaimed that the new fish is to be named a Katfish after the Kat. Everyone agreed that was on board and patted her on the back. After the excitement died down we returned to the dinning room in the lower deck and went back to our cocktails while the Kat licked her chops then decided it was more fish then cat and began to eat her new discovery.

TIM LADE SUGGESTS A REUNION!

While it has been some time since you have read a Chicken Night News report on this page you may not have to wait much longer. Tim Lade wants everyone to attend a reunion of sorts at the old location of the Chicken Nights we attended several years previous. Lade who attended many of the Chicken Nights has suggested that a date be set for another gathering at Cliff and Ceils in east Green Bay for a Chicken Night Reunion. Lade would like to see as many people attend as possible whether they were regulars or just passing Chicken Nighters. Suggestions can be made to the Kat who will gather the information and set a date at the regular "Fat Club" meeting on Thursdays. Of course no reunion is complete without "The Queen of Chicken Night" Jean Poquette Hansen, so a date will be selected that will be sure to fit her schedule. Out of towners are welcome and even a welcome to any new Chicken Nighters is extended for this special gathering.

Next weekend is Blackie and Shannon's  wedding and Aimee Poquette will be attending with her friend Chris. No other out of towners are known to be attending by this writer. Results of the online poll Trixie Sobieck demanded are just to the right. If you missed it last week S. Lyle OConnor has a new Unsportsmanlike Comment on the
Sports Page
for you and The September Birthdays are also available for you on the
Birthday Page
.  That's all the news that is news, see ya.
AN UNIDENTIFIED PASSENGER LOOKS AT THE NEW "KATFISH" AS KAT HAULS ONE IN FOR CLOSER INSPECTION ON THE CAR FERRY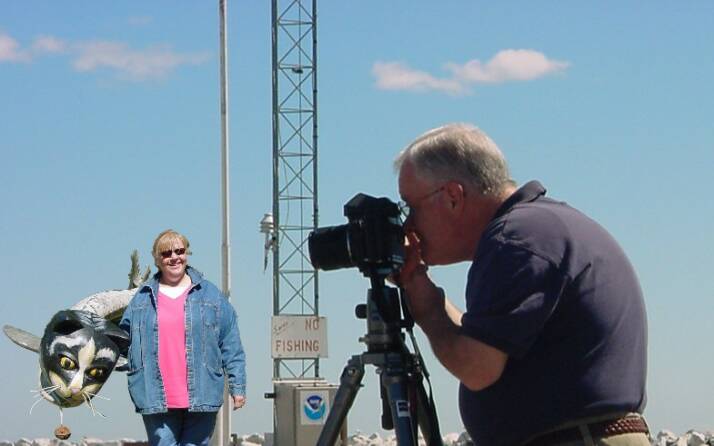 A PHOTOGRAPHER FROM A LESSOR KNOWN PUBLICATION SNAPS A PHOTO FOR THEIR NEWS STORY