news from oneida - news from oneida - news from oneida - news from oneida




"AT THE KAT AND MICK REPORT WE DON'T MAKE THE NEWS, WE JUST REPORT IT"

$5.00 ea. or 6 for $25.00

Available at The Turkey Bowl and

other selected locations

Computer with desk, Pentium II processor, Windows 98

Drawing to be held

Christmas Eve

HOBART PROPERTY TAXES TO GO UP, UP, AND UP

    Sadly the headline says it all; Hobart's property taxes will be rising substantially due to the mismanagement of the previous administration. So says Rich Heidel, Village President who made the announcement to Hobart Firefighters at a monthly business meeting of the Fire Department. Heidel who defeated Len Teresinski in a recall election this fall makes no bones of the fact that taxes will have to be raised to cover expenses the Village is responsible for, and he says that they will go up in the neighborhood of 19%. That means that if your taxes were $1000 last year this year you will be looking at $1190 to cover the increase.  Heidel made no indication that the tax increase would be temporary or short term only that it was necessary to make the books balance. Angry Hobart citizens reacted by vowing to have their bodies pierced everywhere they can in an attempt to lower the population of non pierced citizens thus lowering taxes.   More information about the Village of Hobart can be had by going to www.hobart-wi.org and clicking on one of the links on the top or left side of the page.

    Watch for the new XPFL page coming soon. We just need a few more photos and it will be finished. Also Unsportsmanlike Conduct writer S. Lyle OConnor informs me that a new article will soon be on our door step. He promises to deliver a good article again, and he never lets us down. Keep looking forward to Christmas Eve when the winning ticket will be drawn for the big computer raffle. Tickets are still available and will be on Christmas Eve at the celebration. This years Christmas Eve Celebration will again be held here at THE KAT AND MICK REPORT offices and it will be a food fest again. Wine will be flowing and a video showing of the Turkey Bowl will be on the tube. Two showings will be scheduled as there is limited seating available in the viewing room.  That's all the news that is news, see ya.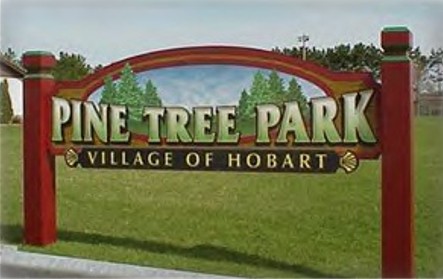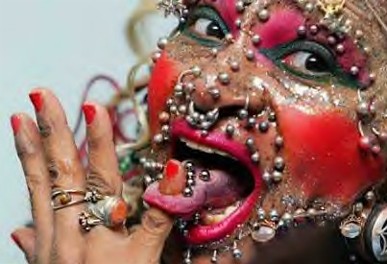 HOBART CITIZEN TRIXIE SOBIECK REACTS TO INCREASED TAXES BY HAVING HER FACE RIDDLED WITH PIERCINGS. FRIENDS REMARK THAT AFTER THE PIERCINGS SHE DOESN'T EVEN LOOK THE SAME!

HOBARTS TAXES TO GO UP TO PAY FOR AMMENITIES LIKE THIS SIGN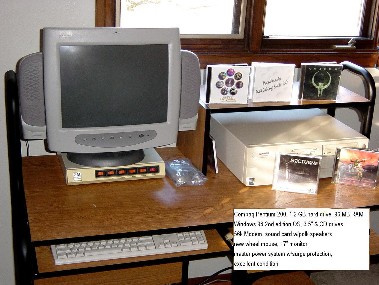 COMPUTER TO BE RAFFLED OFF CHRISTMAS EVE


PALLY CAPTURES SADDAM HUSSEIN

    The country of Iraq will be eternally grateful to Alex for the liberation of their country. While we slept last night Saddam Hussein was captured by Pally in a short weekend hunting trip to the desert country. Alex was able to identify him even though he had a grown a lengthy beard and appeared his hair had not been cut for months. When asked how Pally found the tyrant he responded that "it was easy to spot him in the dark", he had apparently opened his mouth when in the dark hole while it was on fire. It is not known how his mouth started on fire but it did burn for several hours until they reached the military hospital where doctors were able to put it out. Pally will be unable to collect the $1 million reward posted by Bruce Willis for the capture of Hussein because he is employed by Uncle Sam so we assume the money will be donated to a charity chosen by Pally.

    This week saw the installation of a new Bishop in the Green Bay Diocese. Bishop Zubik is probably a descendent of Liberace the well known piano playing performer. The unmistakable resemblance can be no coincidence the two share the same physical features and taste in clothing down to the snappy hats and cape. Although the sparkling performer never carried a staff such as the one the Bishop uses he was known to hang around with the staff after the show was over.

    Don't forget the big Christmas Eve party at the offices of the Kat and Mick Report, the big shindig begins at 6PM with the Kat unveiling the big Christmas Ham. Those attending should bring a dish to pass as well as your beverage of choice. The Ham will be provided by your hosts as well as some hors devours. If you're not sure what to bring you can always call the Kat ant 920-869-2368 or
click here to e-mail the KAMR.
    The
XPFL page
has been updated so
click on over
and enjoy it. The
Birthday page
has also been put up for December. We also have a new article from S. Lyle OConnor who delivers a story that is not so much sports this month. Check out
Unsportsmanlike Conduct
for the writings of S. Lyle OConnor. That's all the news that is news, see ya.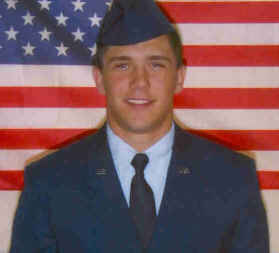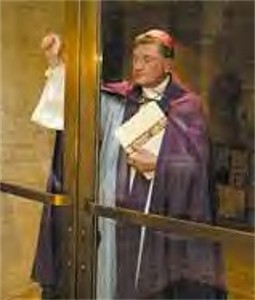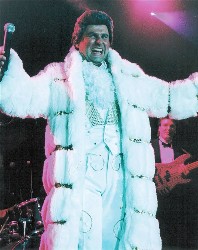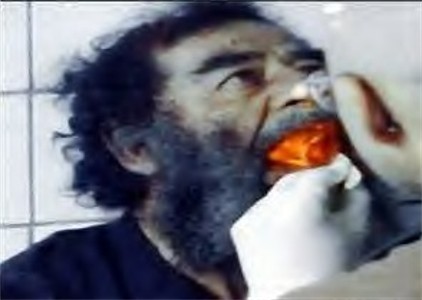 PALLY POSES FOR PHOTO AFTER  HIS BIG CAPTURE

ARMY DOCTORS WORK FEVERSISHLY TO PUT OUT THE FIRE IN HUSSEIN'S MOUTH.

HE WAS EASY TO SPOT  IN THE DARK WITH THE RAGING INFERNO IN HIS PIE HOLE.

SAME LOOKS AND SAME TASTE IN CLOTHES? LIBERACE AND BISHOP ZUBIK  RELATED OR THE SAME PERSON?