news from oneida - news from oneida - news from oneida - news from oneida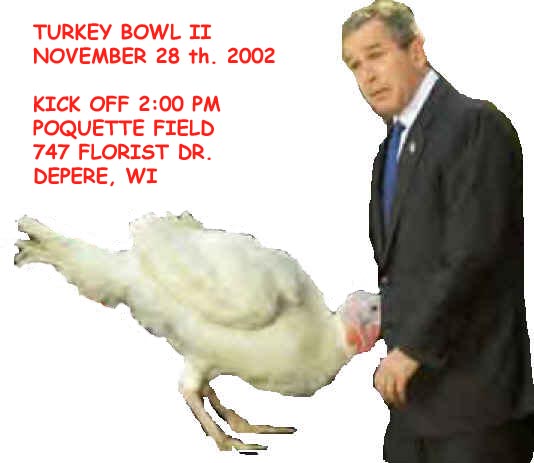 "AT THE KAT AND MICK REPORT WE DON'T MAKE THE NEWS, WE JUST REPORT IT"

Feb. 3, 2002

TRIXIE SOBIECK HAS ACCIDENT AFTER REPEATEDLY RUNNING STOP SIGN

Oneida WI - Eileen Sobieck ran a stop sign on Crooks St. in Green Bay several times by her own admission and was finally struck by an elderly couple unable to stop in time. As Logan Sobieck pointed out after the accident Eileen did not stop at the corner of Crooks and Adams on the way to the appointment or on the way back from the appointment. Sobieck who was taking her son for mental treatment for his fear of accidents was apparently paying no attention to the signs downtown and caused what logan most fears. Lucky for him it was not a serious accident or he might have been set back years in therapy. Sobieck though was not lucky and must pay a $65.00 fine for running the stop sign, her luck came when Logan didn't tell the officer the number of other times she ran the sign.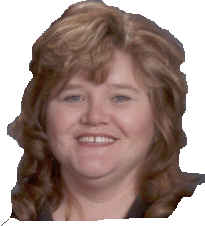 Logan who was nearing the end of his treatment will likely now have continue for a few more months. Sobiecks vehicle was not damaged however there was extensive signal light damage to the old Jacks car. Sobiecks insurance will likely pay for the physical damage to the vehicles but who will pay for the mental damage this incident has no doubt caused to the boy.

E SOBIECK WHO FACES A $65 FINE FOR RUNNING THE STOP SIGN


    Jean Poquette Hansen admitted that she was looking at the stars and missed the diamond right in front of her. She was in religion classes with Kevin Sobieck and was not interested in him at the time, it seems that she was fascinated by a chap named Billy Bunker.

She now thinks this was a foolish mistake, and she should have concentrated her efforts on Kevin. She reminded Justin and Brittany, who were at Chicken Night, that she should have been their mother. With the look of sheer terror in their eyes they listened intensly and spoke not a word as Jean Poquette Hansen laid out a scenario of how her life and their lives would be had she not made the fatal mistake she did in religion. Luckily table 7 and 8 were announced and they were spared from further embarrassment for the evening. This will not last however, soon J.P. Hansen will be telling more stories of what should have been or could have been had the cards fallen a different way.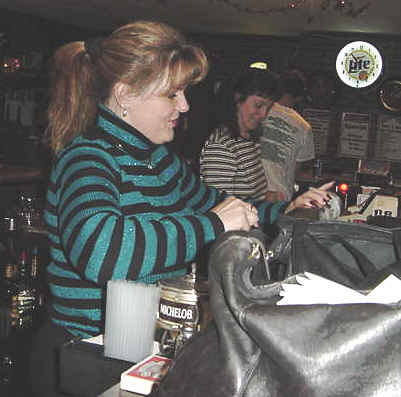 The Chicken Night food was once again delicious and we all had our fill. After dinner we all bellied up to the bar for an after dinner drink and were told that they just got a fresh batch of Ice Cream so we all had Grasshoppers.

NAOMI AND WYNONA SEEN HERE MAKING THE POPULAR GRASSHOPPER DRINKS

    We heard from Alex on tuesday night exactly one week from when we saw him last and he states that he gets hollered at a lot but he loves it there and knows he made the right choice.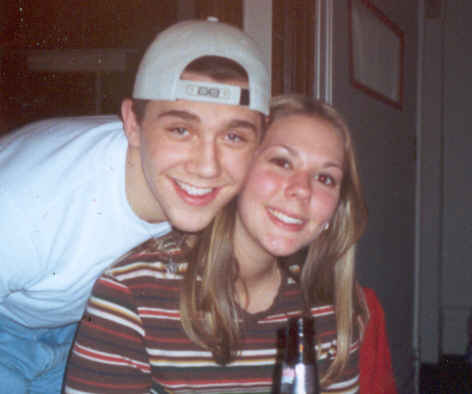 ALEX SEEN HERE WITH MARIAH CARREY AT HIS GOING AWAY PARTY  MANY CELEBRITYS WERE ON HAND TO SEE HIM OFF

Monday of that week would have been the start of his six weeks of training so he has not yet completed the first week of training as of yet at press time. He still has over 5 weeks to go which is good cause he can't use the phone for that much time and it will give us time to

get his phone bill down to a manageable amount. Anyone who wishes to write to Alex may do so, just
click here
for the address.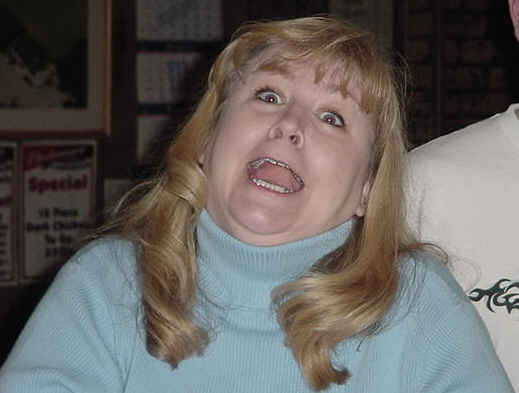 J.P. HANSEN SEEN HERE RANTING LIKE A MAD WOMAN AS SHE LECTURES THE SOBIECK CHILDREN ON HOW SHE SHOULD HAVE BEEN THEIR MOTHER, AND HOW DIFFERENT THINGS WOULD BE

    Tim Lade who is photo editor of this web-site is also a business man who with two partners in the last two weeks has opened his own business. He is selling after market parts for equipment manufactured by the now defunct O&E Machine Co. So far they have been working out of their homes but this week they make the move into their own office on Fire Lane Drive in Green Bay. The machines are for the paper industry and at one time were a popular item, many machines exist so the need for parts is there. Congratulations to Tim and his fellow business men in this noble endevor from The KAT AND MICK REPORT. That's all the news that is news, see ya.

Feb. 10, 2002

XPFL OFFICIAL RECOVERING FROM SURGERY

Oneida WI - XPFL Official Joe Siehr had surgery on his spine in the neck area on Friday and is recovering at his home near Denmark. Joe, who worked the Umpire position for officiating team came through the surgery better then expected, being discharged only 4 hours after being admitted for the surgery.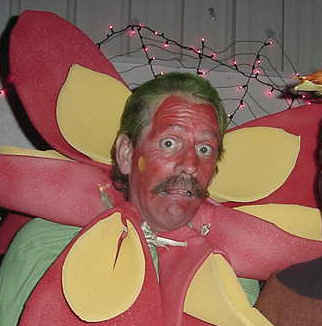 XPFL OFFICIAL JOE SIEHR WHO MAY HAVE BEEN RED FACED AT TIMES OVER SOME OF THE CALLS

As requested by the XPFL

Joes human neck was replaced with a bionic neck to facilitate the instant 180 degree turning of his neck for following the ball during fumbles and other quick reverse direction plays. XPFL rules committe admitted that last years Turkey Bowl may have had some mistakes made in the officiating particularly in

the area of fumbles and interceptions. The was also a lot of other infractions made by both defence squads due to the officials not being able to turn around fast enough after the snap.

    On February 7th.  a significant news event happend that is worth mentioning. This is the first time in "Fat Club" history that during the traveling lunch meeting Judy Treml found nothing askew in her meal, leaving one to believe that without any dark comment being made, everything must have been perfect. The event occured at Players Lounge on Packerland Ave. The establishment is managed and partially owned by Daniel LaCount, a respected and well known Oneida elite. Mr. LaCount if you are reading this you may want to print it and post it in your establishment or use this quote in a newspaper ad, for this is the only known eatery given a clean bill of health by this gal. But if you are thinking that this is too much hoopla about a minor event let me clue you in, it is unlikely that this event will occur again in any of our natural lifetimes.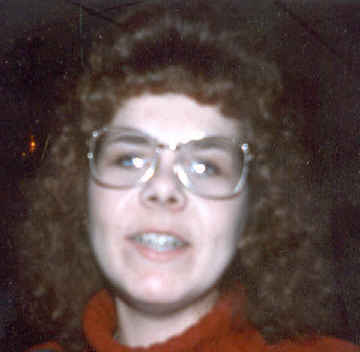 Alex reports that he is doing fine and he knows he made the right decision in joining the Air Force. Even in boot camp he still thinks that its good. He likes the food but says "you don't get enough time to eat." He's also trying hard so that he doesn't get recycled through boot camp again. You will also find him  now in church every sunday giving out communion.

JUDY TREMEL, HIGHLY CRITICAL OF WHAT'S ON HER PLATE


    Although the news was leaked beforehand, the official announcment was made at Chicken Night that your reporter has accepted a job with The County of Brown in Maintenance at the new jail. This is on the other side of town for me, but on the highways it shouldn't take any more time to get there then to my old job. To put aside a popular notion, I will not be driving even slower because I'm a county employee as so elequently stated by one of the mechanics at Lamers Bus Lines. I won't mention his real name, but his nick name is Casper. The whole deal will be final when a physical exam is complete and the results are back at the county H.R. dept. It is then that I will be told a starting date. A small celebration was held in my honor at the weekly Chicken Night event with a cake and everything. The cake read, congratulations-back to work as a non producer.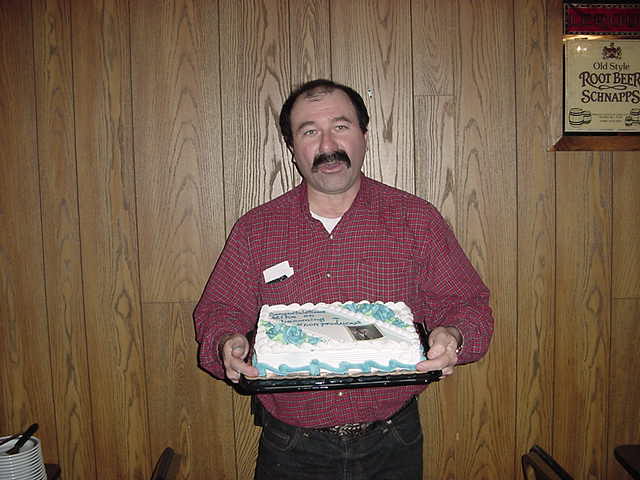 MIKE P. SEEN HERE WITH MY "BACK TO WORK CAKE"

I was very grateful to say the least, and glad that everyone was able to attend. While the crowd attendance was not a record, it was large enough to put two tables together and noisy enough that the management won't seat anyone close to us. Certainly an ingredient to a successful Chicken

Night is the placement of non Chicken Night patrons two to three tables from Chicken Night ground zero. It is certainly one of the only ways to tell that things are going well while in the Chicken Night euphoria.

    Rock Fest has announced a partial line up for the July concert with none other then Meat Loaf on the top of the list. Other noteable bands include Journey, Poison, and Loverboy. For an up to date list of who's appearing in Cadot this year click on
Party Page
. We will also post the schedule on that page when we have it as well as any updates, there are still 8 more national acts to be announced yet.
    Light snow falls in Wisconsin as I publish this newsletter but the weather in Wisconsin has been incredible this winter! Most of the week saw highs in the upper thirtys or lower fourties at a time when normal temps should be around zero. That's all the news that is news, see ya.

Feb. 17, 2002

ONE YEAR ANNIVERSERY OF EARNHARDTS PASSING HAUNTS "LOOK ALIKE" PICKETT

Oneida WI - It has been one year since the passing of wildly popular NASCAR racing star Dale Earnhardt as Mike Pickett editor of THE KAT AND MICK REPORT knows all too well. Since the passing of the racing ledgend, Pickett has been  continiously spotted and singled out by racing fans as the number one Dale Earnhardt look-a-like.

Even though there isn't a NASCAR fan alive who doesn't know that Earnhardt is worm food, people still stop Pickett every day with one last hope, grasping at straws still thinking that somehow it was all a big mistake. When they learn the truth all over again it is another shock to their already taxed and strained emotional spirit. Then there are those who never liked Earnhardt and were glad to see him go. They didn't care how he went one way or another, just so he was gone, these are the people who Pickett finds the most dangerous. "Roudy fans who think Earnhardt's back from the dead are the most dangerous, and that's where I draw the line and have to defend myself." Pickett says he's been attacked a number of times and has had to defend himself with deadly force. "I was forced on a number of occaisions to use my deadly ninja fighting techniques to defend myself and my wife the Kat." Pickett says he is just lucky that he has not killed anyone defending himself against these erratic race fans.

    We have heard from Alex last night and he is doing very well considering his new lifestyle. Last week they were all given rations to eat and Alex was the only one who knew how to prepare it for consumption. The reason he knew was that his Aunt Cheryl gave him one when we went to Florida and when he was living on his own he didn't have very much money and was hungry so he learned how to prepare the ration. The fourth week is the toughest week he says and he is just entering it, so he is a little worried about getting everything right so that he doesn't get recycled. He asks that people send more mail, he likes to get letters but remember no packages, he is not allowed to have anything but letters.  Alex was also told that 95% of the people graduating in his field are being sent overseas. He will be trained in law enforcement.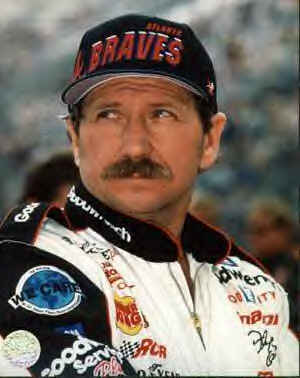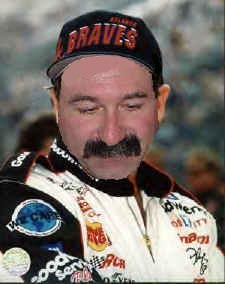 EARNHARDT ?  PICKETT ? WHICH ONE IS WHICH ? WHO KNOWS?


Wynonna and Naomi were shocked and truly saddened by the passing of fellow goat roaper Waylon Jennings on Thursday. Wynonna  when asked what she thought replied " yes I am very sad." Naomi had no comment but was visibly shaken as we all noticed a tear in her beer.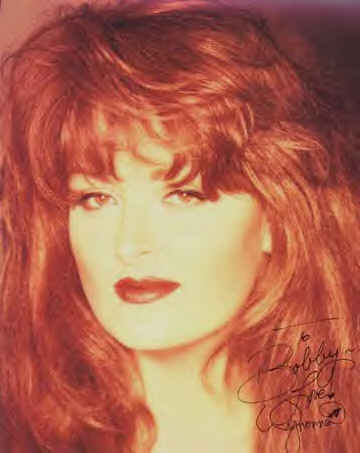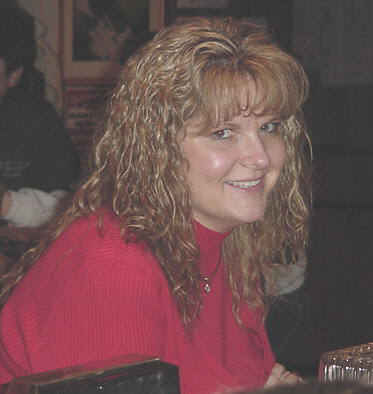 THE REGULAR CHICKEN NIGHT BAR TENDERS WYNONNA AND NAOMI AT CLIFF AND CEILS

In other Chicken Night news, it was quite noticable that Tim Lades memory is fadeing since the start of his business. This will probably be a temporary condition caused by the imense work created by the start up. There were no children present at Chicken Night this week as noticed by Queen Jean Poquette Hansen, the absence of children was an ominous condition indeed never expirenced before. There were several firsts for Chicken Night and here's another, for the first time that anyone can remember no one actually had Chicken! Probably due to lent everyone had fish of some kind, and the wonderful bird was spared. Also for the first time I can remember Jeannie was given a whole package of dinner rolls which she shared willingly but the table was unable to finnish. We think Jeannie Opalized it and said rolls are in her kitchen now.

This week saw a historical development in cloning with the cloning of Kats. This is of great interest to me as you know as I am married to a Kat.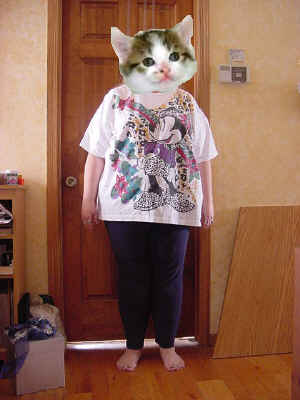 KAT CLONING A BENEFIT FOR ME

The clones could make life a lot easier for both of us even though their heads seem to be unreasonalby large. I feel the clones could get part time jobs and support myself as well as the original Kat. This could facilitate early retirement for me and help the Kat out with her crafting. We here at THE KAT AND MICK REPORT are in favor of cloning and encourage everyone else to be. Write to your congressman now and tell him to vote yes to Kat cloning. That's all the news that is news, see ya.

Feb. 24, 2002

SOBIECK CHILDREN ON HONOR ROLL

Oneida WI - With third quarter results in and the official list announced it is apparent that Brittany and Justin Sobieck are indeed scholars. They each have received high honors in the West DePere High School honor list,  truly a major accomplishment at one of the toughest schools in Northeast Wisconsin. Brittany and Justin the offspring of Trixie and Kevin Sobieck are certain to become dean's list material in college. Upon graduation from college Justin will become a plumber while Brittany will beome a reasearch scientist working on either a new ecological friendly fuel for automobiles or a cure for cancer.

    Rick Prevost's birthday somehow slipped through the cracks of the birthday page and was never published. Sorry, but there is still one week of February left click
Birthdays
to see it.
    The Fat Club has moved the meeting from Thursdays to Saturdays to facilitate more members attending, with the Kat now working from 10 to 2 PM every day now at Blimpes Subs the regular attendance has dropped to two. Since every meeting would not have a quorum no business can be conducted therefore leading to the eventual downfall and disbanding of said group. Therefore the officers of the club have made the only decision they could to keep the long standing organization afloat. From now on the meetings will be at Trixies house at 9 AM with a lunch date at noon, new members are welcome.


It was early in the Chicken Night event that a general consensus revealed that Queen Jean Poquette Hansen, Trixie, and Stephanie were the axis of evil at Chicken Night.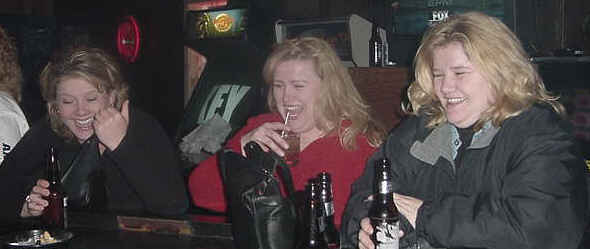 Stephanie announced that her cat is evil and not a good candidate for cloning as mentioned in last weeks report. Proof positive that pets are affected by the axis of evil. If more proof is needed one only needs to point out Trixies dog Bear and his psychotic behavier with his bipolar disease. And speaking of Trixie, she announced that Brittanys new boyfriends name is Joel Smitts and She (Trixie) would like to get her married off to him.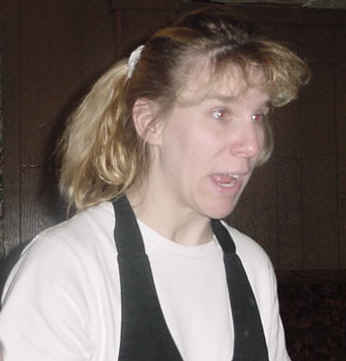 JEAN POQUETTE HANSENS SPECIAL WAITRESS FRIEND

Finally as we sat down to eat Judy Treml was able to spill her salad onto Marie Krohn's lap, yet another example of Judys inability to finish any meal without some sort of calamity. The management of Cliff and Ceils is thinking of purchasing a large high chair for her.

    After Chicken Night the Kat, Kevin, the axis of evil and myself all attended a birthday party for Aimee Meanie Miney Moe, Annie Kunish, and Siboola Sue which was held at the Century 21 bar in Denmark.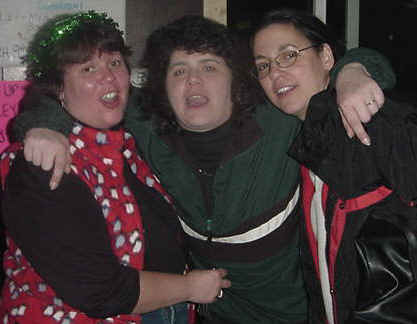 AMY MEANIE MINEY MOE, ANNIE, AND SIBOOLA SUE NOTE THE LACK OF SUNGLASSES ON AMMM

Much ac-a-hol was consumed and as it turns out the bar was owned by Kevin's cousin (not a kissin cousin.) This combined with the local celebrity status afforded us  by being in the entourage of the three lovely birthday girls, enabled us to recieve special service from the bartenders.

Once again the bar setting of the Century 21 was the perfect place for Axis of Evil ringleader Jean Poquette Hansen to humiliate herself in front of total straingers. Starting by protesting to pool players that her quarters were on the table first (she never even put quarters on the table at all) and progressing to taunting pool players with a backscratcher, a gift of one of the birthday girls.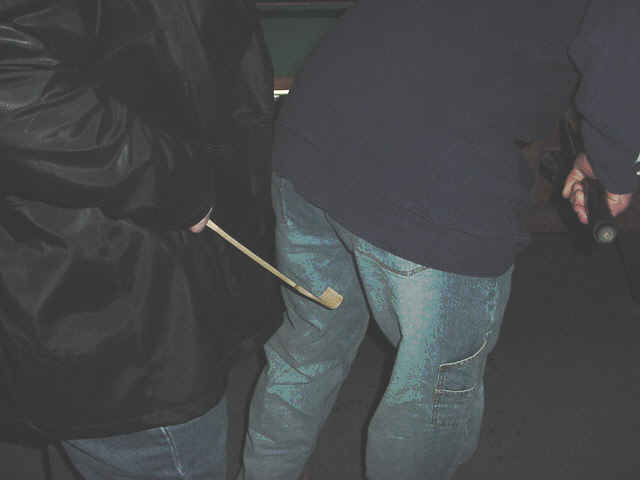 J. P. HANSEN TAUNTING A POOL PLAYER AS HE LINES UP HIS SHOT AT THE CENTURY 21

Room became available at the bar and she moved there to settle in for another round of drinks.

    Alex has informed us that his address will be changing when he moves from basic training to tech. school, so it is O.K. to write to him this week but next

week will be cutting it close and he may not get your letter if sent then. I will remove his address this week some time and post his new address when I get it. He is doing well and has passed his four week test and is looking forward to graduation in two weeks. He will then spend the next eight weeks in tech. school.

    I have received the tentative Rock-Fest schedule and will post it on the
Partypage
this week. That's all the news that is news, see ya.