news from oneida - news from oneida - news from oneida - news from oneida




"AT THE KAT AND MICK REPORT WE DON'T MAKE THE NEWS, WE JUST REPORT IT"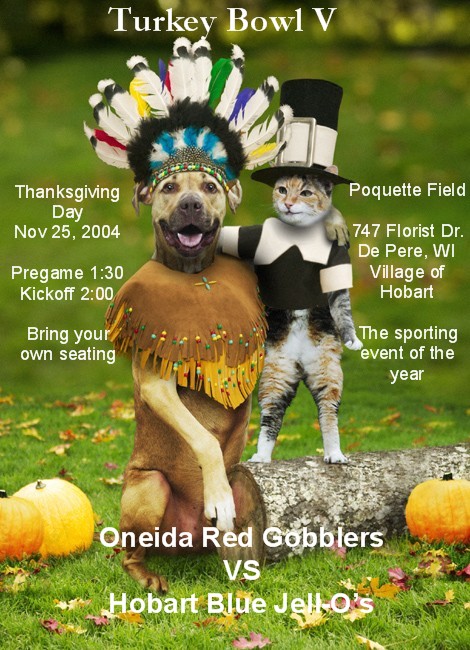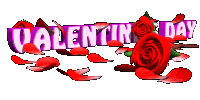 KEVIN SOBIECK INJURED WHILE RESCUING CO-WORKERS IN AUTO ACCIDENT

    It happened at 4:30 AM on Monday the ninth of February on the way to a jobsite when the crew was leaving town. Suddenly the crew cab truck Kevin was riding in slid out of control and overturned on Scheuring Road in De Pere near Highway 41. The truck had slid over a patch of black ice and the driver was thrown from the vehicle but was not injured; three other men including Kevin remained in the vehicle. Kevin, knowing that remaining in the vehicle after the crash awaiting rescuers posed additional dangers immediately sprang into action and began tearing at the vehicle with his bare hands pushing metal out of the way so that a safe egress could be obtained for his injured co-workers. Working from the inside of the vehicle he sized up the twisted hunk of metal and began his tedious process of bending, moving, tearing, and pushing until he saw light and opened a hole to the outside of the vehicle. Once outside he quickly opened the hole further and pulled his injured buddies from the wreckage. While pushing on the truck frame to tip it in a more favorable position so the last of the occupants could exit he injured his back cracking a vertebras, he knew this when he heard the distinctive sound of a celery stalk snapping  when he was picking up the truck. While in tremendous pain he remained ridged and held the truck upright until the last man was out and then collapsed himself. He is off of work now and at home awaiting information from the doctor as to the course of his treatment. It is not known when he will be returning to work or if he will be restricted from certain duties.

    Ellie Sobieck is in the hospital with an infection in her knee and shall remain there for a couple more days yet. She is responding favorably to the treatment prescribed by the doctor and is expected to make a full recovery.

    Stephanie has surprised Rick for his birthday Feb. 13th. with a weekend getaway to beautiful Las Vegas for his birthday. The couple was whisked away by jet on Friday night, it is not known however when or even if they will return. Who ever is taking care of Bailey should take note that Prevost Mansion is the child's inheritance and should be maintained until he can rightfully claim it.

    A friend sent me a link to a website that might make things a little clearer to someone who is confused about why we are fighting this war on terror. Recent news reports have cited Iraq as a "hotbed of terrorist activity" under the Hussein regime. The photos on this presentation are real, very scary, and heartbreaking to say the least, please take a minute and click the link to refresh, reinforce, or enlighten yourself on past events. Make certain your speakers are turned up and
click here for "Never Forget - Remember our heroes."
  That's all the news that is news, see ya.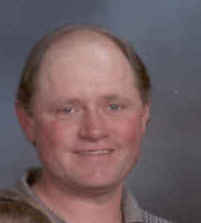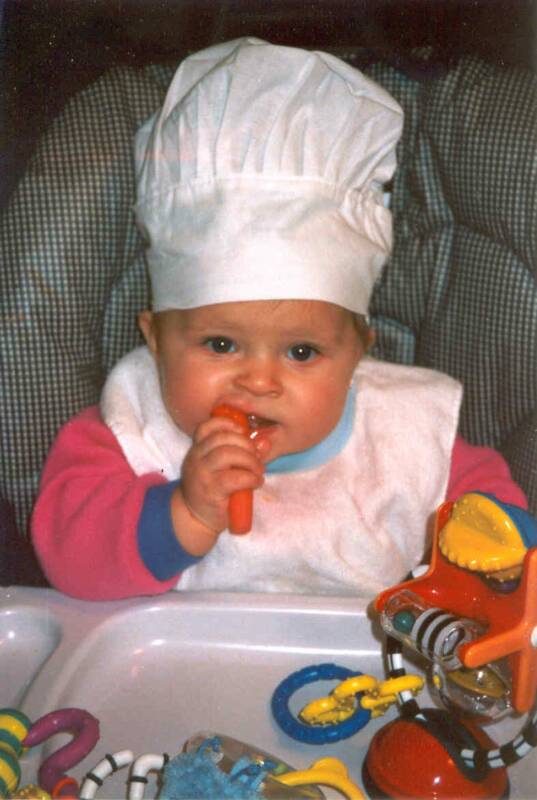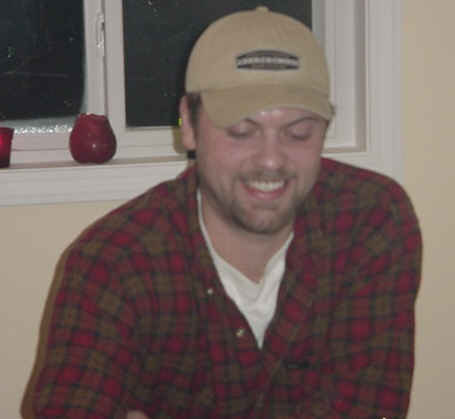 WITH OUT CONCERN TO HIS OWN WELL BEING KEVIN ONCE AGAIN STEPS INTO ACTION FOR OTHERS

ELLIE INHERITS BAD KNEES FROM GRANDMA PEG

RICK RECEIVES BIRTHDAY SURPRISE, A TRIP TO LAS VEGAS

RICK AND STEPHANIE WIN BIG IN LAS VEGAS - ASKED TO LEAVE AND NOT RETURN

    People wondered for years how common folk like Rick and Stephanie Prevost could acquire the Royal Scott Mansion but now the truth can be told, once again The Kat and Mick Report has uncovered the facts. The Prevosts who struggled for years to maintain their miserable, meager existence have recently been living the glitzy, high society life that only the wealthy could know. Many people have rationalized this phenomenon away by suggesting that they had come into a huge inheritance, or that an anonymous benefactor had financed their ravenous purchasing habits, yet another person suggested they found a briefcase of money intended for a drug purchase while mopping up in the bus station. While many of these scenarios seem likely, logical, and convenient, the facts are that none of the above mentioned explanations are actually where the Prevosts met their fortune. The recent trip to Las Vegas disguised as a vacation by the couple was indeed just another trip in an elaborate succession of trips intended to bilk the Nevada casinos out of millions. While most patrons of the casinos use the game of black jack and counting cards as their way of finding their jack pot, Rick and Stephanie used a more "high tech" method which involves having a small circuit board implanted under their skin. Once the board is planted and the incision has healed a tiny turbine is inserted in one of the main arteries leading to the heart which generates electricity for the circuit board. The board can now be placed in close proximity of any slot machine without detection! Once Rick or Stephanie sit down they play a few minutes just as if they were taking their chances as everyone else does, but when the house dicks are not looking a small switch is tripped which is implanted in their teeth and actuated with their tongue. This action commands the board to send the machine a signal which in turn causes the machine to go into an instant payout with the jack pot. The plan worked well up until this last trip when suspicious house dicks grabbed both of them when both of their machines paid out at the same time. They were taken to the back of the casino and questioned in separate rooms; while the detectives knew there was something awry by instinct they were unable to find the clever mechanism which was the Prevosts golden goose. Only after both were strip searched and told not to come back or "terrible things will happen" were they allowed to take their winnings and leave, leaving them to wonder just what would happen should they have the urge to try it again. It is this reporter's opinion that this will not stop the couple from attempting this again. Their current life style is too comfortable now like a favorite pair of shoes that is broke in but not worn out. This can be noted by the carefree driving habits of Stephanie who just this past week received a letter from Department of Transportation warning her of her penchant for excessive speed citing an incident where she received two speeding tickets within the same week. We are left to wonder if they go on another "vacation" to Las Vegas will they return or will their lifeless rotting bodies be discovered in the Nevada desert with out a clue how they got there?

    Kevin Sobieck is back to work now after recovering from the accident he was in while on the way to a jobsite. Sobieck who had seen a doctor for about a week was given the green light to go back to work on a limited basis until he was completely healed.

    This past Saturday was spent with the Treml family at the Norway Mountain Ski Hills. Kat, Judy, Emily, Kaitlyn and Myself had never skied before and were first timers. Scott had skied about 15 years prior and needed a little refresher but got back in the groove in no time. Kat fell down a couple times and got wet because neither of us had snow pants, she became cold and did not return after lunch, however the rest of us had a jolly time and by the end of the day Judy and I were skiing down the hill with Scott and riding the chair lift up for another attempt. The day ended at 4PM when the chair lifts were shut down and we headed home. We can't wait to go again. That's all the news that is news, see ya.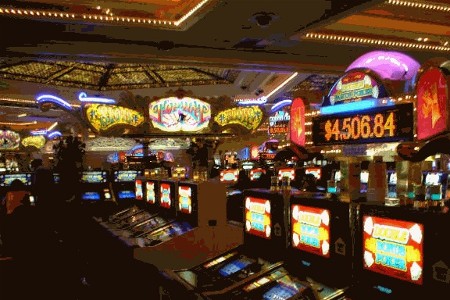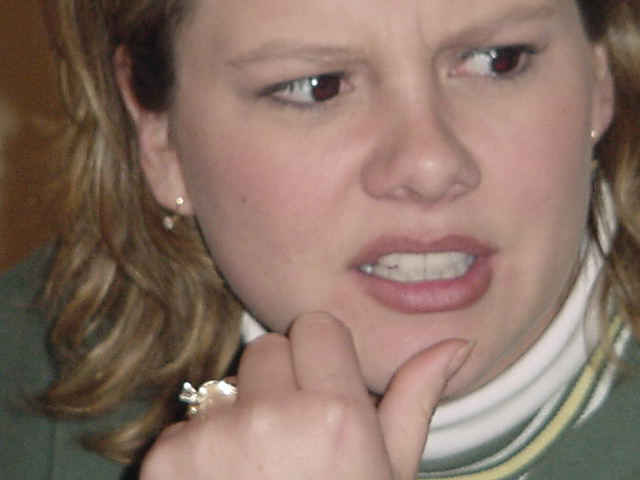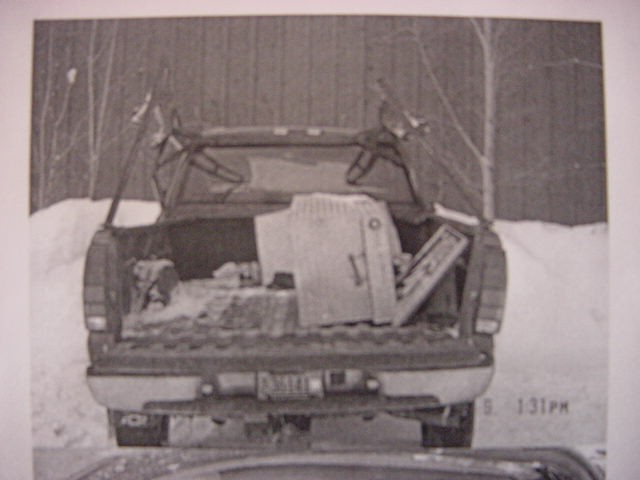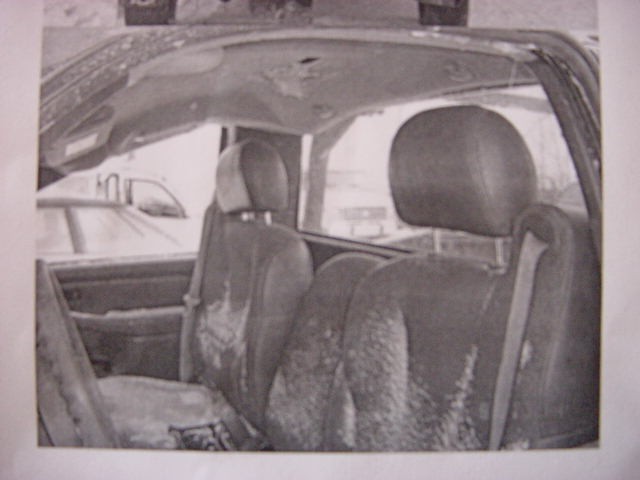 VEGAS SLOT MACHINES DISPLAYING JUST ONE OF THE JACKPOTS WON BY RICK AND STEPHANIE

STEPHANIE PREVOST LOOKING DISMAYED OVER A LETTER FROM THE D.O.T.

THE TRUCK KEVIN SOBIECK WAS RIDING IN

INTERIOR VIEW OF TRUCK KEVIN CLAWED HIS WAY OUT OF AFTER A ROLL OVER ACCIDENT