news from Oneida - news from Oneida - news from Oneida - news from Oneida




"AT THE KAT AND MICK REPORT WE DON'T MAKE THE NEWS, WE JUST REPORT IT"

Wanted: Lots of fun loving,
party going, sun seeking individuals to take an exciting trip to Mexico! Looking for lots of people, the more the merrier to go to Mexico, leaving in February 2006. Mark your calendar and save $$$$$. Call Shelly Sobieck for any questions and let her know your interested, she will update you with new information. Call 920-865-2330 for all the details, or click
sandsobieck@aol.com
to e-mail her.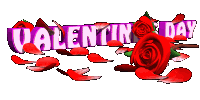 NEW OWNERSHIP SENDS LADE TO UNEMPLOYMENT LINE

   im Lade  had worked decades for the now               defunct O & E Machine Co. then graciously moved on to the parent company of the operation Paper Converting and Machine Corp when asked to do so some five years ago. Seeing the plant he worked in close and finding Paper Converting not what he expected it to be Lade became business partners with another Paper Converting employee and founded Nu Tech Corporation three years ago. Since then the limited liability corporation has built and sold replicas of the corrugated machine O & E was famous for, as well as supplying parts for that machine and the O & E product. Lade managed the sale of parts as well as procured parts for the building of new machines. The business was equally owned by the two men and a third investor who acted as a salesman for their product but otherwise was a silent partner. The third investor has now decided to retire and has sold his holding to Jim Koslowski Tim's partner, making him the sole owner of the company. "Kos" as he was known at O & E has has taken control of the company and in a statement released on Friday Lade acknowledged the rumors were true and that "I was invited not to return to work." Lade went on to say that "I will still be retained as a consultant to the company." Lade's obvious disappointment over the move was visible by his mopey attitude and in certain statements made by him such as "here I am looking for a job again in this stage of life, who's going to hire a 69 year old?" The separation could not have come at a worse time in his life when the Lades have just purchased a house and are making plans for Tim's father to join them in their Allouez Domicile. Joanne Lade wife of the out of work parts manager who was present when the announcement was made was only able to make a few off color comments about Lades lacking electrical skills when in fact he was in dire need of comforting. Joanne Lade an out of work wedding singer with an alcohol problem working as a paralegal for AMS to pay the bills should have stood by his side and comforted him. Instead she  was more worried where her next martini was coming from rather then whether her husband was in a good frame of mind. The Lades have sold their condo on the Royal Scot Golf Course and are not going to have to make a double house payment so that is good news. It is thought now that Tim will join his father in the birdhouse factory and double it's output.

WEDDING SHOWER PLANNED

    A wedding shower for April Cornelius is planned for March 5th at The Kat's house on County E. Arrival of the guests is anticipated at 12 PM and it is expected to last most of the afternoon. April is the daughter of Sue Wenzel and Eugene Cornelius and is engaged to be married to Rick Johnson on April 16th of this year. The happy couple will reside in Oconto upon completion of the wedding.

    There's a new
Birthday Page
to see if you're interested! That's all the news that is new, see ya.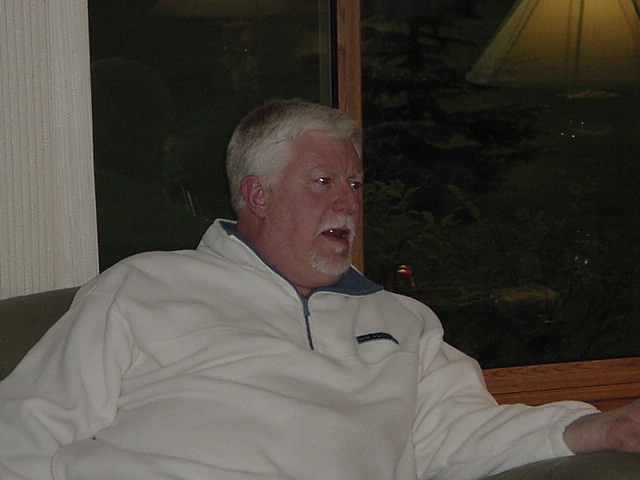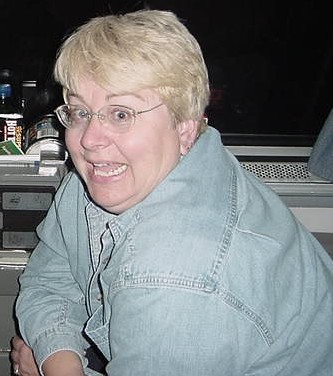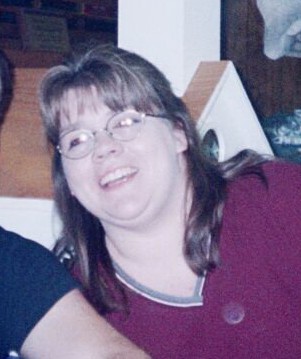 TIM THINKS BACK TO WHEN TIMES WHERE BETTER

JOANNE WORRIES ABOUT HER DRINK WHILE HUBBY DROWNS IN OWN TEARS

BRANDON AND CLARA STAND UP FOR HUGE WEDDING

    n February 12th. Brandon and Clara were members of a huge 10 member wedding party for Mr. and Mrs. Jason Strunk that held ceremony's at the Pilgrim Congregational Church on Pilgrim Way in Ashwaubenon. The reception which was held at a banquet hall in the Comfort Suites Hotel sported a head table so long that members of the wedding party needed cell phones to ask their partners to pass the chicken from the far end of the table. As a matter of fact it took so long to get cartons of milk from one end of the table to the other that the product had surpassed it's code date while in transit. The Strunks were somewhat puzzled about how to conduct themselves at the wedding feast and abandoned the traditional kiss for the tinkling of glasses in favor of a scavenger hunt. A list of items had been placed at every table before people were seated and for each item presented a kiss would be exchanged by the wedding couple provided the item had not been presented by someone else previously. On what seemed to be the spur of the moment decision Jason insisted duplicate items presented would result in the exchange of a kiss between the presenter and his or her partner. Some seemed elated at the idea and began presenting duplicate items intentionally while others who accidentally duplicated refused to even look at their spousal unit. The whole idea which began as a delightful romp soon went down hill and became a free for all for what ever the presenters wishes were. The utter disgust on the grooms face was apparent as he tried to manage the endeavor which ended in guests out of control with items from the list being tossed around the room and complete strangers kissing each other uncontrollably. Brandon realizing that pandemonium had set in took control and by his command ended the circus by announcing that they were returning to the traditional clinking of glasses and cups to which the wedding couple were to kiss. The roar soon died down and a traditional wedding was had thanks to Brandon.

RICK AND BOBBY WILL ADD TO FAMILY

   ick Poquette and Bobby who were able to use Ryker this year as tax deduction for the first time will add on to their list of deductions for next year. Bobby who along with Rick are expecting a new child for 2005 will have another check mark in the box for deductions when they fill out their Turbo Tax forms next year. Dick and Colleen who are the parents of Rick are delighted at the thought of another grand child on the horizon and are again planning a dramatic presentation when they make the formal announcement. As you recall when Ryker was born Dick donned Traditional trappers garb while Colleen dressed as an English bar maid and they sang the announcement out to all who would listen. This time they are being tight lipped about what the costumes will be but insist that it will be entertaining. That's all the news that is news, see ya.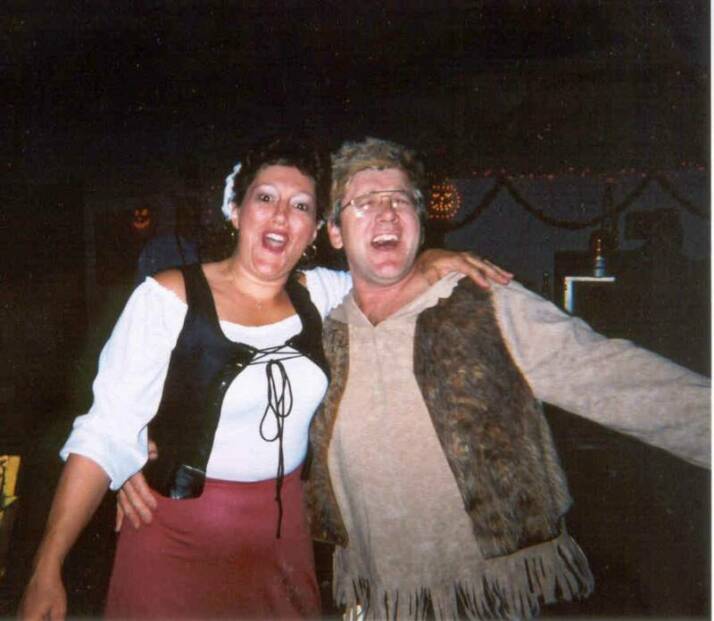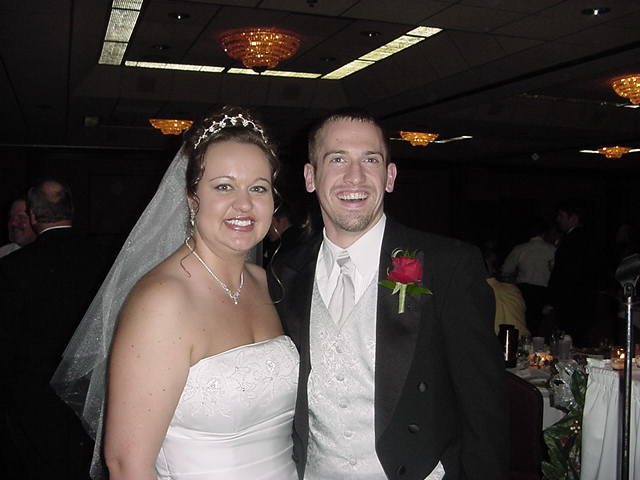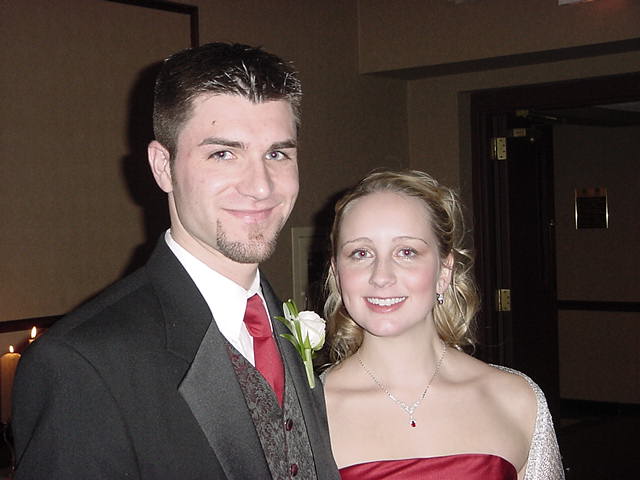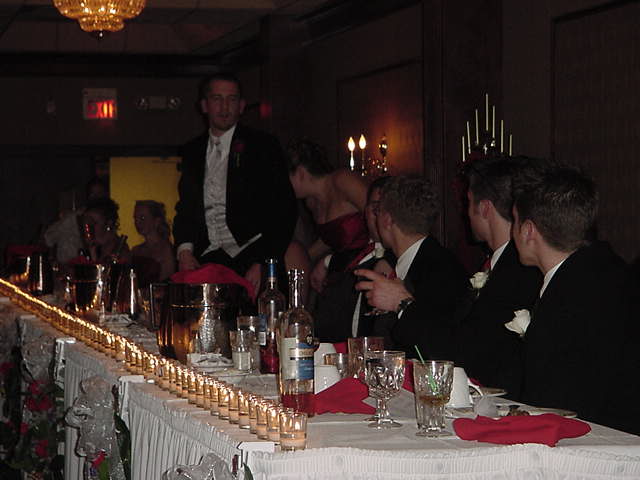 THE GROOM STRUGGLES JUST BEFORE BRANDON STEPS IN

DICK AND COLLEEN ANNOUNCING BIRTH OF FIRST GRANDCHILD