news from Oneida - news from Oneida - news from Oneida - news from Oneida




"AT THE KAT AND MICK REPORT WE DON'T MAKE THE NEWS, WE JUST REPORT IT"

Wanted: Lots of fun loving,
party going, sun seeking individuals to take an exciting trip to Mexico! Looking for lots of people, the more the merrier to go to Mexico, leaving in February 2006. Mark your calendar and save $$$$$. Call Shelly Sobieck for any questions and let her know your interested, she will update you with new information. Call 920-865-2330 for all the details, or click
sandsobieck@aol.com
to e-mail her.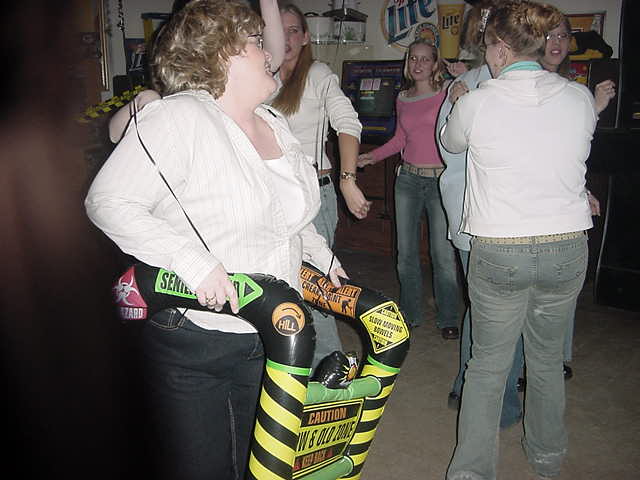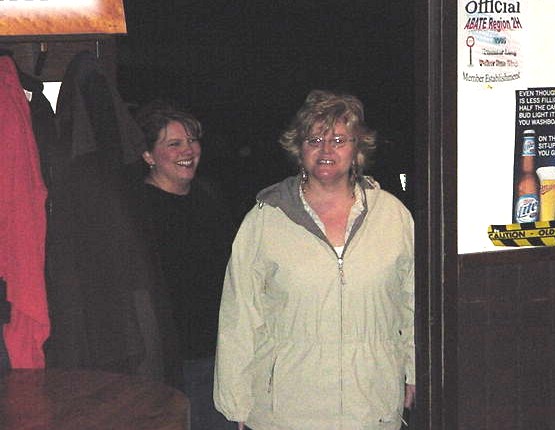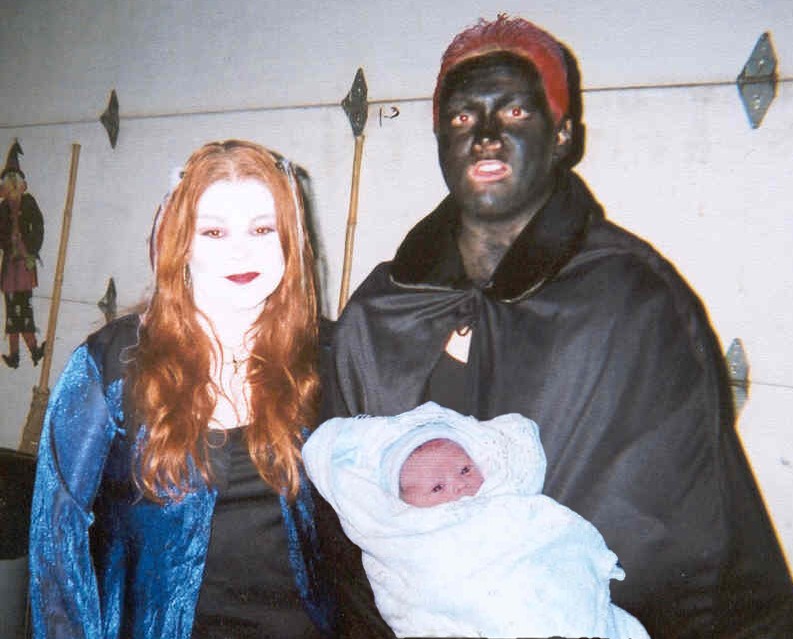 TRIXIE SURPRISED AT OWN BIRTHDAY PARTY

      t was a miracle but somehow Jean Poquette Hansen Pulled it off, Trixie Sobieck never knew about her surprise party ahead of time. She was truly surprised when she walked through the door of Bo-Deens bar in Greenleaf and was greeted by a throng of her friends and relatives yelling surprise! Sobeick thought on Friday she had celebrated her birthday with dinner and few drinks with a couple of close friends and relatives in a bar near Hansen's home. J. P. Hansen suggested they stop by the bar across the street just to have a drink and she obliged. On hand were many relatives and guests as well as classmates she had attended high school with. Food had been prepared and a cake was purchased for her by her niece. At a time when everyone was on hand Sobieck was honored with a reading of her life story and followed by the traditional singing of Happy Birthday. The cake was then brought out and she blew out the candles which was not a major accomplishment considering it was just large number candles. Sobieck's life story can be seen by clicking
here
. The party lasted until at least 1AM and we believe fun was had by all. It seemed most people consumed alcohol modestly with the exception of the Kat, again.
    There has been some discrepancy as to the proper birth date for Sobieck who claims to have a birth certificate which she offers as proof of her age. She insists that the certificate which states her birthday as February 25 1965 is her real birthday and she is now 40. We have conflicting evidence here at the NEWSLETTER which would make Sobieck really 41 years of age. From the Poquette Family Archives a plaque of the family tree with everyone's birth dates has been uncovered on which Sobiecks date of birth is clearly inscribed as February 25 1964 making her 41 years of age. Everyone knows a plaque is never wrong and is always held as more authentic proof then a birth certificate. People can often be seen using their plaques for identification while crossing the Canadian border as well as countless other people proving their age for passport applications using a family tree plaque. We feel the mistake on the birth certificate is an honest one. You know how in the beginning of the year you keep wanting to write the previous year when you fill out a date on  your checks? Well is was like that when the hospital filled out the birth certificate for Trixie, it was early in the year and he just got a little screwed up. We can forgive that but we can't forgive anyone who would take advantage of an honest mistake like that.

    RICK AND BOBBIE ANNOUNCE WEDDING

    Colleen Poquette mother or Rick made the announcement Friday evening that Rick and Bobbie are planning to wed before the birth of their second child in September. The couple has been together for over 3 years and have a son Ryker who was born April 11th last year. No date has yet been set for the wedding and no arrangements have been made yet. When the plans are finalized we will keep you informed here in the NEWSLETTER.

BOB VANLANEN HOME FROM IRAQ

    Bob VanLanen surprised everyone Friday evening by attending the Birthday Party. Everyone thought he was still in Iraq, however it is the policy of the Air Force to put men on minimal time away from home for the reserves according to VanLanen. The work was done so it was time to go home he explained, a story which seemed to he told over and over about 10 times. People kept asking so he kept telling. That's all the news that is news, see ya.

SOBIECK AT THE MOMENT OF HER SURPRISE

SOBIECK WITH HER INFLATEABLE WALKER

RICK AND BOBBI WITH RYKER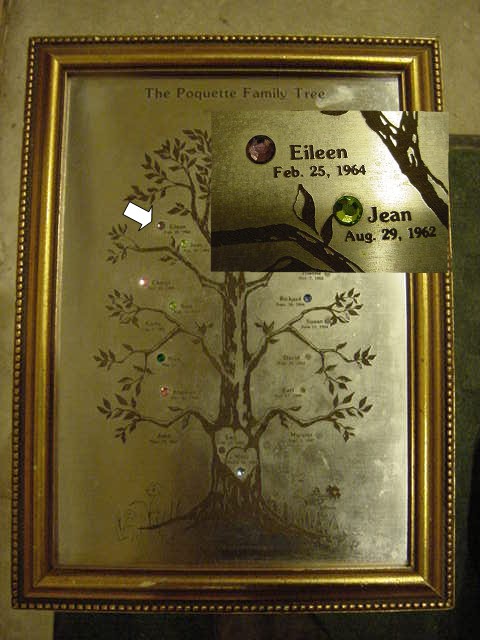 THE POQUETTE FAMILY PLAQUE, PROOF OF SOBIECKS AGE

JOANNE LADE MAY BE DYING OF HEART DISEASE

   oanne Lade had been feeling just fine in the beginning of the year however during the recent move to their new house in Allouez she experienced some disconcerting symptoms. She became short of breath and flushed and she also perspired more then she usually does while performing her usual chores. Lade became concerned when relatives begin to badger her telling her she "didn't look well" and "maybe you should see a doctor and get checked out". Even though it was an isolated incident the tall blonde thought she should take their advice and get checked out. They put her on the tread mill and took blood tests along with an echo sound Lade said in a phone interview and she said "the doctor saw nothing definitive". To be conclusive they will be doing a heart cath to eliminate any further speculation on her circulatory system due to her family history and the fact she had taken Fen Fen at an earlier date according to Lade. For now the doctor has told Lade to take an aspirin a day but has given her no other medication. Lade and her husband Tim will be vacationing soon but the doctor said it would be all right to post pone the procedure until after their return from Mexico. Lade remains upbeat and stated "I would be very surprised if they put any stents in during the procedure. I'm sure the whole thing is from something I ate,"  she reiterated. Having some experience in the subject first hand I concur that the problem exhibited does not appear on the surface to be heart related however she is nearing the age of turning to a shrew and is probably showing symptoms of that condition.

RICK AND BOBBI SET WEDDING DATE

    It is now official the date has been set for Rick Poquette and Bobbi Carder's wedding. The location of the celebration will be in the same place Dick and Colleen had their wedding on County C east of Seymour. Not only will Rick and Bobbi celebrate in the same hall but on the same day! It's true Rick and Bobbi and Dick and Colleen will share the same wedding day! Just to add one more thing to the mix to make sure it's a special day, It's also on Colleen's birthday, June 3rd. Now this really puts a lot of pressure on Sarah to come up with something  to have on the 3rd as well. I wonder if when the time comes she will be pressuring her boyfriend for a June 3rd. wedding?

JUDY AND SCOTT RETURN FROM CANCUN

    Judy and Scott Treml took a break from the long winter this past week by taking a trip to Cancun. They left on February 23rd and returned on the 3rd of March. While on the trip they parasailed and did something called a 30 foot rock jump. They also spent some time on a catamaran however the trip was not without incident. While snorkeling with another couple that went with them the male of the pair had gotten water in his lungs and was hospitalized but not treated, only stabilized and given a bill. He was not allowed to leave without paying the bill. The story is a lot longer then the amount of Internet ink I have left for this article, but at the last check the other couple is still down there.

NEWSLETTER COVERAGE DRAWS THANKS

    A story covered in last months newsletter about Jason and Stacey Strunk's wedding resulted in a clever thank you photo sent to the KAMR offices. We wish the happy couple the best and hope they have many wedding anniversarys to come. The
Birthday Page
has been updated and a new
Unsportsmanlike Comment
has been recently updated so check it out. That's all the news that is news, see ya.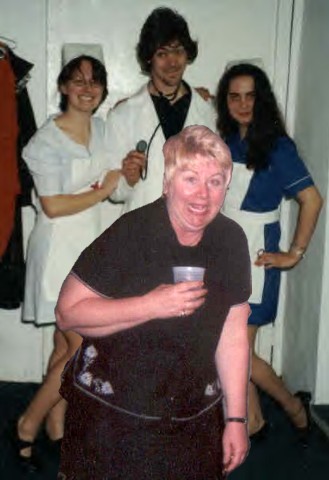 JOANNE LADE APPEARS TERRIFIED AT THE THOUGHT OF THE HEART CATH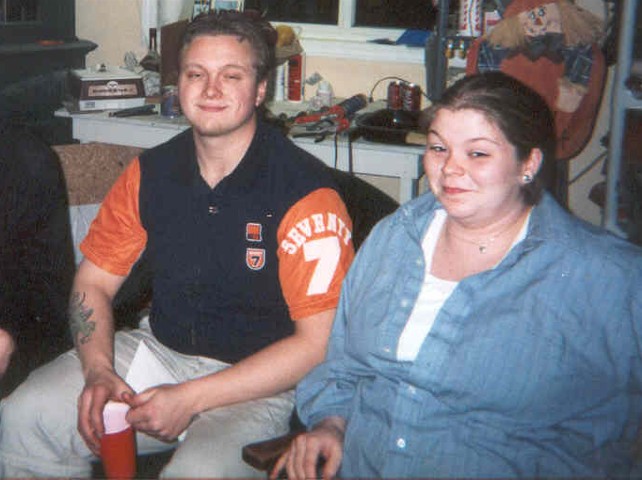 RICK POQUETTE AND BOBBI CARDER

STACEY AND JASON STRUNK CONVEY THEIR FEELINGS ABOUT THE NEWSLETTER COVERAGE