news from oneida - news from oneida - news from oneida - news from oneida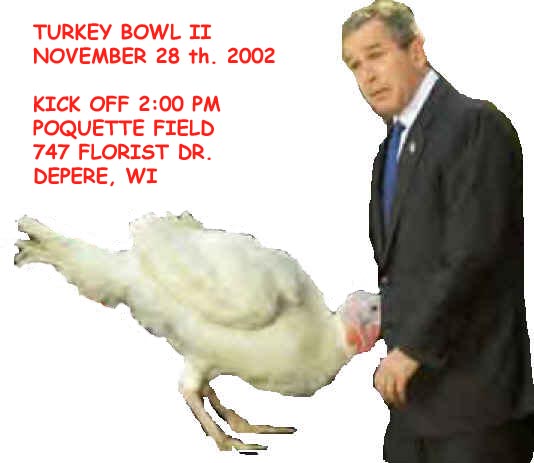 "AT THE KAT AND MICK REPORT WE DON'T MAKE THE NEWS, WE JUST REPORT IT"

Jan. 6, 2002

KAT AND MICK REPORT CHANGES LOOK FOR THE NEW YEAR

Oneida WI - As I'm sure you know by now we have reworked the whole web-site here at THE KAT AND MICK REPORT. Check the home page for new things added on other pages by looking at the disappearing text, as pages are updated I will put the info there to alert you of changes. Other then that, and the Useless facts window, the home page will not change much, it is intended now as a place to go where you can find all the links to this entire web-site. You will also notice that as pages are updated there will be a site map on the bottem of each page to get you to all the important places on this site. Other then a few things looking different everything else is the same with all the great news stories and continuing reporting on the XPFL. We still welcome any news you can send in and photos are always welcomed, along with anything else you may have for any of the other pages. Not many people have been using the Classified page, but that's all right it will still be there when you need it.

    This past week I had the opportunity to visit the transmitter site of WPNE, WBAY, and WIXX. The building at the top of Scrays hill on County X houses two major television broadcast plants as well as Green Bays most popular radio station's transmitter.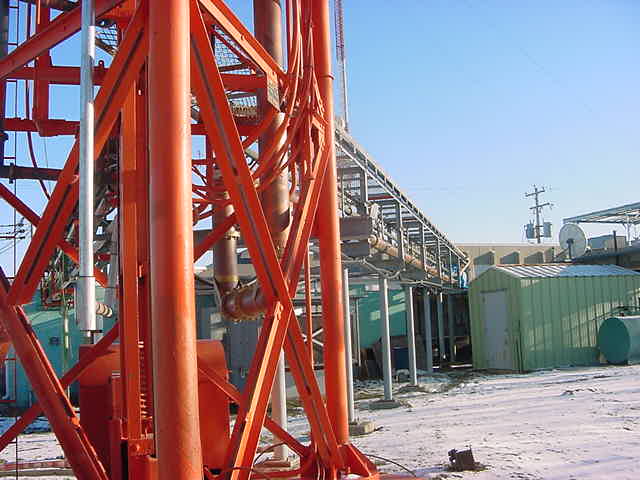 There's the old building, which is cramped for all three facilities. And a new building was added that is about again as large as the existing building and was built by Schuch Construction. Some of the work was even done by Kevin Sobieck.

THE EXISTING BUILDING AS SHOWN FROM THE BASE OF THE 1100 FOOT TOWER

Everyone should be enjoying good signals from all the stations as the tower work is complete and all the occupants are operating at full power again. As I explained in an earlier newsletter that all the antennas had to be replaced to accomodate the new digital transmitters that will go on the air later this year. The target dates are mid May 2002 for WBAY and May 2003 for WPNE, weather or not they will make it depends on how well things go up on the hill. The WBAY transmitter is sitting in the boxes in the transmitter room while they wait for the wireing to be completed, and the WPNE transmitter is being built yet.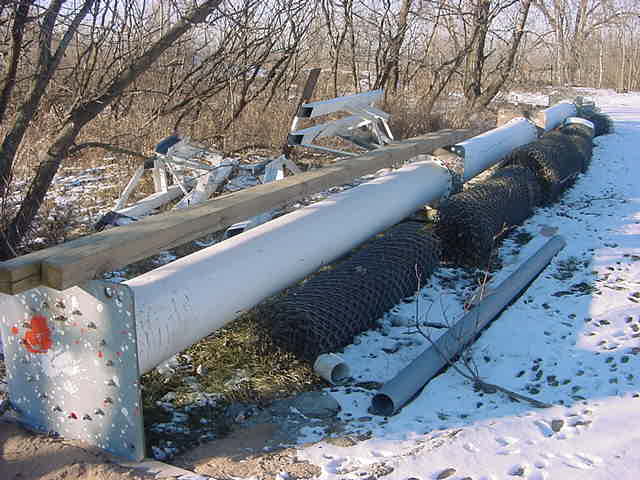 THE 2000 LB. WPNE-TV ANTENNA REMOVED AND LAYING ON THE GROUND AT THE BASE OF THE TOWER

When all is said and done four television signals two from WPNE and two from WBAY along with two FM stations WPNE and WIXX will all be radiating signals from  the tower on the WBAY property, along with a whole host of two-way, weather radio, and paging services.

As I mentioned before extensive tower and antenna work was done in the summer, starting with replacing old guy wires to replacing the top of the tower with a new section and one single antenna able to radiate all four television signals, two of which are on the air now.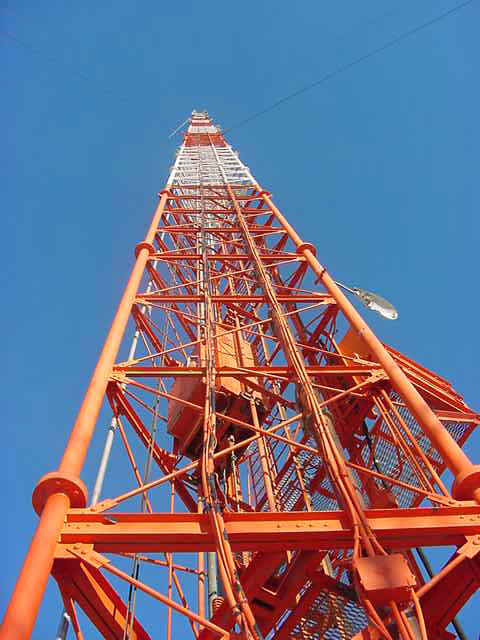 A VIEW FROM THE BOTTEM OF THE 1100 FOOT WBAY TOWER

The tower section that was replaced on the top of the tower weighed in at over 10,000 lbs. as the vertical steel rounds in the corners of the tower are solid steel and quite heavy. WPNE engineer Steve Konopka said

that the tower crew removed it and took it down like it was a piece of cake. Everything went off without a hitch on the tower job and if everything goes as well inside the building we could be watching digital TV on channel 2's new UHF channel by the time the first pitch is thrown in the first brewer game.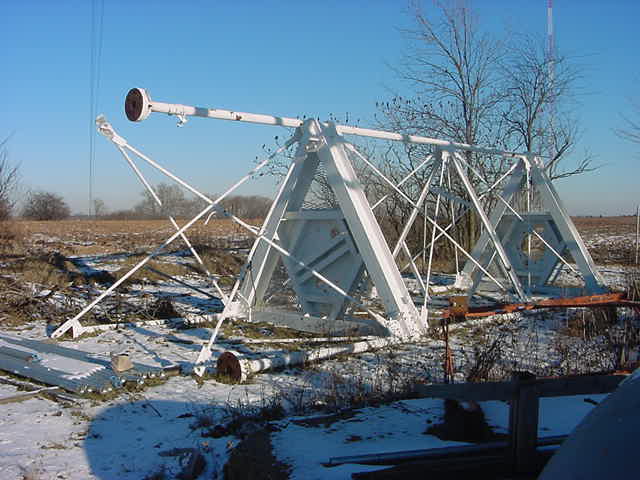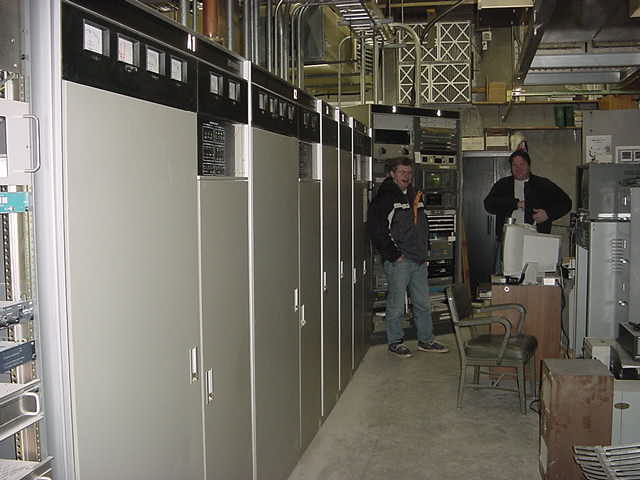 10,000 lb. TOWER SECTION THAT WAS REPLACED

THE EXISTING WPNE UHF TRANSMITTER

    There is a change to report that will happen soon on "The List" page Eileen Sobieck (Trixie) will have a new e-mail address due to the fact she has changed IP service from AOL to MSN. Her new address is esobieck@msn.com, the change will appear soon on the list. Thats it for now, see ya.

Jan. 13, 2002

ALEX PASSES PHYSICAL FOR AIR FORCE, LEAVES FOR BOOT CAMP ON JANUARY 22

Oneida Wi - While its been a long row to hoe for Alex on getting into the Air Force, on Jan 10th. the deal was complete. Alex Pickett officially enlisted in the Air Force on that day after he passed his physical exam in Milwaukee. He signed up for a 6 year tour of duty, and his employment with Uncle Sam will begin in Texas at basic training.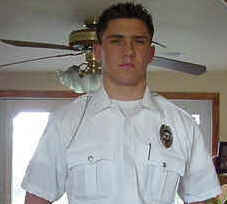 ALEX WILL TRADE SECURITY UNIFORM FOR AIR FORCE CAMELS

He will be leaving Green Bay on the 21st and departing from Milwaukee on the morning of the 22nd and by the 23rd he will already be getting hollared at in boot camp. A special party will be held in honer of Alex on January 18th. This will be at the Pickett home

at 6 P.M.  Alex is still hoping to stay in the security business in the military, and has signed up as Military Police for his military carreer. This all happened all rather quickly but as Alex was informed the next window to go into basic was in May, and he didn't want to wait that long.

    It is also notable to mention that Rick Poquette has also enlisted in the National Guard and he chose the Infantry division to become his forte in the training aspect of his service life. This is the highest paying sector of the Guard, but the most demanding as well. Of course unlike Alex in the Air Force which is a full time job, Rick will only be on duty one weekend a month and a couple weeks through the year after training. Rick is the son of Dick and Colleen Poquette.

    The issue came up at the weekly "Fat Club" banquet held at a local restuarant of inequality of treatment during the home life of the Poquette sisters. It seems that the older Poquette sisters feel that the younger sisters were granted a lot more freedoms then they were at the same ages. The division line seems to be the Kat, the ones older then her have the beef, while the younger ones do not see a problem. The Kat trying to remain nuetral, points out the favoritisim shown to her by her Grandma and being able to hide behind her aprin only the be"thrown to the wolves" upon her death.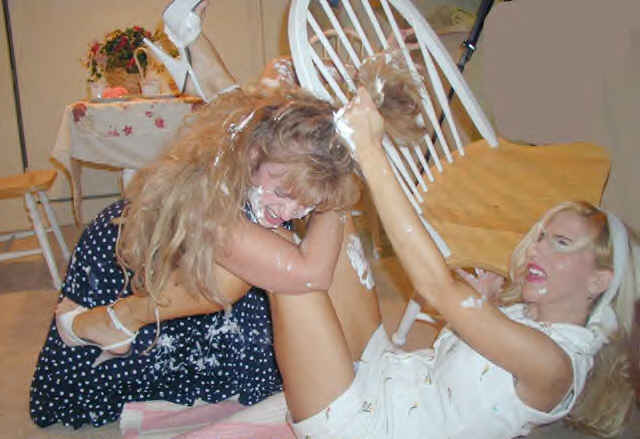 When the two groups disagreed a huge fight broke out and food and fists were flying everywhere. Of course needless to say they were all thrown out of the restuarant and told never to come back. It is unknown which restaurant it was.

FIGHTING POQUETTE SISTERS DISRUPT THE THURSDAY MEAL TIME. WE CAN'T MAKE OUT WHICH SISTERSTHESE ARE

It should be understood that in future gatherings the subjects of one's childhood and growing up should not be brought up.

    Usama Bin Laden has been spotted by our roving reporters! He is hiding out in the midwest near Chicago and working at gainfull employment.

USAMA BIN LADEN SEEN HERE CLERKING AT A SEVEN ELEVEN

Of course he denied he was Bin Laden when questioned by our reporter, but the outstanding facial features and turbin were too convincing to ignore. KAT AND MICK REPORT reporters then found his employer and he confirmed that the clerk was actually Bin Laden.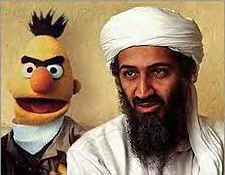 Speaking to our reporter only after we granted anonymity to him, the store manager who will known only as "Burt" told us that he did hire a mid eastern looking man without a background check. We at the KAT AND MICK

BIN LADEN SEEN HERE WITH HIS STORE MANAGER WHO IS UPSET AT THE SITUATION

REPORT are truly shocked and saddened that such a thing could happen. When word started spreading of the Bin Laden connection an angry mob ensued and took matters into their own hands outside the store as seen below. Thats it for now, see ya.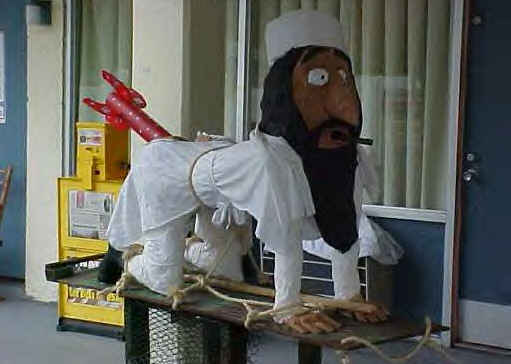 USAMMA GETS WHAT AN ANGRY MOB SEES FIT FOR HIM

Jan. 20, 2002

KAT PASSES TORCH TO NEW HEAD CHEERLEADER, CHANGES ANNOUNCED

Oneida WI - On Friday night a huge reorganization of the XPFL cheerleaders took place with a shift of power on the highest level in the cheerleading staff. The office of head cheerleader was vacated by Kat Pickett and immediately taken over by little known but exceedingly talented Joyce Byrne. Although Byrne who is 29 years old and stands five foot seven is not widely known to XPFL fans, she does live in the shadows of Poquette Field and is well qualified for the job. She was a star cheerleader in high school and because she graduated at 21 years of age she has only been out of cheerleading for less then 8 years. Upon acceptance of the new job she made a short speech announcing changes that will be enacted in the cheerleading ranks.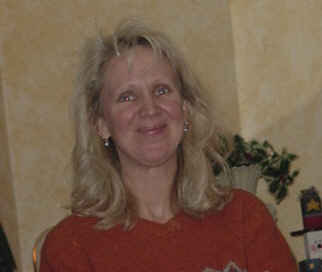 The first major change announced was the elimination of alcohol for cheerleaders, "drinking will not be tolerated" says Byrne. Also announced was a strict excercise program for the squads.

HEAD CHEERLEADER JOYCE BYRNE ANNOUNCES CHANGES AT XPFL

Byrne said " I want all the cheerleaders to start doing 50 kegels a day minimum." Byrne also wants to see the bustlines increased for XPFL cheerleaders (a worthy goal this reporter agrees with.) Byrne says "cheerleaders are to do bustline exorcises while chanting: we must, we must, we must increase our bust." As if this wasn't enough to stir things up Byrne also announced two controversial  new ideas of her own by mentioning the possible lifting of the ban on flimsy cheerleaders, and possibly accepting the applications of "gentlemen cheerleaders" as Byrne calls them. This raises the question of what the standard is for the bustline of the gentlemen cheerleaders, and will they be held to the same standards of female cheerleaders? Will they be required to wear the Manzier? Byrne also says all the practices will be held at her home located on Florist Drive near Poquette Field.

    Friday night was also the night that the party for Alex was held. A pre celebration to his entering the Air Force on Tuesday. The party was nice and a number of his friends as well as many family members and neighbors attended. Quite a few games of "horse" were played and a lot of food was consumed.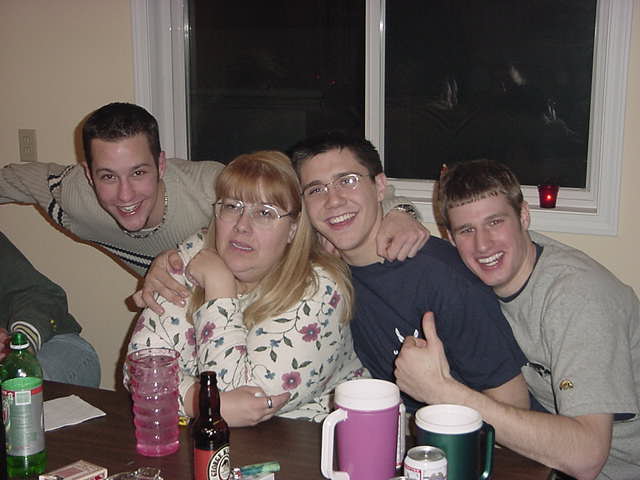 Many of the younger guests of Alex's party expressed interest in being players in the Turkey Bowl II event to be held on Thanksgiving Day this year. This will be an excellent opportunity for both teams to pick up

replacement players for quitters and injuries. Alex promises that he will get leave and be home for the Turkey Bowl.

ALEX AND HIS FRIENDS THANK THE KAT FOR THE WONDERFUL PARTY

    As you probably know another member of the Poquette family is considering having surgery at the Barriatric Treatment center in Bellvidere Ill. This person who shall remain nameless (she lives with many cats on county U) has already gotten her initial consultation and is now going through the motions of proving she has a problem needing attention, with the insurance co. prior to approval. One of the things she was asked to do is show them where "the affected area" is located on her body. Apparently she remembered the phrase: a picture is worth a thousand words, so that is what she did. She got her husband in on the job and together they were able to generate a nice little pornagraphic series of photos for the insurance investigator handling her case.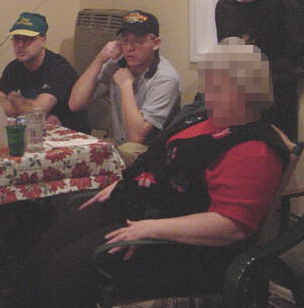 UNKNOWN POQUETTE SISTER SEEKING TREATMENT AT THE BARRIATRIC CENTER

Don't forget that most porn brokers have a photo developing lab in the basement, not the case here though. All the photos in question here were processed at the Wal-Mart. You know that machine where all the shoppers can see the photos being developed. I wonder if she looked at them in the store to see if

she wanted to reject any of them. You can do that you know, just spread them out on the counter and take a look.

    Sorry for publishing the newsletter a bit late this week, that was due to a late night fire call to assist the Hobart FD. Thats it for now, see ya.

Jan. 27, 2002

DEEP SEATED RESENTMENT CAUSES JEAN POQUETTE HANSEN TO SPURN TRIXIE

Oneida WI - It was revealed on Saturday that the reason that there has been several violent outbreaks between Jeannie and Trixie is over Trixies husband Kevin. It seems that Jean Poquette Hansen seems to think that she should have had Kevin for her husband instead. God knows where this idea came from, but apparently it has been in the works for some time and rage builds internally in Jean Poquette Hansen until she can no longer tollerate it and she lashes out. No outbreaks took place at the bowling alley however this reporter remained seated between the two so as to prevent any possible trouble.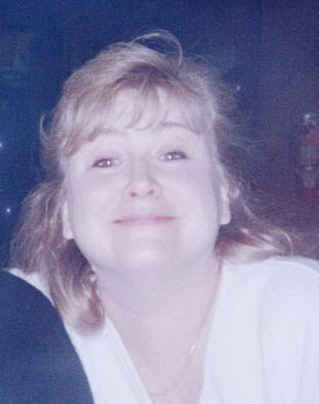 It is unclear as to why J.P. Hansen seems to think she is entitled to be the wife of Kevin. I am also sure that Kevin himself knows little or nothing of this as well. I hope this doesn't end up in court with a restraining order against Jean Poquette Hansen, that would severly cramp the role of her XPFL cheerleading. Not to mention the turmoil this would cause in the cheerleading ranks.

JEAN POQUETTE HANSEN WHO LUSTS FOR KEVIN SOBIECK

   The Big Brothers Big Sisters Bowling event at Willow Creek Lanes seemed to be a success with many people attending and tickets sold for the prizes on hand.  Kevin and Trixie donated a coat rack and a wooden flag and those items brought in over $130 on ticket sales, while the Kat and myself donated a wooden bench. Tickets for the bench were sold at both Willow Creek and at Ashwauben lanes so the total sales on that Item is not in yet.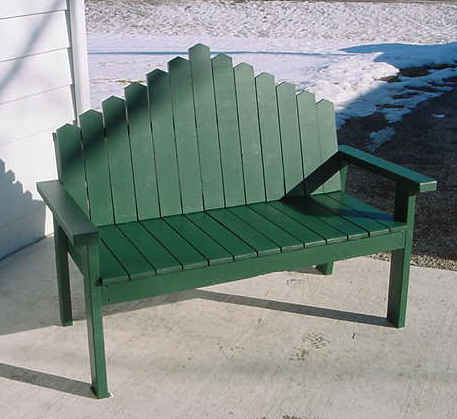 Everyone at the event seemed to have a good time and there was food and snacks for anyone who attended the bowling activities. The food was served courtesy of Marie Krohn and was delicious as usual. I did some spot announcing for Marie while I was there with comments directed to Packerland employees.

THE BENCH DONATED TO BIG BROTHERS AND HUGE SISTERS

    Alex went into the service on Tuesday and I think I detected the Kat wimpering in bed Wed. morning. Yes she was sad to see him go as was I until the bills came that  he left behind, then suddenly we both wanted to get our hands around his neck.  We agreed that it probably was good that he was gone and that it was good that he was probably getting hollared at now anyway. Thats all the news there is for now, see ya.