news from oneida - news from oneida - news from oneida - news from oneida




"AT THE KAT AND MICK REPORT WE DON'T MAKE THE NEWS, WE JUST REPORT IT"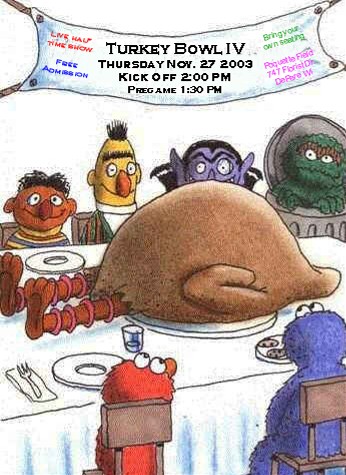 ROCKFEST A GOOD TIME AGAIN!

    Once again Wisconsin's largest music festival has proven itself as the best in the state. The best act to see? I think it would be a draw between Alice Cooper and Heart. Cooper the hard rocker from the 70's and 80's with his black make up put on a wonderful performance and performed his music with flawless execution. Heart, who came to fame in the 70's with their hit "Magic Man" are indeed a class act and gave you your money's worth. They performed all their hits except "Dreamboat Annie" and hearing an acoustic guitar amid the glut of all the electrics heard throughout the weekend was a nice experience. Rick Springfield the teen idol of the 70's, gave everyone their moneys worth with audience interaction. When the call came from Rick for some females to become his helpers on stage our own Colleen was right on top of the situation and joined Springfield for the show. Springfield walked on top of the VIP seating singing with the audience members and talking on their cell phones and signing albums, shirts and just about anything else people could drag near him. He continued on and went over the wall into general admission so far out that they were unable to follow him with the television cameras and even the security people lost him. Even though his music is not very appealing, people liked the interaction and found him to be entertaining especially the little show he put on where he smashed two guitars on stage. The biggest disappointment of the weekend was when War (Low Rider, Cisco Kid, Why Can't We Be Friends) arrived 45 minutes late and put on only a 15 minute show because their bus broke down. I saw no acts that were terrible and many of the opening bands were great too. We all got to see Boston play about half of their act when it started to rain buckets, and most of us were without rain gear because it had been so nice all day. They already had done most of their good stuff so everyone went back to camp. Aside from the music there were many nice campsites to be seen and I made the tour to through taking photos of the unique ones. Many of these photos will be seen on our sister website www.rowbob.homestead.com a website devoted to people interested in the Rockfest scene. Needless to say we all bought our tickets for next year and are already planning.

    Brandon Pickett and some of his friends were in a pig wrestling contest over the weekend and did quite well for their first time in the ring. Finishing in twelfth place out of 60 entries the boys got an experience they could not purchase if they went looking for it. The pig either was in on the deal or they have a natural talent for this sport. 

    Judy and Scott Treml had their baby delivered on July 16th at 2PM. The Girl named Samantha Grace is small and looks like a baby gorilla. She did not cry much however and may be easy to take care of due to the sleeping factor.

    A baby shower for Ashley Hansen will be given by her mother August 2nd and we will have complete details on where and what time when we get that information, for now keep that date open girls. That's all the news that is news, see ya.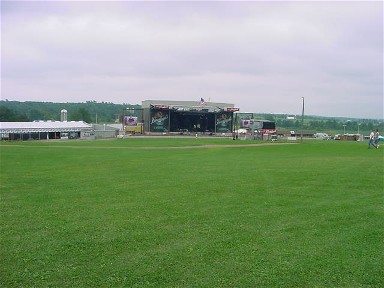 PRISTINE CONCERT GROUNDS BEFORE START OF CONCERT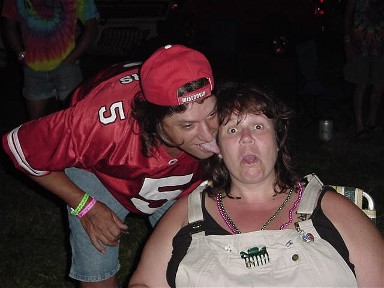 AMY SURPRISED BY JOHN'S TONGUE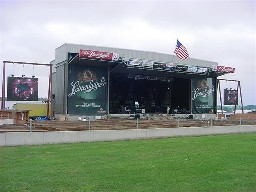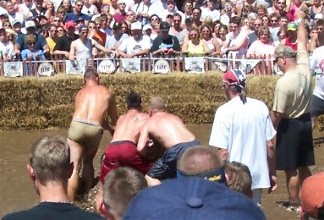 PIG WRESTLING CONTEST IN CALDRON FALLS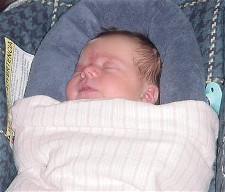 TO GIVE AWAY

A working computer to go to a good home where it will be loved and cared for. For details call Tim Lade at 920-866-1257

or

e-mail at

timlade@who.net

JOEL AND SHELLY SOBIECK'S MAIN DOMICILE SOLD

    With a new addition to the Joe Sobieck home nearing completion Joel Sobieck has sold their home and is making plans to move into the new completed living area. It is unclear yet as to when the big move will take place and they will begin living like the Eskimo families with the parents and grandparents living in the same domicile. It is said that the Eskimo's put their elders on an ice flow and send them out to sea when they are near death. One must wonder, are they really near death or are the younger family members just sick of them and pushed them out on the ice flow to get rid of them.  Fortunately the Sobieck's home is not near the sea.

    Alex Pickett informs us that he will be going to Italy for official Air Force business. He will be going to play baseball in the land of the spaghetti benders. It seems that certain bases compete in sports events and his competes in baseball and there are tournaments in Italy, so viola Alex goes to Italy.

    With Kevin and Alissa Young on a camping trip this weekend the young Young children were placed in the care of the writer and the Kat. I have come to realize the youngest Young child, Devin, is unable to speak and only speaks in a gibberish type code known only to his sister Megan. Apparently Megan has worked with the child long enough to establish this code which amounts to a series of grunts and the word "ga ga" which can be uttered in different tones to mean different things. Pointing is also big with the child as he will walk around the house speaking his organized gibberish but pointing at one thing through the whole line of non words exiting his mouth. It is sad to see this child unable to communicate with the rest of the world leaving only his sister as the go between to the speaking world. Perhaps there is hope in the electronic world and an electronic device could be developed to interpret his comments into words we could understand, likewise the same device would be used to turn our words into the unintelligible language he is used to.  Much the same as the device used in the movie "Mars Attacks" except this one would actually work and the world would not have to be saved by reproductions of Slim Whitman's music. I think a telethon could be initiated for just such a cause, surely there are more children who are challenged in this way and are only speaking this gibberish language known to the children. With the telethon, money could be gathered to perfect and build the electronic devices needed that would make the children able to communicate with the rest of the world. Imagine you would be able to explain to the child how to change his own diaper! Feeding would never be a problem again, you could explain how to eat from a spoon to the child and there would be no more long tedious hours of spoon feeding! No more getting up in the middle of the night when you are able to explain that everyone sleeps at night! Let's put pressure on broadcasters and manufacturers to raise money and perfect the electronic child interpreter and make life easier for Kevin, Alissa, and Devin.

    There is a correction to last week's story about Brandon and the pig wrestling tournament near Crivitz Wisconsin. There is no town called Caldron Falls, there is only a Tavern with the name because it is close to the actual falls located on a stream near by.  The number of teams entered which was reported as 60 entries was actually 96 with Brandon and the rest of his team placing 12th.

    The time and place has been set for Ashley Hansen's baby shower. The Freedom town hall W2004 County Trunk S. is where it is being held and the time is 1:30 PM. Till???  August 2.  For more information call Jean Poquette Hansen at 920-336-7611 or 920-660-3592.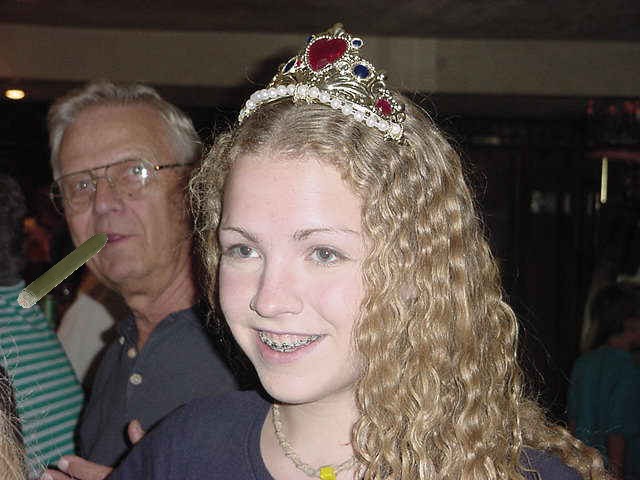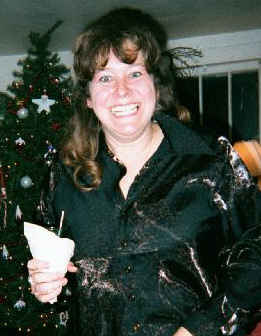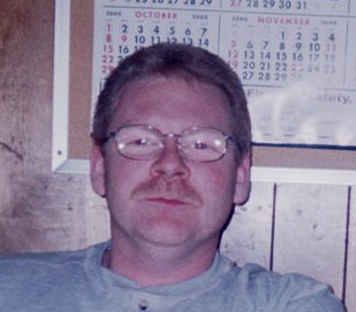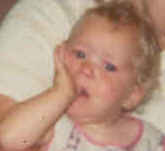 SHELLY SOBIECK HEARING THE NEWS OF HER NEW HOUSE NEARING COMPLETION

KEVIN YOUNG HEARING THE NEWS HIS CHILD YOUNG DEVIN YOUNG IS ONLY ABLE TO SPEAK GIBBERISH

ALISSA YOUNG ALSO WITH A WORRIED LOOK

G

     O

           N

                  E