news from oneida - news from oneida - news from oneida - news from oneida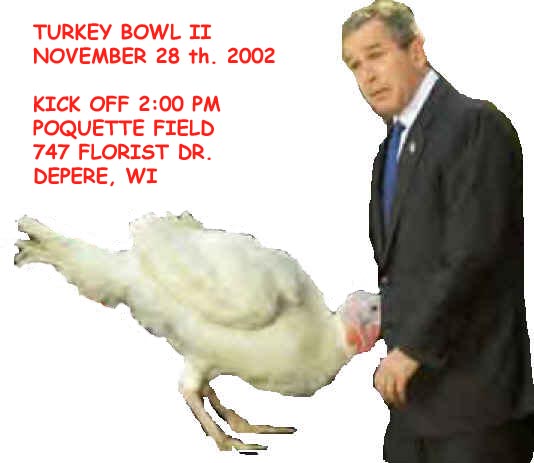 "AT THE KAT AND MICK REPORT WE DON'T MAKE THE NEWS, WE JUST REPORT IT"

6-3-02

TRIPPLE GRAD PARTY A GOOD TIME FOR ALL

Oneida WI - The food was plentiful, the music was good and there was plenty to drink. This is what people were saying when they left the tripple grad party held by the Sobiecks, Poquettes, and Hansens on Poquette Feild. As was reported on the Kat and Mick Report previously the XPFL granted permission for the trio to have their party on the grounds of the legendary stadium.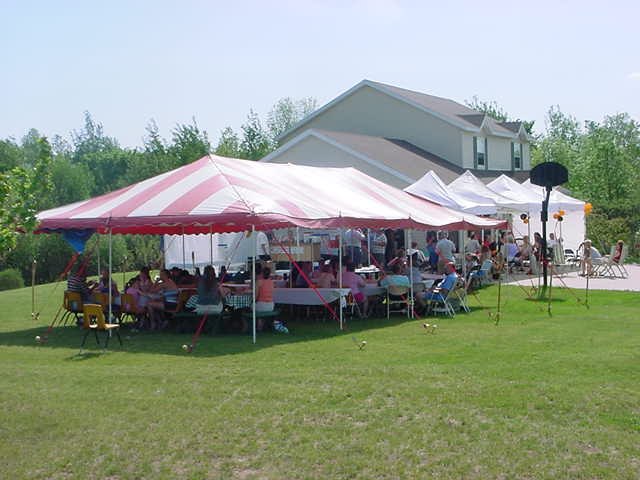 A larger then expected crown showed up and consumed all the food before dinner time with the barbecued chicken wings the first to go. Estimates had the crowd sized at about 1,450 people. Luckly the multi bathroom sobieck facility served everyone well. Waiters with Champagne and waitress with hors d'oeuvres patrolled the

FACILITY BEFORE GUESTS ARRIVED DURING THE PRE-PARTY MEETING HELD WITH THE SERVENTS

grounds making sure the guests were all happy and getting their bellies full of food and refreshments. For the guests into heavy drinking there were waitress who brought out the hard stuff, one table of particularly hard, tough drinkers had a bottle of tequila. This is where the Kat settled in for the afternoon, and of course with her new "straight through" plumbing she can drink them all under the table.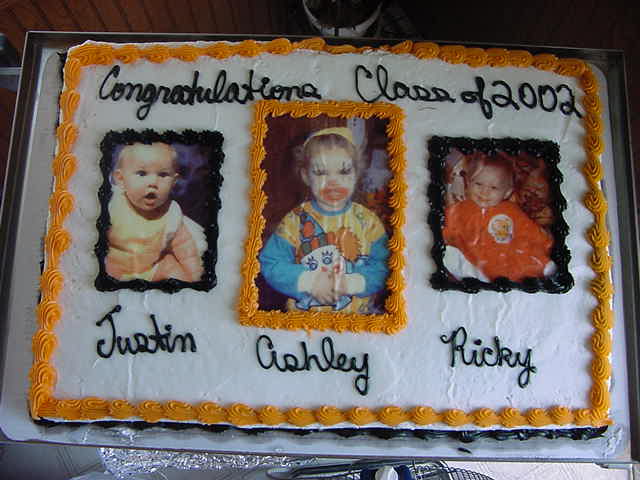 A crew of servents stood by to drive home guests who may have exceeded the limit, but there wasn't much of that most people were responsible drinkers and obeyed all the laws.

GRADUATION CAKE AT TRIPPLE GRAD PARTY

Later in the evening when the sun set and it started to cool down the party moved down to the campfire and everyone told scary stories, mostly about when Judy was a baby. When people were too tired to talk we just listened to the coyotes and watched the sage brush blow by. Then a  headless horsemen rode by and everyone woke up and paid attention again.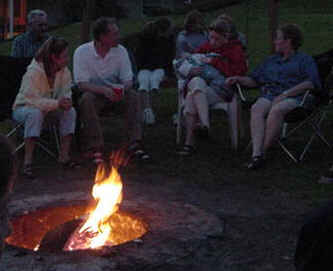 CAMPFIRE STORIES JUST BEFORE THE HEADLESS HORSEMEN

    Sunday was another music work day for Sarah and I as we did another 9 hr. shift at the OFD Picnic and demo. Sarah was a great help to me with her assistance at the tripple grad party, and the picnic. Together we logged about 18 hrs. of continous music and Sarah was there the whole time to help with both of us working 1 or 2 hr. shifts at a time. This is of course why the newsletter is a day late. There was no time to work on it with all the scheduled events.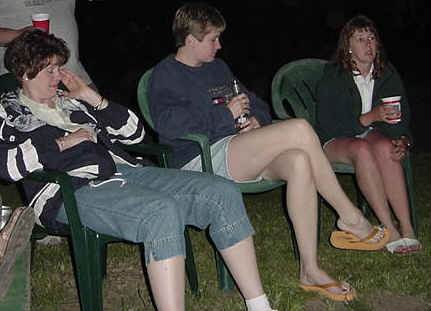 NEW XPFL CHEERLEADER PROSPECTS UNDER CONSIDERATION BY DICK POQUETTE

    Dick Poquette was watchfull and looking for new prospects to fill the ranks of the XPFL Cheerleaders. A group of three of the friends of present cheerleader Trixie Sobieck looks promising Dick says.

Should the girls be accepted and make the team, the K&M Report will publish the names of the new team members.

    Check out the new sports commentary on the sports page.
Click here
to see it
That's it for this week see ya.

6-9-02

BELLIN RUN - A PERSONAL VICTORY FOR ALL WHO RAN

Oneida WI - It was a perfect day, the music played, the water flowed, and the runners ran, in the 26th. annual Bellin Run. There was a plethora of runners on hand in fact race officials state that once again a new record of 7,490 runners were there for the annual 10 K run. Everyone from small children to 75 year old men and women could be seen running at the race with a whole range of so called "lucky" hats and get ups. One particular interesting group of three girls running near me had special T-shirts on. The outside two read from the back "my sister is getting married today", while the girl in the middle wearing a veil had a shirt that read "today is my wedding day." I never did see the front of their shirts because she must have been in a hurry to get married and they pulled far ahead of me. I saw quite a few people I knew from work and my former work place, and met a few new people who were standing around that I made small talk with. Everyone was there for the same reason, not to break any speed records but to finish the race and fullfill a personal goal of theirs. Some people simply just wanted to finish the race while others want to better their time from last year while still others have a finish time in mind that they are shooting for. My personal goal was to do better then the year before, which I did by crossing the finish line at 56 minutes and 55 seconds. Last years time was 58 minutes and 47 seconds, so I was almost 2 minutes faster. I felt pretty good about this until I saw the results for a companion of mine from my old job who ran with me last year. Last year he came in at 1 Hr. 2 min. well behind my 58 min. which was a real ego booster for me. But this year he flattens out my almost two minute ego boosting gain by coming in at 49 minutes and 12 seconds. A lot of wailing and gnashing of teeth could be heard as I read that result in the paper. He beats my improved time by almost 8 minutes! Even worse,  I think he's older then me! I'm going to kick his fricken ass next year!

    There is other news, Saturday June 8th was the day selected by Adam Mommaerts for his graduation party at the Mommaerts ranch located on the outskirts of Crivitz. Many seniors from the Crivitz High School were in attendance and they were all well behaved and orderly. Some of the seniors will be going on to college while others will be entering the work force.  Still others will be going back to Crivitz High for another senior year because they enjoyed this one so much, a custom unheard of here but common place in the north woods. It is not uncommon to hear of people who have had three or four senior years. The record for number of years spent as a senior in Crivitz High is held by exchange student Muja Haden Mouji who was the High Schools most famous football star.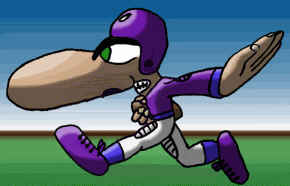 MUJA HADEN MOUJI - CRIVITZ HIGH SCHOOL FOOTBALL STAR

It could be said that Muja had a nose for the football and enjoyed playing the game more then anything else in the world, this would include any academic activities that would interfere with football practice. Muja spent 9 years as a senior in Crivitz and finally graduated after he demonstrated that he could write his own name with out help. Muja was not in attendance in fact, upon graduation Muja left the northern paradise and was never heard from again. Even without Muja in attendance the party was a big hit with everyone, there was a nice pot of booyah and a lot of other great food including poppyseed cake. I was on hand with music and there was a smattering of dancers. Of course there was much liquid refreshment on hand for every one to consume at their own pace. There was a slight problem with insects what with the ranch being located in the woods and all. Flying insects abounded in the northwoods location and several times landing nets were employed to bring down small children being carried away by mosquitos. When this became an apparent problem, lead sinkers were added to the childrens attire increasing the weight to size ratio. This technique made it impossible for enough mosquitos to land on the available surface area and become airbourne with the child. Aside from this minor problem the party was a huge success and everyone had a good time. Debbie and Steve are now empty nesters and enjoying it. I told them that should they have another child now that the deal is off for any forthcoming graduation parties as I would be near 70 years old when the child graduates. That's all the news that is news, see ya.

6-16-02

FIRE IN THE PALACE FORCES QUEEN AND PRINCE TO SEEK TEMPORARY SHELTER

Oneida WI. - While the Queen slept after a short night of reigning over calm chicken night subjects, things were heating up in the palace garage.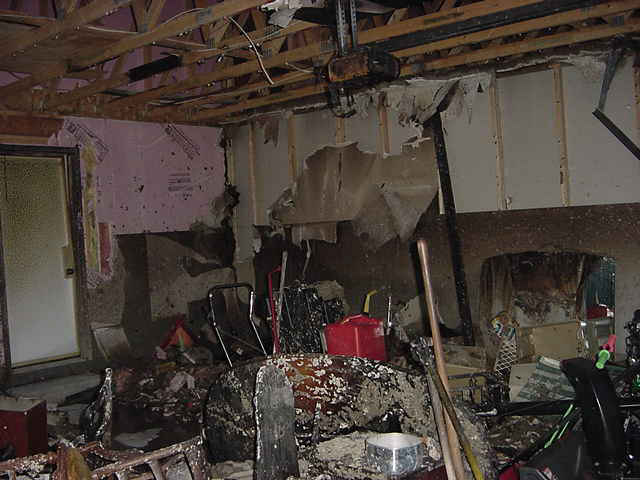 Queen Jean Poquette Hansen and her son Prince Ben attended chicken night and returned home with the Prince's cousin Logan Sobieck.  The Queen soon went to bed tired after a long day of reigning over subjects.

THE ROYAL GARAGE WHERE THE QUEENS HORSE-LESS CARRIAGE IS KEPT AFTER THE FIRE

Before retiring she told the boys not to stay up late and not to cause trouble, rules of which were both violated. Evidently the boys decided that they would like to experiment with smoking and fashioned home made cigarettes out of printer paper from the computer. No tobacco for filler, just paper, and easy way to learn smoking which doesn't cause the usual queasy stomach and dizzyness of a boys first cigarette. The cigarettes burn quite fast however and are apparently hard to extinguish. I suspect the boys chose the garage for their after dinner smoke so as not to awaken the wrath of the Queen sleeping upstairs with the smell of burning paper.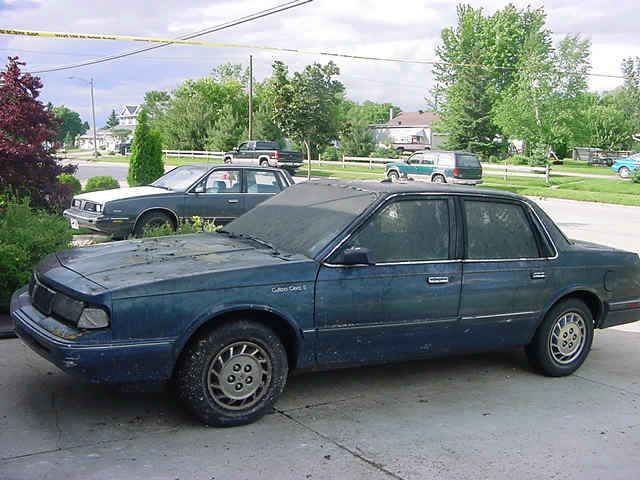 THE QUEENS HORSE-LESS CARRIAGE WHICH SUFFERED MINOR SMOKE AND HEAT DAMAGE

At about 1 AM Ben heard crackling near the garage wall connected to the living space, he investigated and found the garage on fire. He immediatly ran upstairs and notified the Queen which did not believe him, the now panic stricken prince began

to do a panic dance and ran in circles. The Queen upon seeing this abnormality immediately went to investigate and opened the door to the garage which was by this time engulfed in flame. Heat and smoke began to fill the apartment when she shut the door to the garage. The Queen now panic stricken ran to the phone to dial 199. Yea that's right 199, which she dialed twice and got a busy signal both times. Wondering why she was not immediately connected to the Fire Dept. she began looking in the phone book for the Fire Dept. number. While this was going on Ben grabbed the phone and dialed 911 and told the dispatcher that this lady (Jean Poquette Hansen) wanted to talk to her. The Queen then started to tell them that their 199 system didn't work and the dispatcher had to ask her what the problem was. All and all this can be chalked up as a learning experience for everyone involved as no one was injured and damage was quite limited to the garage. The landlord gave no reply when asked by the Queen if this meant that she wouldn't be getting her security deposit back.

    Of course the big social event for this weekend was the wedding of Bunky and Peggy. This is also why the newsletter is being published a bit late. Everything went off without a hitch and the ceremony was beautiful. The reception hall was filled with people and I estimated the crowd at 350 people.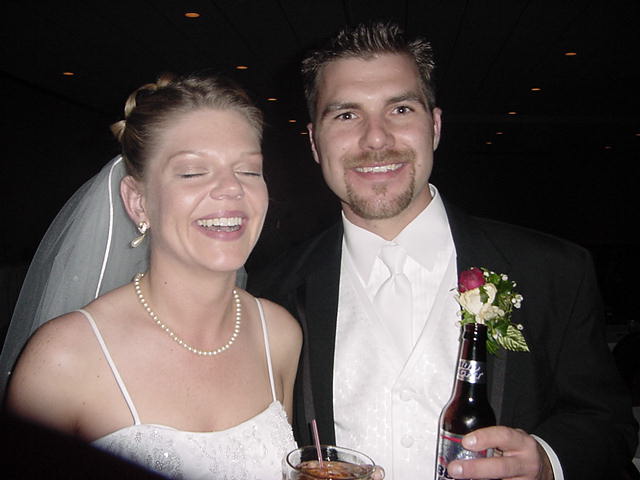 The SC Grand turned out to be an adequate place to have the wedding and the food was very good. There was a slight problem with the guests knowing which hall the wedding was in because the bartender

in the other ball room didn't seem to know which wedding was there and when asked if it was the Pickett wedding he replied yes. Several guests dropped their cards in the other weddings box, I informed the lady in charge and she retrieved two of the cards that belonged in Peggy and Bunky's box.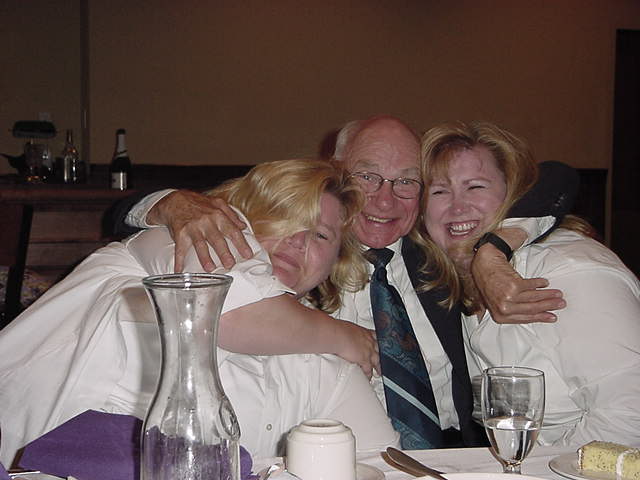 A GOOD TIME WAS HAD BY ALL

The Music and Grand March went well, thanks to Sarah and Trixie. I think everyone that attended had a good time and we partied until 12:15 AM. The Kat was a very sick kitty when we got home

but made a fine recovery and was a bit tired the next day but was otherwise fine. We got Alex off in time for his flight back to San Antonio and he called us from the airport at 3:30 and said he was in San Antonio and would be getting his cab back to the base. That's all the news that is news, see ya.

6-23-02

K AND M REPORT SPORTS WRITER S. LYLE OCONNOR MAKES APPEARANCE AT WEDDING

Most of the Kat and Mick readers were unaware that the head sports columnist for our publication was present at the wedding of the editors son. S Lyle Oconnor made an outstanding appearance at the wedding reception  making the event a notch higher on the social register.

Oconnor who is rarely seen these days due to his fame and success as the wildly popular head sports writer for the Kat and Mick Report is known to be eccentric and reclusive. Despite this urban legend he proudly marched into the hall at about the 9-o clock hour. 

Sporting his signature garb and glasses he chatted with family and friends and later made a special plea to the editor for his Malt Liquor. Oconnor who joined the staff in April contracted for articles in exchange for Schlitz malt liquor in 24 oz. Bottles.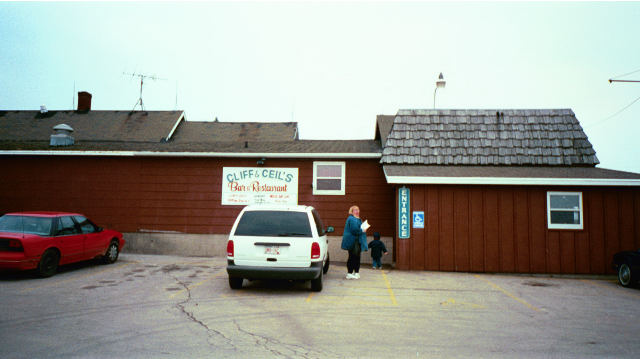 Wynona is still out of the bartending business at Cliff and Ceils while Ashley and Naomi take over and keep the chicken night crowd in drinks. The staff of Cliff and Ceils is tight lipped about the cause of her leave of absence but the Kat and Mick Report has learned from a protected source that Wynona is actually in detox at a secret hospital.

The source stated that she has paid the hospital to keep her identity secret and it is not the first time that she has done so.  Six regulars showed up and the one time short-term cheerleading coach Joyce

Byrne made a special appearance. Byrne who brought along an unidentified friend consumed mass quantities of food before arriving so she did not take part in consuming the wonderful bird. The queen was not present and word has it that she traveled off to reminisce of days of old when she could have peasants thrown into the dungeon and have their heads lopped off in the Bastille. Such things can be relived now at the renaissance fair near Kenosha. Naomi was seen on

a Channel 5 news clip featuring people watching the world cup playoffs for soccer between the United States and Germany at a local bar in Green Bay. When questioned about a nasty looking sore on her elbow she sheepishly admitted that it was a rug burn, no doubt from a

roll in the hay with one of the other bar patrons she met while watching the world cup.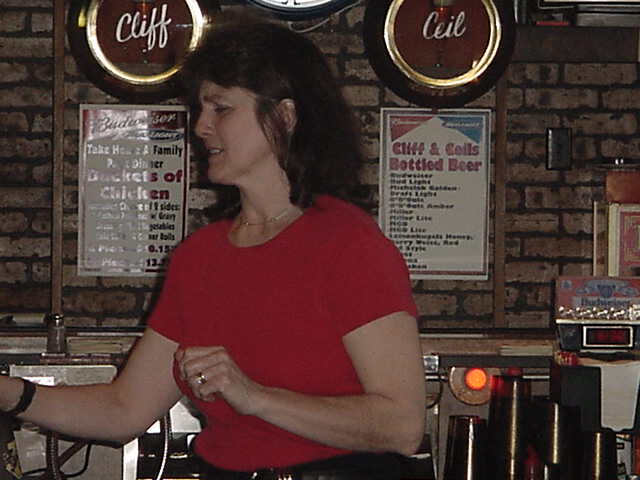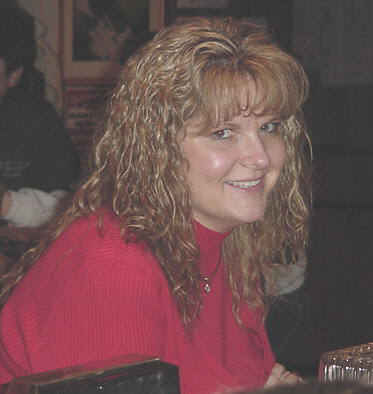 NAOMI WITH HER USUAL SEDUCTIVE LOOK

Chris Meewsen and her Soccer team won second place in the state finals for soccer.

    Crystal and James welcomed Xavier Kade Stultz into the world at 6:00 PM on June 11, 2002. Xavier weighed in at a whopping 10 lbs. 8 oz. and is 20 and ¾ inches long, upon leaving the hospital he was immediately rushed to the big and tall shops for clothes.

With this being the last year that the television show friends will be on the air, it is only fitting to find out what our readers thought of the

characters. There fore I have included a poll question about the show. That's all the news that is news, see ya.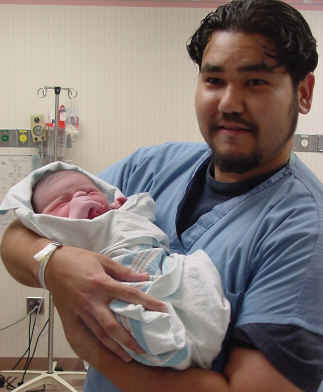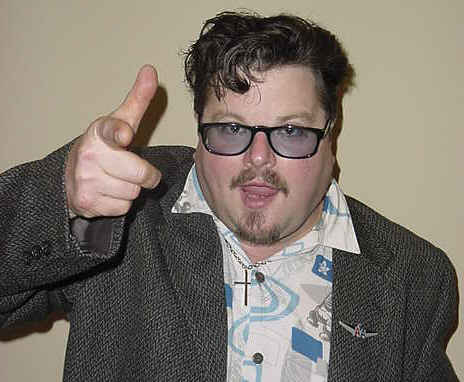 K&M REPORTS S. LYLE OCONNOR

6-30-02

ONEIDA MAN HELPS OCONTO YOUTH EXCEL IN SPORTS

Kelly Wenzel daughter of Sue Wenzel, has won the Gus Macker Tournament in Wausau for three on three basket ball.

Wenzel who was in sports all through her school years had not yet won a major sporting event. A great athlete bogged down in small town customs and thinking, Wenzel soared above expectations with the help of a friend from her mothers small town of Oneida.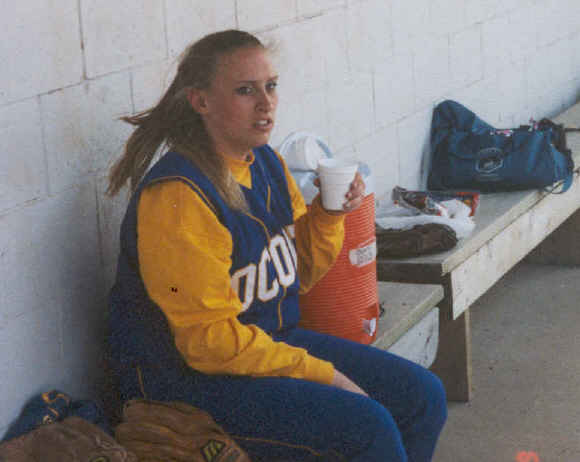 Frank Cornelius stuck with Kelly through thick and thin, encouraging her when even she thought there were insurmountable odds. Cornelius would give strength to Wenzel by cutting out sports columns in the newspaper honoring great athletes, he would then change the name of the athlete to accommodate Wenzels name and choice of competition.

WENZEL SEEN HERE IN HER BASEBALL UNIFORM

Wenzel drew great strength by reading those articles, even with the names scratched out and her name pelciled in! Now Wenzel needs no one to pencil her name in anywhere, through her own persistence and strength her accomplishment in sports is presented to you as an interesting news item in the KAT AND MICK REPORT.

    Xavier seems to be getting off to a bad start,it seems that he was born on the same day a Zeus. This is something he will have to overcome, and be conscious of his whole life.

    The rummage sale queens have been busy this weekend again last week they held a bib sale in Luxemburg at Judy's house this week they were here with their traveling rummage sale. It seems they are working their way to the south. The logical assumption would be that the next place they go is to the home of Rosalie Poquette in Appleton. Who knows the week after may be Belleville or Clarksville.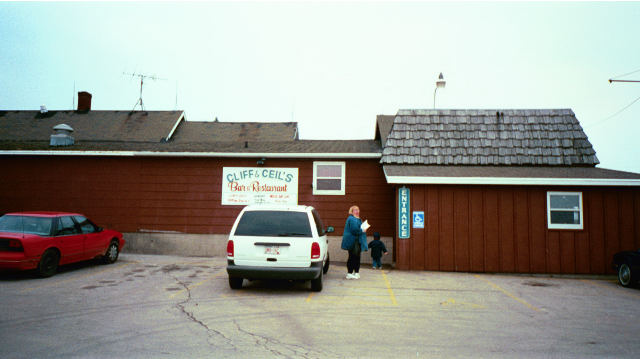 Chicken Night this week was not without another breath taking event as bar patrons and Chicken night peasants looked on. The Queen, Jean Poquette Hansen, was presented with a new crown and she reveled in the glory that was hers. Already sporting a new T-shirt that proclaims "Queen of Chicken Night" on the front and "God Save The Queen" on the back  there was little doubt left in the mind of anyone after receiving her crown that this WAS the Queen.

Prince Ben who seemed uninterested in the event played out in the parking lot as events unfurled inside. A modest attendance was present with Trixie, Bunky and Peggy, The Kat and myself as well as Benny, Logan, Brittany, Rachel, and Lance.

JEAN POQUETTE HANSEN WITH HER NEW CROWN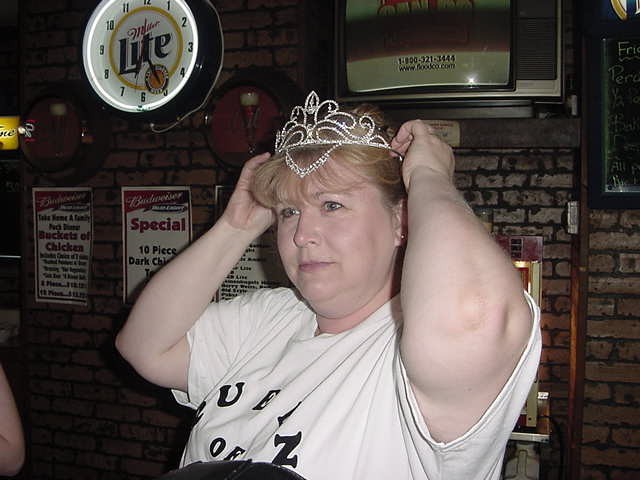 Wynona was back bartending and bitterly denies being in detox for the time she was missing from Cliff and Ceils. No other explanation was offered however for her absence. Naomi has no new rug burns on her elbows so I guess she didn't get lucky this week. While chatting with Rachel I learned that Megan (daughters of Darla and Dave Krueger) has gone ahead and had a belly button piercing, there seems to be problems with it though as Rachel reports the puss is oozing from the wound.

  That's all the news that is news, see ya.

The survey last week shows that Phoebe and Joey are the two most liked people on Friends with 3 votes each. Rachel was a close second with 2 votes while Ross and Monica had no votes.