news from oneida - news from oneida - news from oneida - news from oneida




"AT THE KAT AND MICK REPORT WE DON'T MAKE THE NEWS, WE JUST REPORT IT"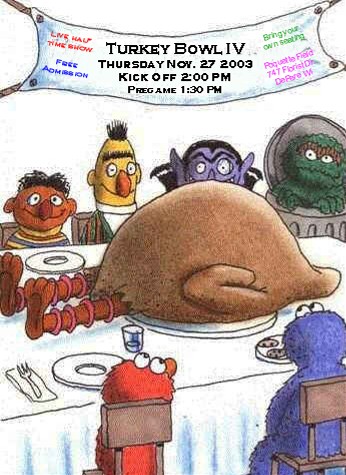 ZEUS RETURNS TO WORK MONDAY

    Sue Wenzel more commonly known as simply Zeus, has healed sufficiently to return to work on Monday 6-9-03. Still stiff necked she insists she has no restrictions and can perform any task necessary to care for the elderly patients at San Louis Manor. That facility is the one she has worked at for two years prior to her accident which rendered her helpless and unable to care for her patients and almost unable to take care of her self. After her wage indemnity ran out she was not surprisingly terminated so that a staff opening could be made and a substitute hired. Now that the doctor has cleared her for work, the facility giving in to pressure from angry clients has agreed to hire her back. Since Zeus has left the home clients have threatened rioting, violence, and sabotage to make their point that they want Zeus back. Several weeks ago things became so ugly that nurses donned respirators and shot tear gas canisters into the cafeteria when an organized protest broke out into a food fight. No one was hurt but two cooks and the administrator of the facility took banana cream pies in the face. One week later a particular troublesome client was given a lobotomy and later was murdered by a large Indian man who smothered him with a pillow. 

    Saturday, June 7 was the date Jackie Poquette picked for her graduation party and sure enough two former Poquettes showed up for the gathering. The party given by her mother Linda had no shortage food I am told and Jackie received many cards and gifts. The Kat and Zeus attended the gathering after printing directions from an internet mapping service so they were able to find the Pulaski home and not become lost in the city. Jackie is the only one from the Poquette family who graduates this year from High School. Next year promises to be a full year for graduations with at least three from the family finishing High School.

    There's a new
Birthday Page
to check out as well as a new
Sports Commentary
page as reported last week. Don't forget only one week to the Bellin Run, if you haven't trained yet then forget it now, it's time to break training and take a little rest before the big race. That's all the news that is news, see ya.
Zeus suffers in hospital after accident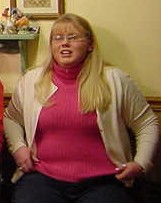 Jackie Poquette poses for a photo op at Christmas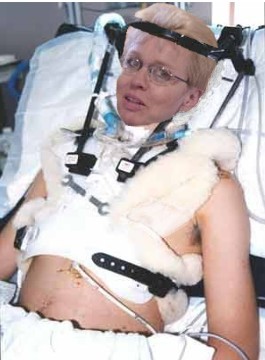 CLARKSVILLE TAKEN OVER BY ROBOTS

    Due to a dangerous outbreak of monkey pox in Wisconsin  THE KAT AND MICK REPORT has moved south for a week and is being published from Clarksville Tennessee. The staff nearing arrival to the Clarksville destination noticed that they began seeing more and more robots as we approached the City. Upon arrival we have found that the entire City has been taken over by Robots! At first it seemed OK, a harmless robot riding a motorcycle here another cutting grass there, but now in the middle of the city we find them everywhere. It is as if the entire city has been taken over by a robot uprising, we find hideous robots standing outside of the door watching us when we go outside. The robots are ever vigilant always watching always starring at your every move waiting for you to make a mistake and catch you off guard. Monkey Pox or not we would never let this sort of thing happen in Wisconsin! It occurred to me that we had not seen robots much north of Clarksville. Upon investigation I learned that the Robots had been kept in check by a local do-gooder who resides in a city just about 45 minutes north of Clarksville. The city of Metropolis located on Interstate 24 is the home of local hero "Superman" as he is known to the locals here who fights robot infestation and crime. While in transit we caught a glimpse of the crime and robot fighter outside a popular refueling and dining establishment known as "The Waffle Hut" not to be confused with the less popular "Waffle House". He could be seen outside the eatery keeping a sharp lookout for stray robots who might cause harm to a unaware restaurant patron. It is said that the mere presence of this authority figure is enough to keep the robots at bay and has successfully stopped the northern migration of these troublesome angry mechanical monsters.

    In other news Margaret Van Lanen has taken a nasty fall outside of the store known as Clyde Hansen Furniture in New London on Thursday June 12. Knowing that something had gone terribly wrong in the fall Peg was loaded into the car and taken to St. Vincent Hospital where the attending physician seemed miffed by the whole situation and sent her home after X-Rays. When another doctor looked at the X-Rays he ordered her to return to the hospital for surgery. Dan Van Lanen who himself just had surgery the week before was unable to help with the transport of the patient. Several of the families children were pressed into service as medical transport technicians and rolled her onto blankets and then dragged her down the steps. Unfortunately there were not enough children available which left no one to hold her head when descending the stairs. Her head bounced and hit every step like an unsecured bowling ball that found an open staircase. Upon arrival to Bellin Hospital not only did she have a tremendous headache but she was also told she had a fractured femur and would require surgery and the installation of a number of screws. As of Sunday morning she still remained in the hospital with the last talk of going home either Sunday afternoon or Monday. That's all the news that is news, see ya.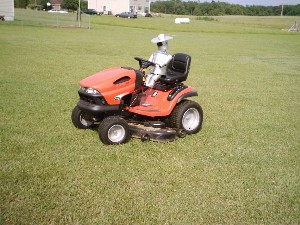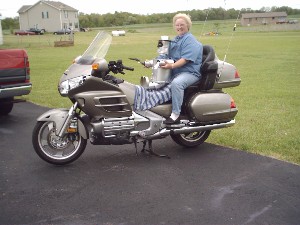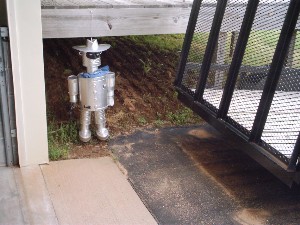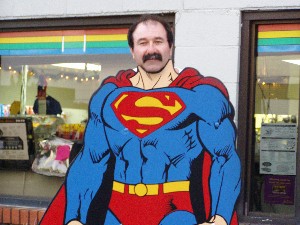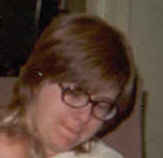 ROBOT CRIME FIGHTER "SUPERMAN"

SMALL HIDEOUS ROBOTS AWAIT YOUR EVERY MOVE

ROBOTS PRESSED INTO SERVICE FOR ROUTINE LABOR IN CLARKSVILLE

DOMESTICATED ROBOTS DRIVING FOR HUMANS ON A DAILY BASIS