news from Oneida - news from Oneida - news from Oneida - news from Oneida




"AT THE KAT AND MICK REPORT WE DON'T MAKE THE NEWS, WE JUST REPORT IT"

Wanted: Lots of fun loving,
party going, sun seeking individuals to take an exciting trip to Mexico! Looking for lots of people, the more the merrier to go to Mexico, leaving in February 2006. Mark your calendar and save $$$$$. Call Shelly Sobieck for any questions and let her know your interested, she will update you with new information. Call 920-865-2330 for all the details, or click
sandsobieck@aol.com
to e-mail her.
BRITTANY SOBIECK PUTS ANOTHER ON THE PILE

    Just as a serial killers MO is plotted and his next victim is recognized by police on the television show CSI so it goes in real life with Brittany and her lovers. Examining Sobieck's past male acquaintances one begins to spot a pattern, first in her selection, then her toying with them just as a cat with a cornered mouse, then the predictable casting out and the familiar inevitable disappearance of the once proud shining new face of a few months ago. This pattern, one that is so well recognized and admired by others of the same gender and age has inspired Sobieck's cousin "Megadeth" to emulate the Hobart hussy without giving so much as a thought to the hearts of the boys she has cast out on the pile. Details of the break up are sketchy with family members being tight lipped about the incident. An unidentified, unnamed source to the NEWSLETTER informed us that the break up occurred some time ago, on New Years Eve in fact. The source also disclosed that estranged lover placed a multitude of calls to Sobieck but to no avail as the rejection stood. Yet another unidentified source would only state that "the relationship just didn't work out." Calls placed to Sobieck from our offices seeking a statement before press time were not returned.

    Progress on the destruction of the former White Eagle tavern is progressing slowly with a few more boards appearing to be knocked out recently. As was reported last summer the now defunct tavern was being razed one board at a time and a dumpster was parked in front of the building for months. The dumpster was eventually filled but when it was taken away to be dumped it never returned. Who ever is in charge of the operation seems to be hauling away the refuse themselves without the need for the dumpster. Enough boards are gone now to see the entire inside of the structure and with out too much trouble a few key parts of the framing could be removed allowing a collapse of the entire building. It is uncertain when that will occur however because at the rate they are going now that could be next summer. Often when buildings are razed items are found of interest that were accidentally walled up or caught between the floor boards. In some cases things are intentionally sealed in the structure to hide them or in other cases to get rid of them. Such is the case in this building where two elves were released from the floor boards when they were pulled up. The elves claimed to have been prisoners for the last 80 years when the building was built. Even though the buildings owner demanded the elves produce their pot of gold they claimed they had none. They immediately surrounded the owner and pulled his pants down and began running away as fast as their little legs would carry them squealing in laughter. Reports of similar occurrences from the little green pair have popped up in recent days from as far away as Seymour and Black Creek. It appears the mischievous pair is moving westward.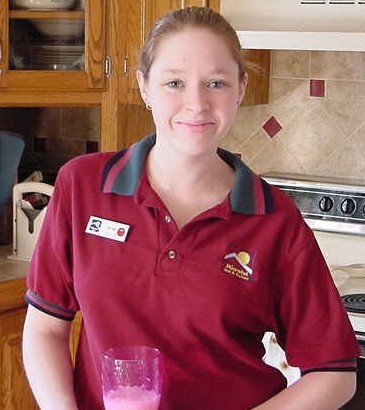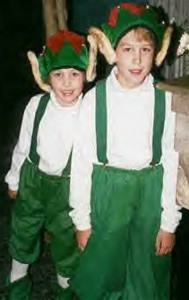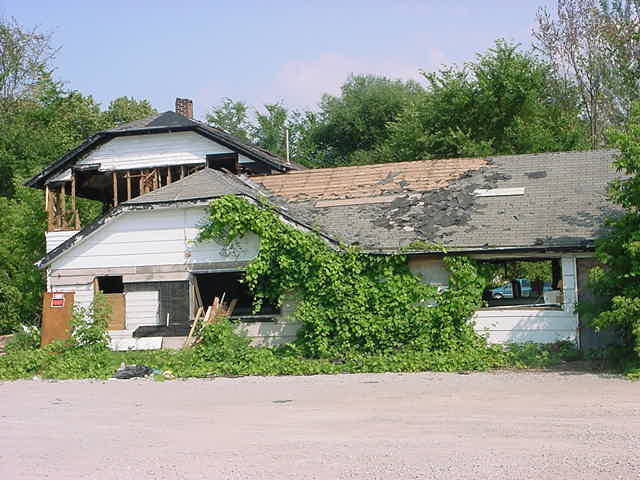 BRITTANY SOBIECK HAS CAST OUT ANOTHER BOYFRIEND

THE WHITE EAGLE AS IT APPEARED IN JULY

A PAIR OF IRRITATING ELVES LEAPT OUT OF THE FLOOR DURING THE RAZING OF THE WHITE EAGLE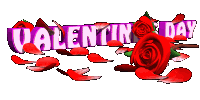 JUSTIN SOBIECK SURVIVES ICY PLUNGE IN LAKE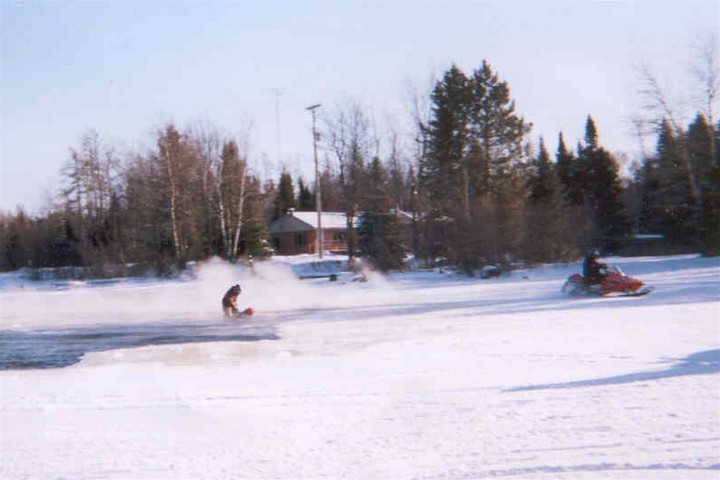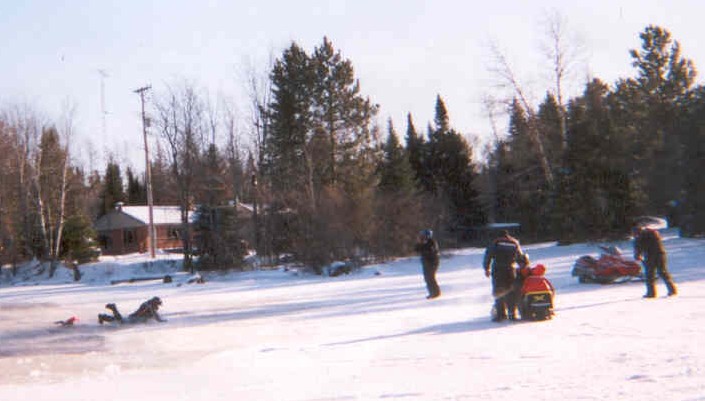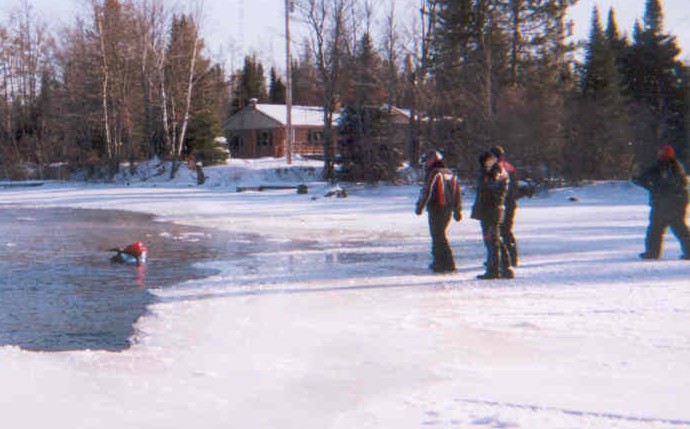 Once again Justin Sobieck, or  J Dog as he is called by his friends, tempts fate as he is unable to cross open water near Bowers Dam in Conover Wisconsin. Sobieck who loves snowmobiling in the north woods was with his six friends January 15 th. when the incident occurred. He said that he was about to cross the open water just as he had done many times before when he realized his track was spinning and unable;e to get traction because the snow had turned to ice around the open water due to the amount of traffic. Poor traction caused his sled to fall short of attaining enough speed to cross the open water and he machine stalled under water two feet from the edge of the ice. Sobieck in chest deep water was able to drag himself up on to the ice and laugh in the face of death. Within a matter of minutes with the help of his friends they were able to pull his machine from the ridged waters where they pulled the spark plugs out and were able to breath life back into the sled for the ride home. With temperatures near -30 open water can be deadly that's probably why Sobieck's friends Seth, Brent, Pete, and Matt burst out laughing when Sobieck's sled sank to the bottom of the water. J Dog himself says when you don't make it it's actually funny. Later that evening Sobieck called his parents to tell them of the incident when his father Kevin with little sympathy was heard to say "you're an idiot." Later on upon further examination the chain case was opened to reveal water in the oil so that was cleaned out and fresh oil refilled. Everything else seemed to be fine with the machine and it was returned to service the next day. After the incident the machine was driven only far enough to get it to a trailer so it could be brought back to the cottage. This is the second brush with death that Sobieck has had within the past six months, as you recall in September Sobieck crashed his motorcycle into a car that crossed in front of him on Ashland Avenue injuring his leg and damaging his motorcycle. This time Sobieck was lucky enough to escape unharmed with perhaps only some skid marks in his underwear.

FORMER HOME OF CHICKEN NIGHT CHANGES HANDS

    The one time popular meeting place of Chicken Night known as Cliff and Ciel's on Green Bay's East side has new operaters. Cliff Loritz who owned the business in a partership with his son Dale has bowed out and sold his share to his partner leaving him the sole owner. Dale will be leasing the business to Jerry and Julie Van Rite owners of "The Rite Place" however no changes are planned by the new operators in fact Wynona and Naomi will continue to serve regular customers at the bar and no changs are planned on the menu. That's all the news that is news,  see ya.

JUSTIN PLUNGES INTO THE ICY WATER AND SINKS TO THE BOTTOM

SOBIECK DRAGS HIMSELF TO SAFETY WHILE HIS FRIENDS LAUGH UNCONTROLLABLY

SOBIECK CONTEMPLATES JUMPING IN TO SAVE HIS SLED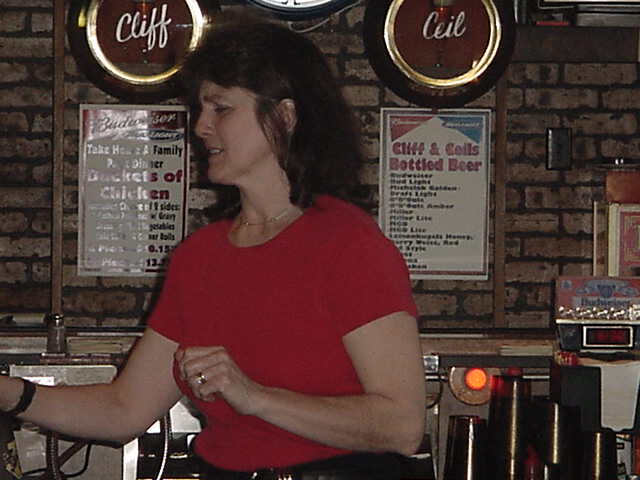 WYNONA TENDS BAR AT  CLIFF AND CEILS