he lovely and talented Aimee Poquette is hoping everyone will be able to attend her bridal shower January 20 th given at her mothers home at 3036 Ravine Way in Allouez. According to Aimee the itinerary will begin with the shower itself at 4 PM which is expected to last 2 hours. Immediately following the shower with no break Joanne Lade will be serving dinner at 6 PM. At 7 PM with dinner now only a memory the so called "fun party" begins with a presentation by Melissa on Pure Romance products.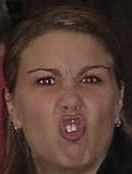 There was no estimate provided as to when the Pure Romance party would finish ....... but wait there's more! Immediately after your fetishes have been hyped to the max with new equipment everyone is welcome to a night out on the town and visit some of the local bars with Aimee. Of course everyone is on their

own as to whether or not they want to go out but Aimee says your sure to have fun.

Because Aimee wants to make sure everyone gets invited she would like you to RSVP her Mom Joanne Lade at 920-338-8339.

Aimee Poquette and Chris Richey are to be married February 24, 2007 in Cancun Mexico. Richey, an Indiana State Police Officer and formally in security forces in the military seems comfortable with making his police dog Heiko number 2 and moving Aimee to the number 1 spot. While Poquette's mother and a few close friends will attend the wedding most will wait to attend the party held back home in Wisconsin in May at Four Seasons Park in Hobart.

Pretty as a baby possum, Aimee Poquette

AIMEE POQUETTE PLANS BRIDAL SHOWER

KAT PLANS CLASS FOR NEW BRIDES

The Kat, even with all the things she already has on her plate is still willing to give of herself by giving a free class for all the new brides and brides to be in the family. Realizing that most if not all the brides and brides to be have little or no experience in running a household "The Kat" who has thirty plus years of experience being married with only one stone fight to her name, is willing to share her vast knowledge with prospective housewives on how to keep a clean and neat house and the proper way to run a household.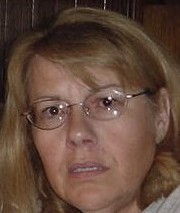 One of the things she is planning to put in her class is the proper way to decorate a house. The Kat: "You have to have plenty of interesting things to look at. It will give your guests something to do whilst their sitting around and it'll give your sisters something to talk about."

Other parts of the class will include: The proper way to stock a pantry cupboard, Cleaning and vacuuming techniques, and of course Organizing your cupboards to find every thing in a flash.

Clara Snell fiance of Brandon Pickett who is already thankful to have gotten the cheesy potato recipe from the Kat commented that she is looking forward to the class and hopes to pick up more tips on homemaking. We asked her what she was planning to concentrate on in the class and she suggested she was interested in how to replace electric lights with dim candle chandeliers.

Snell resisted giving the cheesy potato recipe for months to her own mother in fear she would bastardize it. She finally gave in only to realize her greatest fears a few short days later when during a visit she confirmed that her mother had left out key ingredients in the recipe merely because her dad did not find the ingredient palatable as a stand alone food.  She later caught her mother smearing the ingredient (sour cream) over the top of the potato's in hopes of correcting the fatal mistake.

The Kat has not yet announced the date of the class but I'm sure it will have to coincide with the return of her niece Aimee Poquette one of the new brides to be in the family. That's all the new that is news, see ya.