news from Oneida - news from Oneida - news from Oneida - news from Oneida




"AT THE KAT AND MICK REPORT WE DON'T MAKE THE NEWS, WE JUST REPORT IT"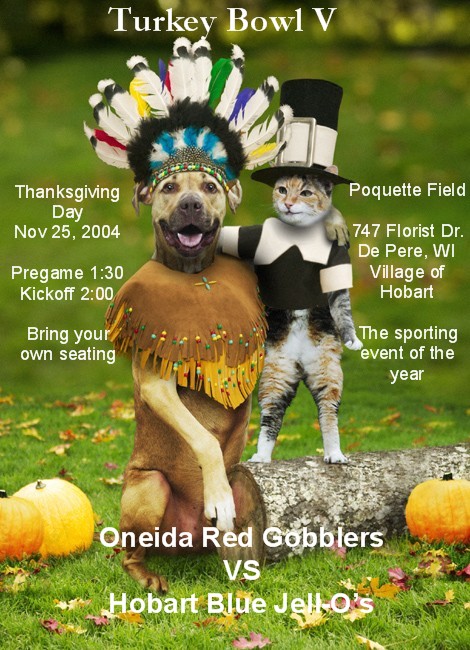 4 year old Japanese slot machine for sale.Excellent condition.

Comes with an owners, maintenance manual on CD, extra light bulbs, a stand,

and 5000 coins. These coins are slightly different in size from a quarter, making the machine legal.

It can be modified to accept quarters, however.

$200.00 or best offer

Contact Tim at 866-1257.

75 Gallon Fish Tank and Stand for sale

includes extra filters, carbon, greens, rocks, stones, 25 foot filling hose (hooks to faucet tap) everything needed to set-up!

Asking price is $250 or best offer. For more information call Alissa Young at 920-822-1579 or 920-373-0859.

GROUP ENDS YEARLY ROCK-FEST RITUAL

    At least thirteen loyal festers have decided to call it quits for the time being and did not renew their tickets citing high prices for concert tickets and camping. Some with as many as ten years under their belt at Cadot will not be attending the rock concert next year, one of the largest in Wisconsin. The group got together and decided that the concert needed a major revamping as far as talent goes after seeing many bands in excess of three times. Other things that concert goers and campers complained about were the lack of garbage pick up, mandatory generator shutdown at 2:30 AM and the switching from Budweiser beers to Leinenkugel. There were a number of positive improvements made such as speaker towers placed in strategic places on the general admission side along with a brat hut erected in the VIP area that served to 10:30 PM.

In other news at the fest this year the wet T-shirt contest was raided by the police and several of the participants were cited for disorderly conduct and were given $240 fines. Many on the organizers are disheartened and will not return to the fest. All of the bands played exceptionally well and the entire week was blessed with wonderful weather. One disappointment though was the performance by The Allman Brothers Band, they went on and on with week long drum and guitar solos and did not play their hit songs. To add fuel to the fire of audience rage was the fact that they did not want any more pictures taken at 10 minutes into the act. The people that sit in the general admission section had it even worse as they did not allow live video to be shown on the two big screens next to the stage but had a video collage of colors like a kaleidoscope instead. Colleen who usually winds up on stage for many acts never made it this year but instead found herself fully clothed and sitting in the pool after thrown in by one of our campers, John. Tragically Colleen had to leave Sunday morning due to the death of her grandmother. Amy Seihr was gracious enough to lend Colleen her van for transportation and in turn she was invited to take over her spot in her camper. Amy and I pulled the camper home on Monday morning. While at Rock-Fest I learned from a neighboring camp site with a news board that Martha Stewart was sentenced to death for her crime. Serves her right I think. So ends my 6 year tradition of the Rock Fest.

    There is baby news this week with the birth of Cole Pickett, he arrived on Monday afternoon at about 4 PM and weighed in at exactly 7 lbs. Bunky and Peggy were happy to see the little guy, Lance when first told of the birth asked if the baby was alive, then said "I really want to see the movie I Robot before coming up to the hospital." Peggy when firs brought in to the hospital was asked if she wanted an epidural and shrugged it off with a simple no. Later on after the more heavy duty stuff started she said "I don't know what the hell I was thinking, GET ME AN EPIDURAL." Thats all the news that is news, see ya.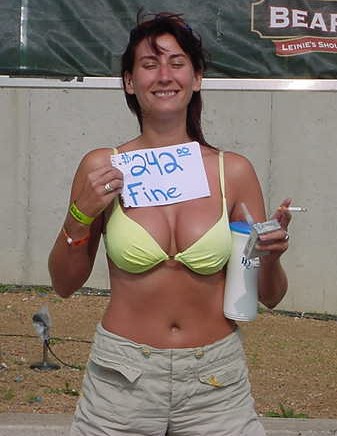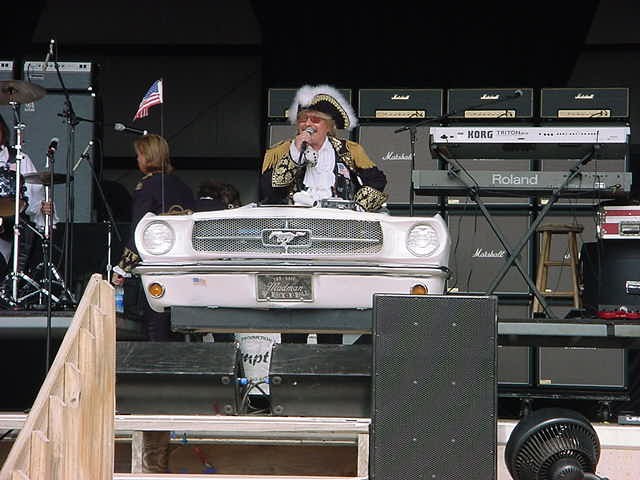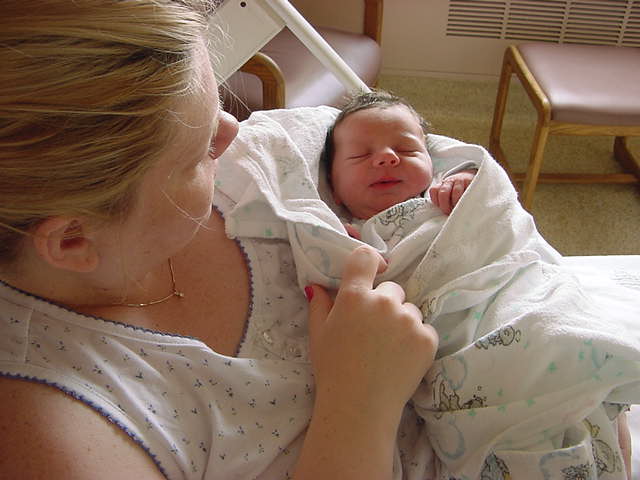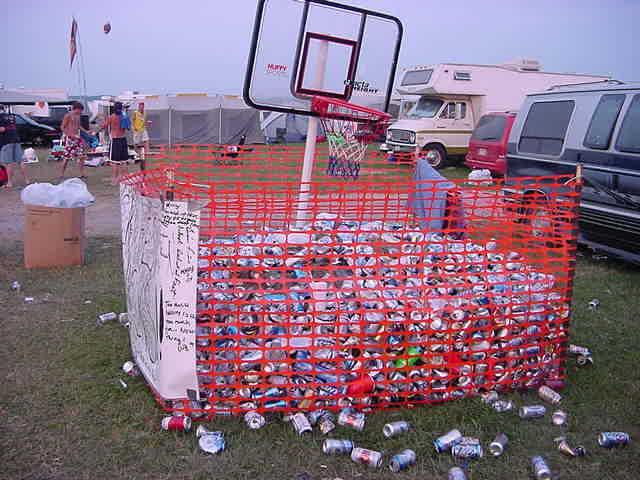 PAUL REVERE AND THE RAIDERS STILL GOING AFTER 40 YEARS

LEAH BOELTE WINS SECOND PLACE IN THE WET T-SHIRT CONTEST BUT THE FINE IS BIGGER THEN THE PRIZE!

COLE PICKETT ARRIVES MONDAY JULY 19

THE BONG PATROL COLLECTS A HUGE NUMBER OF CANS.

THE NEWS BOARD WHERE I LEARN OF MARTHA STEWERTS DEATH SENTENCE

AVERY O'CONNOR REVEALS CAREER OF DEATH

    It is normal for most children to choose a career of noble intent such as a policeman or fireman, some even branch out into the technological world such as a software engineer or a sports figure like an NFL football player. Not many kids come along and announce when entering the second grade that their goal in life is to be a hit man! Avery O'Connor who attends Danz elementary revealed his plans to his brother Weston Thursday July 22 after a late supper at the private residence of the writer. O'Connor the son of famous sports writer S. Lyle O'Connor told his brother Weston that "when I grow up I'm going to kill people for money." The Senior O'Connor who was visibly shaken by the news immediately packed up his children and whisked them away to a safe location. Avery was left in charge of packing up the paint ball gun and the full size human targets left over from the nightly ritual of target practice after supper. Neither Avery nor his father, the author of
Unsportsmanlike Comment
,offered any explanation for the comment about the chosen career when questioned however Avery's younger sister Cosset said that he poops a lot.
   The long standing local landmark the White Eagle Tavern is being torn down. The local bar was a well known gathering place for those of native decent and it was also known that those who were not of native decent were not welcome. The once popular hang out on the pie shaped lot located in down town Oneida has not been operated for the last 5 years and even the living quarters have remained vacant. Walking through the White Eagle parking lot on any given Sunday morning 10 years ago you could pick almost any spot on the property and kick the beer cans away to expose the blood and teeth laying on the ground beneath. Needless to say the W.E. generated a lot of anger in the native Americans and those who wandered in their path by accident or on purpose were treated to generous helping. It is said that at one time there was a visiting motorcycle gang that thought they could clean up the local W.E. clientele, well their plan backfired and further more their motorcycles were thrown into a pile and incinerated. It is not known what will happen to the property where the remaining frame of the White Eagle stands or what if anything will be built there but what we can be sure of is that it won't generate the history that the W.E. did over it's lifetime. Perhaps nothing will be built there as it would be a violation to the memory of all the native Americans who fought the good battle on the sacred ground. Even though it's demise means little to those of us who never even set foot in the establishment it is sad to think it is one more thing we took for granted that will no longer exist in our community. It marks the end of an era.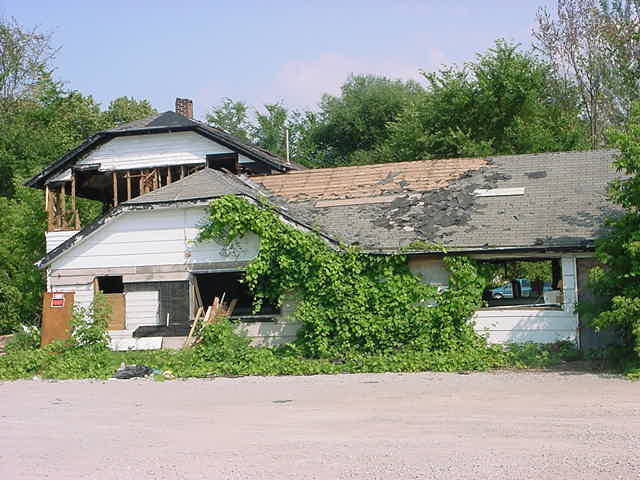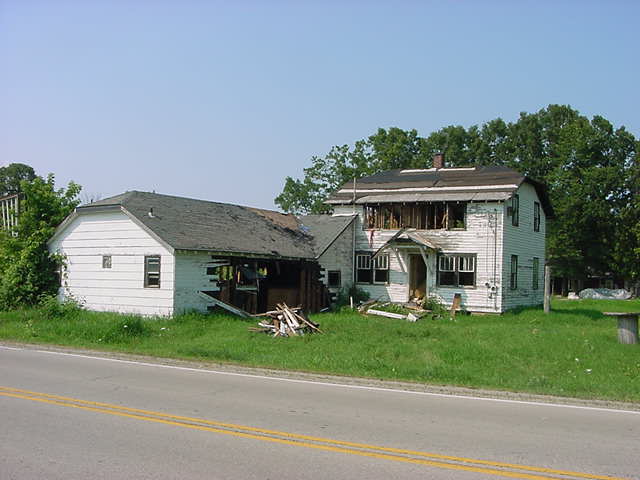 AVERY O'CONNOR PRACTICES FOR HIS NEW JOB

FRONT VIEW OF THE WHITE EAGLE BEING TORN DOWN

THE WHITE EAGLE FROM THE REAR ALREADY SHOWS GAPEING HOLES IN THE BUILDING AS IT IS BEING RAZED