news from Oneida - news from Oneida - news from Oneida - news from Oneida




"AT THE KAT AND MICK REPORT WE DON'T MAKE THE NEWS, WE JUST REPORT IT"

For Sale: Oil painting
of a Lighthouse and Ocean Scene. 40" X 28" with offwhite wood frame. Colors in the scene are pastel blue, salmon, pink, and green. Includes matching decorative floral silk spray from Home Interiors. Price is just $75. Call Rae Poquette at 920 - 660 -2102 if interested or e-mail her by clicking
repoquette@aol.com

For Sale: Framed Calla Lily Artwork
This is a Black and White photo of a painting.....large by a famous photographer. Very contemporary. Asking only $20.00     For more information or to purchase contact Patty Sobieck-Skinkis 765-423-1342 or e-mail me at
psobieck@purdue.edu
Carpet Cleaning:
Spring is here! It's time to start thinking about spring cleaning. Perry Peterson, First Choice Carpet LLC says "My company is the
CHOICE
that makes the difference". New this year is pressure washing. Do you have an oil spot in your garage that you would like to get rid of? Well, we can do that and more, give us a call at (920) 884-9963 or e-mail me at
perryp@greenbaynet.com
Perry is the son of Bob and Mary Phillips.


Authors note: Oh what the hell, I'll come clean with you!  The real truth: as an April fools joke, my #2 son swapped around the mouse and keyboard cables on my computer.  I've been working nonstop on this lame ass article for months, typing with my mouse and pointing with my keyboard.

"NEW" UNSPORTSMANLIKE COMMENT

TIM LADE FINDS NEW JOB AT EDL PACKAGING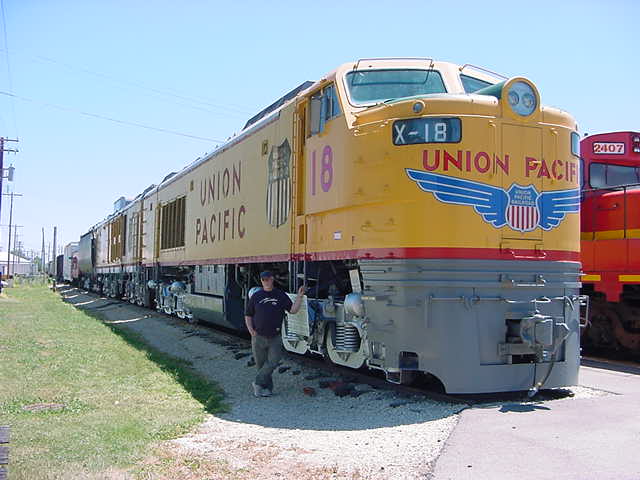 im Lade who has been without work since January when he was forced out of his business agreement has landed a job in the same field he was working in at O&E Machine. Aside from the couple of days he was a temp at Schneider National he has been actively searching for something in the parts sales field. Lade who was a parts salesmen at O&E has over 20 years of experience in dealing with customers. Over a week ago he was offered and accepted a job at EDL Packaging Engineers 1260 Parkview Rd. in Green Bay (Ashwaubenon). He is dealing with customers who need parts for machines built by EDL. The company builds machines for the paper, and the shrink wrap industry. Lade seems pleased with the work but with any small company problems abound and EDL is no exception. Lade is disturbed by some common warning signs that the company is having human resource problems such as rapid turnover and standing orders that overtime can only be paid out if you have a written order from the owner. The jury is still out as to whether Lade will be happy punching his time card here for the rest of his career. Lade says that he may still have a job waiting for him at yet another company who at this time is unable to put the offer on the table for undisclosed reasons. Lade is unsure at this juncture as to what his future will be for employment.

LADE'S AND PICKETT'S RETURN FROM IL

Thursday, Friday, and Saturday for the most part were spent in Illinois by the two couples. On Thursday Tim and I spent the day at The Illinois Rail Road Museum while the women went to an architectural salvage yard in Woodstock some 15 miles away. Day two was spent at the Museum of Science and Industry, and day three at Rochelle IL. Rochelle is where the double track mainlines of the Union Pacific Rail Road and the Burlington Northern Sante Fe Rail Road cross. This is a genuine hot spot for trains with some 120 trains a day banging over the diamonds at Rochelle. The city has built a pavilion and a little park along the tracks where people can sit and watch trains. Kat and Joanie brought lunch and we ate our fried chicken and potato salad at a picnic table under the roof of the pavilion.

SUE WENZEL MOVES FROM OCONTO

After twenty years in the black hole of the north Sue Wenzel has finally moved from Oconto to live temporarily with her son Eugene in Green Bay while she searches for an apartment. Wenzel cites the long drive to work and the growing gas prices for her move. Wenzel would like to find an apartment in the surrounding area of her employment, San Louis Manor in Ashwaubenon. Living in that area also has the added benefit of service from the 12 and 16 bus linking her to Green Bay in the Metro bus system. Moving from Oconto needs no other reason then escaping from the odd collection of people which have seemed to culminate in the poor northern town. Wenzel will leave behind the rest of her children who will scatter for a place to stay with family and friends remaining in the area. The Oconto County Sheriff's Dept. has announced they intend to lay off two deputies this week in the wake of Wenzels departure.

The Birthday Page has been updated so check it out
click here
. There's also a new Unsportsmanlike Comment
click here
to check it out. That's all the news that is news, see ya.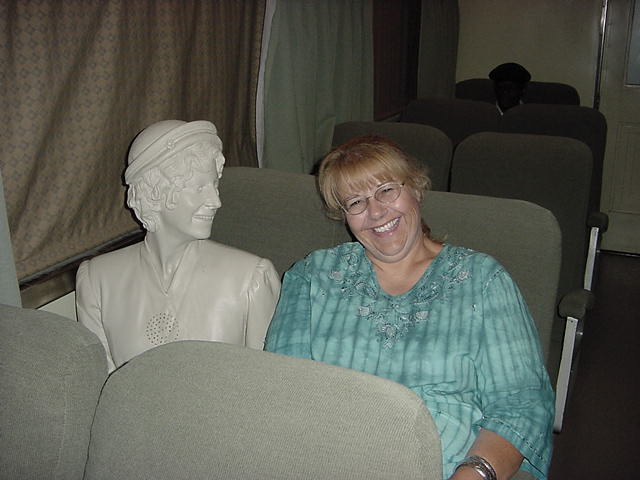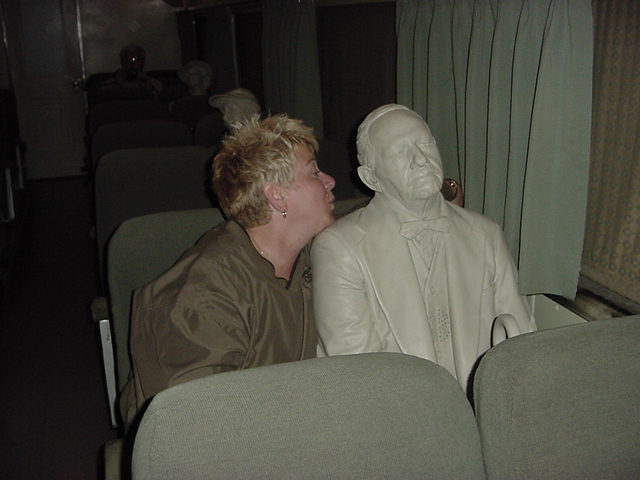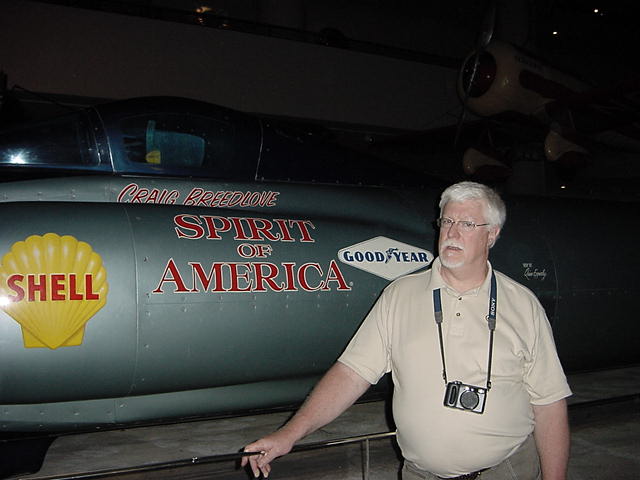 TIM LADE STANDS NEXT TO A GIANT LOCOMOTIVE AT THE ILLINOIS RAIL ROAD MUSEUM

KAT NEXT TO ANOTHER PASSENGER IN THE PIONEER ZEPHER

JOANIE FLIRTS WITH A MALE PASSENGER ON THE ZEPHER

TIM STANDS NEXT TO CRAIG BREEDLOVE'S SPEED CAR AT MSI

KAT VISITS GRAVESITE OF OWN STOMACH

         hile on vacation  last week the Kat insisted that we stop and visit the stomach cemetery in Belvedere Illinois. The Kat who had Barriatric surgery some 4 years ago wanted to see the grave of her own stomach removed in the operation. Because we were so close to Belvedere where the cemetery was located we obliged and allowed her to visit the site in silence. Kat told us later, "after finding the gravestone of my own stomach I said a short prayer and wiped the tears from my eyes" then she rummaged through her purse for a snickers hidden under her check book. The Luxurious size of the stomach grave sites at the Barriatric Treatment Center Stomach Cemetery is large enough to accommodate the additional burial of tonsils, appendix, and various fingers and toes amputated by necessary or by accident. Burial of the entire body is not recommended but is not forbidden should one want to be reunited with their stomach upon death. The Grave size is large enough to accommodate such a decision.

JOANNE LADE HAS SURGERY ON WRIST

Friday Joanne Lade had carpal tunnel surgery on her right wrist. Lade who is right handed says she is ambidextrous and is not inconvenienced by the now common surgery. Even though by her own word she will not be inconvenient she will not return to work until July 8. After the operation Lade was told not to consume alcohol or drive a car, she did refrain from driving as Tim drove out to the Royal Scot Golf Course for dinner. In the early part of the evening Lade bragged how there was no pain and her pain pills were not needed. Later in the evening when the anesthetic wore off and Old Fashioned's were no longer able to grind the sharp edge off of the double edged sword of pain Lade began gulping pain pills like PEZ candies. With her wrist and hand throbbing she removed the ace bandage from the wound to ease the tension, a remedy she was told by medical staff NOT to do. Unable to replace the bandage herself I assisted her in putting it back while she complained that again it was too tight. I loosened it slightly and completed it just before we departed. She was immediately ordered to bed by Tim where she slept it off.

AIMEE POQUETTE RETURNS WITH CHRIS

Aimee Poquette will be coming home on July 15 with her new boyfriend Chris Richey in tow. The Richey - Poquette relationship which was covered in a previous issue of THE NEWSLETTER was not formed by fate as previously thought. Actually the two were paired by a computer who matched Poquette's firm belief in the death penalty with Richey a Law enforcement officer in Indiana, a state obliged to send people to death row even for minor traffic offences. Poquette who could often be heard saying "stupid people should be killed" has finally met someone who can make that happen.

Poquette returns to the area to get some feed back on her new friend before coming to the social event of the year, Blackie's wedding. It is at the wedding where she will show him off, bringing him on her arm to meet the entire family and perhaps some strangers in the adjoining hall at some other couples wedding. The short visit on the 15th will allow her to make any necessary changes or shine up some rusty spots on Richey should any negative feedback arise.

That's all the news that is news, see ya.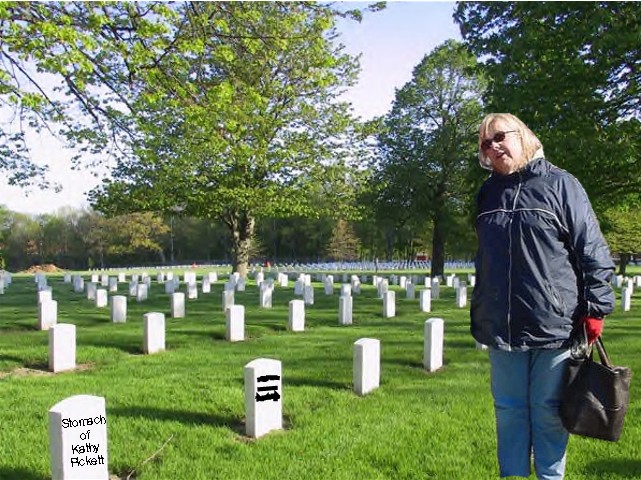 KAT FINDS THE GRAVE OF HER OWN STOMACH WHERE SHE SPENDS A FEW MOMENTS IN SILENCE

BARRIATRIC TREATMENT CENTER

STOMACH CEMETERY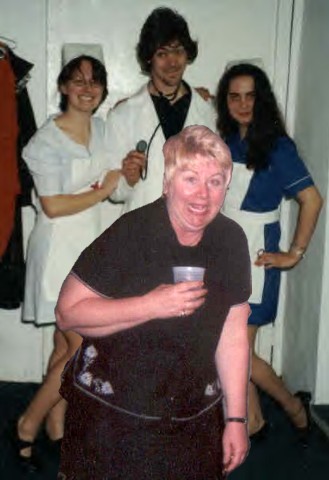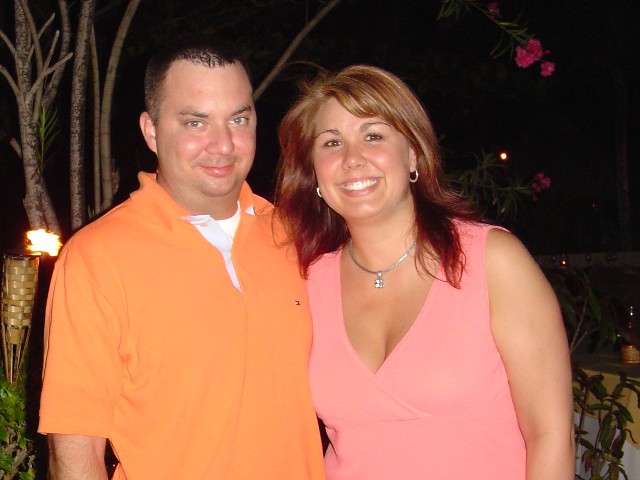 JOANNE LADE DOWNS AN OLD FASHIONED BEFORE ENTERING SURGERY

WITH MUTUAL ADMIRATION OF THE DEATH PENELTY IN COMMON, COMPUTER MATCHING WAS A SNAP