news from oneida - news from oneida - news from oneida - news from oneida




"AT THE KAT AND MICK REPORT WE DON'T MAKE THE NEWS, WE JUST REPORT IT"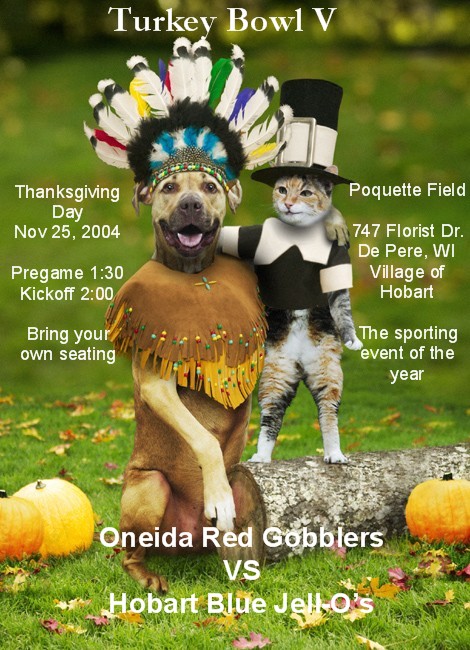 4 year old Japanese slot machine for sale.Excellent condition.

Comes with an owners, maintenance manual on CD, extra light bulbs, a stand,

and 5000 coins. These coins are slightly different in size from a quarter, making the machine legal.

It can be modified to accept quarters, however.

$200.00 or best offer

Contact Tim at 866-1257.

75 Gallon Fish Tank and Stand for sale

includes extra filters, carbon, greens, rocks, stones, 25 foot filling hose (hooks to faucet tap) everything needed to set-up!

Asking price is $250 or best offer. For more information call Alissa Young at 920-822-1579 or 920-373-0859.

SPECIAL DINNER HELD FOR DAVE POQUETTE

   With all the events happening lately the dinner held in honor of Dave (Peter) Poquette at the Lade house almost was overlooked and forgotten. Lucky for everyone that your KAMR reporter and writer of this column was on hand to gather the facts. Friday June 11th was the original date that Peter was to partake in a fish feast at the near by Royal Scott Supper Club adjoining the Lade property. But due to a scheduling snafu at Letica in Clarksville Tn. where Peter is employed, the yearly safety meeting for drivers was to now be held Saturday morning. This meant Dave needed to cut his vacation short and return to Clarksville by Saturday morning, so in order for Dave to make the 15 hour drive he would have to leave early Friday morning in order to catch a few winks before the meeting after he returned home. After finding this all out Thursday afternoon the Lades worked quickly to move the dinner up one day and everything fell into place to have the dinner Thursday night. The Kat and I along with some other personal friends of the Lades, and Dave, enjoyed a dinner made by Joanie and Festival Foods. The beans were my favorite and I got the last of them when I went back for seconds. Dave who limits carbohydrate intake gobbled up hunks of mystery meat on his plate but took no chips or bread. There was much chatter about nothing after the meal and the night ended almost as quickly as it started. Before each family left the male members of each were invited to move furniture before departing making saying good bye much easier. Dave who at one time made his living moving furniture dived in with both feet and grabbed the heaviest couch   bulling it out of the living room and into the kitchen without batting an eye. It must have worked; no one shed a tear as the lights from the condo grew small and dim in the rear view mirror.

    The XPFL commissioner and improvement committee have voted to make improvements to the field for the upcoming Turkey Bowls and would like to start by getting a working scoreboard complete with a countdown clock. Tim Lade has agreed to help raise money for the venture by producing a special Birthday Calendar which will be sold this fall with the proceeds going to the purchase of the scoreboard. We hope to have a sample available soon to show you and it will available for purchase at the Turkey Bowl and will be available until Christmas. Tim will be reimbursed for his costs but has graciously donated his time to compile the list and design this beautiful calendar with birthdays on it from everyone we could think of. We hope we have included everyone on it but if by some chance the one you were looking for is not on it, well, it's too late for this year. But don't let it go without sending us a note to let us know about it for next year, should this idea work we may want to do this again. Tim will collect the data and will augment the list for next year. We cannot yet let you know the price because we are still tallying up all the costs associated with the production of the calander, but when we know we will let you know right here.

    Everyone is invited to Elizabeth's Birthday party on July 10th in, as Sandra calls it, "The Sovereign Nation of Madison."  The party will be from 3:30 to 6:30 on the new deck at their home, that is if Bob gets it done. Sandra informs me that in the event Bob does not finish the deck then there will also be a funeral to attend with the burial in the spot were the deck is supposed to be.  Elizabeth who will be turning 3 matches her years with the number of police cars she has ridden in and has already many stories to tell in her young life. When she learns to write she plans to publish her memoirs with Chapter 1 being: Advice on how to be a good hostage when taken by a knife wielding maniac bent on suicide. Apparently the hostage incident has already left its mark on Elizabeth as Sandra discovered at the wedding when she noticed that the girl had consumed part of her Bacardi and Coke when she was not looking. For more information on the party if you would like to attend, e-mail Sandra at
Sandra_hs@yahoo.com
She asks that you please indicate if you will partake in the vegetarian choices or are you a carnivore.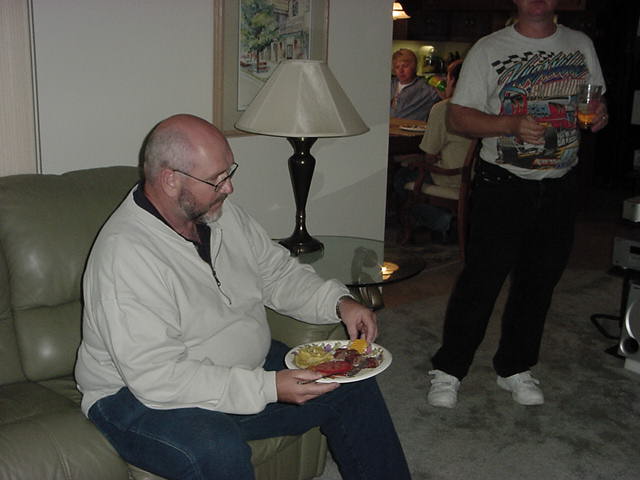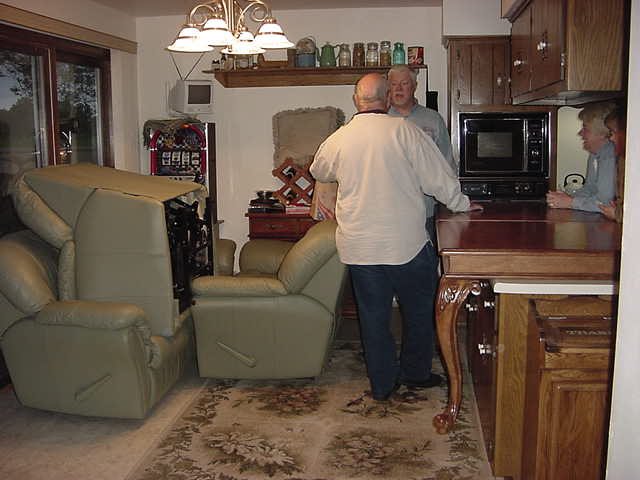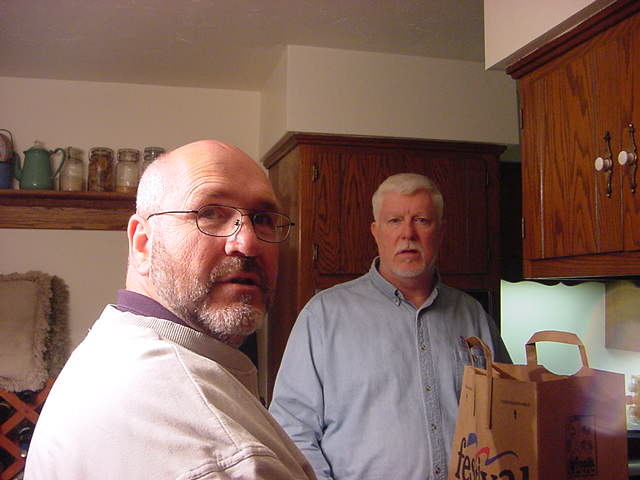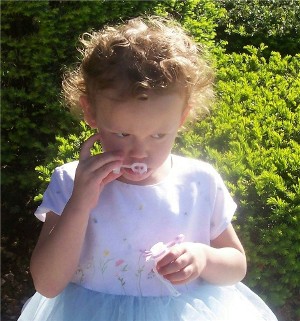 DAVE EATS WITH ALL HIS FAMILY AND FRIENDS

DAVE MOVES FURNITURE TO SAY GOOD BYE

THE CLYDESDALES DISCUSS THE XPFL CALENDAR

ELIZABETH TO WRITE MEMOIRS

ALEX TO BE SENT TO KUWAIT

    Alex Pickett received details this week on his upcoming "TDY" (temporary duty) and it sounds like he will be shipping out to Kuwait in September. He will be guarding a base in the desert land for 6 months, so he informed us that he will not be coming home for his annual visit until February some time. He normally would have gotten leave and come home some time in the fall, however since he will be going TDY he will delay that until after it is finished and then he will get another 30 days of leave. He already knows he will be guarding a base over there and since he will be making a step up to Senior Airmen in July he will be in charge of three other men on that remote base. While he is not in the midst of the fighting and terrorism he will be close enough that they will remain on constant alert for men with evil in their hearts.

    Many of you know this is the weekend that County Fest is celebrated in Oshkosh, and while I don't condone or encourage the attendance of this goat ropin festival I do have news to report on who is attending. Justin and Brittany Sobieck are taking in the cow kicking concert with 4 day passes much to the chagrin of the writer, friends, and relatives. While it has long been known that country music is hard on audio components such as speakers and amplifiers we could understand this type of behavior from Justin, but it is without precedent that Brittany should go over to the dark side as well. She even shelled out $21 of her mothers hard earned money to purchase a cowboy hat to more or less fit in with the crowd, I shouldn't be surprised to see her now covering her shoes with cow manure to smell like them too.

    One girl who has her head screwed on straight and is not seen attending goat ropin festivals is Megan Krueger or "Megadeth" as we like to call her. Saturday June 26th was her high school graduation party and there was no "country" music heard at the event. It was not without music however as a band performed in the front yard of the residence, although I did not hear them the crowd raved about their rock and roll performance. Megadeth was asked about her future now that she has finished HS and her plans are to work this summer and earn money for college at New York and Co. where she is employed. While she had been working at a coffee shop in the mall she grew tired of that job as ownership changed and the chemistry between employees and management changed for the worse. She was even approached by some nare do well at the coffee shop that would pay her a lot of money each week for "services rendered" which she of course turned down and then summoned security. While her cousin Brittany who now is submerged in the in the deepening cesspool of country music sinks deeper into its mirth, Megadeth remains pleasant and pure and says she does not like Country music and has attended Summer Fest this year and liked it even though she was not tall enough to enjoy it, she plans to go back at some time in the future when she grows taller. Megan has announced that she will live on campus but her mother Darla hopes that she gets a roommate that is strong willed and as accretive as Megadeth. Darla explains that a "whiny or bitchy" roommate will not be up to Megadeth's standards and will not survive in the same dorm room.

    Logan Sobieck recently has been ostracized by female members of the Sobieck family because of his attitude toward members of the opposite sex within the family. Sobieck who has now started his teen years is spending less and less time riding in his posse and more time irritating the girls. Treatment of the opposite sex in this fashion seems to be limited only to family members and not to girls of his acquaintance within his class or otherwise.

    While the competition for the Bellin Run faded out to only the writer of this column at the end, I felt it was not necessary to report on the results of just myself. Yet people have asked and I said I would put it in for what is worth. I finished in 50 min and 51 seconds bettering my time by about 1 minute and 30 seconds from the year before. My goal was to get my time into the 40 minute range which I missed by 51 seconds. While I am happy to better my time I am somewhat disappointed to not meet my goal.

    Today is the Graduation Party for Christine Meeuwsen, and Kelly Wenzel at the Meeuwsens home in Suamico. It is from 1PM to 7PM and food will be served there will be music, bocce ball, and volley ball. Call 434-9361 for more information. That's all the news that is news, see ya.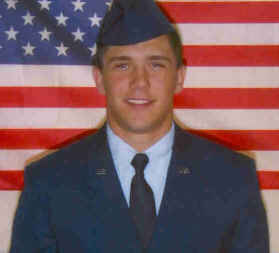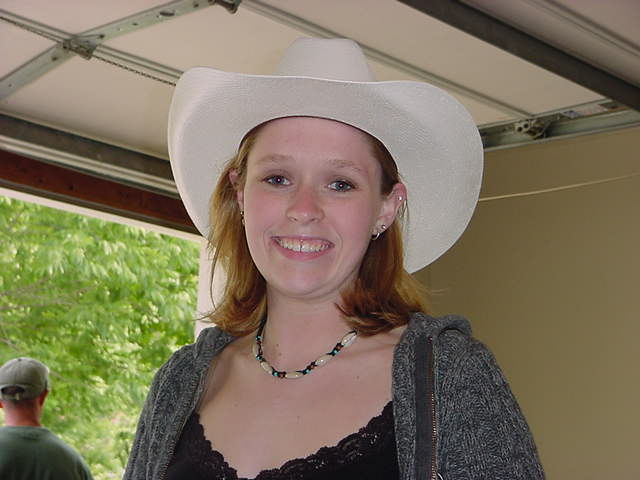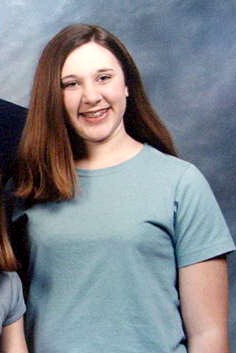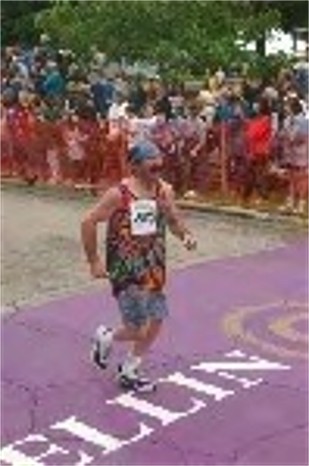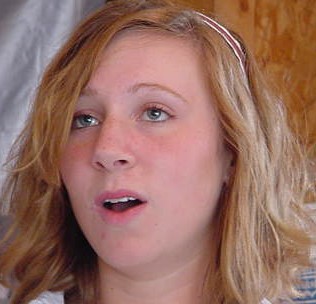 ALEX GOING TO KUWAIT ON SEPTEMBER

BRITTANY SOBIECK - GOAT ROPER

MEGADETH AS SHE WAS SEEN IN HER YOUTH

MEGADETH NOW AS A COLLEGE BOUND WOMAN

WITH HOPES OF BEING AN ART TEACHER

CROSSING THE FINISH LINE AFTER RUNNING THE 10 K