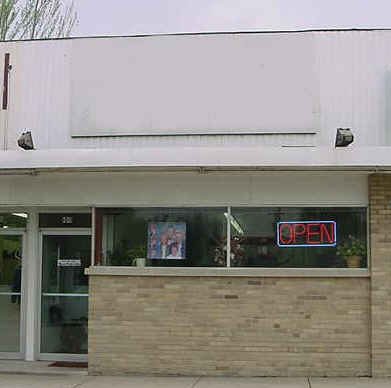 news from Oneida from Oneida from Oneida from Oneida

  NOVEMBER 22   2001     2  PM POQUETTE FIELD

May 6, 2001

Oneida WI. - Darlows Sheer Dementia is now Darlows Curl Up and Dye, the rumors are true as proof by the photo shown below.

    Curl Up and Dye will have new specials as well, THE KAT AND MICK REPORT has obtained information on the new specials.

    Special # 1. The Executioner - A complete make-over for your head, a facial, new make up scheme and a new hair dew. It's as if your head were chopped off and a new one put on. $175.00

    Special # 2. The Electrocution - The hair is dyed black by the roots and highlighted through the middle, while the ends are singed. The hair is then teased until it protrudes in all directions and then sprayed until set. Collagen injections are given to the eyes with red make up around the outer edges of the eyes to make them appear to bulge out of their sockets. Only $95.00

    Special # 3. The  Bride - The hair is dyed black then put up with two streaks of white on each side visible from the front in a vertical fashion. The eye lids are propped open by tiny stints implanted on each side of the eye. A special tiny spray bottle of with salene solution is given to each customer to keep your eye balls lubricated. $125.00

    It's clear to us here at THE KAT AND MICK REPORT by the poll numbers that the readers want to see Jean Poquette Hansen remain the Chicken Night Queen without the much ah do of a pageant to crown a Chicken Night Queen. From this day forward Jean Poquette Hansen will be known as the Queen who will reign forever over her Chicken Night subjects. As gasoline and fuel prices rise and the economy takes two steps forward and one back Queen Jean Poquette Hansen was heard to say " let them eat chicken." Queen Jean Poquette Hansen can be seen periodically at Chicken Night on Fridays, 5:30 PM, at Cliff and Ceils Bar.

    A small diner party was held in honor of Alex's confirmation at Damons in Green Bay. A good time was had by all and the family was joined by Chris Agnew who was Alex's sponsor.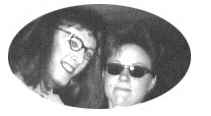 A NEW LOOK AND A NEW SIGN FOR THE OLD SHEER DIMENTIA NOW KNOWN AS DARLOWS CURL UP AND DYE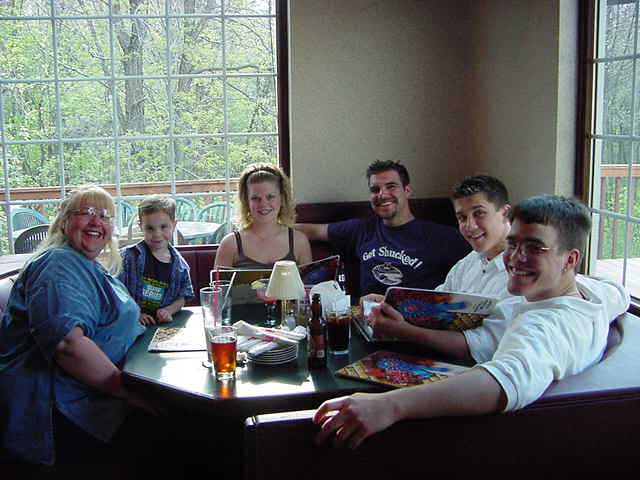 THE FAMILY PICTURED HERE AT DAMONS IN HONOR OF ALEX'S CONFIRMATION.

Alex was confirmed the week before and saluted the Bishop in church after he was confirmed.

    We think no one went to Chicken Night this week.

    The OFD / GREEN BAY HIGHRIDERS  mudruns are in two weeks, if your looking for something to do that Saturday come on down. Admission is only $5.00 and it's an all afternoon event.

    Thats it for this week, see ya.

May 13, 2001

Oneida WI. - My self and the Kat spent last weekend at the lovely cottage of my sister Faye on Long Lake, Phelps WI. During the visit we spent time relaxing and talking, some what disturbing though was the interruption of sewer service due to a pump failure in the drain system. The system never overflowed due to careful management of the shower and sink water, and of course the toilet was forbidden. This of course caused everyone to back up within themselves, however no one burst while I was there, and I left first just to make sure I wouldn't witness such a thing.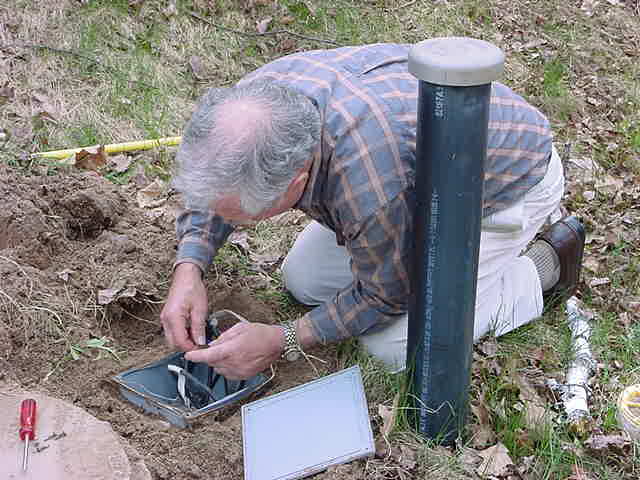 DON SEEN WORKING FEVERISHLY TO KEEP PEOPLE FROM BURSTING

Adding to the chaos was Faye's conspiracy theory's that the government was behind this septic failure in the hopes that they can decrease the population by having people burst from not using the facilities. And that there's a branch of the CIA in charge of just septic tank failures. This seemed quite unlikely to the rest

of us and therefore we scoffed and made fun of her. While in church that Sunday we did witness a kind of odd thing, while the choir was singing the recessional song the director stops singing and says in a loud voice into the mike "darn it." If she would have kept singing I would have never noticed the mistake.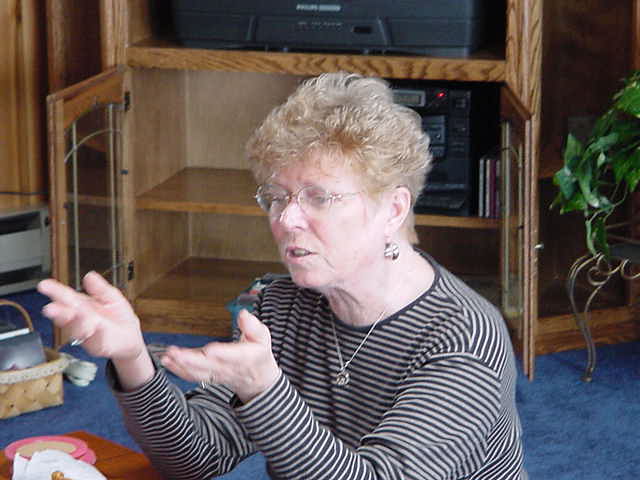 FAYE EXPLAINING HER CONSPIRACY THEORY  ON THE CIA, SEPTIC TANKS, AND BURSTING PEOPLE.

This weeks chicken night had very high attendance with 19 people present including children and also we were blessed to have the Queen present at the feast.Conspicuous by his absence was Scott Tremel who was reassembling his shed after it was torn apart by the wind on the night of Shelly and Joels wedding.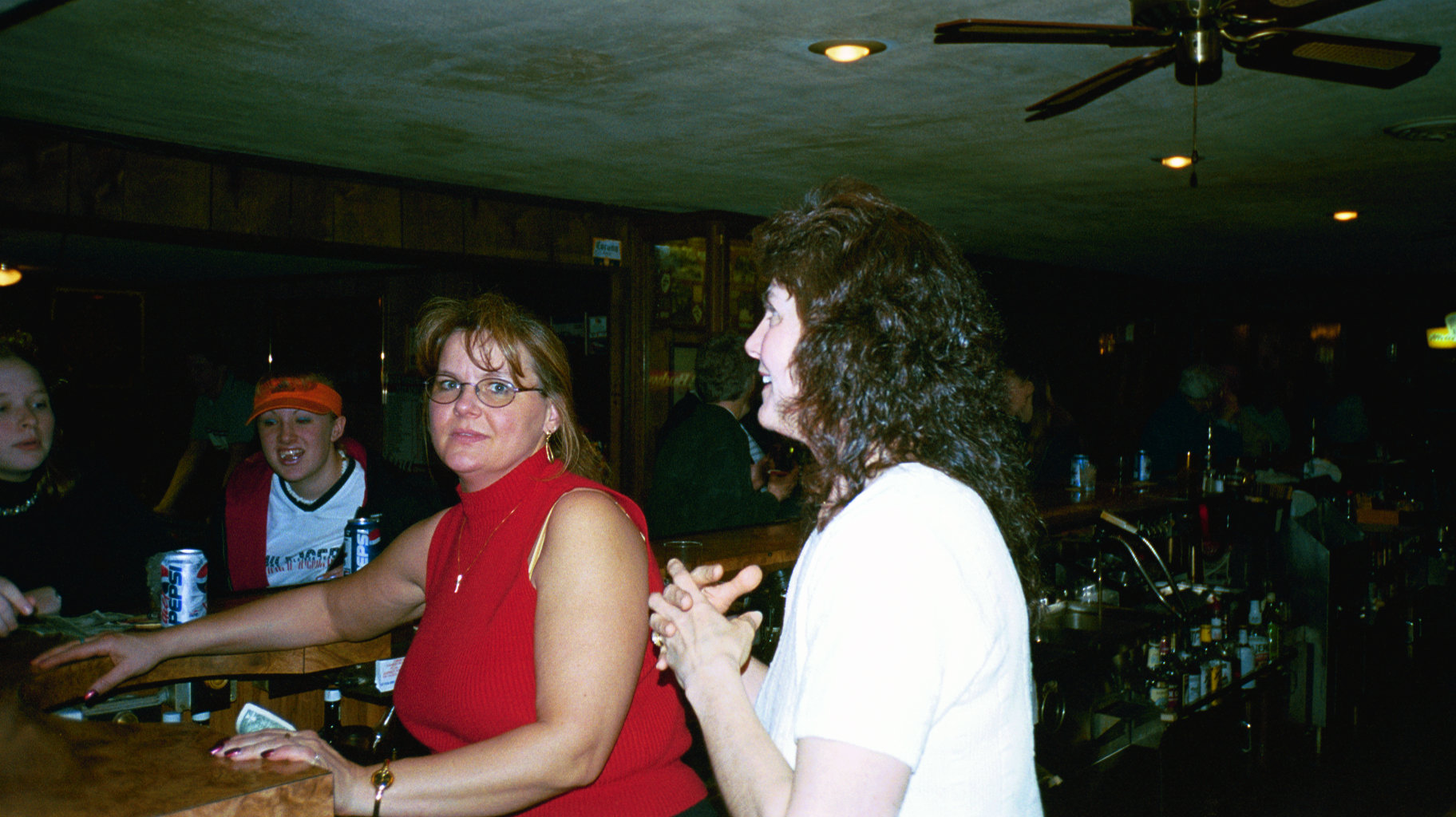 Everyone ate well and as usual the drinks were fantastic, even though there is still no Killians Red at the bar. I keep requesting that they get it but Wynona has her mind made up she will not have it at the bar! I figure if I keep asking that sooner or later they will get sick of listening to me and get it.

OUR TWO FAVORITE CHICKEN NIGHT BAR TENDERS , NAOMI AND WYNONA

Saturday night we had a lovely dinner at the Lade house, Joanie made steak on the grill and she had those little red potatos sliced up and fried in butter that I like so much. Tim and Joanie's cats (Stinky and Bud) were confined to the basement while we were present so as not to interact with The Kat, its a territorial thing you know. Kat took some claritan before we left and she was good the whole night except for one time when she had to use her inhaler and I think thats because she was using a blanket that the resident cats lay on.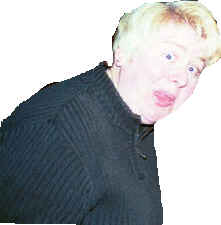 We had a wonderful time and watched a moving picture on Tim's wireless moving picture receiver. The movie wasn't so good as proven by Tim's occasional dozing, but the drinks and sparkling conversation made the evening a worthwhile event. We were on the road by 9:15 and on our way to the store to pick up supplies for the Mothers Day feast.

JOAN COOKED A WONDERFUL DINNER, AND WAS ENTERTAINING TO SAY THE LEAST.

    Two more big acts were announced for Rock Fest, Billy Squier and The Guess Who. This leaves three Major acts to yet to be announced. You can view an incomplete schedule on the
Partypage.
    Don't forget to plan for the Memorial Day party at Peggys house, where we will enjoy food and spirits and then walk over to the park and view the Bodeens in concert, in DePere. Word has it that Scott Stangel will be back in town.

    Next week is the OFD/Green Bay High Riders mud runs at The OFD grounds.

    Thats it for now see ya next week.

May 20, 2001

Oneida WI. - I had taken Friday afternoon off to make a trip up north to retrieve a new carboil (gargoil) for the Kat. As you know I broke one of her carboils in a freak accident in a wind storm with some plywood. The main body still exists however the wings are broken off, and there is no way to reattach them.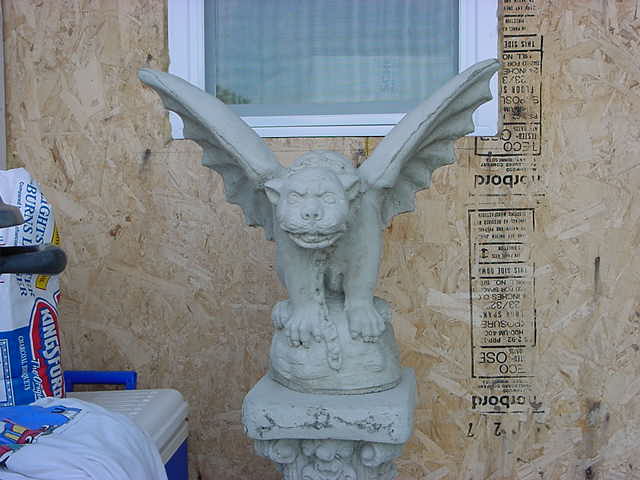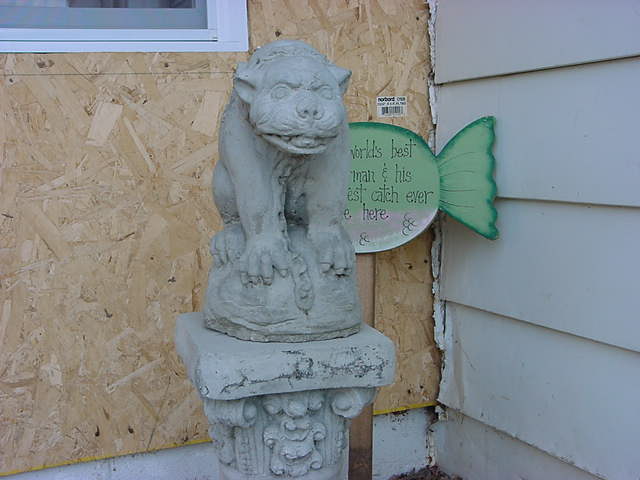 NOTE HOW THE CARBOIL ON THE LEFT HAS WINGS WHILE THE ONE ON THE RIGHT JUST LOOKS LIKE A MAD DOG

While I thought the Kat would jump at the chance to have a new carboil she did not see this as a solution to the broken carboil problem. I therefore stayed home and cut the lawn.

    I have taken some photos of our visit to Faye and Dons cottage and have them posted at
Photo Island
you can get there by clicking on the red letters, then enter your screen name on the left where it asks you to check in, then enter katandmick for the password. This looks like and easy place to post photos and it's free! I may post more photos here in the future for everyone to see.
    On Thursday of the past week I stepped out with Joanie, and Tim, along with his daughter Vicki to the Pavilion Nights show. This time the Oneida Casino was proud to present The Doobie Brothers, and apparently no introduction was needed for them as none was given. The performance given was fantastic, however the sound lacked clarity and the system was driven too hard with too much midrange. The amount of equipment used was too little for what the band needed to do a good job. The video guys got some nice shots of the performers and mixed them very unique way. But they used a lot of the stop action video and that's the wrong place for that at a concert, people want to see the live action not a lot of jerky pictures.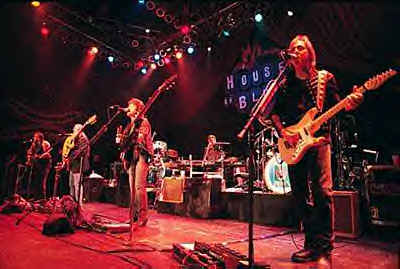 THE DUBIOUS BROTHERS PERFORM AT "PAVILLION NIGHTS" AT THE CASINO

One guy was very angry when a number of people crowded the front of the stage in the "Moshe pit" to get a closer look at the Doobies.

He started throwing beer cans into the crowd up front in hopes of getting them to move out of his way in row 2. A security guard came through and he yelled at him to get them out of there. Nothing was done and he left, when he came back 15 minutes later Tim was sure he must have had a gun. If he did he never showed it to anyone or fired any shots.

    Saturday brought double duty for me in the "helping out" business. I spent the morning setting up and then parking cars for the big OFD / GREEN BAY HIGH RIDERS mud drags. I left at noon so I could get home in time to load up my audio equipment for the wedding of Marie Krohn's daughter Holly. The hard working "Poquette Sisters" Jeanie, Kat, and Trixie worked in the kitchen along with a few friends of Marie who stepped in now and then for special items. Even Kevin and myself were pressed into service to carry food, chaffing pans and what ever else needed to get from the kitchen to the serving table. The food was good and the wedding reception went well, and a good time was had by all. The only glitch was when one of the brides maids thought she caught Trixie making off with the wedding cards, Trixie had a hard time convincing her that she was taking them to Marie's house and that the card box was hers, and she was taking it home.

    Next week on Saturday is Bunky's and Peggy's party which will be held at Peggy's house in DePere. If you don't know how to get there call or send mail, everyone is invited.

Scott Stangel will be there and a walk over the bridge is planned to see the Bodeens after supper. Later we will all sit by the campfire and tell ghost stories. There may even be an impromptu practice of the XPFL cheerleaders.

    The following week is the OFD picnic with Demos, Water Fights, food, booyah antique tractors, and pedal tractor pulls.

    Check out the XPFL page for the "new teams" for TB-01 and we are working on getting T-Shirts for each team that are silkscreened with numbers and team names. That's it for now, see ya next week.

May 27, 2001

Oneida WI. - Last week saw a visit to this area from Aimee Poquette and her new man friend. Her new friend goes by the name Brian Eschleman and he lives in Cinci. and has a complicated job, something called a sample consultant for a marketing firm. I think how that works is that if you receive a sample from his firm, you can consult with him about it if you want. He's a big guy as you can see how he towers over Aimee.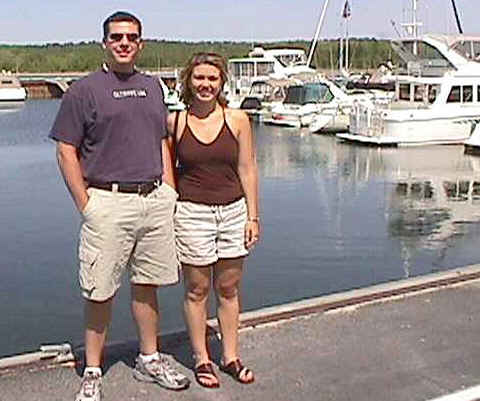 Aimee met his friends, whom they were taking a trip with. His best friend is a professor, and he also knows a movie star who is beautiful, and a couple who is rich, as well as a common farm girl in the big city. They asked a couple of other friends, a big guy who has a boat,

Aimee and Brian about to depart on a three hour tour

and his first mate who is a little guy that gets confused easily, to take them all out for about a three hour tour. We are waiting to hear from them on how it went. So far there's been no word and it's getting to be a long time.

    Friday night we attended the graduation ceremony for West DePere High School, and I can now say that Alex is a High School Graduate. I checked the diploma for a signature from the board of education and it's there, what a relief!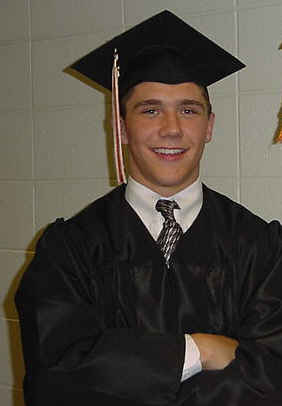 The graduation went off with out a hitch and the speakers and band and choral were all entertaining. We were holding our breath wondering if Alex had some "special moment" planned for everyone. He did, but it was not too bad, when they had all the students stand and wave to their parents he remained standing and waving long after everyone sat down. Not that bad I thought, it could have been much worse.

Alex having post graduation happiness

Now he is out of high school and earning his own living, and maybe on his way to paying back everything he owes us.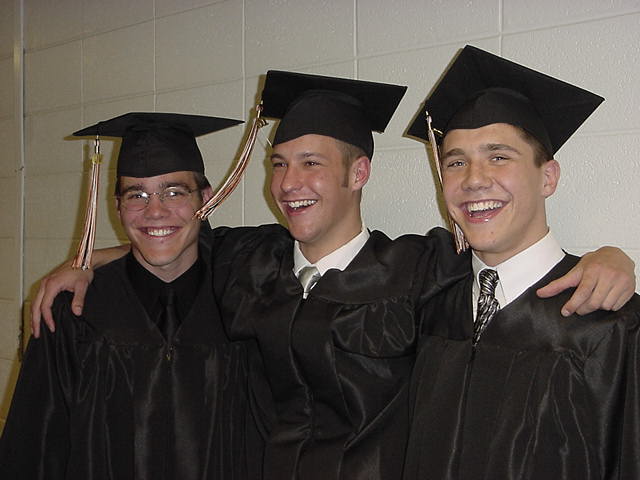 Chris Agnew, Adam Pfotenhauer, and Alex

give each other a pat on the back.

I understand there was a chicken night gathering however as we were attending graduation and there is no way I can report on what happened there. I do know that Queen Jean Poquette Hansen was present for chicken night this week.

It has rained for almost a solid week straight here and the fields are flooding with water everywhere you look. Saturday is the only day this week that we didn't get a heavy down pour. Friday we even got some hail as witnessed by the below photo.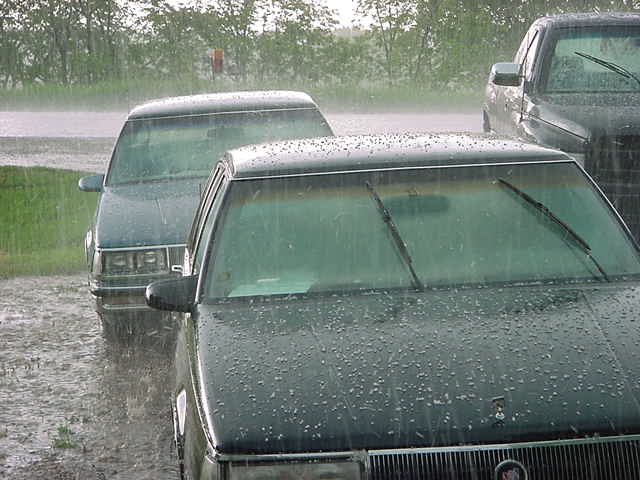 SPRING RAINS DAMPEN OUR SPIRITS IN WISCONSIN, AND THE HAIL HURTS TOO.

Next week I'll be talking about the Memorial Day party at Peggy Kamke's house, which by the way is on Sunday the 27th. and not Saturday the 26th. and my new band THE MEAT PUPPETS. That's it for now, see ya next week.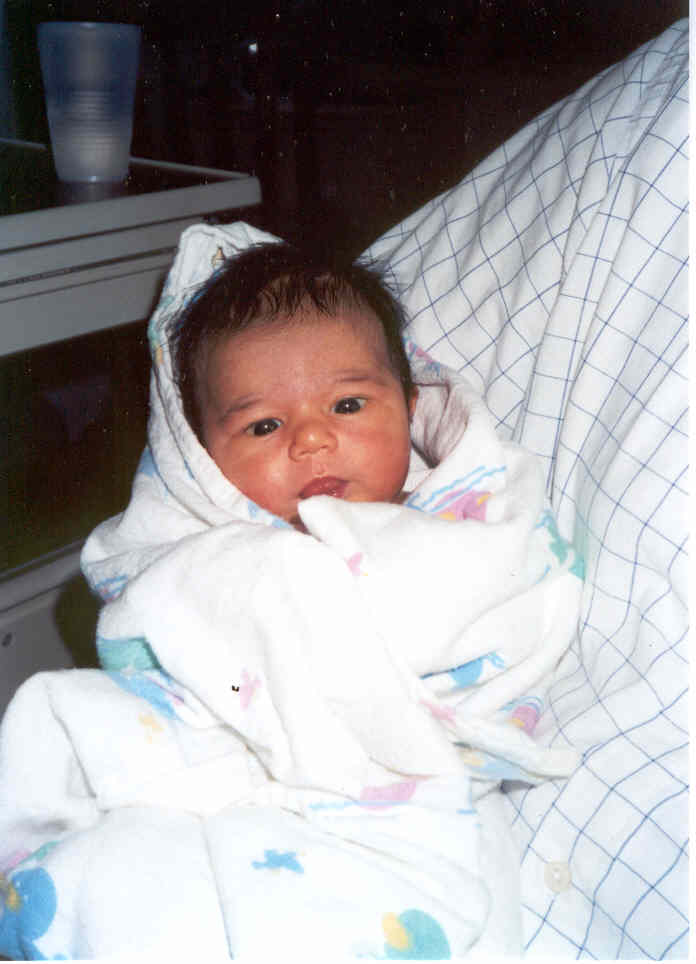 The Picketts are greeting a new member to the family these days with the new arrival of a son to Yannick and Maureen. His name is Peter Joseph Ratnayake, and I won't have any trouble pronouncing the first two names anyway. THE KAT AND MICK REPORT offers it's congratulations to Maureen and Yannick.

Peter Joseph Ratnayake

born April 10, 2001