news from oneida - news from oneida - news from oneida - news from oneida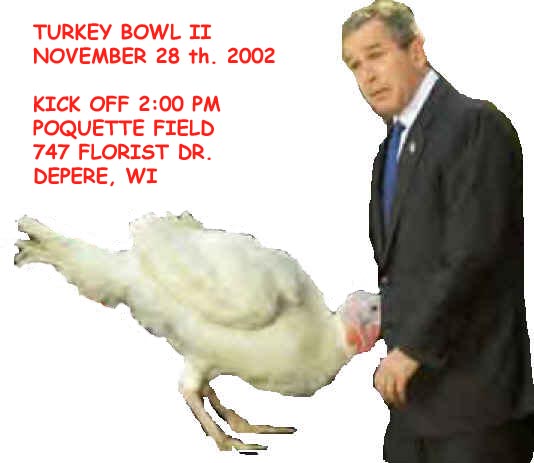 "AT THE KAT AND MICK REPORT WE DON'T MAKE THE NEWS, WE JUST REPORT IT"

5-3-02

XPFL CHEERLEADERS WELCOME DICK POQUETTE AS HEAD CHEERLEADER

Oneida WI - With the head cheerleader position in turmoil since TB-01 the choice in now clear on who the people want to see as head cheerleader. That choice was Dick Poquette with out question.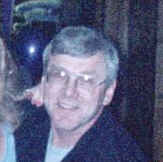 DICK POQUETTE NOW ASSUMES THE HEAD CHEERLEADER DUTIES

Clearly the people have spoken in this election and want to see reform in the ranks of the cheerleaders. Poquette was unable to be reached for comment but one wonders if conduct on public drinking while in uniform will stand as well as smoking and fighting. While it is true that the XPFL cheerleaders have a long

history of being poor examples for our daughters, it is refreshing to note that the man assuming responsibility for them has a long history of cleaning up dissenters and troublemakers in his squad. Poquette who was head cheerleader at Philadelphia as well as Dallas has cleaned up both squads upon his arrival with dissenters being told it was his way or the highway. Poquette a reformed smoker probaably will not tolerate the antics of the present cheerleader squad and we may see changes in the roster upon his assuming the duties.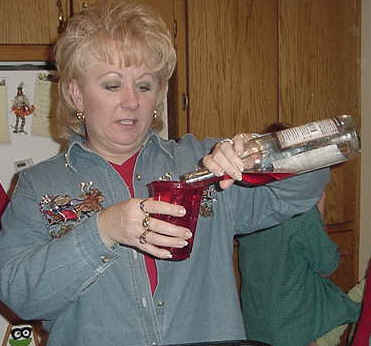 RAE POQUETTE CELEBRATES THE NEW HEAD CHEERLEADER JOB BEING FILLED

    Other contestants were distant with Scott Stangel mustering 4 votes, Sue Wenzel and Cheryl Purshock each with 3 votes, Trixie Sobieck 2 votes, Stepahnie Prevost and Jean Poquette Hansen each with 1 vote. Richard Poquette was the clear winner with 6 votes. A news confrence is expected this week to introduce Poquette, details will appear in next weeks newsletter.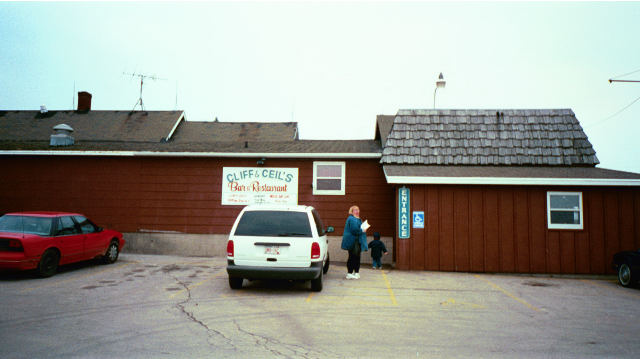 Freebies were not to be seen this week at Cliff and Ceils with a larger group in attendance, however Wynona did have me sample a new beer from Leinies that I found to be barely acceptable and would not order again. Wynona who was in rare form this week was sporting a new du and was


working with a different partner. With Naomi off this week for some untold reason Ashley was working with Wynona this week  and did a fine job even though she is not use to the Chicken Night crowd. Once again Brittany became the center of attention for one of the bussboys. Some of the Chicken Nighters saw

him blowing kisses at Britt and making eye gestures. It is no wonder that Brittany loves Chicken Night with all that attention.

    Joanie and Tim are having an open house at their condo today and are trying to sell so that they can move to New Franken.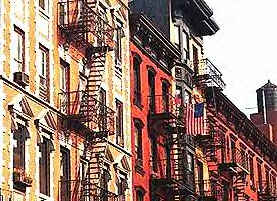 The Condo which is a somewhat older unit is on the edge of a city park and has easy access to the Fort Howard Cemetery on the other side. While the building itself may not be that appealing, colorful American flags dress

TIM AND JOANIE'S CONDO BUILDING

it up and give it a homey feeling. Their particular condo has running water and a toilet and has recently been cleared of rats. It should be noted however that on a recent visit I noticed that the cooking facilities may not have been working properly as the occupants were cooking on a small charcoal fire outdoors. I am certain that after publication of this article someone will snap up this bargin.

    That's all the news that is news, see ya.

5-12-02

TARA MANSION MOVED AND PURCHASED BY DAVE POQUETTE

Oneida WI - Native Oneida resident Dave Poquette won his bid to purchase the epic home used on the film Gone with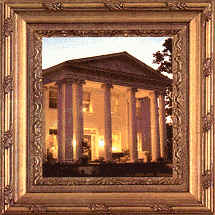 the Wind. The home which was moved from it's Georgia location to the Clarksville area at Poquettes expense will be his new residence. The home which has had no renovation done since the Cival War was updated to Poquettes specifications after the move. The renovation which gutted the structure before remodeling was ruthless and preserved no historical value to the home. Only the name remains the same and it is all that is left of the once glorious southern mansion.

TARA BEFORE POQUETTE PURCHASED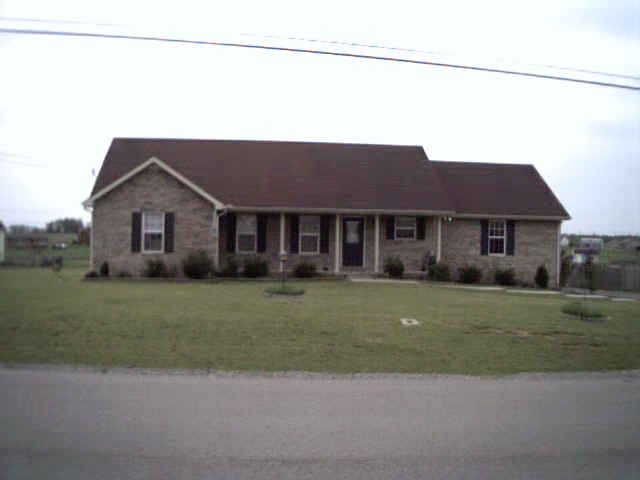 It is still unclear as to weather Alex will make it home for the Pickett / Kamke wedding. One thought came to mind as to a way that he could come home and not violate regulations. One family member would have to be sacrificed for the cause and then Alex would be allowed to come home for the funeral. This sacrifice would occur just before the wedding and then both events would coincide thus allowing Alex to attend the wedding by coincidence. It is unclear as to which family member would have to "go" as it were. The member must not be too distant or it does not qualify for the furlough. Considerations made thus far include family members not in good standing by not making regular visits to the family functions. This includes both sides of the families. Let's hope that we don't have to resort to this, but if it does please e-mail your selection for a candidate as soon as possible. Your suggstion will remain confidential.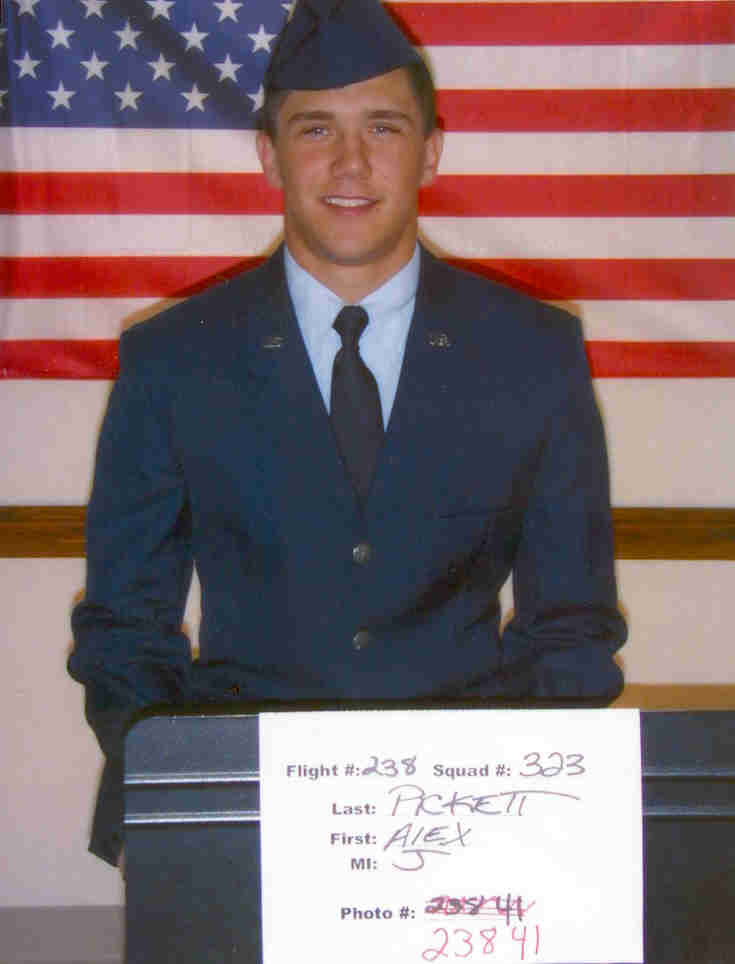 ALEX AFTER BASIC TRAINING

    A warning to all traveling on Oneida roads, Brittany Sobieck has got her drivers liscense and is traveling the highways.

    June 1 the first Saturday of the month will be the date selected for the graduation party of Justin Sobieck, Ashley Hansen, and Rick Poquette. The event will be held at the Sobieck Ranch  and will spread over into the Poquette Homestead. Food and spirits as well as music and a lot of good conversation will dot the afternoon and evening. The party starts at 2PM. Thats all the news that is news, see ya.

5-19-02

MUD RUNS BRING IN A LARGE CROWD DESPITE  COLD WEATHER

Oneida WI - Freezing temperatures did not deter mud running fans from turning out at the annual Oneida Fire Dept. and Green Bay Highriders mud runs.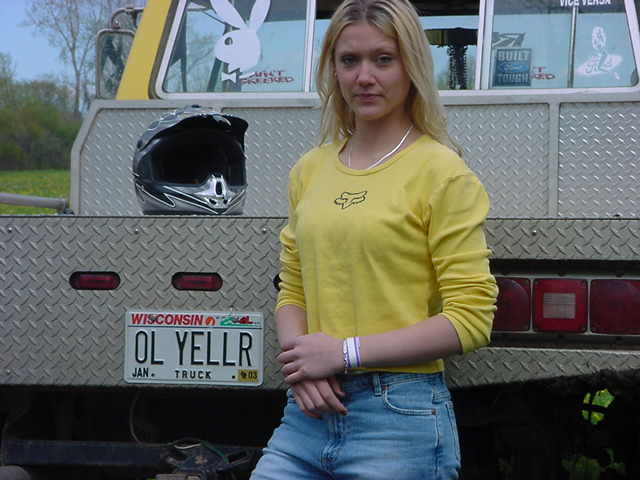 CHECK OUT THE PLATE, ARE THEY REFERING TO THE TRUCK OR THE GIRL?

I personally worked on the parking crew and at one point we had counted 238 cars. Many more cars came in after that count. I would estimate attendance at between 700 and 800 people. I guess the mud runs went OK as mud runs go and the day went on rather slowly. If you have ever seen mud runs, they are a long dragged out affair with race after race after race. Each race looks the same as the last and lasts about 5 seconds.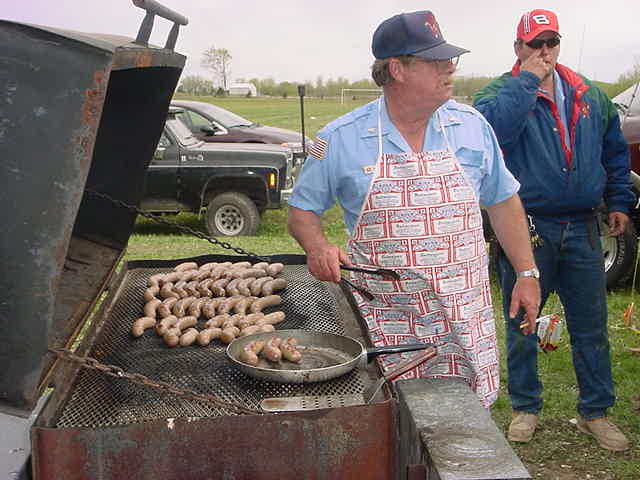 FIREMAN PETE VANDEHEI COOKS "BRATS A PLENTY" AT THE FOOD TENT.

People do sit there however, hour after hour mesmerized by the sight of mud flying up in the air and the sound of roaring engines. I for one will never understand the fascination in this "sport" for a spectater. But just like Field of Dreams, we thought if we build it they will come, and we will collect.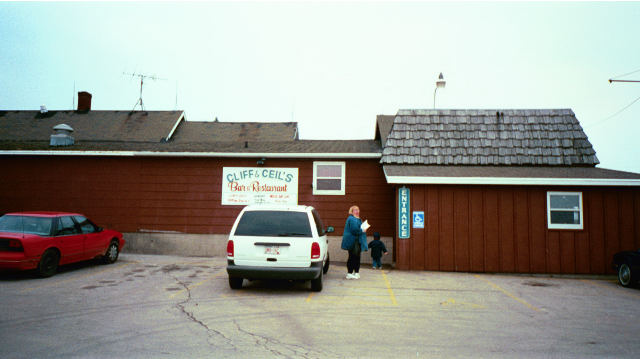 There were certainly no freebes this Chicken Night with the huge turnout we had. Drinks flowed heavly during the wait for a table and sadly Wynona was not with us this week due to her annual appointment for leg maintenance. Every year she saves up to have her legs done by a professional and a whole day is spent on her legs, washing waxing and detailing.  I think the Chicken Night record for attendance was tied with 23 people present Friday night.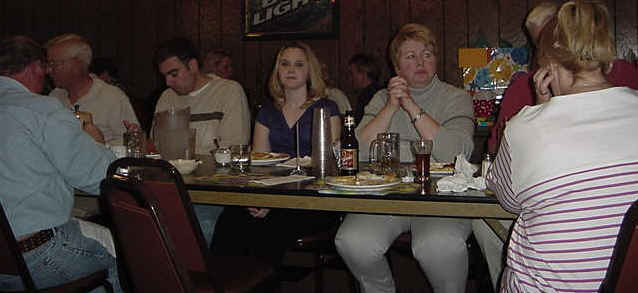 A NEAR RECORD ATTENDANCE AT CHICKEN NIGHT

An entire room was set aside for the Chicken Night group rather then just a table. Multiple tables were used to accommodate the entire crowd. There were two special people who attended Chicken Night this week, the first being Aimee Poquette who traveled the furthest this week all the way from Cincinnati. The second was young Prince Ben who traveled all the way from DePere. Prince Ben who is the Son of Chicken Night Queen Jean Poquette Hansen celebrated his ninth birthday in style with a cake, and gifts.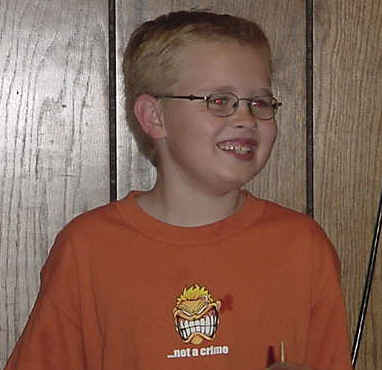 BEN HANSEN WITH A BIG CHICKEN NIGHT SMILE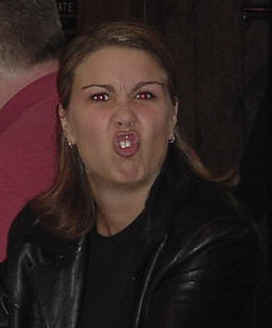 AIMEE POQUETTE WHO THREATENS TO BE THE CN QUEEN IF SHE EVER RETURNS TO GREEN BAY FOR GOOD

     A slight commotion erupted when your humble reporter was recording information in my notebook for publication when I accidentally spilled a glass of beer in the lap of Tim Lade. A photo is unavailable for this story however. Tim's phone which was also doused was unaffected by the alcohol.

    During the time before the delivery and consumption of the wonderful bird, the women of Chicken Night amused themselves by singing along with songs played on the juke box. Selections such as "I got you babe" and "Cecelia" were able to get an overwhelming response while others like "Bad Leroy Brown" and "Knights in White Satin" received a more tepid interest. This went on for some time until they discovered the free popcorn and hors devours, and then all was quiet. 

    Joel and Shelly Sobieck will baptize their daughter Ella today at 10:30 Mass. in Oneida at St. Josephs Church.

    Coming in two weeks June 1, the big graduation party for Justin, Ashley, and Rick. The event will be near Poquette Field site of the Turkey Bowl. Then on June 2nd, the
Oneida Firemens Picnic
10 AM to 6 PM with food, refreshments, demo derby, waterfights, and a raffle.
    That's all the news that is news, see ya.

    Alex has phoned in with his orders when he graduates from tech school. He will be going to Turkey where the Air Force has a large Base. This is the base where planes were flying out of for bombing missions in Afghanistan.

5-26-02

XPFL ALLOWS GRADUATION PARTY ON OFFICIAL PLAYING FIELD

Oneida WI - Where else but in Oneida would you find a professional football league that would put up with folks having a graduation party on their official playing field. The league is graciously allowing neighbors to use this historical sports complex for a private party.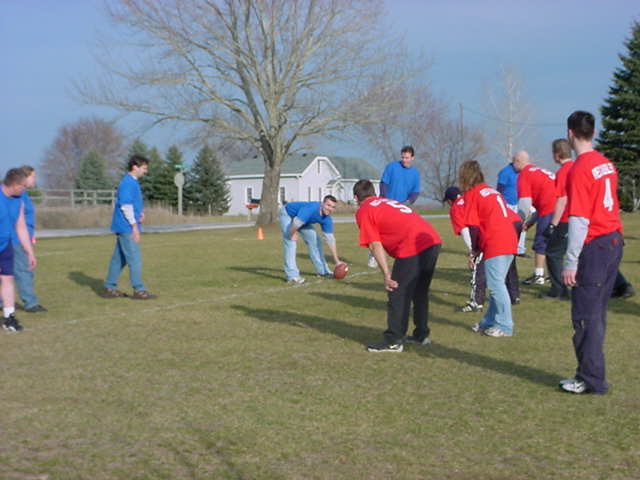 POQUETTE FIELD DURING THE TURKEY BOWL, THANKSGIVING DAY

Official league statements suggest that what ever damage occurs to the field could be repaired by the grounds crew before the start of the 02 football season. Wheather or not the residents would be charged for this

maintenance is unclear. It is the opinion of THE KAT AND MICK REPORT that this is not routine maintenance and the costs should be incurred by the home owners as the league was kind enough to offer their field for their personel use. The league should not be required to clean up and repair its field after any personel event, and if they do the party people should be charged a healthy fee for league services.

    With the econemy supposadly bounced back from the doldrums I wondered what the real story is in the retail business. With that mission in mind, the Kat, Tim, Joanie, and myself all headed to Pleasent Prairie to find out how shoppers reacted to the so called recovered economy. Before being plunged into the abyss of outlet stores we thought it wise to have lunch at another location. We stopped at a Cracker Barrel near Kenosha at 2PM thinking that this would be a good time to have lunch sort of in between lunch and dinner. We were surprised to find the restaurant full and had to wait about 15 minutes to be seated.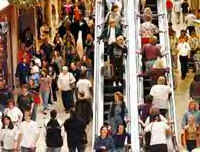 Upon arrival at the first mall we found an abundance of shoppers and every store open. This mall hosts such stores as Hush Puppies, Casio, Panasonic, and Eddie

Bauer where we spent a considerable amount of time waiting for Joanie to paw through all the sale items looking for that once in a lifetime deal on a sweatshirt. The trip to this mall yeilded the best deal of the day for me at Casio.

NO SHORTAGE OF SHOPPERS AT THE MALL

I purchased a shower radio with a mirror and clock for $8.99. This attractive unit plays in the shower, is water resistant, and is guaranteed by Casio for three months. The second outlet mall in Pleasent Prairie hosted such stores as Sony, Peperidge Farm, Black and Decker, and Fila Sports Wear. At the Sony store I found a nice Walkman radio for $16.95 that I liked so much I bought two of them. You know a his and hers unit. I asked about them and they were brand new units that had a flaw in the packaging so they sold them cheep at the outlet store. The flaw in the packaging turned out to be a small notch in the top of the laminated plastic bubble package. Tim purchased a few items from Black and Decker for Christmas gifts and that was the extent of the purchasing done at that mall. My observation is that there are an abundance of shoppers but people are only buying the merchandise that suffered substantial price slashing. Even in the outlet malls where prices are lower to begin with, people were only purchasing merchandise that was marked 50% off or lower. I saw many many stores where there was 50% or more mark down on merchandise. My take on the economy is that sales are a plenty for merchants who are willing to mark down their merchandise to rock bottem. This is a trend that will not be able to continue if retail is to survive.

    Next Saturday is the day for the joint graduation party at Dick and Colleens and Kevin and Trixies. The joint party will honor the graduation of Justin Sobieck, Rick Poquette, and Ashley Hansen and promises to be a good time for all. Food and refreshments will be available along with music and vollyball. A Campfire in the back yard at nightfall will be entertaining with all the stories and anecdotes shared by friends and family members.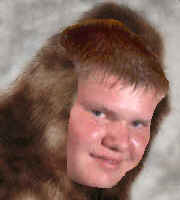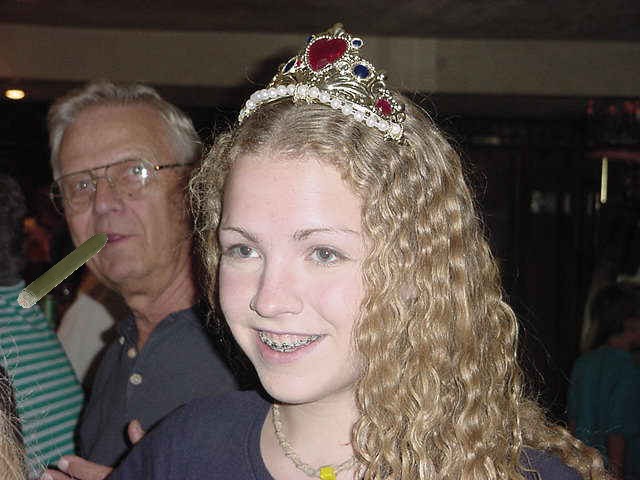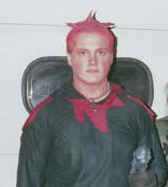 JUSTIN, RICK , AND ASHLEY CAN HARDLY WAIT FOR THE PARTY

Hopfully the weather will be nice and shelter will not be needed, everybody has been waiting for that. I don't know what time the party starts but you can be sure it will last all afternoon and there will be lots of fun.

    If you are looking for something to do on Sunday June 2 then stop on down to the Oneida Firemens Picnic there will be food and refreshments as well as music. At 11 AM there will be water fights and at 1PM a demo derby, tickets will be on sale for the raffle with a first prize of $750 and a car will be raffled off as well with only 500 tickets sold. Once again thanks to all who attended the mud runs and the pictures are now available on the Oneida Fire website. 
Click here
to see them.
Thats all the news that is news see ya.