news from oneida - news from oneida - news from oneida - news from oneida




"AT THE KAT AND MICK REPORT WE DON'T MAKE THE NEWS, WE JUST REPORT IT"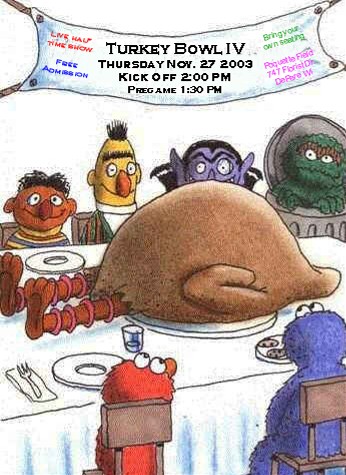 BRITTANY DUMPS BOYFRIEND  LOOKS FOR TRUE LOVE

    In a stunning move the boyfriend known only as "Jeff" has been cast aside by the blonde harlot Brittany Sobieck. Jeff who when questioned assured everyone he was a worthy opponent for the Turkey Bowl obviously saw the handwriting on the wall and self destructed rather then face the awesome front line of the Blue Jell-o's. Apparently he offered a plan for Brittany and himself to go steady to which Sobieck said no way, and in a split second move rejected Jeff and warned him not to let the door hit him in the ass. Sobieck who has a long history for this sort of thing again has another entry for her book of broken hearts and souls. This could be just the sort of thing needed to let her get back together with Chad Miller who would prove to be a worthy player in the XPFL. Miller who one time became close to Sobieck suddenly left with some flimsy excuse about going off to school. This time of year however is the time all the students come home for summer vacation and Miller is due home some time soon.

    Justin Sobieck has landed a new job again as a plumber for a local company. Sobieck who worked for another plumbing contractor was let go after what his employer described as an inexcusable mistake on his part in the reading of a blue print. Even though it is true that Sobieck misplaced some waste piping, the fact is that as an apprentice he was not even supposed to be reading blue prints much less working alone. Sobieck, who was promised professional schooling from a reputable school in the trade, never received even a scheduling date for schooling and was not the first apprentice to be treated this way. Apparently after doing some investigation of his own Sobieck determined that the same situation happened to his predecessor. The employer takes advantage of the cheap labor while he has it and when it's time for him to cough up some dough for the schooling he sets up the would be student with a job that he is likely to botch which gives him the perfect excuse for his termination. This situation did however give Sobieck the needed experience to gain employment with a reputable company who will send him to school and see him through his apprenticeship. Once again an ugly situation turns in the favor of the victim. Hurray for Justin!

    Next Sunday June 1 is the Oneida Firemen's Picnic and Demo Derby. Everybody is urged to stop by the grounds for some fine food and refreshments and maybe take in some of the events like the water fights or the Demo Derby. The OFD is known for its fine Chicken Boo Ya and roast pork sandwiches. Door prizes are given away all day and the big drawing for the raffle tickets will be held at 5PM. There is also a raffle for a car and pedal tractor pulls, real antique tractors are on display as well. The Cost for the Demo is $5.00 per person and is quite a fine event to witness.  

    With just three weeks left there is still time to start training for the Bellin Run now that the weather has warmed sufficiently. If you have been training then it is time to enter the final phase of the training. You should be running a few 6.2 mile runs between now and the June 9th, then its time to slow down and take it easy for the four days before the race so you are at your best the day of the race. I personally have been running some 5 mile runs and plan to move up to a few 6.2's at the end of this week. Good luck and see you at the run. Next week a new sports page from S. Lyle O'Connor That's all the news that is news, see ya.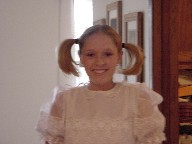 EASY TO SEE WHY BRIT IS A BOY MAGNET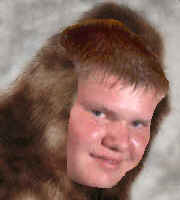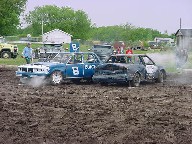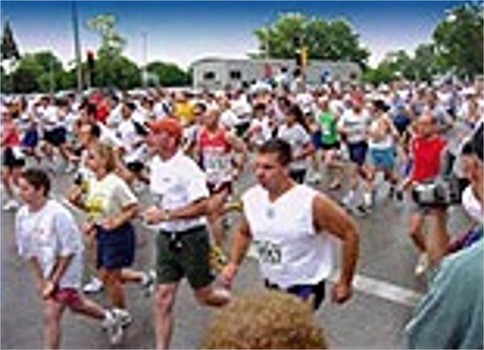 JUSTIN SOBIECK LEARNING PLUMBING LIKE A TRAINED MONKEY

OVER 6000 PEOPLE EXPECTED AT THE BELLIN RUN THIS YEAR

REGIONAL WICKEN CONFERENCE PLANNED WHILE PARENTS PLAN VACATION

    Reliable sources have informed THE KAT AND MICK REPORT that clever neighborhood Wicken Sarah Poquette has spoken to Coven hierarchy and has gotten approval to hold the quarterly Wicken Conference at her parent's home. Coven officials would not confirm or deny the agreement reached with Poquette citing concerns of an onslaught of media and angry neighbors with pitch forks. Current Wicken leadership did confirm however that the conference is planned for the same week that the elder Poquette's are on vacation. One must wonder if the parents of the Wicken even know about the conference, much less the strange circumstances that go hand in hand with such an event.  The KAMR has learned that on the morning of the parents departure carpenters have already been scheduled to begin around the clock work on a Wicken docking station to be attached to the roof of the Poquette home. The plan is for Wickens to fly in on their favorite personal aeronautical cleaning devices flanked by Sarah's personal flying monkeys. They will fly into the rooftop docking station where they will dismount and be escorted down the torch lit hallways by one of Sarah's guard detachments to the main floor where the meeting is to take place.  Sources also say that a power struggle exists in the coven since Poquette has made a stance at St. Joseph's in Oneida several weeks ago. Many Wickens admire Poquette's forward disruption attempts at local Catholic Church leadership to liberate other Wickens from its grasp and back her for leadership in the radical group. Some Wickens say that Poquette should be put in charge of the Eastern part of the Region because of her "get things done attitude". Poquette who could not be reached for comment has remained in a dormant state for the last month with no reports of people being changed into unpleasant rodents or animals. THE KAT AND MICK REPORT will keep you informed about the election outcome as well as other issues discussed at the regional conference.

    Joanne Lade recently injured her shoulder when she rolled over her bicycle in her own driveway. With the accident still under investigation Lade remains in pain but has not been treated by a physician. It is not known if alcohol was a factor in the accident but the incident report shows the time of the accident would have been just after the usual daily cocktail hour celebrated by Lades. Lade gave a statement to the effect that her foot got caught in the petal guard of the bike while coming into the yard causing her to loose control and roll over at the end of the driveway. While this story is worthy of reporting the perhaps bigger story is that Tim actually came out of the house running to see if his Joanie was injured. Upon finding out that his bride was indeed still alive he immediately calmed down then realized he had traveled beyond limitations set by him for traveling under his own power, he then had Joanie carry him back on her shoulders to his waiting lazy boy. It is now unclear whether Joanie injured her shoulder in the accident or by carrying her rescuer back to his favorite nesting place. Tim and Joanie's cat Stinky, unscathed in the ordeal remained uninterested and retreated to his favorite hiding place so as not to become flat in case Joanie were to loose her balance and tip over on top of him with Tim on her back.

    Check it out!  There's another installment from S. Lyle OConnor on the
Sports Page
. Also thanks for waiting for the late edition this week. With the Firemen's Picnic and fighting fires I was a bit late in getting this out. That's all the news that is news, see ya.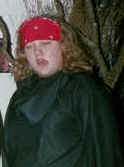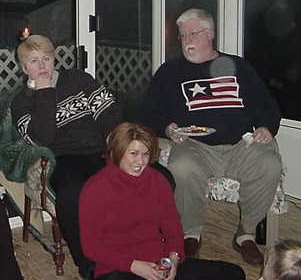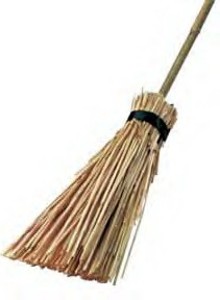 NEIGHBORHOOD WICKEN SARAH POQUETTE

A WICKENS MAIN SOURCE OF TRANSPORTATION - ALSO DOUBLES AS A CLEANING DEVICE

JOANNE AND TIM LADE WITH AIMEE POQUETTE IN THE MIDDLE