news from Oneida - news from Oneida - news from Oneida - news from Oneida




"AT THE KAT AND MICK REPORT WE DON'T MAKE THE NEWS, WE JUST REPORT IT"

Wanted: Lots of fun loving,
party going, sun seeking individuals to take an exciting trip to Mexico! Looking for lots of people, the more the merrier to go to Mexico, leaving in February 2006. Mark your calendar and save $$$$$. Call Shelly Sobieck for any questions and let her know your interested, she will update you with new information. Call 920-865-2330 for all the details, or click
sandsobieck@aol.com
to e-mail her.
For Sale: Oil painting
of a Lighthouse and Ocean Scene. 40" X 28" with offwhite wood frame. Colors in the scene are pastel blue, salmon, pink, and green. Includes matching decorative floral silk spray from Home Interiors. Price is just $75. Call Rae Poquette at 920 - 660 -2102 if interested or e-mail her by clicking
repoquette@aol.com

For Sale: Framed Calla Lily Artwork
This is a Black and White photo of a painting.....large by a famous photographer. Very contemporary. Asking only $20.00     For more information or to purchase contact Patty Sobieck-Skinkis 765-423-1342 or e-mail me at
psobieck@purdue.edu
2 RANSOM DEMANDS FOR KAT'S CHICKEN

         wo separate ransom demands were taken this past week by the Kat for her ceramic chicken which she misplaced. Evidently word had gotten out about the possible abduction of the chicken but news that the chicken was found later by the Kat  had not. Two people in separate instances attempted to capitalize on the vacant poultry by making demands for money in exchange for the safe return of the cluck. Even though the Kat knew that it was not possible for the callers to have the treasured chicken she asked both callers to put the chicken on the line so she could verify that it was indeed her chicken and not an imposter. Both callers declined to have the chicken speak and they quickly withdrew their demands while realizing they were unable to produce a talking chicken. 

LADE SEWER BACKS UP, FLOODS BASEMENT

    During a visit to the new Lade abode in Allouez this past Friday night a disturbing problem was discovered with the Lade plumbing. Joanie, while on tour with the Kat showing the finer points of the home stumbled upon a puddle in the back room of the basement where a sauna had been constructed by the previous owner. It appeared bath water from the tub in the upstairs bathroom had failed to make it's way to the sewer system and found it's way to the basement floor via an open floor drain. Tim Lade immediately sprang into action with the telephone and called the realtor to find out his options while feeling out who the best rotor rooter professional would be to take care of the problem. It was not known how long or how often the problem had occurred Lade commented. Later Lade could be heard admonishing "Stinky" the cat telling him this is his responsibility to check the basement and he should have warned them of the problem. After Lade spoke to the animal I watched as "Stinky" went to another room I and found that he was unable to make his hands work.

NEW TECHNOLOGY MAKES GOOD LISTENING

    With all the new electronic gadgets coming out of the factory's we get inundated on a daily basis to purchase a new DVD player, HDTV, satellite radio, or MP3 player.  The trouble is It's all the same programming with new electronics. I stumbled on something a couple of months ago that is new ground in entertainment in my opinion. The technology makes it easy to do and allows people with real talent and creativity an avenue to share their ideas with the rest of the world. What I'm talking about is known on the Internet as "podcasting" and it's catching on like wildfire. Here's a brief description of how it works; Someone with the desire to podcast makes an MP3 on a computer and uploads it to a remote server where it resides usually with a web page describing the various works already uploaded. Listeners can download free software from various providers that checks these sites on a schedule you set up and gets the MP3 for you and puts them in the predetermined file. Such free software can be found at
www.ipodder.org
and it is safe. Once the podcast is in your file it can be synchronized into your MP3 player or IPod or you can just listen on your computer with media player. There are literally thousands of poscasts to chose from and frankly their not all good. But if you search you will find good ones, one such podcast I have found interesting is Cayenne Chris Conroy and his podcast called Teknikal Diffikulties. This is a young guy with a lot of talent that is apparent the first time you hear him. He produces his own show including the bump music and various voices heard on the segments. Chris can be heard by visiting
http://cayenne.libsyn.com/
and clicking the appropriate link to the podcast you want. That's all the news that is news, see ya.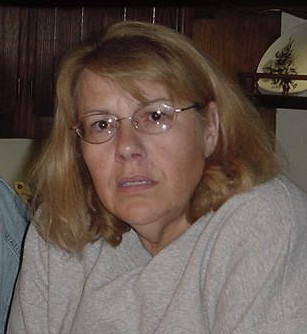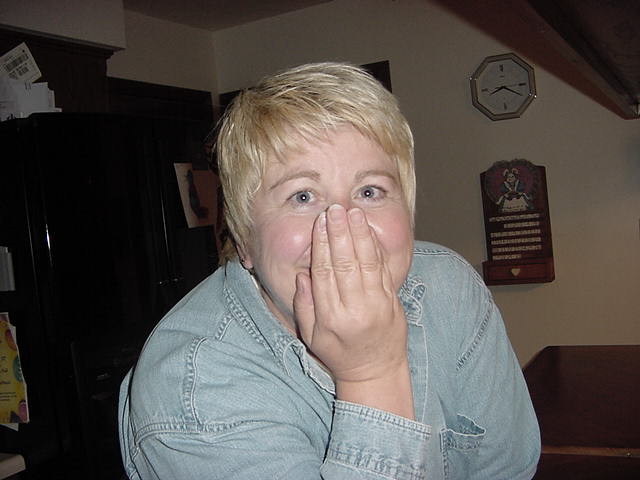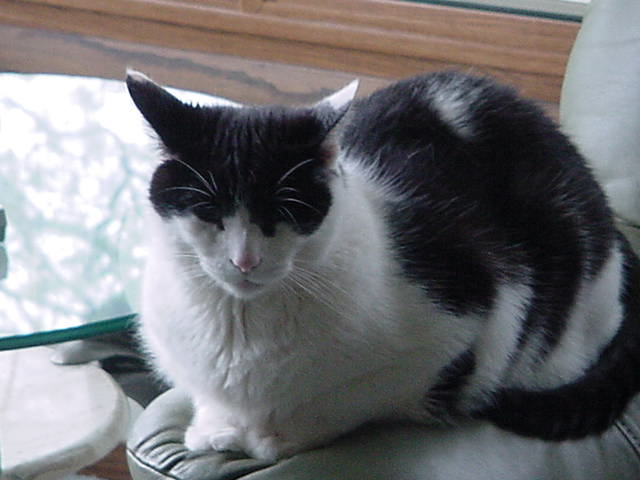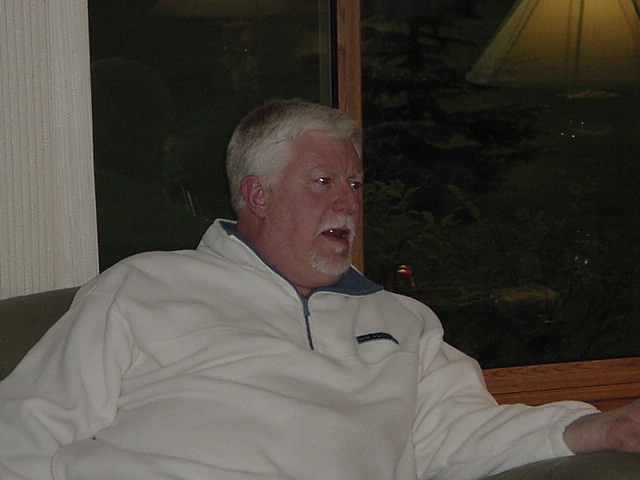 THE KAT SICK OF RANSOM DEMANDS

JOANIE CONTAINS HERSELF AS TIM TALKS TO STINKY

STINKY SORRY FOR NOT CATCHING THE PLUMBING PROBLEM SOONER

TIM LADE DISCUSS HIS OPTIONS

CLEEN & DICK TO VACATION WITH PETER & ETHEL

       ith wedding plans looming less then 5 months away, Clarksville's favorite couple "Punice" has made vacation plans with a local Oneida Poquette family. Dick and Colleen Poquette have graciously offered native born David Poquette and his bride to be Eunice Wallace of Clarksville Tennessee, where Dave has taken up residence, to join them on vacation in Florida.  Colleen and Dick will travel to Clarksville with a trailer in tow carrying their motorcycle early in the week of their departure while Dave finishes up his truck driving duties for Letica. Upon Dave's arrival back at Clarksville the foursome will load Dave's motorcycle and head for Florida and a time share apartment owned by Cleen and Dick in Kissimmee. From there they will take in the sights all the way to the Florida Keys some 600 miles by motorcycle. While in the Keys they will reenact scenes from the movie Key Largo with Eunice taking the part of Lauren Bacall and Cleen acting as Claire Trevor. Dave and Dick will play the parts of Lionel Barrymore, and Humphrey Bogart respectively. Eunice or Ethel as she is known to family members has many friends at Walt Disney World who are ready to welcome the foursome, two of her closest friends, Mickey and Goofey will drop what they are doing upon their arrival and tour the park with them showing them the most interesting spots. Sarah who has been stocking up on powdered goat horns and eye of knute will once again take advantage of Dick and Colleen's absence by conducting Wicken rituals in the Poquette household.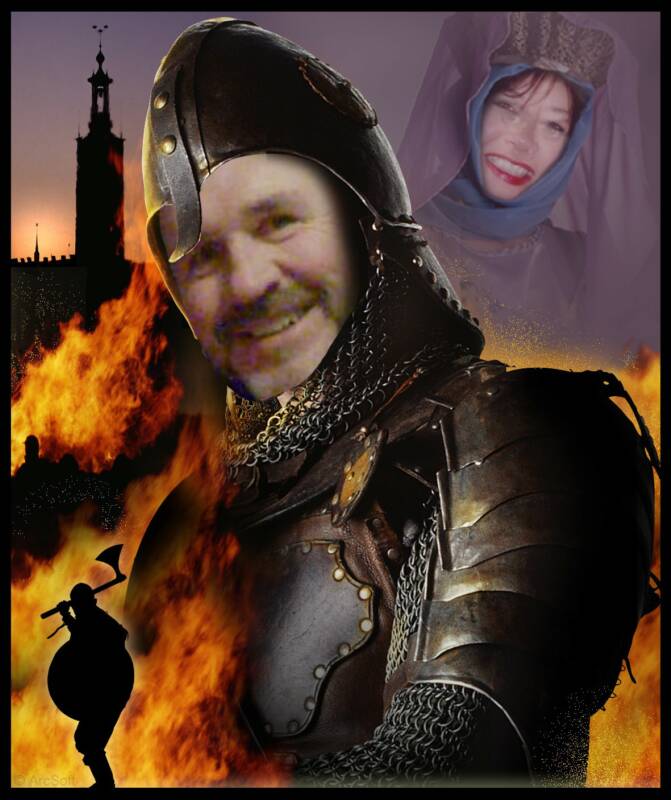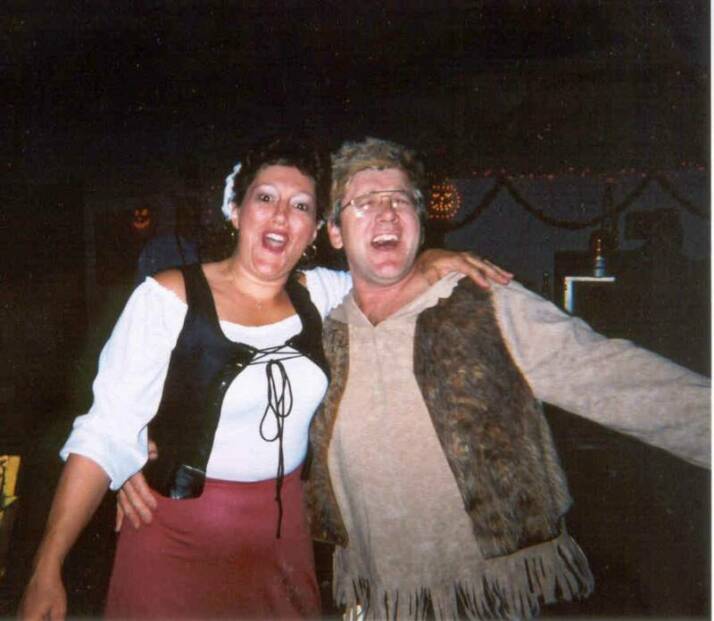 photo courtesy of Eunice Wallace

DICK AND CLEEN HEAD TO CLARKSVILLE THEN TO FLORIDA

"PUNICE" PREPARE FOR THEIR VISIT TO WALT DISNEY WORLD BY TRYING ON COSTUMES

JUDY ONLY ONE TO HAVE NATURAL COLOR

    This week was no exception in the constant battle where sister is pitted against sister in the weekly "Fat Club" discussions. This week the ageing sisters pointed out that youngest sister Judy would have the skin on her face turn to a leathery texture were she to keep visiting the tanning booth. The comment made by Trixie (40) was met with a swift retort by the considerably younger sister pointing out that she was the only Poquette sister not to have used artificial hair color. In fact the NEWLETTER  has checked and Judy has not used anything to enhance her young looking appearance. But in recent investigations by the KAMR all of the other sisters have tried to alter their appearance with everything from hair dye to surgery, and continue to do so on a regular basis. In other "Fat Club" business a motion was made that lunch after all meetings be at establishments that serve all low fat food. The matter was tabled until the next meeting after other members suggested bowls of fat be brought to the table so members could add their own. That's all the news that is news, see ya.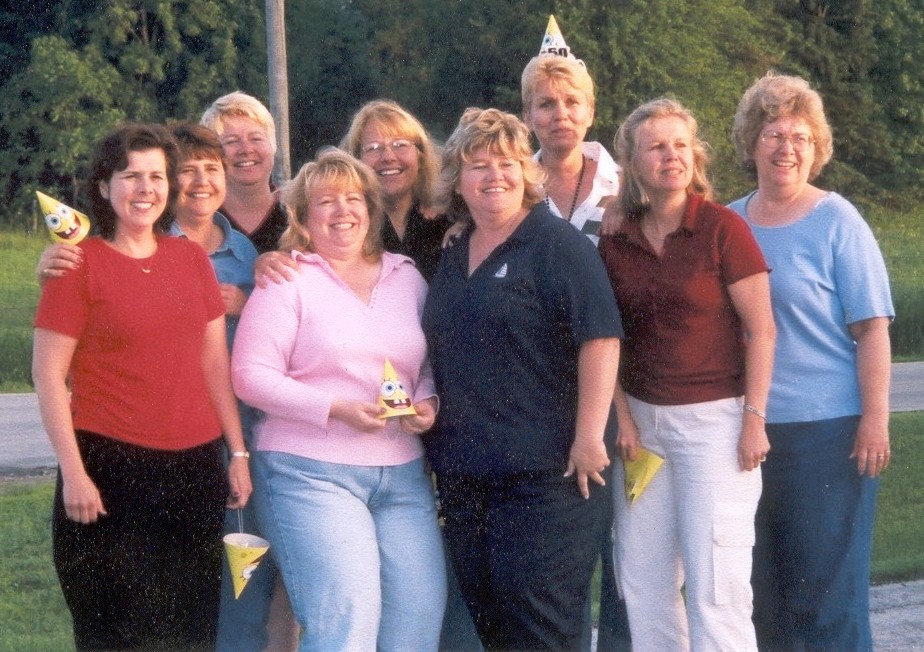 AGEING POQUETTE SISTERS BATTLE FOR YOUTHFUL APPEARANCE