news from oneida - news from oneida - news from oneida - news from oneida




"AT THE KAT AND MICK REPORT WE DON'T MAKE THE NEWS, WE JUST REPORT IT"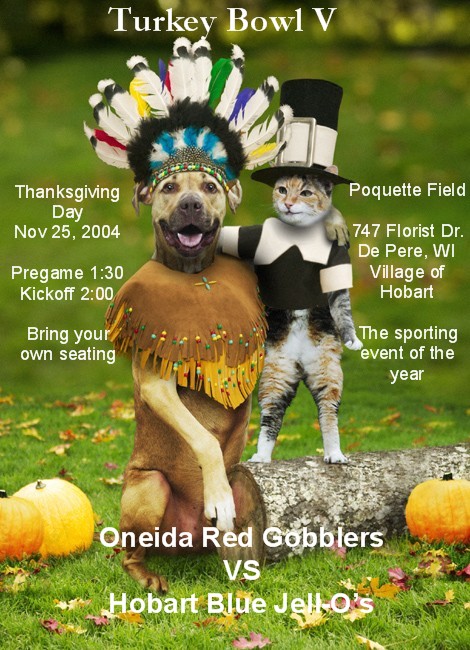 4 year old Japanese slot machine for sale.Excellent condition.

Comes with an owners, maintenance manual on CD, extra light bulbs, a stand,

and 5000 coins. These coins are slightly different in size from a quarter, making the machine legal.

It can be modified to accept quarters, however.

$200.00 or best offer

Contact Tim at 866-1257.

DARLA KRUEGER INJURED IN HOUSEHOLD ACCIDENT

    Darla Krueger owner of the popular "Shear Dementia" beauty salon in Green Bay was injured this past week in what was described by relatives as a "freak" accident. Krueger, 39 lives on the far west side of Green Bay in an elite subdivision inhabited mostly by higher class business people, a neighborhood where the occupants usually hire servants to do the daily drudgery of household chores. In the case of the Kruegers however, Darla maintains that her household duties will not be done by servants, she insists that she will do her own domestic obligations no matter how monotonous or mundane. Krueger the "self made" millionaire from Shear Dementia carries this same philosophy to her well organized chain of beauty salons. She instructs employees in every shop not to out source the everyday cleaning of the stores to firms specializing in such matters but instead to do their own cleaning to add that "personal touch" to the stores appearance. It is this philosophy that got Krueger into trouble and may have contributed to her unfortunate accident. Krueger in her spring cleaning mode decided that last week was the perfect time to wash the windows on the outside of their abode, it is while she was engaged in this seemingly harmless act of domestic drudgery that she was seriously injured in what can be described best as a Rube Goldberg chain of events. Krueger was on a medium height ladder which was needed to extend her reach to the top to their huge cathedral type windows in the great room of their house. While up near the roof line she reached up and took some leaves out of the eve trough, standing water in the trough leaked out of a small hole and hit the already soft ground near the leg of the ladder on one side. This caused the ladder leg to sink into the ground changing the center of gravity causing the ladder to topple over with Krueger on it. Once she got to the point of no return she fell off of the ladder and hit the ground in a sitting position.  Immediately the ladder hit the ground one way and the bucket of water she was using to clean went the other and fell over the top of her head drenching her with the bucket getting stuck on her head. This in turn caused her to fall on her back and roll away from the accident scene and under the deck to where she hit the supporting structure. Part of the deck collapsed and fell on her which accounts for her broken ribs.  Using her incredible strength that she gained from weight lifting exorcises, Krueger managed to lift the deck off of her body and staggered out still with the bucket on her head, unable to see she ran away from the fallen deck and crashed into the side of the house bruising her kidney. Loosing her balance once again she fell backward into a wheelbarrow of wallpaper paste falling out of that and into a pile of leaves. Still not allowing the servants to help her she drove by herself to the hospital covered in wall paper paste and leaves for medical treatment. She was able to get the bucket off of her head before leaving however. Krueger's daughter Megan known to her friends as "Megadeth" commented after the accident that her mother simply refuses to accept who she really is and keeps doing "dumb stuff like washing windows while the servants look on."  Megadeth doesn't mind that her mom is obsessed with cleaning however because she says "I'm pretty much able to do what ever I want while she's out there doing her window washing thing."  Perhaps this brush with death will change the cleaning philosophy of Krueger. Or maybe not.

    Check out the new
birthday page
this month. That's all the news that is news, see ya.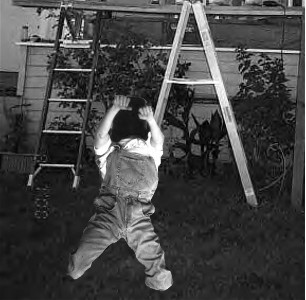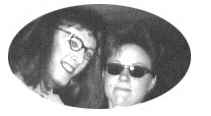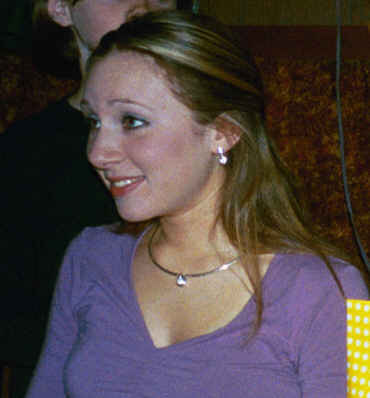 DARLA KRUEGER WITH HUSBAND DAVE

DARLA IS THE ONE ON THE RIGHT

KRUEGER, OWNER OF TRENDY "SHEAR DEMENTIA"

KRUEGER SEEN HERE WITH BUCKET ON HEAD AFTER FALL

DAUGHTER OF BEAUTY MOGUL KNOWN AS "MEGADETH" COMMENTS ON MOTHER

75 Gallon Fish Tank and Stand for sale

includes extra filters, carbon, greens, rocks, stones, 25 foot filling hose (hooks to faucet tap) everything needed to set-up!

Asking price is $250 or best offer. For more information call Alissa Young at 920-822-1579 or 920-373-0859.

JUSTIN SOBIECK PASSES OUT AT SIGHT OF BLOOD

    Exactly one week ago yesterday, Justin Sobieck saw something that shook him to the point that he actually took leave of his senses for a short time and drifted off into unconsciousness.  It happened in Dick Poquette's garage while working on one of his beaters, apparently Sobieck injured himself while performing some mechanical procedure on his vehicle. A minor cut that did not require stitches, or well did not even require a band aid I am told, oozed enough blood as to cause Sobieck to focus his attention to his bodily fluid leak rather then to the mechanical chore he was attending to. As much as he tried to get it out of his head it got the best of him. Trying to forget about the small tear in his fragile outer skin Sobieck rested his head on the hood of the still warm vehicle trying to divert his concern with deep breathing, controlled reinforcement, nothing worked. Finally he succumbed to the agony and his body and head slid off of the hood of his car just like a slippery piece of spaghetti covered in red sauce that slides off the edge of your plate. Sobieck now totally out of control falls unencumbered into the equipment used to lift cars and trucks off of the ground high enough to work underneath causing even more damage to his frail body as his unprotected head bounces off of levers and pipes and beams on its way to the floor where he finally came to rest. Seth and Loggie Doggie who were in the garage when the incident took place looked at each other with mouths open as Sobiecks motionless body hit the floor. Immediately Loggie Doggie remembered Justins fear of seeing his own blood as did Seth and they both began laughing and holding their bellies as they could not stop laughing.  Loggie Doggie placed a jacket under the head of the victim still laughing and howling the whole time. Seth made the trek across Poquette Field pausing several times to catch his breath as uncontrollable laughter made it impossible to make the trip in a timely manor to retrieve ice from the Sobieck residence for the head wound. Justins return to the world of the living proved to be even more of a comedy show as he wondered what Seth and Loggie Doggie were doing in his room so early in the morning! After several minutes of convincing by Loggie Doggie, Sobieck slowly remembered the troubling incident. A slight discoloration to his eye is all that remains of the incident however many dents need to be straightened out in Sobiecks vehicle and in the hoist where his head did extensive damage. Loggie Doggie when asked if he would have performed mouth to mouth on the youth if needed replied NO.

    This was the week that the mud runs were held at the Oneida Fire Dept. The parking in the field had to be abandonded in favor of parking in the lots by the fire station, town hall, and town garage due to the wet conditions because of recent rainfall. In spite of the parking snafu many people turned out to see the trucks compete on the muddy track. Justin a new Green Bay High Rider and Logan worked the spectator gate and sent cars into the lot where another firemen and myself parked cars until all the lots were full. Thanks to all that attended.

    Training began in earnest this past week with only one month to go until the pistol sounds starting the Bellin Run for the 28th time. Judy Treml has announced she will compete this year as will Brandon and I. If there is anyone else it's not too late to register then drop us a line so we can let everyone know in the newsletter.

    Apologies are in order for last weeks untimely posting of THE NEWSLETTER . It seems that I thought I had published the weekly update but had actually published it in an archive file with no link to get to it from the index page, an error that was completely my fault. Complaints from readers reached my desk on Thursday and the changes were made that evening. You can still read last weeks column, it is just below the classified ads under this one. Once again our apologies for the delay.  Check out a new article by S. Lyle OConnor on the
Sports page
! That's all the news that is news, see ya.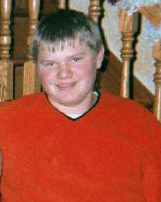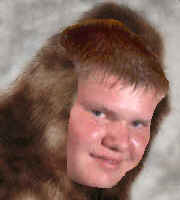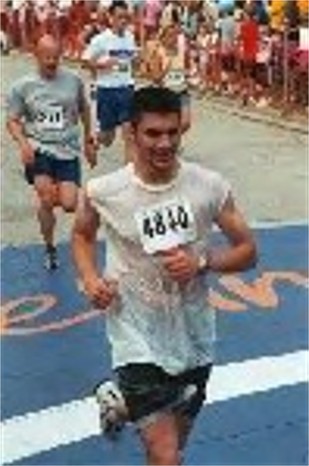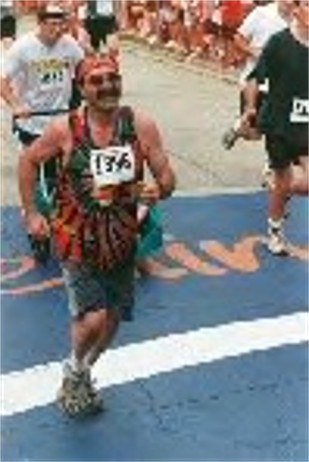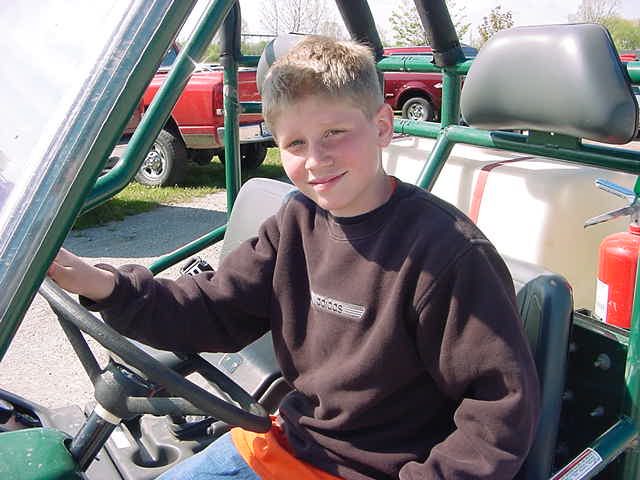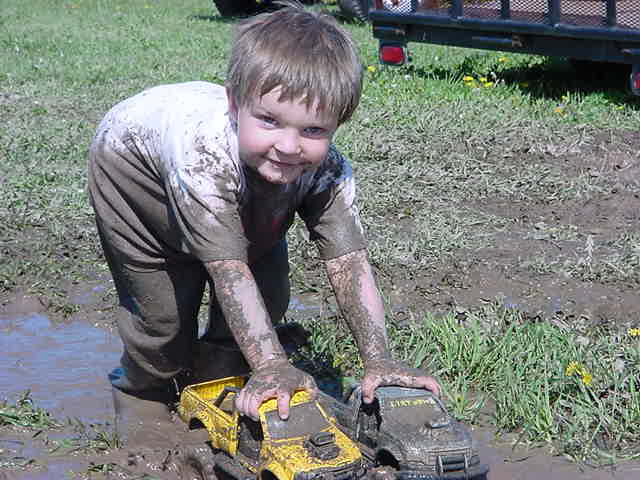 JUSTIN, UNABLE TO STAND THE SIGHT OF HIS OWN BLOOD

LOGAN WON'T GIVE JUSTIN MOUTH TO MOUTH!

ALL THE PARKING LOTS WERE FULL THIS YEAR TO SEE THE RACERS COMPETE IN THE MUD RUNS

BRANDON AND I AS WE CROSS THE FINISH LINE LAST YEAR IN THE BELLIN RUN