news from Oneida - news from Oneida - news from Oneida - news from Oneida




"AT THE KAT AND MICK REPORT WE DON'T MAKE THE NEWS, WE JUST REPORT IT"

For Sale: Oil painting
of a Lighthouse and Ocean Scene. 40" X 28" with offwhite wood frame. Colors in the scene are pastel blue, salmon, pink, and green. Includes matching decorative floral silk spray from Home Interiors. Price is just $75. Call Rae Poquette at 920 - 660 -2102 if interested or e-mail her by clicking
repoquette@aol.com

For Sale: Framed Calla Lily Artwork
This is a Black and White photo of a painting.....large by a famous photographer. Very contemporary. Asking only $20.00     For more information or to purchase contact Patty Sobieck-Skinkis 765-423-1342 or e-mail me at
psobieck@purdue.edu
Carpet Cleaning:
Spring is here! It's time to start thinking about spring cleaning. Perry Peterson, First Choice Carpet LLC says "My company is the
CHOICE
that makes the difference". New this year is pressure washing. Do you have an oil spot in your garage that you would like to get rid of? Well, we can do that and more, give us a call at (920) 884-9963 or e-mail me at
perryp@greenbaynet.com
Perry is the son of Bob and Mary Phillips.

LOCKWOOD COUPLE HAS FIRST FIGHT

       nn and Dan Lockwood have been married now since January 7th of this year and have already had their first fight. The couple had admitted their love for each other at the wedding leading everyone to believe there would be no fighting yet now we hear of the tiff. The couple apparently were at odds over the condition of their domicile. Dan apparently blamed Ann squarely for the condition while Ann would have liked a little help from her new hubby because she also is a wife and working girl. Apparently the situation came to a head only one week after the vows were solemnly spoken when Dan came through the house muttering "junk house, junk house." Apparently the couple was expecting visitors in a short time and the house was not up to the standards it could be. Ann immediately retorted with a myriad of comments suggestive enough for Dan to give thought and revoke some of his earlier assessments. The argument ended at that point with Dan somewhat baffled by the reaction of his new bride to what he thought was harmless teasing.

The couple who reside in Antigo have not yet told the neighbors of their argumentative nature and until the publication of this edition of THE NEWSLETTER they had not known anything about it.

AIMEE POQUETTE STILL IN LOVE

The young and fabulous Aimee Poquette has had a long string of men in her life, most of the stories have sad endings that we will not go into here. Lately she has been seeing a young man who comes from a family of law enforcement. A definite advantage for Aimee is that he is an Indiana State Trooper. Poquette a long time abuser of state enforced speeding laws is hoping to have the run of the roads with her new acquaintance at her side. It is yet to be seen if the new boyfriend will comply, however Joanne Lade checks every week to see if her baby is still in love. Lade says "it's not required for her to let me know but I call and ask her every week." The unnamed officer whose dad is a sergeant in the police does not address him as dad but as "Sarge" says Poquette and he often expresses his love for Sarge, his career and the Indiana death penalty.

RICK PEROCK PASSES AWAY

Tragically Rick Perock who was married to the former Joyce Kazik suffered a fatal heart attack on May 4, 2005. Rick and Joyce were married almost two years ago and lived in their Hobart home on Florist Drive with Joyce's children Kristina, Tommy, and Brandon Byrne. Rick had two daughters Jessica, and Kortney and came to visit their home often. It is with great sadness we report this untimely death and extend our condolences to the family. Rick who loved farming was a man of the land, we ask that when planting this spring in your garden or lawn remember Rick when you drop the seed in the ground. The plant that grows will be his spirit living on.

In case you missed it last week there's a new
Birthday page
. There's also a new ad below featuring a new company started up by Perry Peterson. If you don't recall, Perry is the son of Mary and Bob Phillips. Perhaps he can help you if you need that kind of service, he comes highly recommended from Shelly Sobieck. That's all the News that is news, see ya.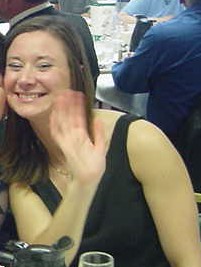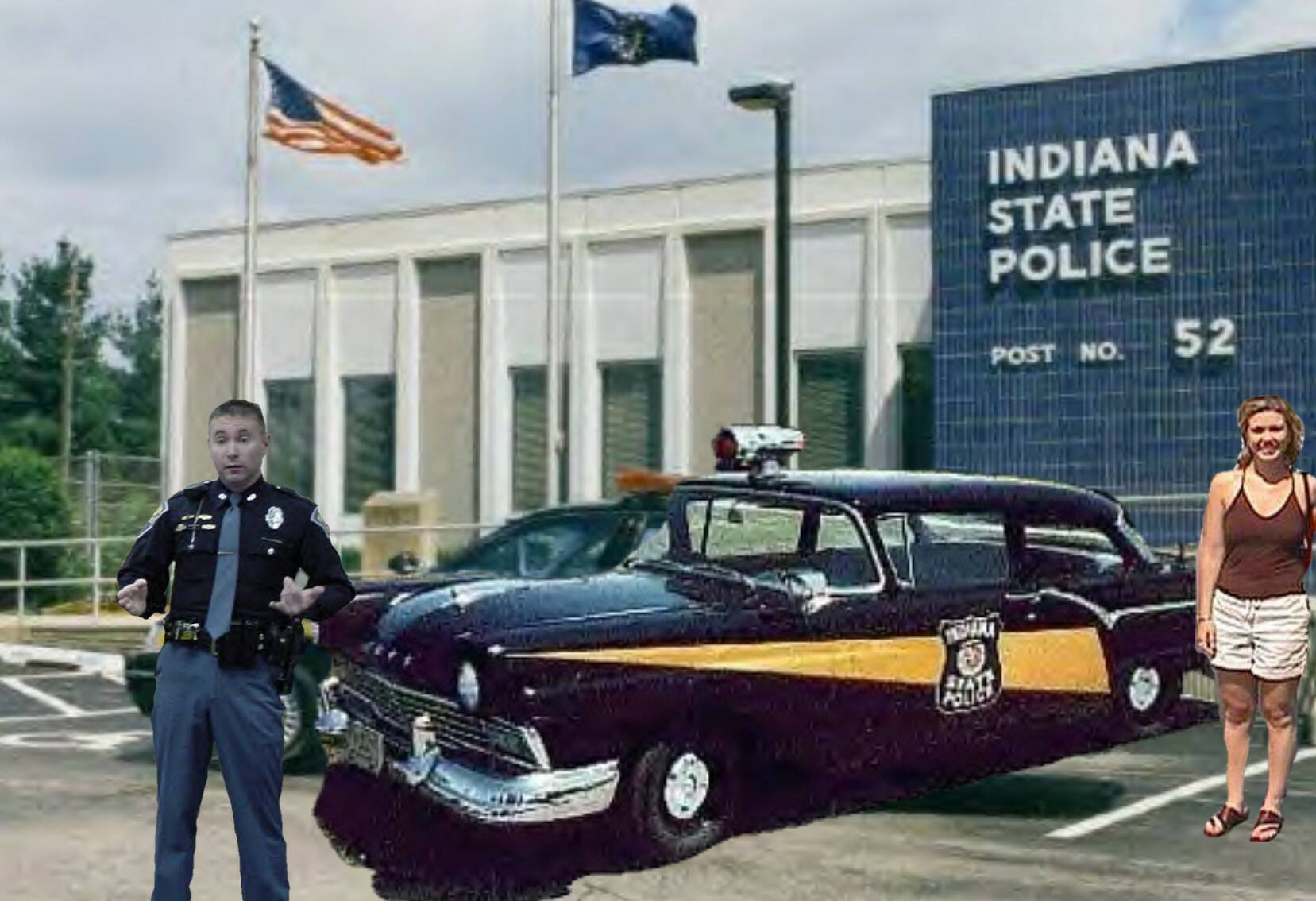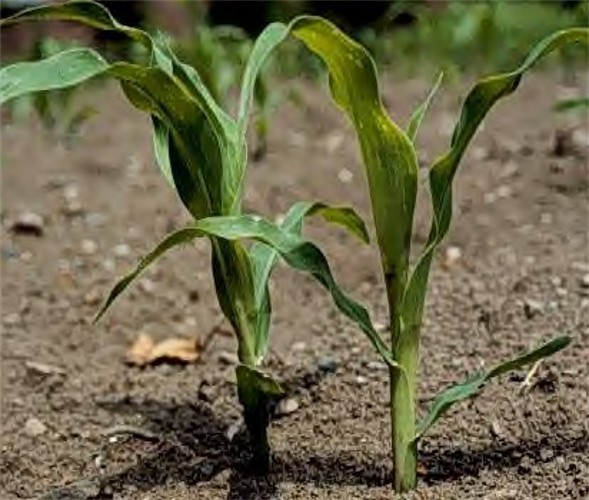 AIMEE WITH NEW BOYFRIEND AT HIS HEADQUARTERS AS HE WARNS TO STAY AWAY FROM HIS SQUAD CAR

ANN LOCKWOOD WAVES TO THE CAMERA AFTER TELLING ARGUMENT STORY


DREARY WEATHER HAMPERS RUMMAGE

      fter the complete failure of the first attempt at  a rummage sale three weeks ago at the Joe & Joel Sobieck residence in Hobart, the same group of 11 families has tried to sell their tired collection of household items and used clothing again. This time price reductions as much as 75% off could be seen on the price tags as a few shoppers trickled through the garages at the Hobart home. The first sale was doomed because of poor weather and the organizers decided a second sale was in order after hearing of a sale planned by neighbors down the street. It was thought that overflow from the other sale would pour into the second Sobieck sale at 4512 Overland Rd in spite of poor weather again. The flawed thought process could not have been more wrong as only a few people sauntered in at the sale demanding corn soup and frye bread, a custom unique to rummage sales in the Oneida area. The Sobiecks not wanting to turn away the few customers they had complied as best they could to the shoppers demands by serving the would be customers Ritz crackers and sardines a staple in the Sobieck household. The shoppers not caring if they offended the Sobiecks thumbed their nose at their meager offering and left without buying a single thing. The 11 families had agreed ahead of time that if the sale did not work this time they would abandon any thoughts of another rummage sale and haul their stuff to Goodwill.  

JEAN POQUETTE HANSEN GOES OFF THE RAILS AT LOCAL PARTY

Jean Poquette Hansen who had  a busy day Saturday hosted a Pure Pleasure party early in the evening then ended the night by attending a party held at the home of a daughters friend in honor of her parents 50th wedding anniversary. The party which I DJ ed was heavily attended by family and friends and Poquette Hansen seemed to fit right in. As the night wore on Poquette Hansen consumed a number of adult beverages of which no one kept track of. When the party finally ended Poquette Hansen, already irritated by the host family, insisted she would help load the sound equipment in the truck shortly before our departure. I had loaded two large speakers on a hand truck I was going to haul to the truck parked outside when Poquette Hansen grabbed the cart and insisted she would haul it to the truck. Crashing into tables and chairs she yelled at an unknown women sitting in her pathway "get out of my way wench" as she grew near her not slowing down. At the last second with a push from me she veered off to the side and only bumped her chair slightly causing no damage or injury. Poquette Hansen nearly fell out of the truck while getting in before I took her back to the KAMR facility where we dined on sloppy joes before she dozed off on the couch. This morning she awoke with an upset stomach but refused medication. Unable, in her condition, to cope with a busy news room as the deadline grew near she was taken home by The Kat at 8:44 AM. That's all the news that is news, see ya.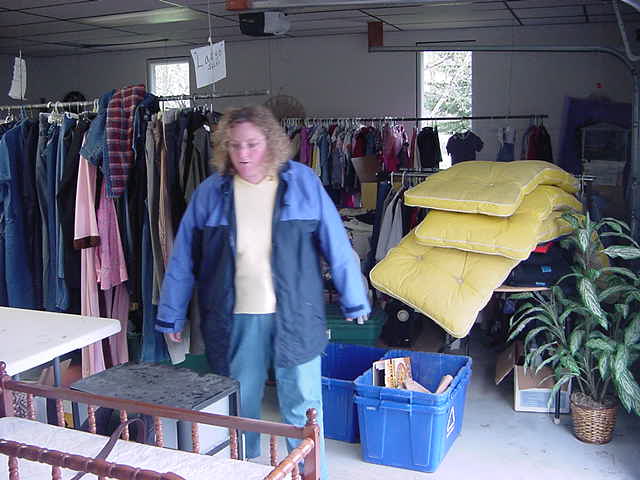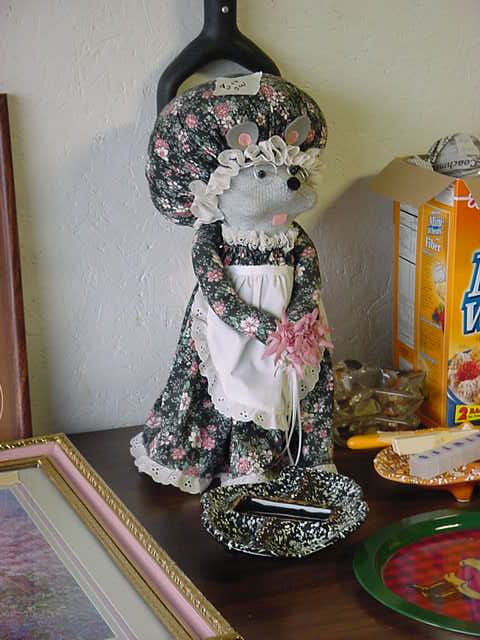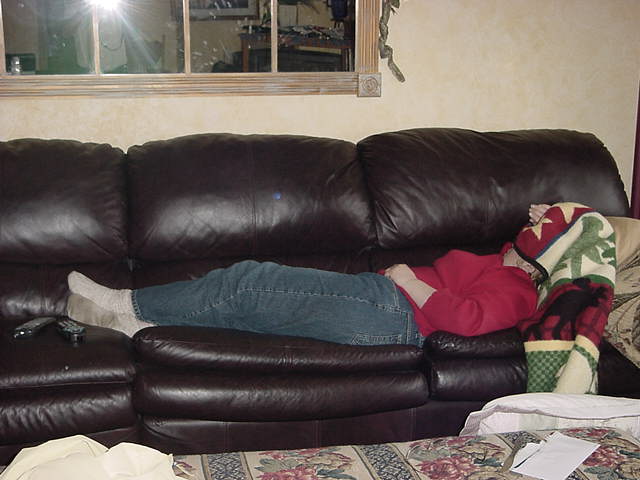 BRENDA JOSEPHI SORTS MERCHANDICE FOR THE DOOMED SALE

A MOUSE CLEVERLY DRESSES IN DOLL CLOTHING, PUTS A PRICE TAG ON HIS HEAD, AND HIDES AMONG SALE ARTICLES WAITING FOR A CHANCE TO MAKE HIS MOVE

POQUETTE HANSEN ASLEEP ON THE 25 FT COUCH AT KAMR FACILITY