POOP PATROL

PET WASTE CLEAN UP SERVICE

Willie Cornelius is number 1 at number 2

Call him at 606-2944

Allan Dreblow - CEO

(Chief Excrement Officer)

Rumage Sale

The Kat and her friend Stacie will be holding a rumage sale at Stacie's home on the end of Crown CT. in De Pere Saturday June 2nd only. For sale will be numerous craft, household, items, material for quilts and furnature. Crown Ct is at the end of Meadow View Ln. west of ninth St. about 6 blocks south of the Middle School.

                   hen Earl "Whitey" Cornelius moved to the fashionable neighborhood in Ashwaubenon behind K-Mart he thought he had it made. Hardened from years of living in the culturally starved Oconto, Cornelius felt he was getting a second chance in life when he moved in with his natural maternal unit. Sue Wenzel has long ago abandoned looking after the 32 year old Cornelius as his mother but still provides shelter to him or any of her children for that matter if they are in need.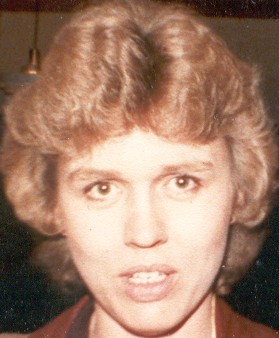 Sue Wenzel: "You know I'm always taking in strays, or even my own kids."

Because of the abundance of automobiles in the driveway due to Wenzel's loose housing policy Cornelius parked his car where he thought was reasonable, on

the front lawn. Oconto residents often litter their lawns with a variety of automobiles in various stages of disassembly, Cornelius use to living in this type of environment thought nothing of parking in his new grassy parking lot. While parking in the driveway may not have prevented the theft it may have helped if the auto was boxed in as Cornelius had left the keys in the vehicle.

Apparently the thief drove away in Whitey's car unnoticed. The car had not been reported stolen when police stopped the perpetrator. Just why they stopped him is unknown but the car already had front end damage so police may have thought it suspicious when they saw it. The thief tried to say he had permission to drive the car which may have worked if he had driven to Oconto, however he picked Shawno instead and the police there were not buying it.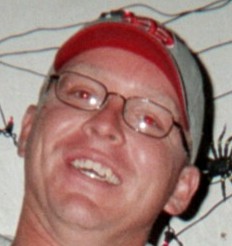 Cornelius did get the car back but not until after making a trip to Shawno for nothing. He apparently went to get his car from the holding lot and it had already closed for the day.

And so the bad luck continues for Earl Whitey Cornelius. Breaking his leg and being unable to walk for weeks then having his car stolen and damaged by punks. Lets hope Cornelius can turn things around and get his derailed life back on track.

BASEBALL TICKETS GOING FAST

With the game still almost a month away tickets are going fast. There are only 6 left for the game on Saturday June 23.
Click here
to check if you are on the list. If you want tickets at $6.50 ea.
click here
. 
DEVAYN YOUNG TO GRADUATE SPEECH CLASS

As of May 31 Devayn Young can officially ask for fruit snacks just like anyone else and it won't come out as "root snacks."


The 6 year old son of Alissa VanLanen has completed speech class and now knows how to pronounce words correctly. Young who spent nearly a year in the care of The Kat during the weekdays has just completed kindergarten in

in Waupaca on top of the successfully completed speech class. Alissa wants to thank everyone who helped the lad while he was in the process of learning the correct way to speak and has mentioned this writer especially for all the one on one time I spent with him painstakingly correcting, coaxing, and drawing the correct words from his mouth in my spare time.

Now Young can sit back and relax with a job well done, and perhaps cover up with his purple blanket instead of his urple winky and take a nap.

SOBIECK GOES WRONG WAY LOOSES RACE

In a profound turn of events the well accomplished and dependable Brittany Sobieck favored to win in The Tour De Cure bike race last Saturday lost her way and took a wrong turn. Curious as to why other bikers were not catching up to her when she slowed down Sobieck suddenly realized she was not on the marked route. The race started in Grafton and headed north, at some point it turned around, went south and was supposed to end in Grafton where it began, but Sobieck went past Grafton and went further south to Cederburg, then realized she had gone too far and made her way back.

Upset sponsors threatened to pull funding for next year's race unless something is done about  Sobieck's obvious vision deficiency, but Sobieck said she had fun and will definitely be doing it again next year in spite of sponsors efforts to squelch her chances at victory. She plans to shave the hair on her legs to lower wind resistance and make up any time lost due to poor route memorization. That's all the news that is news, see ya.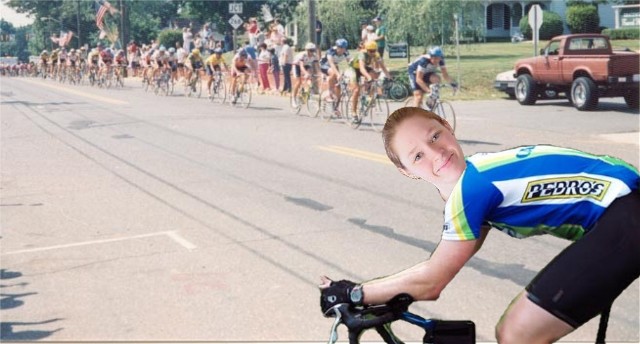 Brittany Sobieck clearly seen here going the wrong way in race