news from oneida - news from oneida - news from oneida - news from oneida




"AT THE KAT AND MICK REPORT WE DON'T MAKE THE NEWS, WE JUST REPORT IT"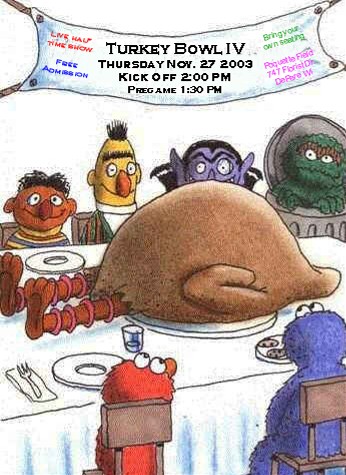 For Sale

32" Toshiba Large Screen TV

Rated best large picture tube in the industry

5-6 years old, perfect condition

external speaker outputs, multiple inputs

front input for games/cam

includes stand, 2 remotes, and all manuals.

$1300.00 new, $400.00 OBA

Tim or Joanne 866-1257

LEASEL OUT OF CONTROL FOR ENTIRE CRANBERRY FEST WEEKEND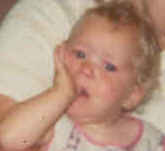 LEASEL A CUTE CHILD BUT NOW A TROUBLED ADULT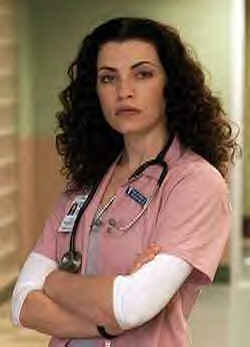 ASHLEY HANSEN SEEN HERE WITH MEDICAL GERE TO TAKE CARE OF JORDYN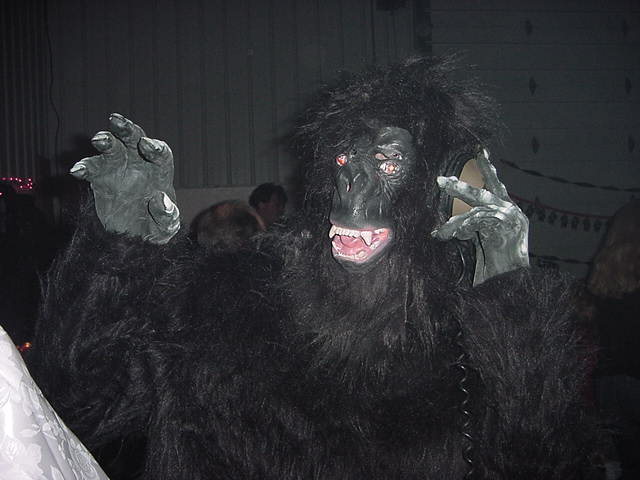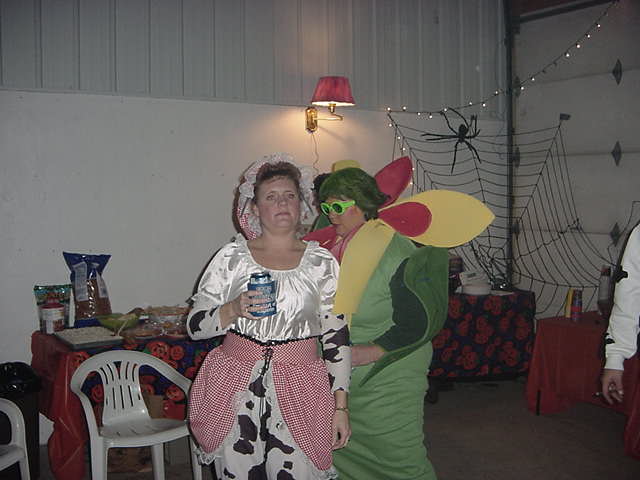 HALLOWEEN INVADED BY GODZILLA

    While it's true that Leasel was a cute as a button little girl when she was growing up at her home on County Trunk E much of that child hood charm has eroded as she grew into adulthood. It began during her black years in high school when she would only wear black clothes and dark make up, then progressed into her gang years in Oconto where she hung around with the tough kids showing off her tattoo. Now her behavior has elevated to an obnoxious alcoholic as proven by her recent visit to the Tiny Tap in Eagle River Wisconsin. She's mouthing suggestions to the female bartender I can not even repeat in this publication while, as she claims "making a lot of new friends" with the patrons as she turns around asking them embarrassing questions and making them all uneasy. Even the trip up to the northern home of snowmobile racing was marred by frequent stops to local taverns in the small towns dotted along Hwy. 32 in which she insisted we stop to partake of the amber drink. In one case she embarrassed everyone in the vehicle when she got out of the control of her handlers and broke into the beer stash in the back of the Sobieck's Waggoner sending full cans rolling on to the street with beer spraying out of the holes made when they hit the pavement. Finally enough people surrounded her and herded her into the car while Brittany, looking around to see if people were watching, kicked the spraying cans under a nearby parked car. They immediately left and were out of the town before the last can quit spraying beer. Saturday's stint at the Tiny Tap proved to be too much for the Mrs. Young when she finally gave up the fight at 7 PM and consented to return to the cabin but not with out discussing the finer points of avoiding hitting deer with James who chauffeured the group from the Tiny Tap to the living quarters on the lake. James needless to say was bewildered by the comments and just wanted to get her home where he could get away from her barrage unwanted comments. I must say however that she did purchase a very nice beer glass for me that I will cherish forever.

    Alex Pickett will be coming home on leave for one month on the week of the 19th . It is thought that he will arrive in Green Bay sometime on the 20th but the itinerary is yet uncertain.

    Ashley Hansen's baby Jordyn is ill and it was thought at first that she had spinal meningitis but tests have confirmed that this is not the case, the child does have however some type of blood virus that is running it's course and the child should be released from the hospital by the time you read this article.                                                                                                          

    If you didn't read it before then do it now, the Halloween Party is Oct. 25th, it is a BYOB party and it starts at 8PM. It will be at Dick and Colleen's garage at 747 Florist Dr. De Pere in the Village of Hobart. If you need directions you can call 869-1132 or 869-2368 or you can email for directions at poquet@aol.com or katandmick@aol.com  Of course there will be prizes games and the trophy presentation at 11 PM for the best costume. Food and refreshments will be on hand as well as dancing and music. Come early and stay late.  That's all the news that is news, see ya.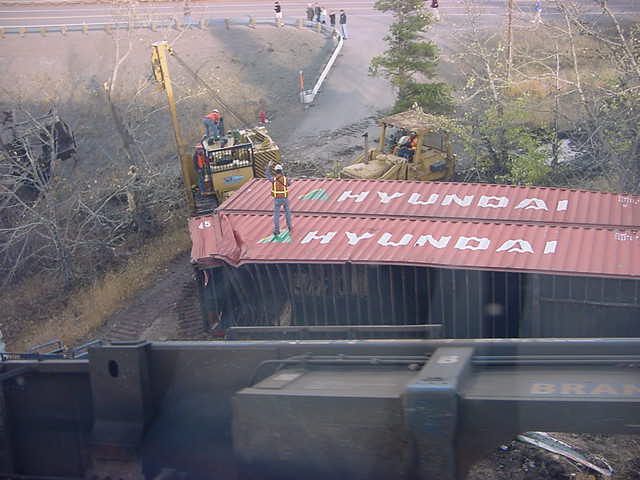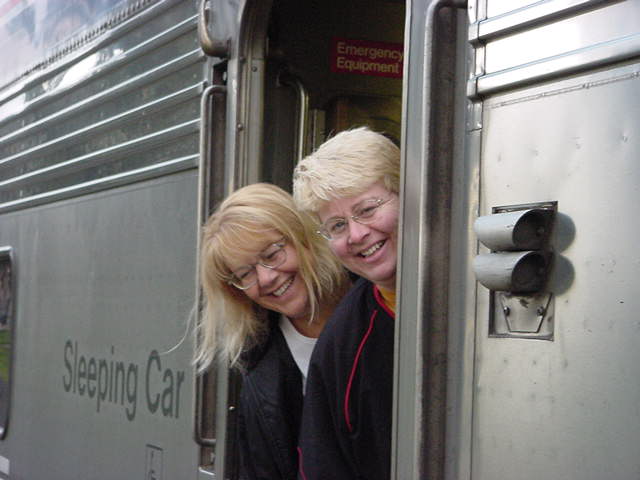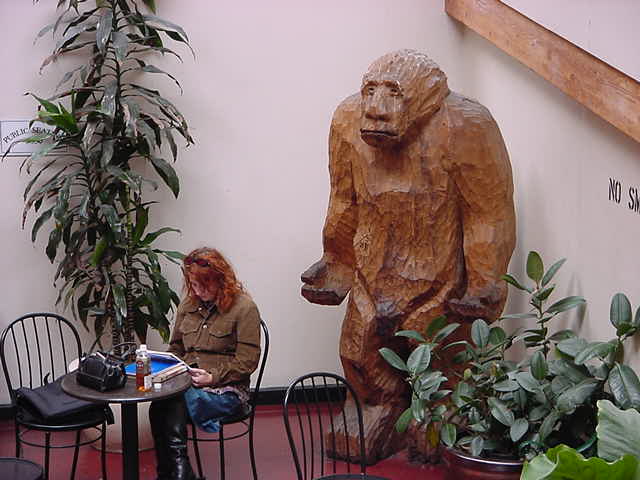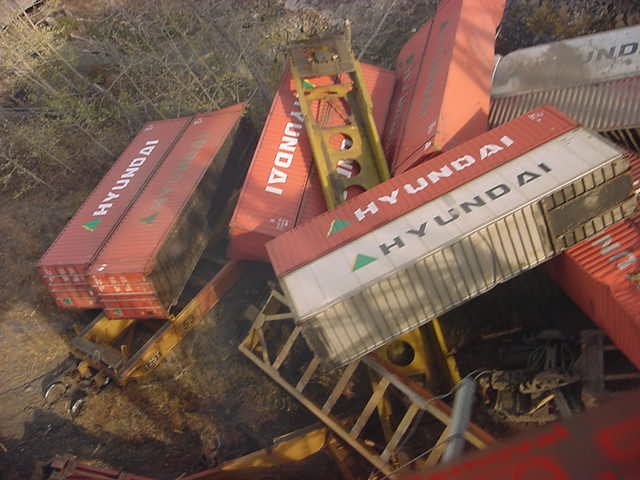 TRAGEDY AVERTED, TRAIN ACCIDENT AVOIDED

THE TRAIN AHEAD OF US AS IT LAY ON THE GROUND

SISSY  AND JOANIE ON BOARD THE EMPIRE BUILDER

    In a scary situation made worse by frightened passengers tragedy was avoided again by the writer of this column. While I am ready and willing to fight terrorists, criminals, and deviants to keep passengers safe on the train I am traveling on, I usually do not have to worry about Mother Nature complicating matters. This time my skills and ingenuity were tested nearly to their limits as disaster loomed in front of us. Traveling on what once was the Great Northern Railroad main line in Montana now owned by the Burlington Northern Santa Fe Rail we encountered high winds, which we thought of as no threat.  This did however cause problems for the train just ahead of us which derailed on a bridge and took the train and part of the structure into the ravine below. With our train on its heels and unable to stop the conductor informed me of the dilemma and immediately I sprang into action. I ran ahead of the train which was struggling to stop but being pushed ahead by the strong winds, borrowing some pry bars from the work crew and grabbing some rail lying by the side of the line I quickly fashioned a patch for the broken bridge. As the fully loaded passenger train approached I summoned all the workmen from around the area and shored up the temporary structure with men prying up on the rails with all the rail, ties, and lumber we could find in the area. Miraculously the train pulled through with out incident as I knew it would.  As it squealed to a stop past the bridge I decided to check on the engineer whom I did not see in the locomotive window as it rolled by. When I entered the locomotive door I found him lying on the floor gasping for breath. Upon seeing me he grasped his chest and passed out. I immediately diagnosed his condition as a heart attack and started CPR with one hand while calling for help on the locomotive radio with the other. A medical crew arrived in short order and took him off to hospital where he had emergency surgery for a blockage. The stress of the impending train wreck had been too much for his body and it reacted with a heart attack. I was informed by the doctors that had I not intervened he would have surly died.

    The Kat has officially changed her name from Kat to Sissy as she was dubbed by Kathy the dinning car supervisor aboard Train 7 the west bound Empire Builder.

    Alex is in Baltimore MD as this report is written; he will leave there at 9AM bound for Detroit where he goes on to Green Bay to arrive at 12:30 PM. He will be home for one month then depart for duty in Ramstein Germany.

    The Halloween party is looming for this coming weekend and it is sure to be the best ever. Once again prizes are to be given out to the winners of the Quarter Horse contest and the best costume contest. Other events planned are Rock and Roll Trivia and Limbo contest. Alex will attend with a host of his friends. Food and beverage will flow until ??????? Be there.

That's all the news that is news, see ya.
CARNAGE ABOUNDS AT THE BOTTOM OF THE RAVINE

HUGE APES FOLLOW YOU EVERYWHERE IN SEATTLE LOOKING FOR YOUR SPARE CHANGE  BUT THEY WILL NEVER HARM YOU