news from Oneida - news from Oneida - news from Oneida - news from Oneida




"AT THE KAT AND MICK REPORT WE DON'T MAKE THE NEWS, WE JUST REPORT IT"

Carpet Cleaning:
  Perry Peterson, First Choice Carpet LLC says "My company is the
CHOICE
that makes the difference". New this year is pressure washing. Do you have an oil spot in your garage that you would like to get rid of? Well, we can do that and more, give us a call at (920) 884-9963 or e-mail me at
perryp@greenbaynet.com
Perry is the son of Bob and Mary Phillips.



EILEEN SOBIECK SUFFERS SMASHED EYE

         ileen Sobeick known by most people as "Trixie" suffered a non permanent eye injury as the result of physical confrontation with her sister Jean Poquette Hansen. Hansen, who lost a previous battle with Sobieck and suffered a similar eye injury is said to have lost this fight as well to her strong willed, dominant sister Trixie. Sobieck refused medical assistance after the go around which occurred prior to a pumpkin carving party held at the home of Jean Poquette Hansen. The disagreement occurred while the two were planning the annual children's carving get together. Hansen was in favor of changing tradition where every child kept and took home the pumpkin they carved. She wanted that tradition to end letting the host of the carving party (Hansen) to keep all the pumpkins as suggested by her friend James Seidel. Seidel disappointed in the previous tradition that all the carved pumpkins be taken home by the children felt that since he was part owner of the property he had some say in what should stay after the event ended. Seidel: "Why should the kids keep all the pumpkins? I think we should get them all." Sobieck who has been known to side with the children in the past strongly suggested that the tradition remain status quo. Hansen became enraged at Sobieck over her position and a scuffle broke out. Upon seeing the results of his demands Seidel immediately went to another room to watch football leaving Kevin Sobieck to quell the two fighting harlots. Kevin knew immediately what to do and returned from the kitchen with a foot long corndog which he handed to Hansen. He then retrieved from Sobieck's purse a small package marked private and personal and handed it to her, it seemed to make a humming sound. Hansen, seeing the corn dog forgot about the pumpkins and immediately tore into her luscious treat, while Sobieck mumbled something about taking a shower before the party started and disappeared.  Kevin then retired to the room where James was to watch the game while things were quiet for the next few minutes.

STEPHANIE PREVOST HAS NEW JOB

In these days of little or no loyalty between employer and employee people move from job to job about as often as they buy a car. Such is the case with Stephanie Prevost who has once again landed a professional job with a dental supply company. Prevost who has worked as an HR analyst for the Oneida Tribe, changed gears three years ago and worked at the Family Violence Center teaching otherwise passive families how to conduct violent arguments, she now has gone back to the HR field working for an unknown dental supply house in Denmark. She will again be an analyst spotting prospective employees for the growing company. Prevost who has a child, Bailey, that suffers from "Chucky teeth" hopes to reap some benefit working for the dental supply company on a company discount for the many dental supplies her child will need to eventually fix his dental misfortune. 

It is less then one week to the Halloween Party at Dick and Cleens, Saturday October 29 at 8PM. This years event will be marked with a new game. The Newly Wed Game will be scheduled for 10:15 PM and of course a prize for the best costume at 11PM. That's all the news that is news, see ya.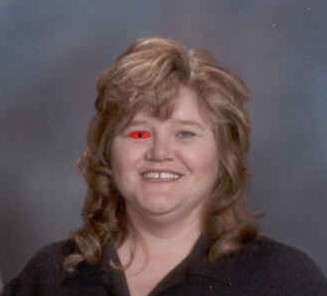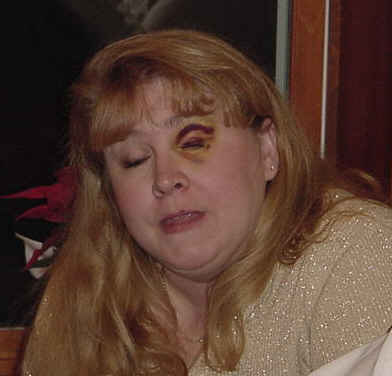 TRIXIE SOBIECK SUFFERS EYE INJURY AFTER FIGHT WITH SISTER BUT IS SAID TO HAVE WON THE BATTLE

JEAN POQUETTE HANSEN LOSES A PREVIOUS FIGHT AND SUFFERS SIMULAR EYE INJURY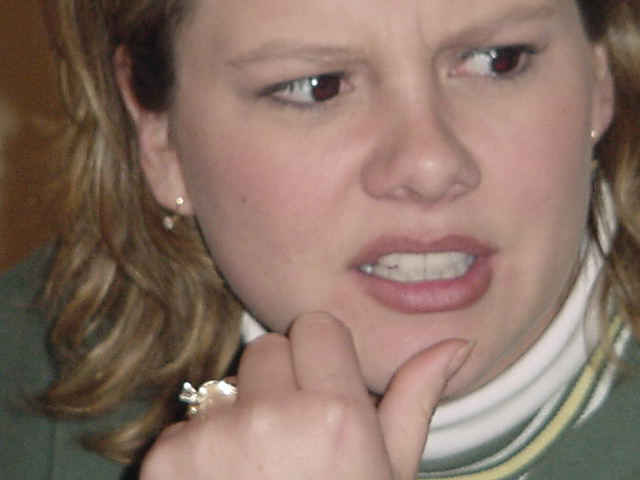 STEPHANIE PREVOST AS SHE PONDERS TAKING A NEW JOB

THANKSGIVING DAY

NOVEMBER 23, 2005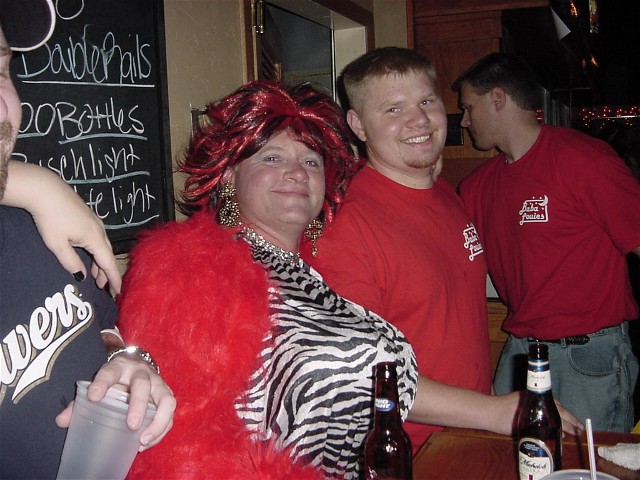 JUSTIN SOBIECK MISUNDERSTANDS JOB OFFER

         ustin Sobieck has been telling everyone that he recently accepted a job as a bouncer at  the wildly popular De Pere night club "Baba Louies". In an effort to find out what the duties of a bouncer actually are a group of NEWSLETTER readers, The Kat, and I attempted to visit Sobieck on a routine evening at the club. What we found was astonishing, Sobieck had obviously fabricated the fact that he held a bouncer position at the club out of embarrassment. Apparently a misunderstanding occurred when a different position had been offered which he accepted. Sobieck who thought the management offered him a bouncer job during a particularly noisy evening at the bar instead agreed to become the box crusher behind the bar. Times being what they are Sobieck accepted the employment offer anyway hoping that someday he could work his way up to bouncer status if a regular bouncer should suddenly vacate his position. Sobieck had hoped to become a plumber and in fact had joined an apprenticeship program, but with decreasing trade labor requirements Sobieck found it harder and harder to maintain employment in the field. His daytime career is now in the supply field as he is working for Applied Industrial Technologies as a belt installer where he replaces and supplies conveyer belt for local industry. Sobieck uses the box crushing job which he works several nights a week to augment his income.

Two thirds of the axis of evil were in the visiting party, Jean Poquette Hansen and Trixie Sobieck. A small disturbance was created by Hansen as she grabbed a walker which standing by the door and was quickly chastised by a real bouncer who told her "If it's not yours don't touch it". The bouncer then was approached by a young affectionate young lady that offered to give the brute a hug, attempting to give the unfriendly bouncer some of his own medicine Trixie Sobieck shouted at him "If it's not yours don't touch it." The bouncer was not moved by the comment.

HALLOWEEN PARTY SUCCESSFUL ATTENDENCE DOWN

The annual Dick and Cleen Halloween Costume Ball proved to be once again a spectacular event even though attendance was slightly down from previous years. The most notable attendee was not in costume but did come the farthest distance to attend. Dave Poquette drove from Clarksville Tennessee with a sore arm to attend the annual gala event but refused to don a costume citing his advanced age as a valid reason for the his withdrawal. Several games were played including quarter horse races which yielded multiple winners as well as "The Dictionary Game" which proved to be an uninteresting event and will not return next year. The most successful game was "The Newly Wed Game" in which two couples tied for first place. Trixie and Kevin Sobieck and Dan and Peg VanLanen  all received valuable prizes in lieu of a tie breaker question which had not been prepared in advance.

Best costume award went to Brandon Pickett for his conception of Michael Jackson while second place went to Tim Lade for the clown from the scary series "It". Other notable costumes included Blackie and Shannon with a witch and her brew as well as Willie as a large pink lady, and Kevin as the big busted hooker as seen in the most upper photo. That's all the news that is news, see ya.

JUSTIN SOBIECK TAKES A BREAK FROM CRUSHING BOXES TO VISIT WITH HIS DAD

AXIS OF EVIL SEEN HERE BEFORE RAIDING BABA LOUIES IN DE PERE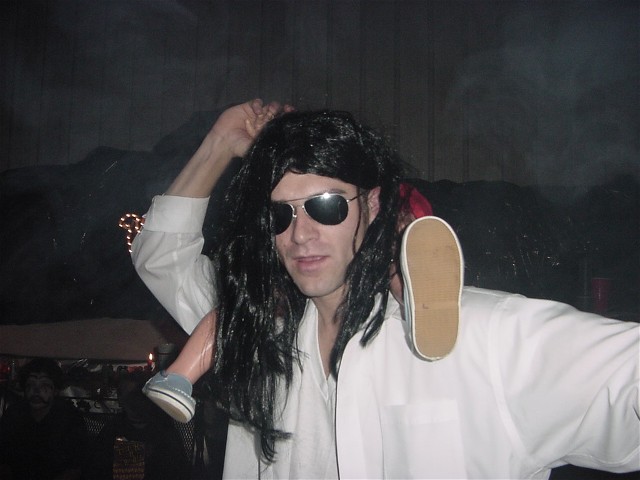 BRANDON PICKETT AS MJ WINS COSTUME COMPETITION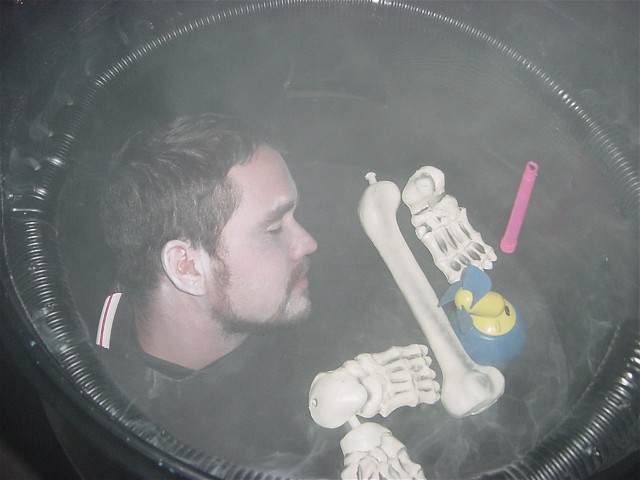 BLACKIE IN THE "BREW" KETTLE