news from Oneida - news from Oneida - news from Oneida - news from Oneida




"AT THE KAT AND MICK REPORT WE DON'T MAKE THE NEWS, WE JUST REPORT IT"

Carpet Cleaning:
  Perry Peterson, First Choice Carpet LLC says "My company is the
CHOICE
that makes the difference". New this year is pressure washing. Do you have an oil spot in your garage that you would like to get rid of? Well, we can do that and more, give us a call at (920) 884-9963 or e-mail me at
perryp@greenbaynet.com
Perry is the son of Bob and Mary Phillips.


New Unsportsmanlike Comment

From: S. Lyle OConnor

I believe that in a back room of the White House stands a control console interfaced to powerful antennas.  It is sending an electronic beam, directly and exclusively at me.  24/7!  The purpose of said beam is to make me appear unattractive to members of the opposite sex, so as to insure that I will NOT reproduce again.

CORNELIUS WEDDING A BIG HIT WITH BIKERS

           hannon Whittkopf and Eugene (Blackie) Cornelius were joined in marriage Saturday afternoon at St. Joseph's Church in Oneida. The church was full of people attending including a throng of biker friends that Blackie and Shannon had made over the past few years. Guests were seated by Whitey and Julius Cornelius brothers of the groom, and Joanne Lade sang the many wedding songs complimenting the mass. The wedding party made their entrance and I noticed straight away that it appeared only one brides maid was sporting tattoo's. I was relieved to find out later that indeed four out of the five girls in the wedding party did have tattoo's including Shannon. Apparently they had been strategically placed on their bodies so that viewing was optional. This would make them only part time "biker chicks" where as the one girl with tattoos showing blatantly on her arms was a full blown biker chick. The only girl to not have a tattoo Jeni,  seemed somewhat embarrassed to be caught off guard without some sort of body art. During the ceremony Cindy Becker a lay minister,  gave the couple advice on how to fight well and ague the correct way. The advice seemed strange since I thought they were already accomplished at that and a silence befell the onlookers, it was punctuated by a ringing cell phone someone in the back of church had forgotten to turn off.

The window of time between the ceremony and the reception when everyone visits the local bars turned out to be very productive in terms of news gathering. Trixie Sobieck reports that Brittany Sobieck has a large rug burn on her head and does not know where it came from. It seems that while in a drunken stooper she lost the ability to to be cognizant of what was going on around her. Now it appears there are large gaps in her memory. Jean Poquette Hansen (the Queen of Chicken Night) announced that she will make an announcement at Turkey Bowl VI of an impending marriage.  The details of which will be withheld until game day. Not to be outdone by JP Hansen Aimee Poquette announced that a Mexican wedding is in store for her and her friend Chris Richey making Aimee Mrs. Chris Richey. Later after detailed questioning Richey would not confirm or deny the announcement by Poquette.

While at Players during this period a stranger rolled up in a cab which did not go unnoticed by the Axis of Evil. Trixie and Jean Poquette Hansen immediately questioned the stranger calling him Bob and asking him if he was drunk. The stranger came over and introduced himself as Paul explaining why his transportation was a cab, he did not have a car. It seems Paul, a Troll, was working for an  I T contractor at a job in Green Bay and was enjoying his down time at the local bars. Jean Poquette Hansen and Trixie mired him down with many questions and eventually invited him to the wedding taking the place of Logan who bowed out of attending in favor of the Axis of Evil's new friend. I was charged with getting him to the event so we rode the wedding parties' bus to the reception.  After a brief stopover at the Cornelius apartment, where Paul gave Linda the bus driver a $20 tip, the bikes were parked and the male members of the wedding party were loaded on to the Bus and we continued to the reception.  While at the reception he went to the bathroom and never returned. Apparently he had sobered up enough to realize his apparent danger snuggling up to the Axis of Evil. The Evil girls kept his hat as a trophy.

Local Wicken Sarah Poquette had a boyfriend in tow at the wedding. Sarah not willing to offer much information did introduce everyone to him and he seemed quite personable. His name is Ryan and he is a tall dude. Ryan who was informed by guests that Poquette is a Wicken did not appear to be concerned after learning the news.

CHICKEN NIGHT REUNION

The date for the Chicken Night Reunion at Cliff and Ceils has been chosen, rethought and rechosen. The official date is now September 16, this Friday. Originally it was thought the 23rd. would be better but the Queen nixed that in favor of the 16th. That's all the news that is news, see ya.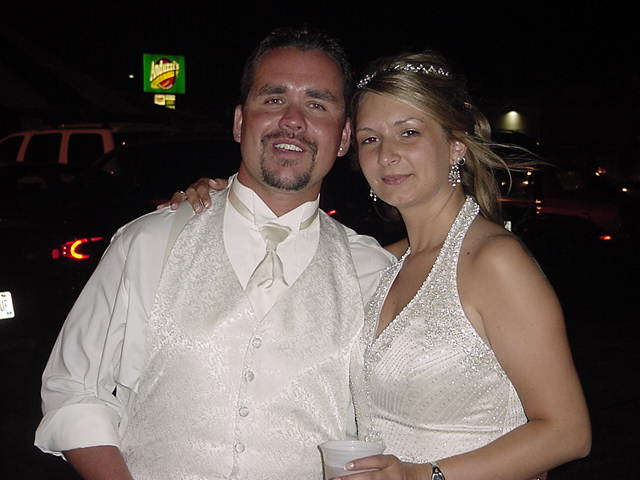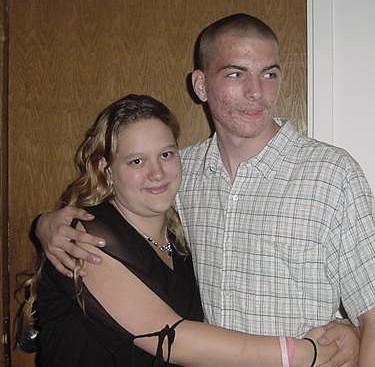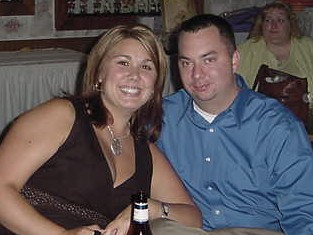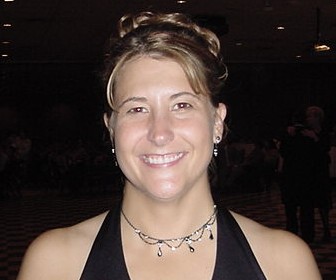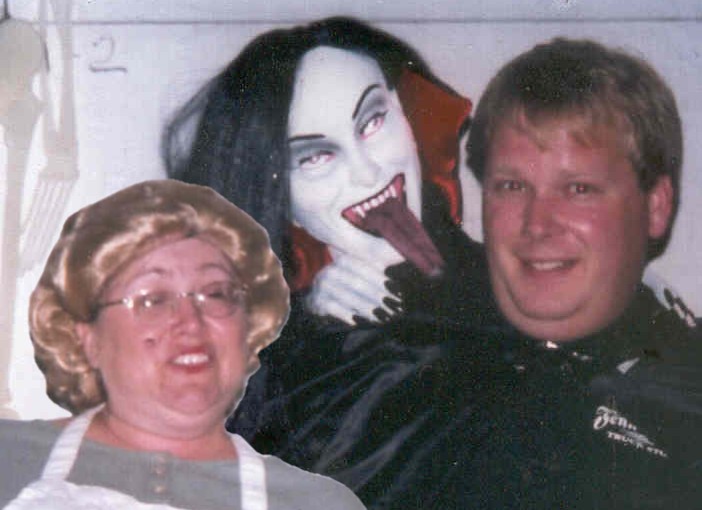 BLACKIE AND SHANNON THEIR WEDDING NIGHT

BRIDES MAID JENI EMBARRASED SHE WAS UNALBLE TO SPORT A TATTOO

RICHY UNALBE TO CONFIRM OR DENY RUMOR OF MARRIAGE

SARAH WITH BOYFRIEND RYAN

THE BEST MAN LOOKS ON AS JEAN POQUETTE HANSEN AND JAMES SEIDEL PREPARE A WEDDING STATEMENT FOR TBVI

To commemorate the anniversary of the World Trade Center tragedy we urge you to view this web site and let the video play all the way through to remember the victims and the pain this country felt. We must never forget who our enemies are.

CHICKEN NIGHT REUNION HAS MODEST ATTENDANCE

       notion conceived by Tim Lade became reality Friday night as fellow chicken nighters past and present reunited one more time at Cliff and Ceils Bar on Old Manitowoc Road in Green Bay. Upon entering the home of Chicken Night our eyes were treated to a new layout in the bar which has been remodeled to make the bar area appear to be larger. A wall was removed and windows added to make the bar a much brighter and pleasant area. A door was added on one side of the bar to the dining room making it accessible now from both sides of the bar. Gone is the small dining room that was just adjacent to the bar and in it's place are a cluster of cocktail tables with the pool table about where it was before, all now one big happy space. Sorry to say however the food has not changed, still as greasy as ever. Also gone is Wynona the daughter of the former owners Cliff and Ceil, word has it she left after relations with management became strained about three weeks earlier. Still on the job is Cheryl the perky bartender who greeted the "Chicken People" as she called us.

I'm not sure if Tim was pleased by the attendance but a modest turnout of 11 people showed up. Two from New Franken, Tim and Chris Cain just happened onto the scene without knowledge of the reunion and were seated at an earlier time then us. Amy Seihr and her friend Shelly came for the celebration but did not stay for dinner leaving few participants for the actual feast. Of course the Queen was on hand as was Trixie along with Lola. The Lades were in attendance and the Kat and I rounded it out to seven at the table.

BRITTANY HAULS ANOTHER TO THE PILE

In July we reported that Brittany Sobieck had been seeing a boy named Dan since May but had not yet cast him on to the fermenting compost heap of boyfriends behind her house. Well, we can now proudly report that this one has been no exception and is now resting comfortably on the top of the heap and becoming compost even as I write this story. Sobieck who said that this friend would not be coming to Turkey Bowl because he is "a momma's boy" surly will not even be invited now. Speculation is beginning to pop up as to whether Sobieck is gay or worse yet a transgender.

FROGGIE ANNOUNCES MARRIAGE

Kevin Hugey AKA Froggie has announced his impending marriage. Hugey is best known for his drunken frog imitation which he so willingly performed at two recent Halloween parties at Dick and Colleens house. Hugey has not yet announced who the bride will be.

DATE SET FOR HALLOWEEN PARTY

Dick Poquette has set the date for the Halloween Party at his Hobart homestead, 747 Florist Drive. It will be on October 29th. again in his shop. Once again there will be prizes for best costume and games. It is a bring your own bottle party, and some food will be served. If you need more information contact Colleen at 920-869-1132 or email
poquet@aol.com
. The traditional playing of the original "War of the Worlds" begins at 7PM with the regular party and tunes at 8PM. Games throughout the night and costume winner announced at around 10:30. See you there.
HANSEN SOBIECK LAMENT END OF BAYFEST

The one thing that the Axis of Evil had done every year without fail is attend Bayfest at the UWGB grounds. Jean Poquette Hansen and Trixie Sobieck were contacted and asked to comment on the announcement this week that Bayfest would be no more. Hansen said "It sucks, where in the hell am I gonna find another place that has foot long corn dogs?" Sobieck said (she is) "deeply saddened" and that "the ending announcement sucks." Stephanie Prevost the third member of the Axis of Evil who attended every year could not be reached for comment. That's all the news that is news, see ya.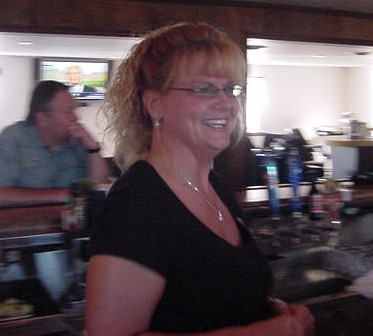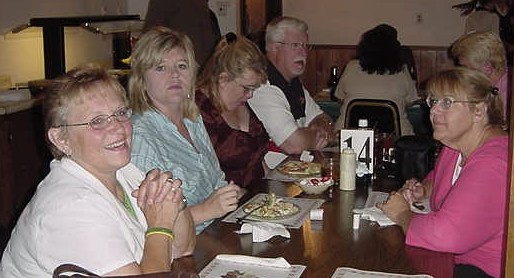 THE CHICKEN NIGHT REUNION CROWD, (NOTE LOLA SOBIECK IN THE LOWER LEFT STILL WEARING HER JAIL ID BRACLET)

CHERYL STILL A FIXTURE AT CLIFF AND CEILS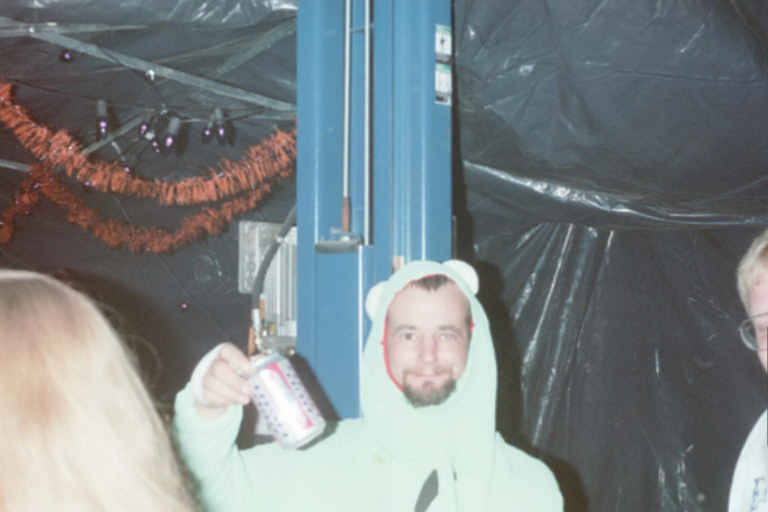 FROGGIE TIPS ANOTHER AT HALLOWEEN 2003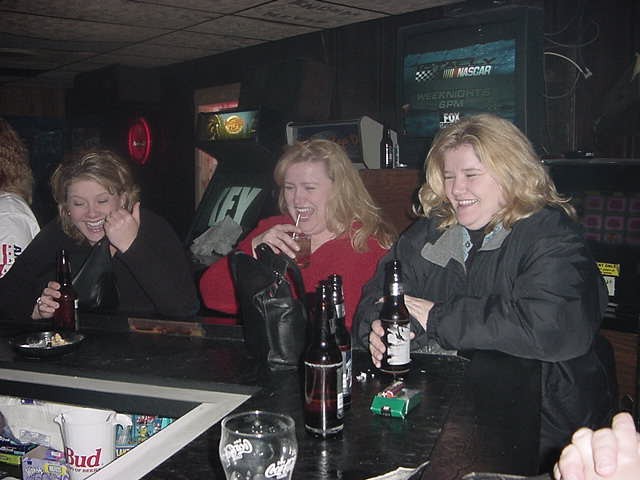 THE AXIS OF EVIL DEEPLY SADDENED BY THE ENDING OF BAYFEST