TURKEY BOWL 2001

TURKEY BOWL 2000 is barely over and we are already planning TURKEY BOWL 2001. TB01 is to be bigger and better then TB2K in every way possible. First of all we need more players, if you know anyone who wants to play then get them signed up now for TB01. Our Cheerleaders last year did a great job and put on a stunning show and its always nice to see great looking girls jumping up and down, but we need more of them. We will be actively recruiting more girls to be Cheerleaders, this means we could have a squad for each team as well as seperate or combined efforts on the Half Time show. There are Cheerleader tryouts planned for the summer of 01, and we will give you the dates and times when we have them. We also have a few equipment problems, if anyone knows where we can get some jerseys made up at a reasonable price then please let us know,send an electronic mail to the address on the home page. We also need people to run the chains and someone to run the scoreboard and keep time on the game clock.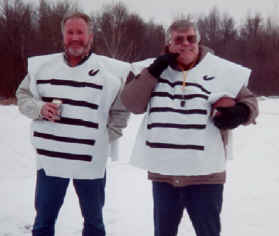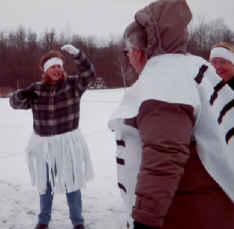 BROTHERS SAM, AND EARL  POQUETTE TAKE AN "OFFICIALS TIME OUT" EARL ALSO TAKING THE OPERTUNITY TO SHOW OFF HIS DR. EVIL IMPRESSION

OFFICIAL XPFL CHEERLEADERS STEPHANIE PREVOST (left) KATHY PICKETT (center) AND TRIXIE SOBIECK (right) WORKING THE CROWD BEFORE THE START OF THE GAME.

HEAD OFFICIAL EARL POQUETTE JR. HAVING A FRIENDLY WORD WITH THE CHEERLEADERS REMINDING THEM TO STAY OFF THE FIELD DURING THE GAME.

PLEASE JOIN US FOR TURKEY BOWL 2001

PLACE: POQUETTE FIELD

DATE: THURSDAY NOVEMBER 22, 2001

TIME: 2PM

SEATING: BRING YOUR OWN

ABOUT THE OFFICIAL XPFL FIELD

LENGTH: 50 YARDS

WIDTH: 25 YARDS

GOAL POSTS: NONE

LIGHTS: NONE

PRESS BOX : 25 YARD LINE EITHER SIDE

OFFICIAL XPFL RULES

THIS IS FULL CONTACT FOOTBALL WITH NFL RULES WITH THESE EXCEPTIONS

THE 5 SECOND RULE - NO ONE CAN BLITZ THE QUARTER BACK UNTILL 5 SECONDS AFTER THE BALL IS SNAPPED.

NO FIELD GOALS - BECAUSE OF THE FACT THAT THERE ARE NO GOAL POSTS.

ONLY ONE FIRST DOWN IS ATTAINABLE - BECAUSE OF THE SHORT FIELD AND THE LIMITED AMOUNT OF PLAYERS THERE IS ONLY ONE FIRST DOWN AND THAT IS THE 25 YARD LINE, MID FIELD

DISPUTED PLAYS -

BECAUSE THERE IS NO TELEVISION INSTANT REPLAY, PLAYS IN DISPUTE WILL BE DECIDED BY MAGIC EIGHT BALL.

9 PLAYERS PER TEAM - TEAMS ARE LIMITED TO 9 PLAYERS BECAUSE OF THE SMALL FIELD. IF A TOTAL OF 18 PLAYERS ARE NOT AVAILABLE THEN PLAYERS MAY BE TRADED TO  THE OPOSING TEAM TO MAKE THE SIDES EVEN. SHOULD AN ODD NUMBER  OF PLAYERS OCCUR THEN 1 OR MORE PLAYERS MUST SIT OUT.

THE CLOCK - THE CLOCK WILL STOP ONLY FOR THESE CIRCUMSTANCES.

    CHANGE OF POSSESSION

    CHARGED TIME OUT (2 MIN.)

    OFFICIALS TIME OUT

    BALL OUT OF BOUNDS

    PENALTYS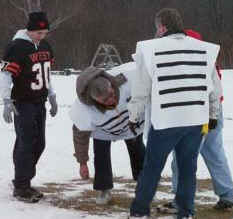 HEAD OFFICIAL EARL POQUETTE CHECKING TO SEE WHO THE WINNER OF THE COIN TOSS IS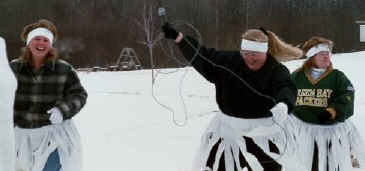 XPFL CHEERLEADERS PREPARING TO SING THE NATIONAL ANTHEM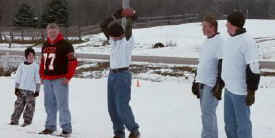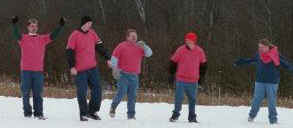 BLUE JELLOS PREPARING TO KICK OFF TO THE RED GOBBLERS AS THEY STARE EACH OTHER DOWN BEFORE THE KICK.

      THE TB2K RED GOBBLERS

      1   Brandon Pickett

        2   Kevin Young

        3   Josh Young

        4   Aaron Freward

        5   Sarah Poquette

        6   Adam Muesen

        30 Alex Pickett 

THE TB2K BLUE JELLOS

2   Robert VanLannen

3   Logan Sobieck

4   Gary Freward

5   Rick Poquette

6   Michael "Bunky" Pickett

77 Justin Sobieck

THE FINAL SCORE OF TURKEY BOWL 2000

RED GOBBLERS                     61

BLUE JELLOS                         42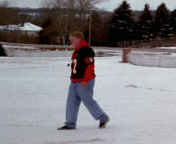 BLUE JELLOS CAPTAIN JUSTIN SOBIECK AWAITS THE KICKOFF OF TB2K

NEW MOVES COMING FOR XPFL CHEERLEADERS

On Feb. 22  The Kat and I attended the West DePere Dance Extravaganza, the main reason for attending was to see Alex in the "male'" dance team, but another reason was so head cheerleader Kat Pickett could catch some of the new pom and dance moves. Many new moves were noted by the Kat and I'm sure she will have all you prospective cheerleaders performing these moves this summer during practices, don't forget you all are responsible for your own wine and cigerettes, however emergency back up wine will be on hand as well as generec cigs, should you forget. If you need to use the back ups you will have to replace them at your next practice. See you all in June and keep checking the web site for any changes in the schedule.




PREGAME BUSSTLE PRIOR TO START OF TB2K

RED GOBBLERS AWAIT PUNT RETURN WHILE THE CROWD LOOKS ON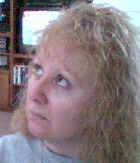 RAE POQUETTE FANTISIZING ABOUT HER ROLE IN TB-01

SHE HOPES SHE IS ONE OF THE LUCKY ONES SELECTED TO

PERFORM AS AN  XPFL  CHEERLEADER

TOP TEN THINGS OVERHEARD AT TB2K

10. These hot dogs taste like

     turkey

9. What do you mean admission

    is free I paid $100 for this

    ticket from a scalper

8. Is that a football in your pants

    or are you just glad to see me.

7. Snowmen are NOT permitted

    as line men.

6. You parked for free?

5. You don't get to keep the

    footballs that go in the stands?

4. Who's that guy HE-HATE-ME

    I'll bet he's going places.

3. Boy I wish those announcers

    would replace Madden and

    Summeral

2. Aren't those the same

    cheerleaders that the Dallas

    Cowboys had.

1. Let's go I don't want to miss

    any Turkey Bowl parties

    downtown.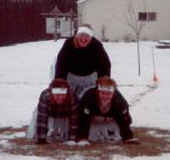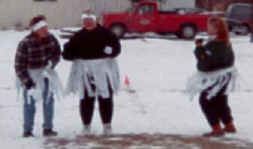 THE CHEERLEADERS

      CORNER

JULES CORNELIUS

ALEX PICKETT

BUNKY PICKETT

SARAH POQUETTE

RICK PREVOST

JUSTIN SOBIECK

LOGAN SOBIECK

BOB VAN LANNEN

LEE VAN LANNEN

KEVIN YOUNG

BLACKIE CORNELIUS

WHITIE CORNELIUS

AARON FREEWARD

GARY FREEWARD

PEGGY KAMKE

ADAM MUESEN

BRANDON PICKETT

RICK POQUETTE

JOEL SOBIECK

JOSH YOUNG

TEAMS ARE NOT LIMITED TO ONLY THESE PLAYERS, IF MORE PEOPLE WANT TO PLAY THEY WILL BE ADDED TO THE ROSTER ON THAT DAY. THE XPFL RESERVES THE RIGHT TO TRADE OR MOVE PLAYERS AS IT SEES FIT.

   REFEREE             AND

  LINE JUDGE

EARL POQUETTE JR.

SAM POQUETTE

JOE SIEHR

Get ready Cheerleaders, the game coming, think of some clever cheers. There will be a total of 8 cheerleaders for the game. There will be blue uniforms and red ones, dress warmly. Do not get flimsy before the twenty second. The Kat