PLEASE JOIN US FOR TURKEY BOWL 2002

PLACE: POQUETTE FIELD

DATE: THURSDAY NOVEMBER 28, 2002

TIME: 2PM

SEATING: BRING YOUR OWN

ABOUT THE OFFICIAL XPFL FIELD

LENGTH: 50 YARDS

WIDTH: 25 YARDS

GOAL POSTS: NONE

LIGHTS: NONE

PRESS BOX : 25 YARD LINE EITHER SIDE

OFFICIAL XPFL RULES

THIS IS FULL CONTACT FOOTBALL WITH NFL RULES WITH THESE EXCEPTIONS

THE 5 SECOND RULE - NO ONE CAN BLITZ THE QUARTER BACK UNTILL 5 SECONDS AFTER THE BALL IS SNAPPED.

NO FIELD GOALS - BECAUSE OF THE FACT THAT THERE ARE NO GOAL POSTS.

ONLY ONE FIRST DOWN IS ATTAINABLE - BECAUSE OF THE SHORT FIELD AND THE LIMITED AMOUNT OF PLAYERS THERE IS ONLY ONE FIRST DOWN AND THAT IS THE 25 YARD LINE, MID FIELD

ON SIDE KICKS ARE PROHIBITED.

DISPUTED PLAYS -

BECAUSE THERE IS NO TELEVISION INSTANT REPLAY, PLAYS IN DISPUTE WILL BE DECIDED BY MAGIC EIGHT BALL.

9 PLAYERS PER TEAM - TEAMS ARE LIMITED TO 9 PLAYERS BECAUSE OF THE SMALL FIELD. IF A TOTAL OF 18 PLAYERS ARE NOT AVAILABLE THEN PLAYERS MAY BE TRADED TO  THE OPOSING TEAM TO MAKE THE SIDES EVEN. SHOULD AN ODD NUMBER  OF PLAYERS OCCUR THEN 1 OR MORE PLAYERS MUST SIT OUT.

THE CLOCK - THE CLOCK WILL STOP ONLY FOR THESE CIRCUMSTANCES.

    CHANGE OF POSSESSION

    CHARGED TIME OUT (2 MIN.)

    OFFICIALS TIME OUT

    BALL OUT OF BOUNDS

    PENALTYS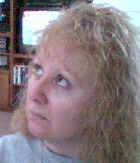 THE CHEERLEADERS

      CORNER

J.D. BUNKER                                          JULES CORNELIUS

ALEX PICKETT

BUNKY PICKETT

SARAH POQUETTE

LOGAN SOBIECK

BOB VAN LANNEN

KELLY WENZEL

KEVIN YOUNG

RICK (APRILS BOYFRIEND)

WHITIE CORNELIUS

DEE JOSEPHI

PEGGY KAMKE

AARON  MEEUSEN

ADAM MEEUSEN

GARY MEEUSEN

BRANDON PICKETT

RICK POQUETTE

MARGE WENZEL

TEAMS ARE NOT LIMITED TO ONLY THESE PLAYERS, IF MORE PEOPLE WANT TO PLAY THEY WILL BE ADDED TO THE ROSTER ON THAT DAY. THE XPFL RESERVES THE RIGHT TO TRADE OR MOVE PLAYERS AS IT SEES FIT.

   REFEREE             AND

  LINE JUDGE

EARL POQUETTE JR.

SAM POQUETTE

JOE SIEHR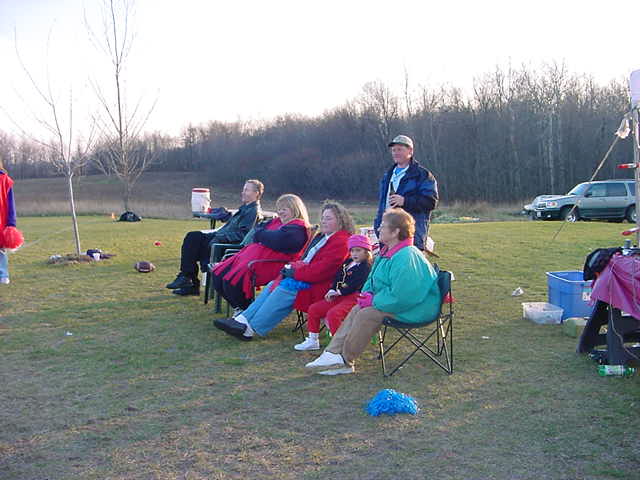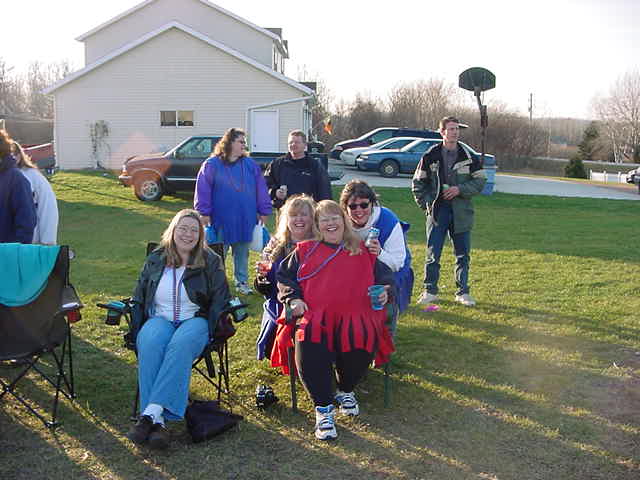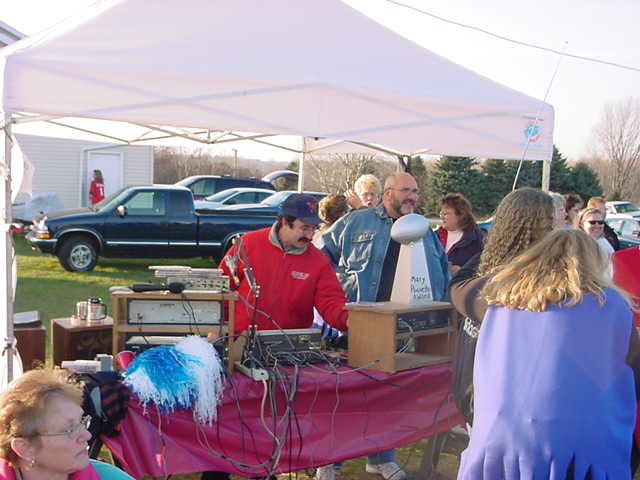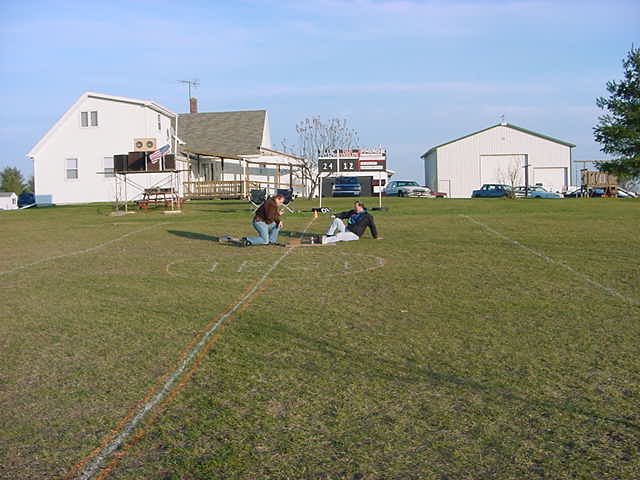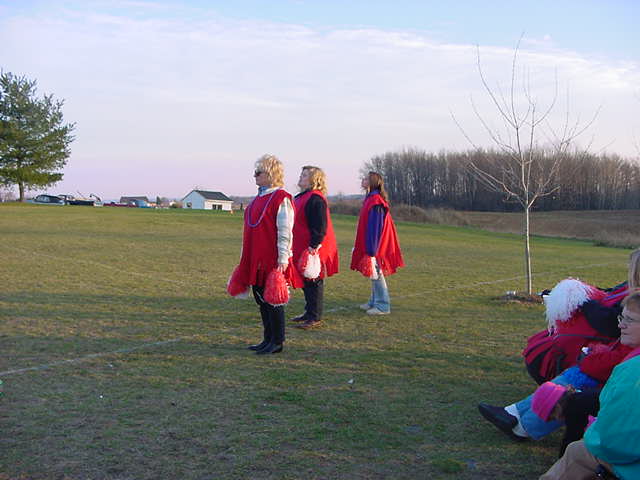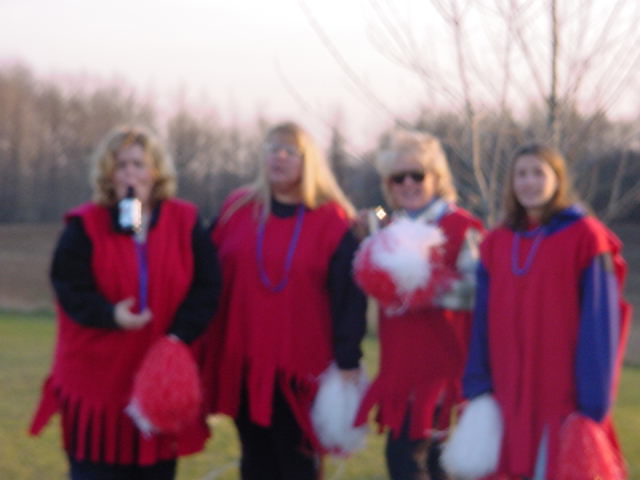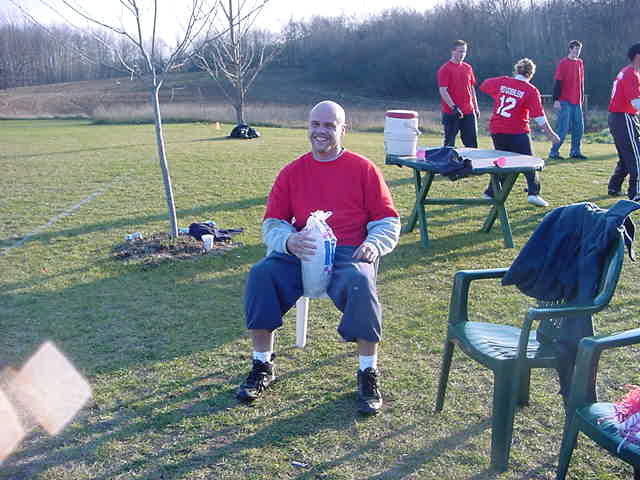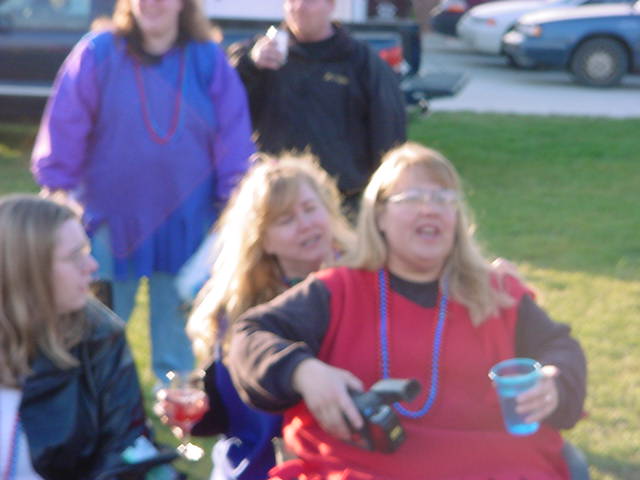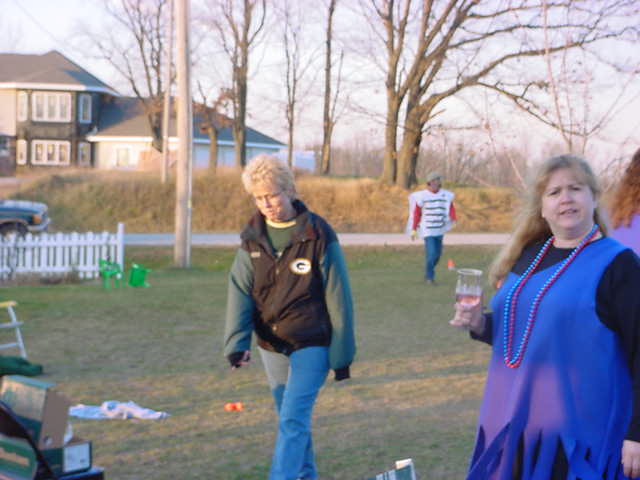 TB-01 FANS LOOK ON AND ENJOY THE GAME

XPFL CHEERLEADERS CLOWN AROUND DURING A BREAK IN THE ACTION

XPFL ANNOUNCERS KEPT BUSY DURING GAME, NOTE MARY POQUETTE AWARD TROPHY IN FOREGROUND

DAN VANLENEN ASSISTED BY HIS BROTHER DON, ORGANIZE A HALFTIME SHOW OF FIREWORKS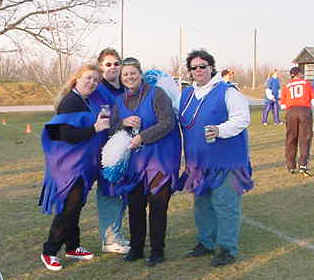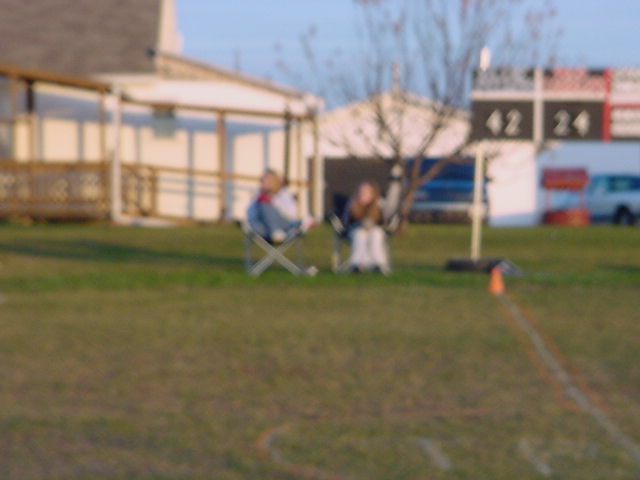 THE BLUE JELLO CHEERLEADERS POSE FOR A PUBLICITY PHOTO

AS THE AFTERNOON WEARS ON, THE RED GOBBLER CHEERLEADERS SEEMED MORE FUZZY AS SEEN THROUGH THE EYES OF THE BLUE JELLO CHEERLEADERS

TIME OUT FOR AN INJURY ON THE FIELD! OUCH THAT'S GOT TO HURT

RED GOBBLER CHEERLEADERS SEEM DEMORALIZED AS THE GAME WEARS ON

HEAD CHEERLEADER THE KAT ENJOYS A LOVELY BEVERAGE

ZEUS TAKES THE FIELD MUCH TO THE PUZZLEMENT OF JEAN POQUETTE HANSEN (ALSO THE QUEEN OF CHICKEN NIGHT)

WITH THE BLUE JELLO'S AHEAD BY 18 POINTS THE SCOREBOARD GIRLS, BRITTANY AND ASHLY GIVE UP HOPE FOR A RED GOBBLER VICTORY

THANK YOU CHEERLEADERS FOR YOUR HELP AT TB-01 AND START TO THINK OF NEW CHEERS FOR NEXT YEAR. REMEMBER TO CHECK BACK HERE FOR PRACTICE DATES AND TIMES FOR TB II

                                 THE KAT

FINAL SCORE: BLUE JELLOS 54

                     RED GOBBLERS 24

RAE POQUETTE THINKS ABOUT HER BIG MOMENT AS A RED GOBBLER CHEERLEADER. SHE LOOKS FOR HELP NOW TO BE ON THE WINNING TEAM NEXT YEAR.

Top ten changes in XPFL seen at TB-01

10. Successful introduction of pumpkin pie and cool whip kicking tee.

9. Wish bones used to settle challanged penelty calls.

8. XPFL officials successfully used as parking attendants before start of game.

7. XPFL cheerleaders now able to provide sideline "mud wrestling" show during slow periods in game.

6. Less official time outs for network commercials.

5. Flimsy cheerleaders almost all eliminated from XPFL.

4. Use of empty cool whip containers as athletic cups.

3. XPFL announcers offer brilliant commentary as usual

2. Crowd disappointed by absence of President Bush due to security concerns.

1. Turkey bones used as building materials to begin construction of "Poquette Dome."

DARLOWS SHEER DEMENTIA

1011 W. MASON GREEN BAY

Our motto: If you don't come here to be beautiful, your not.

THE KAT AND MICK REPORT

WWW.KATANDMICK.U4L.COM

We don't make the news,

we just report it.

L & E MACHINE

3849 W MASON ST.

GREEN BAY, WI

We've discontinued the E in L & E so you don't have to wait as long.

B J' S JEANS AND MORE

412 S. MILITARY AVE.

GREEN BAY, WI

We will buy the clothes right off your back and turn around and sell them for 3 times the price!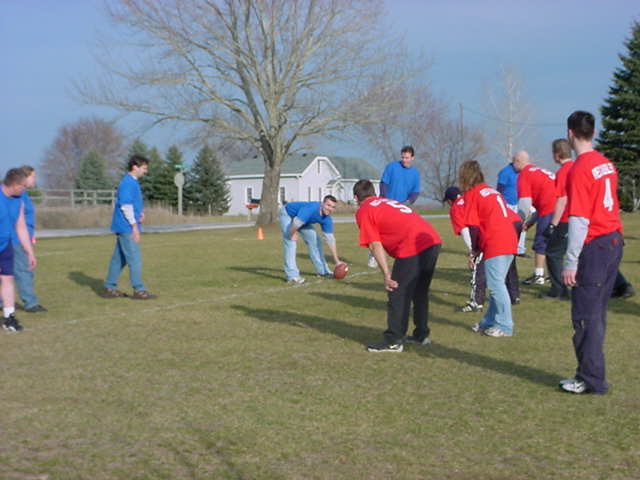 THE BLUE JELLO'S REGROUP AFTER A DEVASTATING PENELTY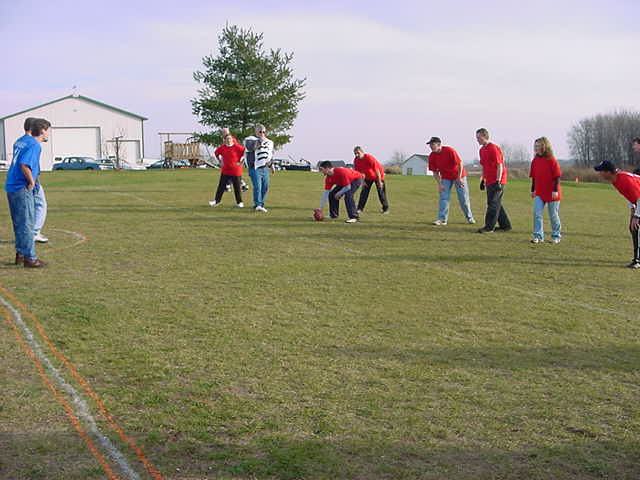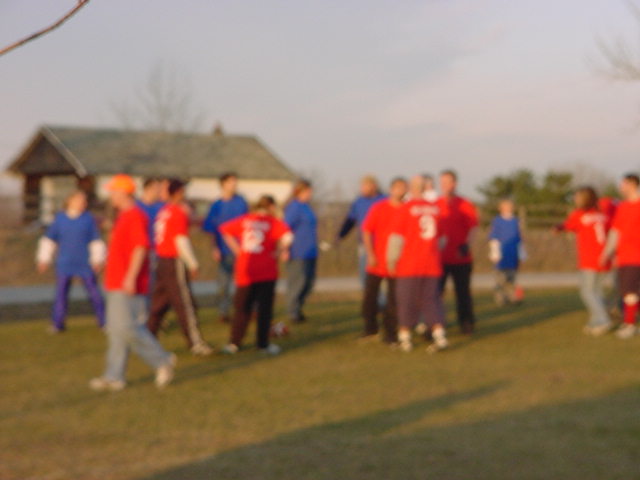 THE SHADOWS GROW LONG LATE IN THE AFTERNOON ON POQUETTE FIELD

THE RED GOBBLERS TRY A COME-BACK IN THE FOURTH QUARTER, BUT ALAS THEIR EFFORTS WERE IN VEIN

COME TO TB-II

NOVEMBER 28, 2002

747 FLORIST DR.

DEPERE, WISCONSIN

CARRY INS PERMITTED

AS A MATTER OF FACT, WE ENCOURAGE IT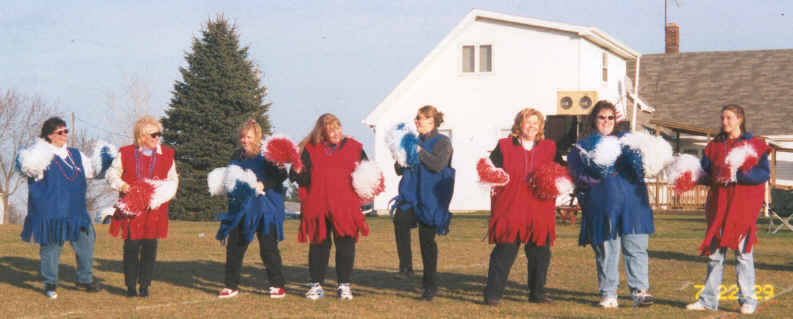 THE XPFL CHEERLEADERS IN ALL THEIR GLORY, FROM LEFT TO RIGHT: AMY SIEHR, RAE POQUETTE,

JEAN POQUETTE HANSEN, THE KAT, STEPHANIE PREVOST, TRIXIE SOBIECK, ALISSA VANLANEN, CHRISSIE MEEUSEN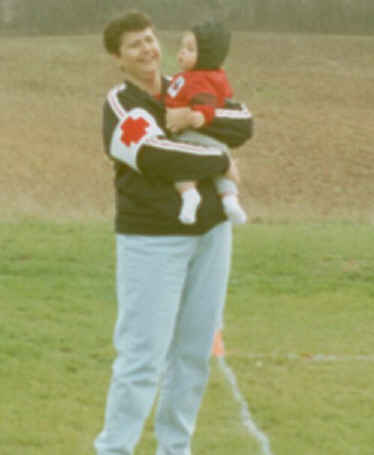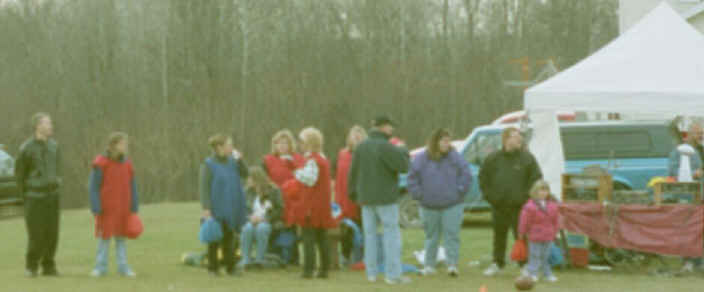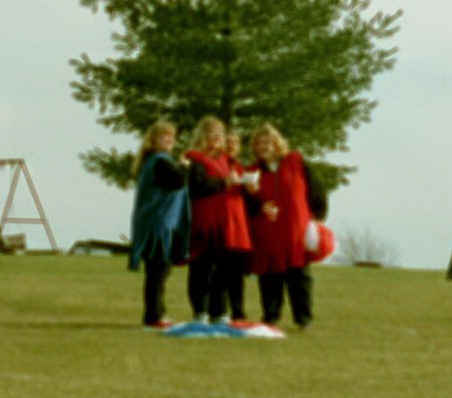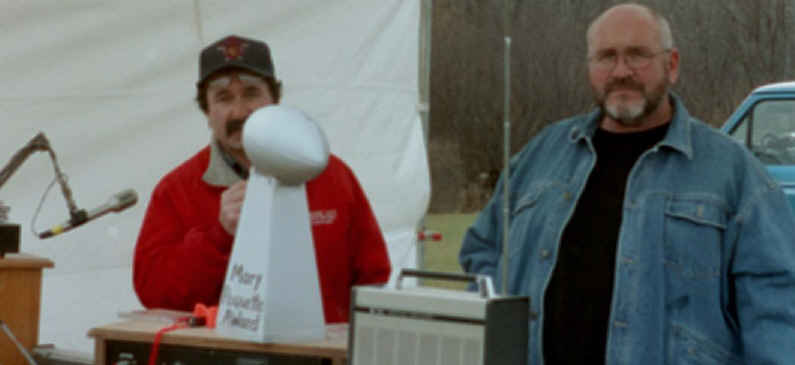 XPFL ANNOUNCERS BECOME TIRED AND IRRATABLE AFTER 3 HRS. OF BROADCASTING THE TURKEY BOWL

THE SIDELINES DURING A BREAK IN THE ACTION

THE RED GOBBLERS WARMING UP FOR THE BIG GAME

THE MEDICAL STAFF ALWAYS ON HAND AND STANDING BY FOR INJURYS

A SELECT GROUP OF XPFL CHEERLEADERS SINGS THE NATIONAL ANTHEM left to right JEAN POQUETTE HANSEN, THE KAT STEPHANIE PREVOST, EILEEN (TRIXIE) SOBIECK