news from Oneida - news from Oneida - news from Oneida - news from Oneida


"AT THE KAT AND MICK REPORT WE DON'T MAKE THE NEWS, WE JUST REPORT IT"





JOEL & SHELLY SOBIECK HOME VANDALIZED

         helly Sobieck reported this week that their home in which they are cohabitants with Joel's parents Joe and Lola Sobieck was vandalized in an apparent overnight operation aimed at embarrassing the couple in the posh neighborhood of Northern Hobart Heights. The Sobieck's who relocated to the exclusive section of Hobart nearly three years ago took over the domicile at that time formerly occupied by only the parents. They allowed the aging couple to stay with the stipulation they stay out of sight in the modest apartment constructed in the back of the home just for them. Shelly Sobieck called
THE NEWSLETTER
Tuesday night to inform the newsroom of the incident, apparently someone had carefully placed a priceless collection of extremely large size bras and a colorful variety of women's extremely wide underwear in trees and semi attached to the living structure. Hobart police carefully measured the bras to confirm sizes used in the crime while detectives from the department conducted "sniff tests" on the underwear to determine if a scent remained that they could match to a known vandal. Unable to come up with anything at the scene the officers each took some of the undergarments with them for "further analysis" back at the station. Upon questioning of home owner Shelly Sobieck, Police think they have come up with a motive for the crime speculating that the vandals may have struck because of Sobieck's birthday. Sobieck had turned 40 on Monday as seen on the
Birthday Page
of this site.
LOCAL WICHEN LANDS JOB AT TRUCK STOP

Sara Poquette who has had trouble finding meaningful work these past few weeks has successfully landed a job in the ever busy trucking industry. Poquette who was selected by the coven to lead the local chapter needed funding help to keep the pot boiling so to speak in her meager abode.

Poquette accepted a position conducting retail fuel transactions at the busy Country Express Truck Center on the corner of 172 and County GV in De Pere.  When Poquette is not conducting fuel transactions she will be expected to assist in restocking of the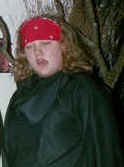 LOCAL WICHEN SARA POQUETTE

shelves in the mini mart section of the store.

PORTLAND OREGON RELATIVE CHECKS IN

This past week the Internet mail man brought a letter from Marci Mayer, many of you may remember her as the mother of John Poquette's daughter Shawni. Mayer explained in her letter how she stumbled upon THE KAT AND MICK REPORT by accident, she did a search using John Poquette's name and up came the Turkey Bowl Page. Shawni and Marci methodically went through the archives and came upon a photo of Axis of Evil member Stephanie Prevost (Poquette). Shawni said while viewing the photo "This is creepy that looks like......just like me." Shawni now 14 is looking forward to meeting some family members and maybe even that member of the Axis of Evil she looks like, perhaps she could be a stand in during one of her unexplained absences you know like when "the day gets away from her." John and Shawni are planning a vacation this summer to Wisconsin and is hoping to meet everyone. 

Marci also said that she regularly sees Michael Poquette and he is well and lives with her best friend Denise.

Mayer offered to give a message to Michael if anyone wishes to get one to him. She has graciously offered her e-mail address
marci_mayer@yahoo.com
  for that purpose.
AUTO ACCIDENT CLAIMS DEANNA'S SON

Regrettably we must report that John Poquette's girl friend Deanna has lost her son to an auto accident near Las Vegas. Danny Shipiro 21, was killed at the accident scene where he was ejected from his vehicle when it rolled over. Cause of the accident is unknown however authorities suspect he may have fallen asleep. Our condolences go out to the family and we are deeply sorry for your loss. The funeral was last Wednesday April 5th.

There is two new entries into the
Opinion Page
if you wish. S. Lyle OConnor has produced another installment of
IDIOTOCITY
for your reading pleasure as well. That's all the news that is news, see ya. 
QUESTION:

Dear Kat, I am a local Police Officer (I don't want to say where I'm from) and I like to collect  women's underwear and bra's. I take all the calls in my jurisdiction where houses get vandalized with women's underwear and I love it, the bigger the underwear the more I like it. I had this one call last week with this gal living in one of those Hobart Heights mansions who had a birthday and when she woke up her yard was plastered with huge underwear and bra's. I tried to get them all but that detective showed up and got some before I could get them all for my collection. Personally, after I took a good look at her I think that lady may have put them out there herself. You should have seen the old people living in the back of the house giving us the evil eye when we tore that big pair in half fighting over it, ha ha ha. Well, what I'm wondering Kat is, Is this a healthy habit? Some people say I'm a pervert, is that true?

Barney

ANSWER:

Dear Barney, of course your not a pervert, any guy who can take soiled underwear off our hands is a God send in my book. As a matter of fact I'm going to refer my sister to you who has an incontinence problem and will generate loads for your collection. I'm sorry I can't help you myself but you see I'm somewhat of a collector too and can't part with my used underwear ..........or anything else for that matter. I have a room dedicated just for my own collection, and it's filling up fast. I may have to add onto the house or build a shed in the back yard.

Meooooow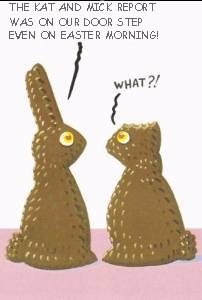 JOANNE LADE FORCED FROM LEGAL JOB

       oanne Lade began training this week on her new job at AMS. Staff cutbacks due to legal work being contracted out is the reason Lade was forced to take a job in the new Medicare D department of the insurance company. Lade an employee in the AMS legal department for nearly 15 years cleaned out her desk on Friday April 7 while she sobbed uncontrollably. Although Lade will miss her old job she looks forward to starting anew. The new job will be assisting clients with making choices and determining the right plan for their needs.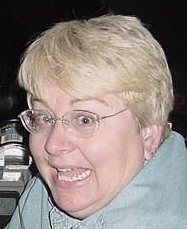 also a multiple winner of employee of the month award helped Lade pack up her stuff and comforted her through a tough time in her career. Perock the former Joyce Byrne and before that Joyce Kazik was directly over Lade and maintained a special rapport with Lade both professional and personal.

Perock commented she hopes to work with Lade again some day.

Lade returned home from a visit with her daughter living in sin in Indiana Sunday evening to report that Aimee's dog Rudy urinated on Joanne's bed while she stayed at their meager country home. Aimee commented that "the dog obviously felt his territory was threatened and needed to show his boundaries."  Lade not wanting to be outdone by an animal marked the bed in two spots with her own urine. Aimee reports that Chris has not had an accident of that sort for some time.

J&J MAKE EASTER A DAY TO REMEMBER

Justin and Janel the Poquette families first J and J couple have created a milestone in their relationship so soon into their journey through life. Janel and Justin will hold this day in high regard with the gifting of an expensive ring, the day holds a special

Because Lades previous job was eliminated so was her pay rate, she is making less pay working in the Medicare D department. Lade who made employee of the month multiple times over her tenure at AMS will be missed by co-workers in legal as the lighthearted cut up she really is.  Joyce Perock,

Joanne Lade stunned at her dismissal from the legal department after so many years.


meaning in two ways, with not only the celebration of their love but it is also Justin's Birthday (see
Birthday Page
for more details). Easter Sunday seemed to be the right day to present the ring given the opportunity to have a number of relatives present to view it's sparkling beauty.
Justin Sobieck, who's father is a carpenter and who's mother gave birth to him in a manger in St. Vincent's Hospital joyously announces that the promises they have made to each other could not be more natural and right for them.

Justin Sobieck

son of a carpenter

TONY MORTENSEN PASSES AWAY AT 82

Tony Mortensen the father of Lade wife #3 Jean Mortensen passed away last Sunday April 9th at St. Mary's Hospital. Tony Mortensen was a fellow publisher and was responsible for publishing a number of military papers handed out to

service men during the war. Mortensen also owned a print shop in Green Bay and in later years he owned and operated Jones Sign, I believe

he is the one who made signs before he could talk.

Mortensen also had strong opinions on issues and people and his first impression of someone

was usually what he believed to be the truth. He thought I was a Jew. I never told him I wasn't.  There's a new entry on the
Opinion Page
. That's all the news that is news, see ya.
Question:

Dear Kat, I'm a highway patrolman in Indiana and I need help with a problem I'm having with my girl friend. We used to get along very well and I thought I loved her very much, but now I've got a police dog and.......well I love the dog more. I don't know how to tell her (my girlfriend) but I want her to move into the spare bedroom so my dog can move in with me. She also has a dog and it pee's a lot so he can stay in her room. It's just that my dog is so much more compatible than Aim......oh that's right I'm not going to mention her name, than my old girlfriend. You see the dog already knows how to run the siren and flashing lights on the squad car after seeing it just one time, I've been trying to show my girlfriend how to do that for weeks. The problem is this chick thinks I'm going to marry her and she keeps hinting around about it. She is always leaving pictures of diamond rings laying around or cutting pictures of rings out of the ads in the paper and gluing them on her fingers. Kat how do I tell her to hit the road with out arresting her and throwing her in jail?

ISP Badge number 3468

Answer:

Dear ISP, your the second cop to write in for advice in as many weeks. I'm glad to be building such a good relationship with law enforcement, see bus drivers are not getting away with as much stuff as they used to. It's good to have friends with a badge. Things are getting so bad that they're even bitchin about busses speeding in school zones, something that was reserved for cops and busses for years, now they want it to be for cops exclusively. Well anyway I digress, seems as though you might owe this chick something seeing as though you led her along for this long. You might want to think this over, she would probably be a better choice than Shep. Think of it this way, you don't have to put her in a cage (unless you are into that sort of thing) and she probably won't go out and roll around in something smelly and stink up the house, and she can bear your children, something Shep can't do I think.