news from Oneida - news from Oneida - news from Oneida - news from Oneida




"AT THE KAT AND MICK REPORT WE DON'T MAKE THE NEWS, WE JUST REPORT IT"

Carpet Cleaning:
  Perry Peterson, First Choice Carpet LLC says "My company is the
CHOICE
that makes the difference". New this year is pressure washing. Do you have an oil spot in your garage that you would like to get rid of? Well, we can do that and more, give us a call at (920) 884-9963 or e-mail me at
perryp@greenbaynet.com
Perry is the son of Bob and Mary Phillips.


For a real comfortable cool nights sleep, I always figured one of those slide out cooler drawers like in a mortuary, would make a fantastic bed.  However, upon checking prices, I was, once again, dismayed by the expense.

"NEW FEATURE"  -  IDIOTOCITY

XPFL ADDS 3RD REFEREE FOR TURKEY BOWL

             n announcement made late Saturday will affect officiating at this years Turkey Bowl, TBVI. According to Tom Pickett he has been selected to join the officiating staff as the third referee. The XPFL " zebras" as they are called are few in numbers with several who have come and gone over the years. Head official Earl Poquette who has referee' d the Turkey Bowl since it's inception in 1999 was asked if he would again oversee officiating the game for TB VI put it this way "Well if I'm still around, I will". Sam Poquette who has also been working the game since the start has never hinted at any plans to give up the practice of officiating the annual holiday game and says "It's a nice little side income that comes in handy for Christmas".  For the most part the Turkey Bowl has been officiated with two Refs but two games did have three refs however no commitment has ever been made to keep a third ref on the field for future games. Now with the game becoming such an American icon and the game being scrutinized by multitudes of analysts head official Earl Poquette says "It's time to bring on the third official on as a permanent man on the team". Pickett who loves football has commented many times in the past on crucial officiating calls in the NFL which Poquette feels qualifies him for the XPFL officiating team, although he has never attended a Turkey Bowl he says he (Pickett) "is ready to learn the finer points of the Turkey Bowl game rules and is looking forward to becoming the third member of the officiating staff".

Also returning this year will be color announcer Dave Poquette who could not attend last years game because of conflicts with the schedule of his girl friend at that time.  The current girl friend, Barbara has been informed well in advance to plan to be in Oneida for this years Turkey Bowl and has agreed to do so. As of yet there are no plans for marriage I am told. Poquette will be joined in the booth by Whitey Cornelius as the other color man along with Mike Pickett as the play by play announcer. Cornelius worked the microphones last year as a color man along with Jo Anne Lade who did play by play. This years game will also employ Lade in her old role as roving game reporter getting interviews on the field and asking the tough questions before game time during the pre game show, which begins at 1:30.

We are working on getting a new electronic timer for the score board that will count down each quarter of the game. The vendor has already been selected and plans are being made to modify the score board to accommodate the new piece of equipment. Funds from calendar and DVD sales of last years game are being used to purchase the timer. Brittany Sobieck who is in charge of score board duty will be trained on how to run the new piece of equipment and it is expected to improve the quality of the game significantly. That's all the news that is news, see ya.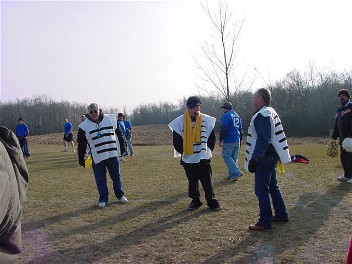 OFFICIALS LEFT TO RIGHT: EARL POQUETTE, KEANU REEVES (RIGHT AFTER MAKING BILL AND TED), AND SAM POQUETTE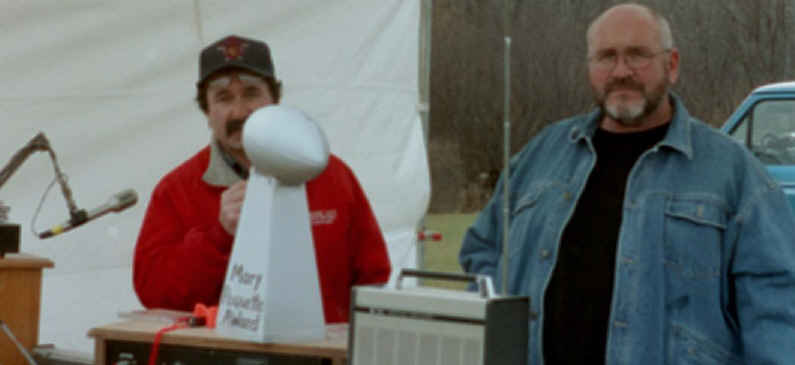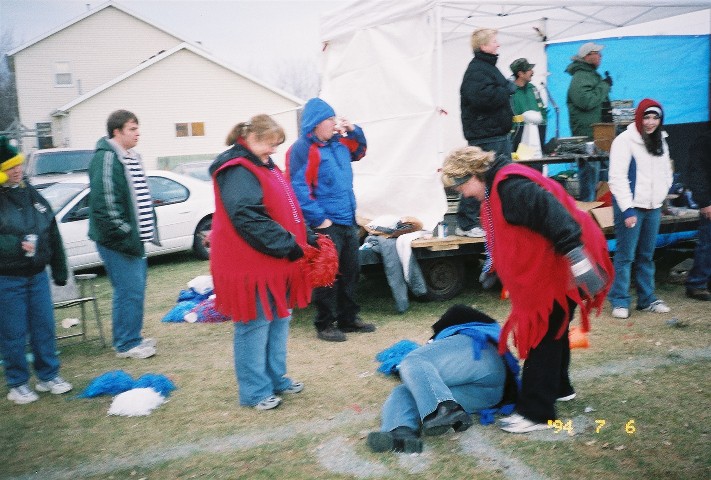 A SCUFFLE BREAKS OUT IN THE CHEERLEADER RANKS (JEAN POQUETTE HANSEN ON THE GROUND AND TRIXIE SOBIECK KICKING) ANNOUNCERS CAN BE SEEN IN THE BACKGROUND.

ANNOUNCERS LEFT TO RIGHT MIKE PICKETT (PLAY BY PLAY) DAVE POQUETTE (COLOR)

RATTLERS AVERT DISRUPTION BY AXIS OF EVIL

         nce again by design one of the noted "Axis of Evil" members tried to disrupt the Timber Rattler game outing Friday night attended by 20 family members and friends.  The one known as "Trixie", given name Eileen Sobieck, attempted to have family members ejected from the stadium by reporting a fight in progress to staff members holding an informal meeting in the upper concourse. Staff members initially were slow to react until Sobieck insisted they look into the matter stating she was scared to return to her seat until it was settled. The false accusations which were targeted at Margaret and Daniel VanLanen failed when Sobieck was asked what seats the disrupters occupied and was unable to come up with the proper row even though she searched for her ticket so she could match her seats to theirs. Sobieck thought she put her ticket in her bra for safe keeping and she searched as best as she could all the folds and crevasses but was unable to come up with the official ticket that listed the information she desperately sought. The Kat intervened and told the security personal to ignore the errant AOE member citing her huge consumption of alcohol as reasoning for her inaccurate information. The security people who by this time had tired of the situation were happy to have a reason to dismiss the incident. Upset about her failed attempt to have the couple ejected Sobieck cursed as she remembered she could have said that the man was using his crutches to beat the victims, an obvious attempt to single out Daniel VanLanen and as a way for security to identify the pair. Sobieck may have planned the incident well in advance for it was by her insistence that the VanLanens attend the Friday night activity. The Rattlers won the game in spite of the Axis of Evil, they defeated the Lansing Lugnuts 12 to 10

MEEUWSEN KICKS ONE TO THE CURB

As reported in a earlier issue of THE NEWSLETTER Chrissy Meeuwsen had found a steady boy friend, Jason Starkey. It seems however after two official dates the novelty of having a "steady" as it were has worn off and Starkey has been kicked to the curb. It is unknown for what reason Starkey has been invited out of Meeuwsen's life however suggestions of incompatibility have been whispered around certain circles.

KELLY WENZEL KICKS ONE AS WELL

Apparently this is not the summer for boyfriends as Kelly Wenzel after a year and a half with the same guy got fed up with his controlling nature and decided to eject him from her life. Even though Wenzel was with Steve since high school it didn't take long to get over him and warm up to a guy from Kentucky. The new boyfriend known only as "Blue Eyes" worked a construction project with his father at the San Louis Nursing Home while young nurses and aides swoon watching him work in his unbuttoned sleeveless shirts. Wenzel informs her mother that "Blue Eyes" will be coming to Blackies wedding with her, so everyone can get a first hand look at him.

SUE WENZEL SEEKS MOVING HELP

Sue Wenzel has successfully closed a deal on renting a duplex on Brookwood street in Ashwaubenon and will be moving in on September 1. Wenzel says she has enough help to move with her children and help is not needed. Her daughters Kelly, and Kari (Marge) will be cohabitating with her in the duplex and Kelly will assist with the rent payment in a prearranged agreement. Wenzel has been living with her son Eugene (Blackie) since her departure from Oconto in June there by putting a number of Oconto County deputies out of work.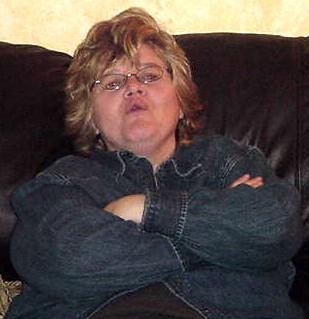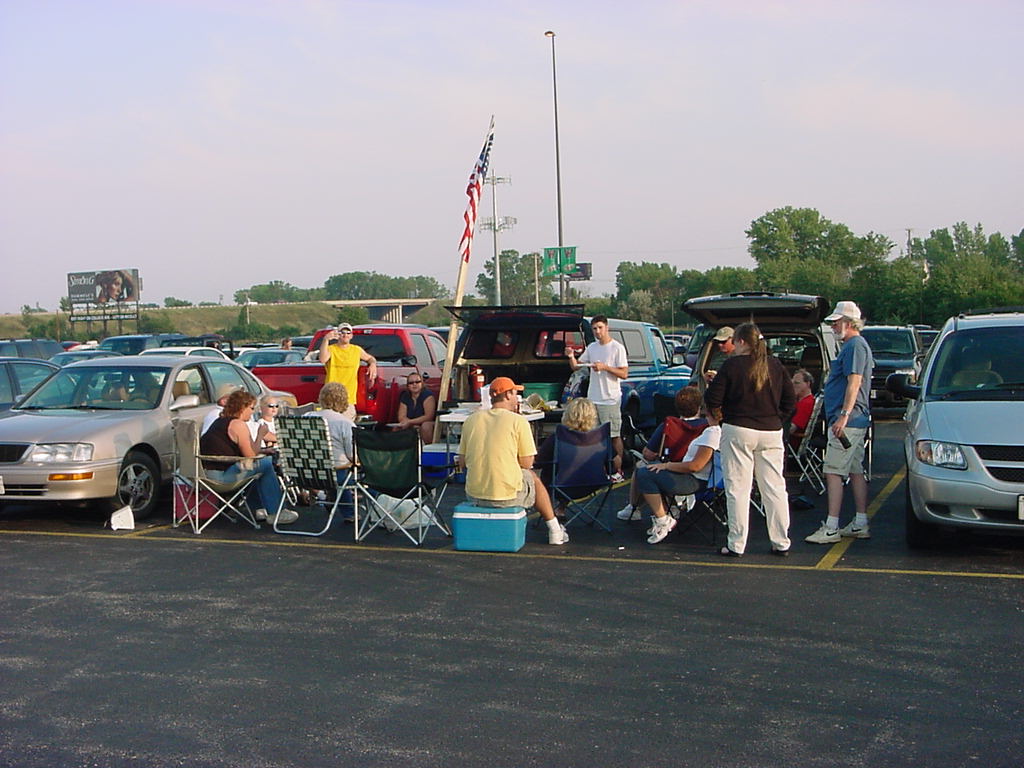 AXIS OF EVIL TAIL GATES BEFORE RATTLER GAME

AOE MEMBER TRIXIE SOBIECK UNSUCCESSFUL IN DISRUPTION ATTEMPT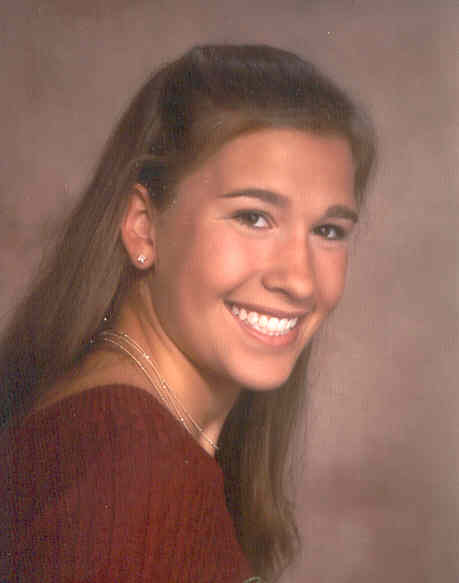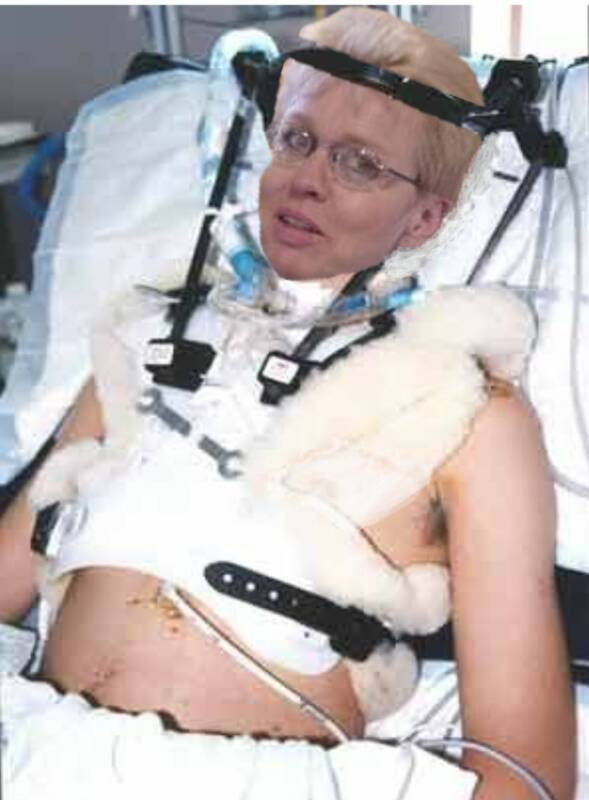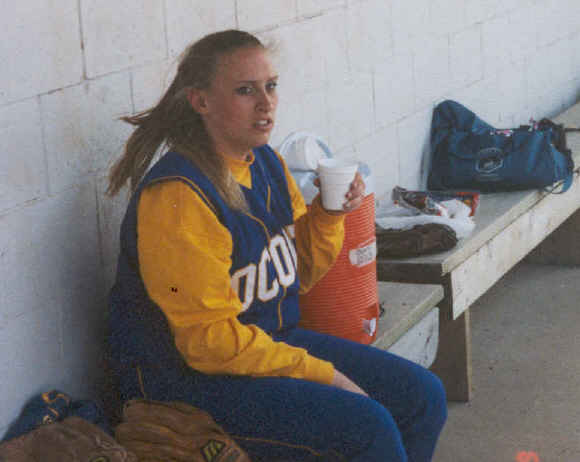 CHRISSY MEEUWSEN KICKS ONE TO CURB

KELLY WENZEL KICKS ONE.......GETS ONE