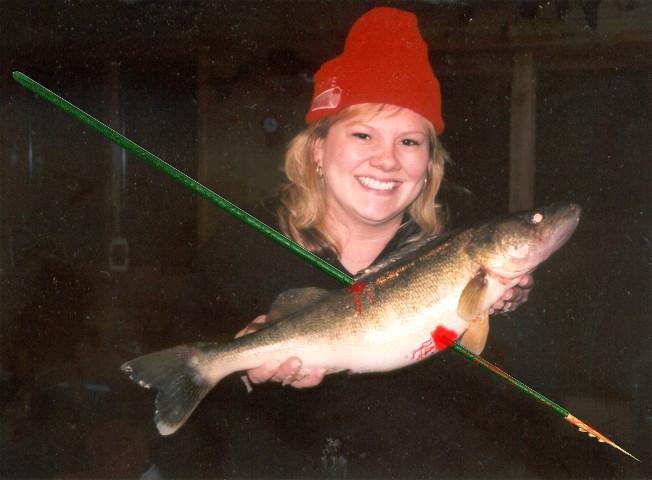 STEPHONIA TEACHES SON NATIVE CUSTOM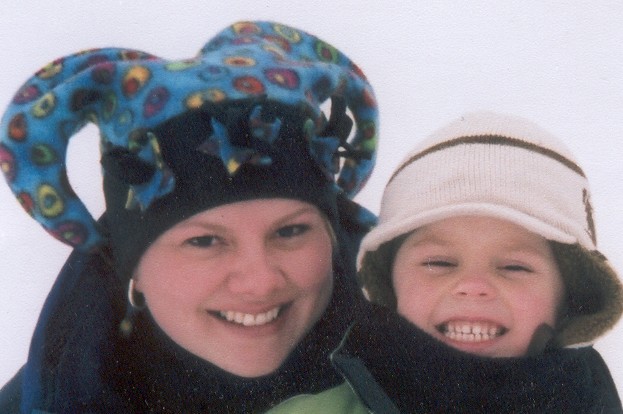 tephonia Prevost along with her son Bailey and husband Rick in a recent trip to the North of Wisconsin spent some time looking at the Sobieck cottage located near Land O Lakes and nearby Lac Vieux Desert. The Prevosts are considering the purchase of the property left vacant after the building of the new Sobieck cottage on North Twin Lake.

While up in the land of fishing and hunting Stephonia took advantage of the situation and location and decided it was a good time to teach

her son some of the finer traditions of the Oneida, her native people.  She thought ahead and instinctively packed her favorite spear along with a couple of 1000 watt flood lamps and

her most reliable generator just as her ancestors did hundreds of years ago.

The pair went out after dark to find fish that were spawning (the best for spearing) and indeed they were lucky as seen in the photo, Stephonia easily speared a nice one for herself. Bailey was not so lucky however and after several attempts throwing a spear he found himself in the water as he had forgotten to let go. Stephonia's innovative nature came in handy and she quickly fashioned a slip knot on a rope and fastened it around his neck so she could pull him out of the water before hypothermia set in. After several attempts however Bailey opted to toss the spear aside and use his teeth as a weapon, trying to bite his way into a trout or salmon. The younger Prevost was not as lucky, the pregnant fish were easily able to evade the Chucky Choppers underwater.

Mastering the ancient ritual of spearfishing and passing it on in the bloodline had done much good for Prevost by lifting her spirits. She had been moping around and it was plain to see she was not taking care of herself and needed the fulfillment of passing on the native American rituals to her son, even if she doesn't look like an Indian.

Stephonia is lucky to be married to such an affluent white man in the community, especially one as tall as Rick. Often a breed like her is ignored by both races because of racial hang ups,

Stephonia proudly displays her prize impaled on her favorite spear


such is not the case with her husband Rick however and he thinks he has done well by making Stephonia his bride. Rick also had noticed that Stephonia had been moping around and asked her about

it, Rick: "I noticed you've been letting yourself go, what's going on?" Rick trying to cheer her up went on to say that she should be thankful for her situation in life and quit moping around, Rick: "If you had looked like an Indian, I would have never married you."

After their little talk Stephonia felt better, she took a bath and combed her hair, and they immediately made plans to go up north where she could pass on the tradition of spearfishing to her son Bailey.

BRACKET BUSTER PARTY IN NEW REC ROOM

After months of preparation and remodeling Brandon Pickett finally successfully celebrated "Bracket Buster Days" at his home on Lindale Street in Ashwaubenon. The celebration which had been planned since last years March Madness began with a remodeling project which would occupy Brandon's time for most of the winter. Pickett transformed his basement which had minor improvements made by the former owner, to a delightful plush rec room capable of entertaining the most critical of guests.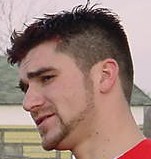 The transformation included the drywalling of the entire basement with over 80 sheets, the building of walls and the upgrading of the once meager bathroom with new  fixtures, tile, concrete shower base and

lighting yet to come. The floors in the entire basement had been covered by either carpeting or tile and new paint completed the job giving it a very livable look. Other amenities added to the room included a brand new pool table and a projector capable of projecting a high definition

television feed, DVD feed, or computer feed. Complimenting the projector was the addition of surround sound complete with special speakers wired in near the screen painted on the wall. As if that were not enough a talking dart board was added to keep people busy between games.

Visiting Thursday evening I counted 12 to 15 people at one time floating in and out, Brandon said that he expected about 20 to visit that night. He went on to say that Friday evening would bring the apex of attendance and he expected to see 40 people in his basement.

Food for the event was provided by the those in attendance and funded by the selling of raffle tickets which Clara objected to citing there was no need to charge people for visiting the house. The meat amount to piles of brats and hamburgers kept warm in a roaster. Clara said that 25 brats were kept in reserve and not cooked ahead of time. Along with the food were selections of snacks and side dishes and three half barrels of beer.

Jason Schmunkey said he is in charge of the bracket board and makes it up and has it printed at Kinkos, only he is allowed to make the updates.

More photos can be seen by clicking the thumbnails to the left. That's all the news that is news, see ya.

People relax as they watch the game projected on the wall