BEN ANNOUNCES CAREER GOALS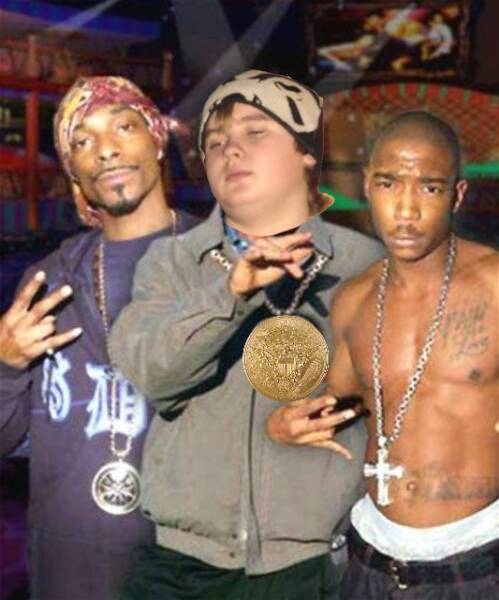 en Hansen has announced his intentions to turn the music world on it's ear and make a lifelong career of performing and recording rap. Hansen 14, has secretly been working on lines for his first release, a single entitled Wrightstown Bitch Im'a Respect You. Hansen is also planning, as soon as he is legally able, to change his name to The Notorious B.E.N.  Ben has been putting in a lot of time into his music and understandably his grades reflect his lack of attention regarding school work.

Ben's mother Jean Poquette Hansen has not been understanding toward his goals and has been putting on the heat regarding his grades. Jean Poquette Hansen: "I just think you should have a backup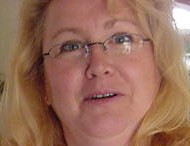 plan in case the rap thing fails." Hansen oblivious to the talent living in her own home is somehow stuck in the old groove of having basic academic knowledge to get you through life instead of taking advantage of

natural gifts that you have a responsibility to share with the rest of the world anyway.

A professional colleague of The notorious B.E.N., Fitty Cent meanwhile announced that "there's no room in rap for a white bread upstart like B.E.N." and he would cap his narrow ass the first time he saw him if he got the chance. Cent who was obviously feeling the pressure of tough competition made the announcement after The Notorious B.E.N. announced the title to his new single. Local law enforcement anticipating violent reactions from both sides called for a hip hop day of atonement.

BRENDA JUSEPHI IMPREGNATED

Brenda the youngest daughter of Joe and Lola Sobieck has been impregnated and is due in April. Jusephi married to Dee Jusephi in 1994 has one daughter,Lilly 13 but was not planning for another child. Somehow Jusephi was of the understanding that she was unable to become impregnated because of some medication she was on, however she had gone off the medication and voila.

Jusephi happy to be the mother of a newborn again was a bit frazzled at first to find out she was going to be a mother at 42 years of age but she is strong and healthy and is looking forward to the morning sickness.

ANOTHER BOY FOR BRITTANY

Brittany Sobieck will try her luck yet once more at romance. As you may know from reading The Newsletter Sobieck 21 has a large pile of spent boyfriends behind her parents plush Hobart home on Florist Drive. She has also been adding to a modest pile she started behind her upscale downtown Milwaukee apartment. But there has been no reportable activity in her life recently.

Since the holidays however that status has changed. Sources close to The Newsletter have confirmed that Brittany has been seeing a new boy.

Jean Poquette Hansen mother of The Notorious B.E.N.

The Notorious B.E.N. with two brothers from lower north Wrightstown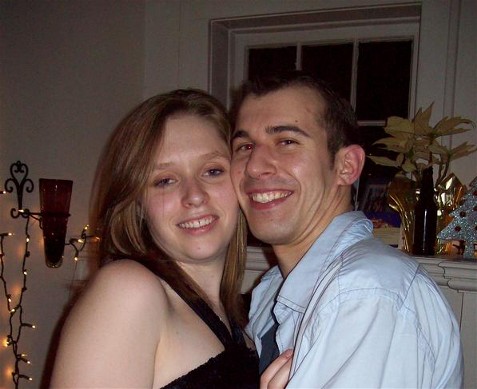 Researchers at the KAMR offices have uncovered a photo of the two celebrating at a high profile new years eve party. 

Our unnamed source goes on to say that the two spent the entire evening together at the New Years party and have been seen together numerous times since the gathering. It seems that Sobieck who had previously sworn off of all boys after previous break ups just can't stay away from the cookie jar and has once again indulged. Will this be the one, or will it end in tragedy as so many others did with another abandoned soul being cast out to the pile. We will bring you the facts as they happen here at The Newsletter.

That's all the news that is news, see ya.

Brittany Sobieck with a new boyfriend, Shawn

FIVE YEARS AGO IN

THE NEWSLETTER

JANUARARY 19, 2003

BAILEY JAMES TO BE BAPTIZED TODAY

  The Son of Royal Scott Mansion owners Rick and Stephanie Prevost will be baptized today thus squelching rumors that the family has turned to the church of scientology as the religion of choice.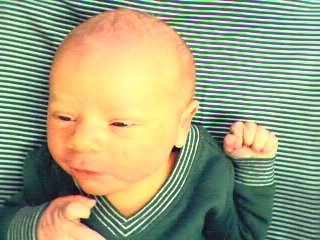 NEW   NEW   NEW   NEW   NEW