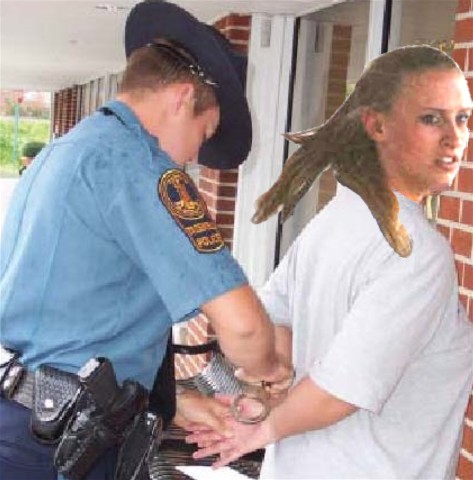 World News Headlines

Click headline to read story

WENZEL  DETAINED ON DISTURBANCE

                    elly Wenzel born and raised in Oconto Wisconsin has the curse of that community in her blood as it was made painfully clear on the 4th of July after a disturbance broke out at her west side apartment. Details are sketchy as of yet but apparently a number of people were involved in the disturbance.

The problem occurred as the disagreement came to a crescendo just as Kelly kicked in a door in anger separating her from her boyfriend Steve. The boyfriend then called police and after some questioning Kelly was led away from the apartment as the so called authorities mistakenly determined that she was the one most likely to cause harm.

The apartment was the meeting place for a number of friends and family at the time during the holiday when the incident occurred. Gary and Heather Meeuwsen were visiting as were several other people when the trouble erupted. Many of the group had attended the annual 4th of July party hosted by Peg and Dan VanLanen at their rural upscale Town of Oneida home on County Highway U. Apparently all the other parties involved in the disturbance that day had been drinking except for Kelly who bore the brunt of the unjust treatment handed out by the local Ashwaubenon Gestapo agents. The unwarranted display of force was upsetting to all parties visiting and deemed unnecessary and despicable.

Wenzel has since been issued a restraining order and ordered to keep a distance from her, what I assume is her now former boyfriend Steve and is back living with her mother Susan Wenzel on True Lane. Her elderly mother has graciously taken in the forsaken daughter along with her child Riley, or "Cletus" as he is know to Sue.

Just like the old days in Oconto Kelly Wenzel is unnecessarily handcuffed and taken away from her domicile.

RANDOM CHICKEN NIGHT TO BE HELD JULY 31

Chicken Night has not assembled for some time with the last occurring over a month ago on June 12th at Sidelines in Ashwaubenon. Everyone is in agreement that the summer is a busy time for events and less than ever Chicken Night takes precedence over other more important celebrations.  The Kat however feels that a midsummer Chicken Night is warranted and that the last Friday in July is the best time to have it. She has opened our modest rural Town of Oneida home and KAMR offices to welcome all CN guests Friday July 31 at the usual time. This is also an excellent time to sit outside around a fire which I will provide with a beer that you will provide. Mark your calendars. That's all the news that is news, see ya.