World News Headlines

Click headline to read story

POWER CUT TO SOBIECK HOME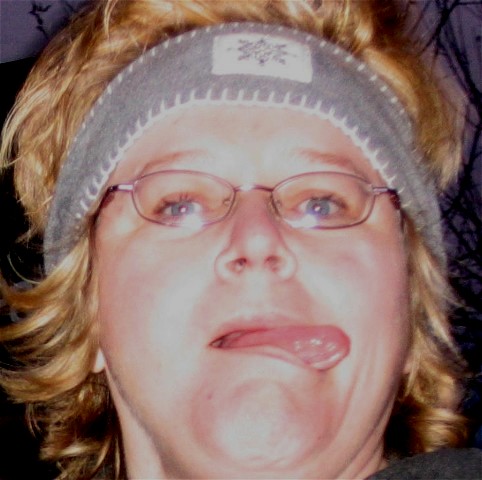 ileen "Trixie" Sobieck was livid when she found out that power to her modest Hobart home at 735 Florist Drive had been cut because of failure to pay the bill. Scratching her blonde oily head she could not figure out why the

bill should not have been paid when in fact she is on a budget plan and the payment automatically comes out of her check book. She immediately turned to Associated Bank for answers blaming them for not allowing the necessary transfer from her checking

account. After extensive investigation the bank told her that Wisconsin Public Service had indeed gotten their money and it had come out on time every time.

Sobieck went on to then talk to Wisconsin Public Service and find out what had happened to the payment explaining that she had proof that her bill had been paid. Insisting that she was in arrears the company at first refused to restore power to the Sobieck estate. Sobieck admonished the customer service representative and explained that she just had a "go around" with the people at Festival Foods about doughnut holes and she was in no mood for their incompetence. She won out and power was restored along with an apology and a $100 credit on her bill.

DAVE POQUETTE LEAVES HOBART FOR HOME

Dave "Peter" Poquette left his Hobart roots on Saturday morning to return to his home in Tennessee after a week of visiting with friends and relatives. Poquette made a visit to the National Railroad Museum on Friday along with this writer. While at the museum Poquette enjoyed the ride on the new open air car pulled by the museums Alco SW1 switcher on the scheduled ride. Dave also enjoyed a film about "Big Boy" locomotives in the museums theater. After a short walk around the grounds it was time to depart and pick up pizzas for a sort of bon voyage gathering at our home that evening.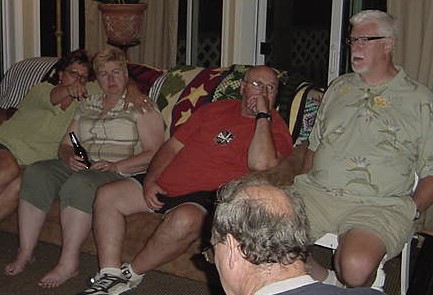 Dave Poquette (sofa)converses with R. Timothy Lade (chair)

HALLOWEEN PARTY PLANS ANNOUNCED

Cleen Poquette has announced the arrangements for this years Halloween party at their Hobart compound located at 747 Florist Drive De Pere.

The usual Food, games and music for dancing will be available for your party pleasure. The shop building is where it will be held and the bar will be on the car hoist as usual. It's BYOB again and it will begin with the annual playing of "War of the Worlds" at 6:30 PM . This years version will be from the WKBW archives and produced in the 70's. After that the dance music begins with breaks for games.

PUMPKIN CARVING PARTY ANNOUNCED

Once again Jean Poquette-Hansen is calling all parents to encourage their children to get their creative juices flowing and make a great carved pumpkin at her annual fall pumpkin carving.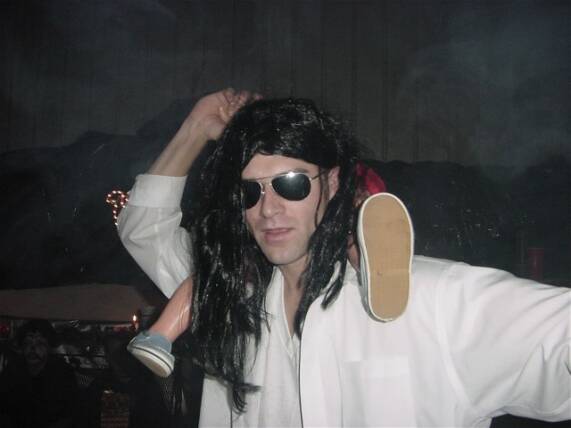 Brandon Pickett at Halloween Party as Michael Jackson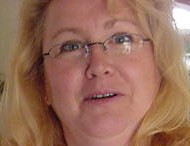 The event is to be held at her plush Greenleaf home on Crippen St. Saturday October 24, 2009. Along with the pumpkin carving will be a pot luck feed bag with everything from sloppy joes to The Kat's famous chili.

Wine and spirits will also be consumed in modest proportions.

The Carving activity will take place in the afternoon in the attached garage of her home. The pumpkins that the children bring along will be the actual pumpkin they carve and take home. Jean Poquette-Hansen has assured all the children that James will keep no pumpkins.

REZEK-SOBIECK HOUSEWARMING NEXT WEEK

Next Saturday September 19 will be Jeremy Rezek and Brittany Sobieck's housewarming party in the small community of Poland. The house located at 5171 State Highway 29 will be the center of attraction as the party gets underway at 1 PM and goes until "Late" as described by Sobieck's notice.

That's all the news that is news, see ya.