US News Headlines

Click headline to read story

          t's been a long time since the Oneida Red Gobblers came out on top of the Hobart Blue Jell-O's but this year they managed to pull it off.

Game day morning began like the spring did this year, damp and almost raining and a few drops falling once and a while with the temps around 36 F. By noon the wind had picked up and the mercury was dropping and by the time we kicked off the temp had dropped to below freezing. The steady westerly 20 mile per hour wind combined with the dropping temps made watching the game something akin to the Packers ice bowl by half time. By the end of the game the temps were down in the low 20's with the wind still howling.

Prior to the game's start co-announcer Dave "Peter" Poquette accidentally fell just outside of the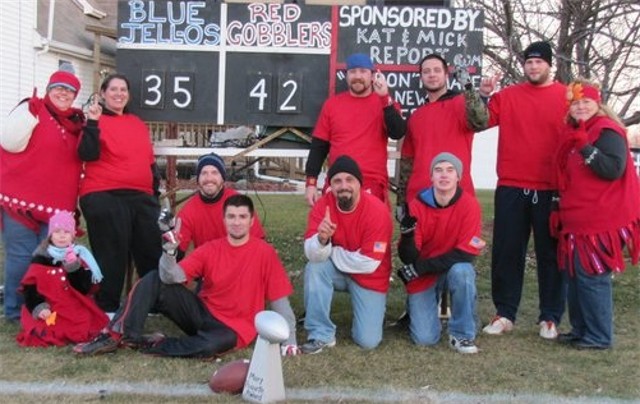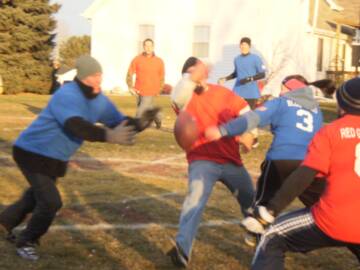 broadcast booth when the steps to the booth collapsed. It was determined that a defective stair runner had split causing a separation of the stair treads from the runner. Poquette fell to the side luckily and not forward where he may have pinned his leg and broke it. In the end he was a bit scratched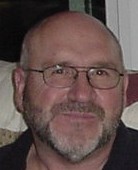 up and his pride a bit bruised.

With the Red Gobblers winning the coin toss they elected to defer and kicked off to the Blue Jell-O's. Series after series the two teams matched each other on scores. The Red Gobblers managed to get a number of turnovers in the game with at least one in the first half. The Gobblers intercepted the ball in two consecutive Blue Jell-O processions scoring each time near the end of the third quarter. This created a lopsided score board for the first time in the game. Yet another touchdown seemed to put the game out of reach for the Jell-O's but a late rally in the fourth quarter kept the fire alive in the Hobart team. Oneida managed to hang on to make it a 42 to 35 victory for the Gobblers.

Oneida Red Gobblers pose for a victory photo after their win on Poquette Field

During play action the ball is up for grabs

The half time activity was again Rock Paper Scissors and was won by Bailey Prevost. The 50/50 Raffle was won by John Poquette who took home $150.

The seven man one woman team is already planning next years strategy to keep the trophy in Oneida.

That's all the news that is news, see ya.