US News Headlines

Click headline to read story

SOBIECK TRAVELS TO VISIT TEXAS BROTHER

Michelle VanLanen-Sobieck traveled to Texas to visit her younger brother Lee who lives in the city. VanLanen-Sobieck the eldest of the 5 offspring of Daniel and Margaret VanLanen made the journey on


Wednesday of  last week to the longhorn state and expects to be back to her home in Wisconsin by Wednesday of this week. Sobieck 40, and accomplished quilt maker is also keeping her eyes open for good deals on quilting material and if she finds enough good material she plans to make enough quilts that she can force quilts on all of her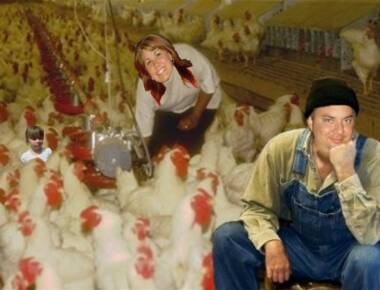 ndiana State Trooper by day, but at night he's Indiana's "Chicken Man", that's the saga playing out at the Richeys in Indiana.

Chris and Aimee Richey have been married for 12 years and ever since Chris can remember he wanted to raise chickens. Richey 42, cultivated his interest and peaked his knowledge by studying poultry on the internets. When he felt he had read enough poultry stories Richey bought 50 chicks on March 10. Of course because the Richey's live in a very upscale neighborhood of Indianapolis they chose to house the chickens in a coop at his sisters home in the less affluent suburb of Montclair. A 30 minute drive from the Richey abode the Montclair facility offers the chickens enough food and water as well as plenty of gravel to peck at in the yard.

Feeding time is a family affair of the Richey's with Aimee and Anya joining in at every chance. Aimee often tends to the watering of the poultry while Chris feeds and counts the chickens on a daily basis. Anya often wanders off into the mob of chickens and after being pecked up a bit is rescued by either her mother or father from the angry and aggressive chickens.  Richey's chickens grew extremely large in a short time which Richey attributes to the near by nuclear plant. Richey: "I can make a bundle if I can duplicate the size of these chickens every batch." Richey hopes to raise the chickens for butchering, and he has been talking to a certain fast food franchise about turning his cluckers into chicken McNuggets. Richey plans to have an assembly line of sorts on butchering day as he operates the axe while Aimee chases the running headless chickens. Anya will be charged with picking up the heads and putting them in a coffee can.

Richey hopes to turn the corner on the chicken farm by next year and if everything works out he and Aimee plan to have several more children to tend to the chickens as the farm grows. Aimee is not impregnated at this time however.

These extra large chickens are going to pay off big according to Indiana state trooper / chicken farmer Chris Richey

relatives. Sobieck has not contacted anyone since her arrival in Texas.

That's all the news that is news, see ya.