US News Headlines

Click headline to read story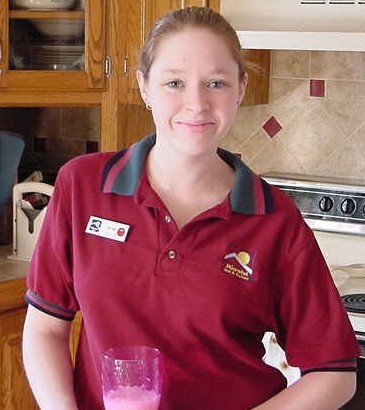 rittany Rezek will be done with school this week. Rezek 29, a lifelong student has wanted to work in the medical profession for as long as she can remember.

Since she was a small child conducting experiments on dilapidated animals that wandered out of the woods behind her parents modest Hobart home, to when she dissected cadavers in anatomy class Rezik has wanted to work on the human body. Now that her 23 years of schooling are complete she will become a physical therapist's assistant. Rezek has accepted a part time position as an assistant to the the physical therapist at Holy Family Hospital in Manitowoc. Even though the position is only 25 hours a week and considered part time, Rezek says that she will be working a lot more hours than what she was told the job entails due to circumstances with other employees.  Of the 8 assistants to the therapist 6 are already impregnated and are expected to temporarily leave their employ within the next few months. Rezek who was married less than a year ago assures everyone that she is not impregnated herself after reporters from the KAMR questioned her several times about her situation.

Rezek worked a multitude of jobs to put herself through all the colleges including working as a micromaid at the local microtel in Ashwaubenon

Rezek's husband Jeremy has repeatedly made requests to fertilize her eggs no less than 7 times, however Brittany insists that her career come first and that she establish herself as a medical professional before being with child.

Rezik want's her career to come first

Rezek will graduate from the Physical Therapy Assistant Program at NWTC Wednesday night at 6 PM at the Resch Center in Ashwaubenon. If you plan to attend we suggest you bring an expensive gift to present to Rezek after the ceremony to help offset the huge expenses of her education.

SOBIECK AND ZESKE CELEBRATE ONE YEAR

Jenna Zeske and Logan Sobieck will celebrate their one year anniversary today. Zeske and Sobieck dated

Zeske: "Logan was too shy to kiss me until the third date. The kiss was like fireworks and our lips matched perfectly."

Zeske recently rejoiced over a good turn of luck in her family when her mother, who was diagnosed with breast cancer

October 1st. was recently given a clean bill of health after double mastectomy surgery. Jenna's mother, Linda Zeske is being cared for by Jenna who is nursing her back to health. Zeske is putting her skills to use on her own mother because she is studying to become a registered nurse. Zeske rejected lower forms of nursing in favor of the registered nurse because as in her words "that's where the big bucks are."


Zeske was sickened Saturday night by the smell of her dog Oliver who had been in contact with another dog's feces, that prompted Sobieck family members to immediately suggest she was impregnated, Zeske repeatedly reassured everyone she was not with child. She did offer to take a pee test.

Although Sobieck has hinted at marriage, Zeske is apprehensive about losing her last place in alphabetical order and automatically moving up to the S's and 19th place.

That's all the news that is news, see ya.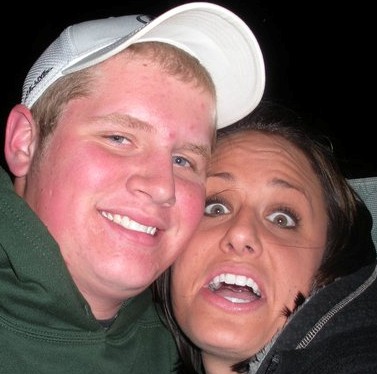 for the first time three days after they met at Sidekicks bar in De Pere when Zeske asked Sobieck for a ride home. Zeske came to the Sobieck residence for their first date and met up with Logan to watch a movie at their home. The couple talked for a while after the movie and Zeskat 2 am.

Logan Sobieck (left) and Jenna Zeske