KEEP UP WITH NEWS YOU CAN ALWAYS USE

The News for Sunday April 12, 2015


US News Headlines

Click headline to read story

Search this site for anything

BAND POSSIBLY FOUND FOR DECADES PARTY

That's all the news that is news, see ya.

Many spend the summer by the Sobieck pool swilling alcoholic beverages

Lavish poolside amenities add to the already stunning nearly Olympic sized pool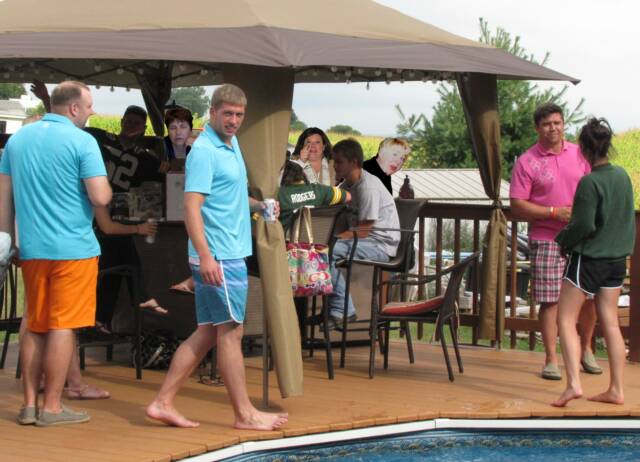 n what may be a great coincidence, The Kat may have found a band to perform at the decades party scheduled later this summer at the Sobieck home on Florist Drive. The home located on a natural hill offers the type of terrain best suited for a concert event. The name of the band cannot be released as of yet until arrangements can be firmed up.

The band was seen by this writer and The Kat Saturday night at an unidentified bar in down town Oneida. The local band is for hire but it is not known if the date is open for them to perform or if negotiations on price have been discussed. The Kat was well suited with their performance and they are brothers of her good friend Paula "Pogi" King. Pogi was known to play accordion at one time and the Kat would like her to perform at the party if the band gets hired. Of course this all hinges on what the other members of the organizing arm of the 5 birthday families decide as well. For now lets say it's on the agenda for the next board meeting for the party.

POQUETTE DUE TO RETURN SOON BEFORE THE DECADES PARTY

Joanne Poquette has put everyone on alert that she is planning to return to the Oneida area soon to catch up on friendships and possibly attend a "Fat Club" meeting. The displaced Joanne Poquette now living in Batesville Indiana has vowed to return to the Oneida area once every 6 weeks just for such things. Poquette who moved to Indiana to be with her daughter and grandchildren used to visit them at that same frequency and has determined that is the optimum amount of time for returning to visit family in the Oneida area. While visiting she is expected to be staying at the Katandmick headquarters.