KEEP UP WITH NEWS YOU CAN ALWAYS USE


US News Headlines

Click headline to read story

Search this site for anything

That's all the news that is news, see ya.

The News for Sunday February 14, 2016

Proudly Reporting For 15 Years

Eileen "Trixie" Sobieck has been unofficially diagnosed by a doctor to have ADHD

Eileen "Trixie" Sobieck relaxes in her pool during a hot day last summer after planning the decades party

eople have been suspecting for a long time that something was wrong with "Trixie" as she is referred to by friends and family, but not in a physical way but in a mental way. No I don't mean that people thought she was crazy, well maybe some did, but never me, I always knew she had something holding her back that she couldn't control.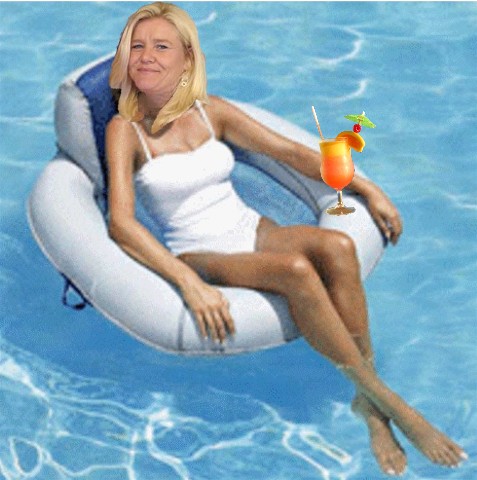 Such is the case as she has been diagnosed with ADHD a medical condition whereby the individual has trouble staying focused and is hyperactive. Sobieck is always active and could be considered hyperactive at times. ADHD is the abbreviation for attention deficit hyperactivity disorder and usually affects children and sometimes can be continued through adolescence however is somewhat rare in adults. Sobieck's regular physician was tipped off to the possibility of the condition when during an exam, while the doctor was explaining Sobieck's medical condition to her she interrupted her to tell her that some of her hair was out of place. Sobieck's doctor then asked her if she ever had a test done for ADHD.

Sobieck was given medication for the condition but complains of intestinal disruptions when taking the drug. When asked if she thought the drug was working she looked at this reporter and asked if there were more cookies.

POQUETTE FAMILY RECIPE IS THE SPECIAL OF THE DAY

Ben Hansen, chef at the Black Cat White Dog restaurant on South Broadway Street in Green Bay has pulled out one of his families most cherished recipes to try as a special in the restaurant. Hansen was pleasantly surprised to find that the meat pies that have been produced in the Poquette family kitchens for years also pleased those who have ordered it for the special of the day. Instead of baking a large full size pie Hansen bakes little individual pies and serves it with a side of their choice. Hansen, the son of Jean Seidl and Steve Hansen, was delighted to find that people really liked the meat pastry and plans to make it in a regular rotation at the restaurant. 

SOBIECK CHANGES NAME OF SHOP

L & E Machine is officially gone into obscurity as it's name has been replaced by Rebuilt Performance Machine or RPM for short. Justin Sobieck made the announcement on Thursday as he officially took over the shop from Earl Poquette who had run L&E from that location for 35 years. Poquette returned to the shop for one last time on Friday and worked for a couple of hours and then went back to his modest Hobart home on Florist Drive. Poquette plans to take a winter vacation and has not hinted as to what might be next for him in his retirement. In the mean time Sobieck is looking for new business and is accepting referrals from anyone.