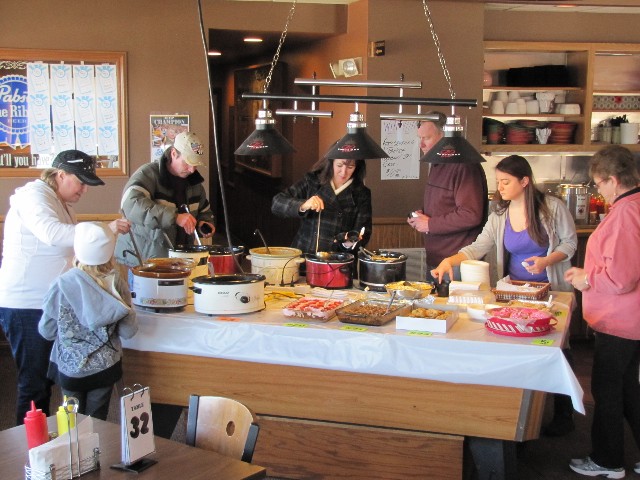 US News Headlines

Click headline to read story

SCHILLING WINS CHILI FAN VOTE

Search this site for anything

The crowd gathers around the serving table to sample the 7 chili's at Sidekicks

Even though Shilling won the popular vote, the official "Best Chili" title and prize money is given to another chili by the judging panel. Kat, Trixie win nothing, they loose.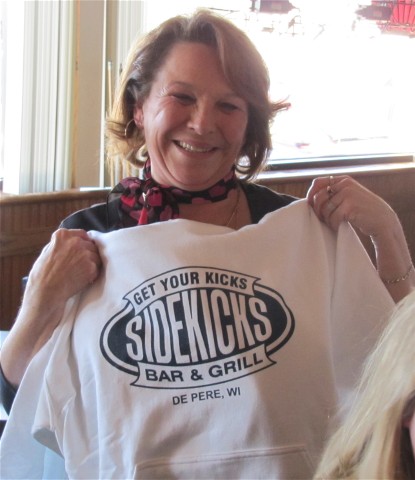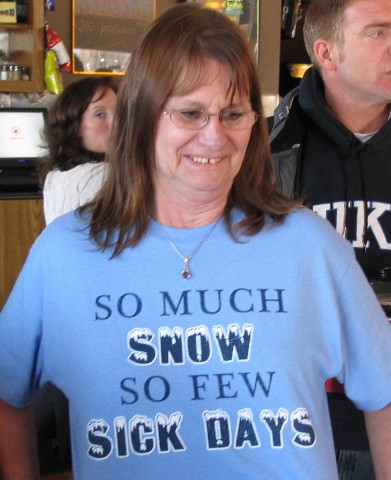 ith Winter in full swing, and with us being in the middle of the long drag period with no holidays and so long before spring, it is a welcome break to have a chili cook off to break the monotony. This years cook off held this afternoon is analyzed in depth.

Last year this same contest was held at Sidekicks in De Pere and the winners were Ellie Shilling for her Chili and Eileen "Trixie" Sobieck for her caramel bars desert. This years contest held at about the same time of the year sported roughly the same chili's and deserts as last years.

Tasting began at 1 PM and continued to about 2, roughly ending about an hour before the advertised end time, for which I suspect occurred because most of the chili was gone. Last years contest lasted longer because people were discouraged from filling up on chili by the bowl until the sampling was complete and voting had ended. This years contest knew no end to the sampling and open feeding because the bowls were put out in the beginning of the competition. People simply picked out a chili and ate only that, leaving only the culls for late comers. 

The winners of the chili competition were selected by two sources first by popular vote of bar patrons of which Ellie Shilling won for the second year in a

row, with the prize being a Sidekicks Tee. The official winner taking home the prize money was selected by an official panel of judges. Interestingly none of the chili's winning the popular vote won on the official vote. The so called official tasters could not have done a worse job of judging if

they tried in this writers opinion and in one case they even awarded a lower prize to a chili made with white sauce and chicken. This Chili was disqualified in my estimation due to the fact that IT'S NOT EVEN CHILI. While Ellie's chili did not rate as the best in my estimation It was by far better than the choices the so called professionals made.

Here is a rundown of the samples available according to this writers pallet.

Description

Good color, low heat, poor taste, beef whole and not ground     Rating 3

Color fair, moderate heat, ingredients pleasant to see, good taste   Rating 7

Greasy appearance, low number of ingredients, good flavor, low heat,

Rating 5

                     Description

Color good, heat mild, taste good, Rating 6

Disqualified for not being chili, chicken in white sauce Chicken Alfredo. Rating 0

Appearance good, Heat low,  flavor good, meat chunks too big, Rating 5

Good color, moderate to low end of high heat, good looking ingredients, good flavor Rating 8

clearly the winner among all entry's

Many known to KAMR readers were in attendance Trixie, Kevin Sobieck, Brittany, Jeremy Rezek, Scott and Judy Treml, Justin Sobieck, Ellie Shilling, Rick and Stephonia Prevost, Snow Danforth, and Jean Poquette-Seidl.

Brittany Rezek had lost a diamond from her engagement ring and it was thought to be in the chili, Snow Danforth scrambled to find the stone before someone chomped into it

breaking a tooth. But alas it was not found and the diamond is still missing. Rezek asks those attending to check for the diamond for the next couple of days and if you find it please return it to her, after a thorough washing and disinfecting of course.

Danforth became the center of attention when she searched for the diamond falling on her knees before the table of food breaking her left kneecap. Danforth simply

Ellie Shilling shows off shirt

Snow Danforth sporting namesake shirt

whiped on a brace and continued to swill beer and down delicious bowls of chili to ease her pain.

That's all the news that is news, see ya.