news from Oneida - news from Oneida - news from Oneida - news from Oneida




"AT THE KAT AND MICK REPORT WE DON'T MAKE THE NEWS, WE JUST REPORT IT"

Carpet Cleaning:
  Perry Peterson, First Choice Carpet LLC says "My company is the
CHOICE
that makes the difference". New this year is pressure washing. Do you have an oil spot in your garage that you would like to get rid of? Well, we can do that and more, give us a call at (920) 884-9963 or e-mail me at
perryp@greenbaynet.com
Perry is the son of Bob and Mary Phillips.


THANKSGIVING DAY

NOVEMBER 24, 2005

JOANNE LADE FEARS LOSS OF JOB

           ecently there has been a flurry of instances of people out of work both in family and out if you have been keeping track. Many people that you speak to these days are unsure of their current employment and are living on the edge as it were not making any large financial ventures until they feel comfortable with their future. Such is the case with Joanne Lade who reports that her future at her current employer American Medical Security is at risk because of a recent buy out of the well known insurance provider. The problem stems from the new owners who believe that the services that Joanne provides for the company, legal in nature, are best done on a contract basis and not in house. The news came to Lade in the form of an audit of the department where as all the employees were monitored with the new employers probing to find out what is actually done in the department, phone calls monitored, emails read, incoming and outgoing mail read and noted. A decision is to be made before the first of the year as to whether Lade is to continue at the firm or be notified that her services are no longer needed. It is not known if the employees of the legal department, which are few, would be allowed to continue employment in another part of the firm or simply be laid off. Also affected by the decision would be Joyce Perock, formerly Joyce Berne, formerly Joyce Kazik.

STINKY DEAD - JOANNE NOT SORRY

At a recent dinner party at the Lade home the couple was asked where their cat Stinky was. Joanne calmly  and unceremoniously announced that the feline was dead. It seems that the elderly feline was having "fecal accidents" after consuming more then his share of food from the cat kitchen. Joanne went on to explain, after cleaning up after him a few times she took him to a feline death camp where he was summarily executed, by her order, along with other unwanted cats. Lade knew about the camp after she sought it out several years ago when she had a trouble making cat put to death in the same manor after he revolted and made extensive noise at the former residence when he was frightened. After the animal expired Lade ordered the body burned not allowing the pet burial ritual to be carried out by professionals Jean Poquette Hansen, and Trixie Sobieck.

The decision had been made in a split second when Lade clearly was in a troubled state of mind over her employment dilemma without any consideration over stinky's loyal years of service to the family or his advanced years. Older pets like people have accidents, it is a fact of life, but do we kill them for it? Pet euthanasia at the Lade household lives on, but will it stop with pets? Who will be next? Bud Lade if you can read this, lock your doors.

LOGAN SEEKS GAINFUL EMPLOYMENT

With child labor laws being restrictive enough to keep Logan Sobieck at home until now the lad has had a free ride on the Sobieck coat tails. That is to change soon as Trixie Sobieck has ordered Logan to abandon some of his posse duties, which he performs pro bono, and secure employment which he will be compensated for. The youth is seeking employment at McDonalds or another fast food outlet to earn money to feed his thirst for welding wire and bastardized mini bikes.

JEAN POQUETTE HANSEN TO HAVE SURGERY ON EYES FOR CATARACTS

Jean Poquette Hansen who recently has been having trouble seeing went to see an eye doctor to get new glasses but was told that she needed surgery to remove cataracts which had developed on her eyes. Poquette Hansen insisted that surgery was not needed and requested stronger glasses instead. The eye doctor thought otherwise and ordered Poquette Hansen to have surgery. A date for the surgery has not yet been set. That's all the news that is news, see ya.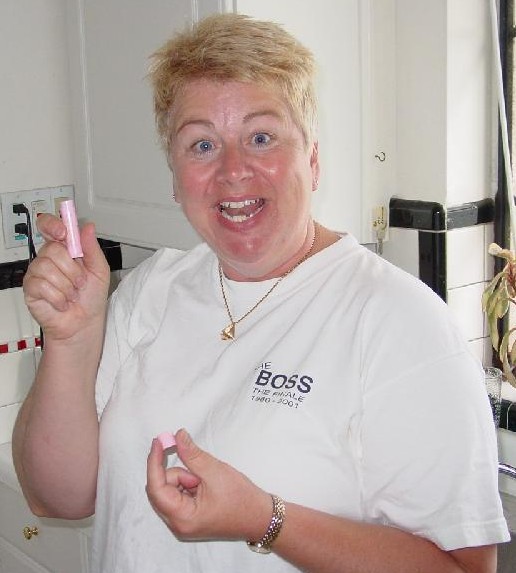 JOANNE LADE SURPRISED AT THE NEWS OF POSSIBLY LOSING HER EMPLOYMENT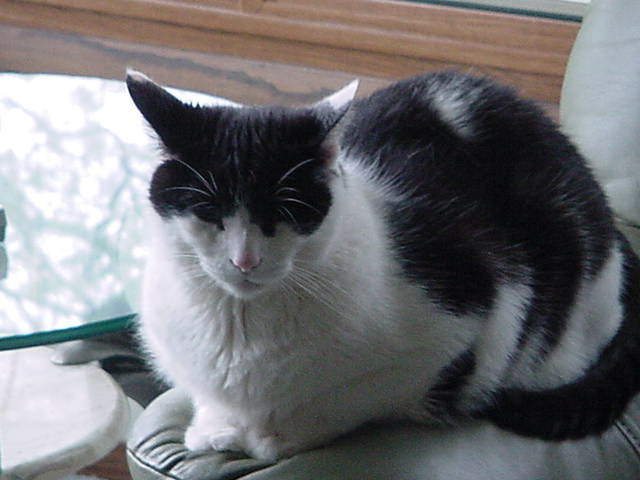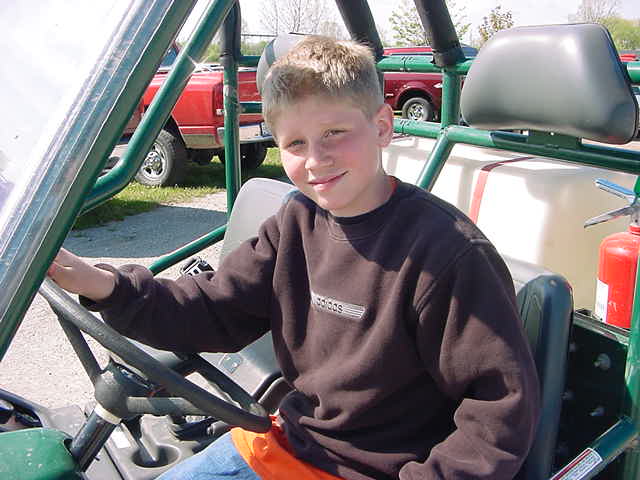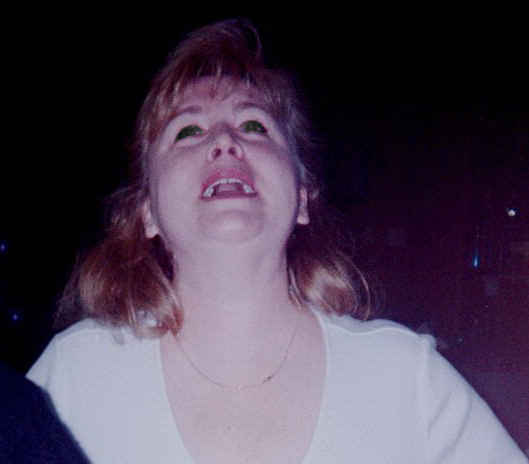 JEAN POQUETTE HANSEN LEANS BACK TO APPLY EYE DROPS AFTER LEARNING SHE HAS CATARACTS

LOGGIE DOGGIE TO WORK AT MCDONALDS

THE DECEASED CAT KNOWN AS STINKY

AIMEE TERRIFIED DURING HIGH SPEED CHASE

     n the south where it is customary for multiple family members to share the same vehicle (Example: Bo and Luke Duke sharing The General Lee) so it is with the Indiana State Police. The State coffers are not exactly flowing over with funds so in lieu of wages Indiana advises the troopers to use their squad cars as if they were their own vehicle. Troopers while off duty are allowed to use the cars for such daily routine errands as grocery shopping, traveling to doctor and dentist appointments, and visiting local strip clubs. It was one of these daily errands with the squad, going out to dinner, when Aimee Poquette had several years of life scared out of her while in the company of Chris Ritchie.

Ritchie, a dedicated Indiana State Police Officer, takes no leave of his responsibilities even when off duty. While on the way to dinner with his best girl Ritchie observed an obvious intoxicated motorist traveling in the opposite direction at a high rate of speed. He snapped into action turning his squad around and gave chase much to the chagrin of Poquette who by this time was having trouble controlling her urine flow. After much tomfoolery by the motorist such as stopping and starting and weaving around Ritchie finally got the drunk stopped where verbal exchanges then took place. Because he was off duty a backup unit was called in to transport the individual to the station. Poquette (who was a basket case by this time, cowering with her head in her lap), and Ritchie were then off on their merry way to dinner after a short trip back home so Poquette could change her soiled undergarments.

J P HANSEN SETS DATE FOR SURGERY

Jean Poquette Hansen will be having cataract surgery on December 12 and 15 on each eye respectively. Hansen who has been recently diagnosed with the eye affliction admits that going untreated for diabetes for a long period of time is probably the cause. Hansen who in September learned she had diabetes complained of poor night vision along with deteriorating regular vision the past few months. Now along with being blonde she will be blind for a few days as well. Hansen the reigning Queen of Chicken Night claims the eye problem will not affect her duties in the chicken kingdom of which daughter Ashley eagerly awaits control of. Ashley gained control of the kingdom briefly in 2002 after a fire in the palace destroyed a valuable chicken limousine not allowing the Queen access to the Friday night chicken ritual.

TURKEY BOWL LESS THEN 2 WEEKS AWAY

With the Turkey Bowl less then two weeks away players are gearing up for another holiday of football action at Poquette Field. Willy Cornelius known on the field as "The Bus" has been running a couple of miles a day to get back in shape and he reports he is a lean mean football playing machine. Cornelius, captain of the Blue Jell-O's, who has had the "Mary Poquette Award" trophy in his keeping for two years running says he is not willing to give it up yet and is vowing to win the trophy back again this year.

Red Gobblers captain Brandon Pickett says this is the year for them. The absence of his brother Alex for three years is what is holding the team down but vows that this year a newcomer to the team will make the difference. Steve Purshock's son "Iron Man Purshock" has been signed for the Oneida Red Gobblers and he says he is not taking a back seat to the Hobart Blue Jell-O's even on his first year in the XPFL.

Visitors to the annual event have been reserving tickets on airlines world wide awaiting the special day. Be sure to bring your own seats and be prepared for another great game.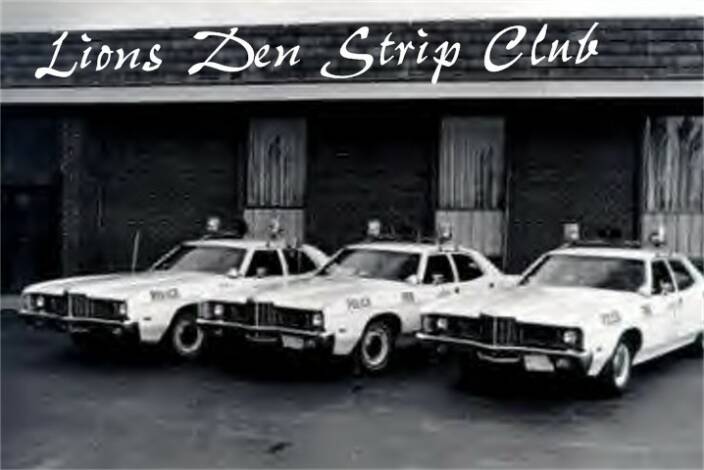 OFF DUTY INDIANA STATE POLICE USE CARS FOR PERSONAL USE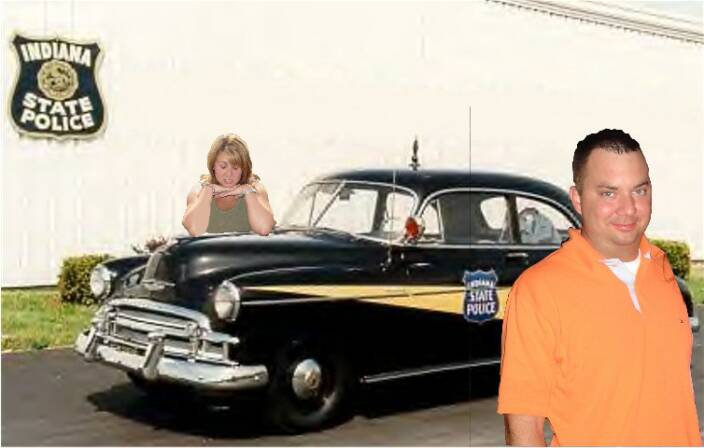 CHRIS GRINS WHILE AIMEE COMPOSES HERSELF AFTER CHASE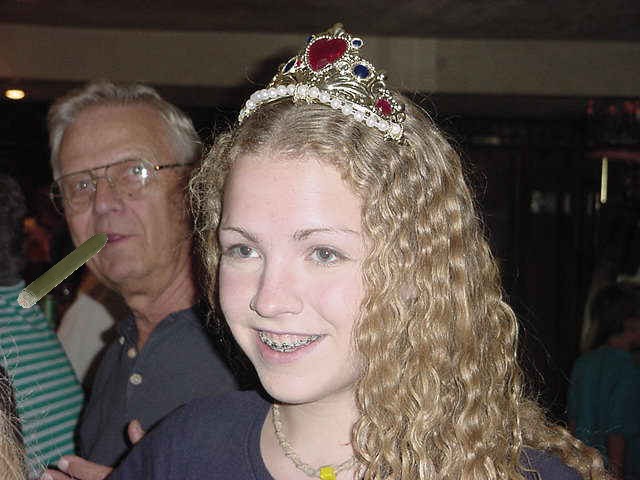 ASHLEY HANSEN WITH CROWN FOR A BRIEF MOMENT IN 2002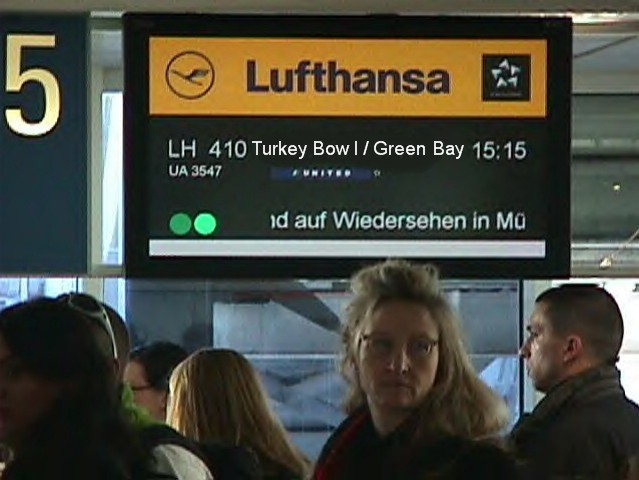 TURKEY BOWL FANS IN GERMANY DEPART TO LAST YEARS EVENT