PLEASE JOIN US FOR TURKEY BOWL 2003

PLACE: POQUETTE FIELD

DATE: THURSDAY NOVEMBER 27, 2003

TIME: 2PM

SEATING: BRING YOUR OWN

PREGAME STARTS AT 1:30 PM

OFFICIAL XPFL RULES

THIS IS FULL CONTACT FOOTBALL WITH NFL RULES WITH THESE EXCEPTIONS

THE 5 SECOND RULE - NO ONE CAN BLITZ THE QUARTER BACK UNTILL 5 SECONDS AFTER THE BALL IS SNAPPED.

NO FIELD GOALS - BECAUSE OF THE FACT THAT THERE ARE NO GOAL POSTS.

ONLY ONE FIRST DOWN IS ATTAINABLE - BECAUSE OF THE SHORT FIELD AND THE LIMITED AMOUNT OF PLAYERS THERE IS ONLY ONE FIRST DOWN AND THAT IS THE 25 YARD LINE, MID FIELD

ON SIDE KICKS ARE PROHIBITED.

DISPUTED PLAYS -

BECAUSE THERE IS NO TELEVISION INSTANT REPLAY, PLAYS IN DISPUTE WILL BE DECIDED BY MAGIC EIGHT BALL.

9 PLAYERS PER TEAM - TEAMS ARE LIMITED TO 9 PLAYERS BECAUSE OF THE SMALL FIELD. IF A TOTAL OF 18 PLAYERS ARE NOT AVAILABLE THEN PLAYERS MAY BE TRADED TO  THE OPOSING TEAM TO MAKE THE SIDES EVEN. SHOULD AN ODD NUMBER  OF PLAYERS OCCUR THEN 1 OR MORE PLAYERS MUST SIT OUT.

THE CLOCK - THE CLOCK WILL STOP ONLY FOR THESE CIRCUMSTANCES.

    CHANGE OF POSSESSION

    CHARGED TIME OUT (2 MIN.)

    OFFICIALS TIME OUT

    BALL OUT OF BOUNDS

    PENALTYS


          THE CHEERLEADERS

      CORNER

TEAMS ARE NOT LIMITED TO ANY NUMBER OF PLAYERS, IF MORE PEOPLE WANT TO PLAY THEY WILL BE ADDED TO THE ROSTER ON THAT DAY. THE XPFL RESERVES THE RIGHT TO TRADE OR MOVE PLAYERS AS IT SEES FIT.

   REFEREE             AND

  LINE JUDGE

EARL POQUETTE JR.

SAM POQUETTE

Top ten signs that it was too cold at the Turkey Bowl

10. Officials report exposed butt crack getting cold when picking up flag.

9. Sound took twice as long to travel to other side of field from public address speakers.

8. Iceberg lettuce served at Thanksgiving pre game dinner harvested from real ice berg on Poquette Field.

7. Complaints overheard from incontinent cheerleaders of slacks freezing to leg.

6. Chilled adult beverages served on sidelines had to be preheated.

5. Blue Jell-O quarterback caught warming his hands in the centers pants.

4. Red Gobbler place kicker injures foot by kicking football frozen to field.

3. XPFL announcers report cheerleaders were the only thing hot on the field.

2. Spectators slicing up chunks of Poquette Field frozen tundra for souvenirs.

1. Turkey mascot chased off of Poquette field by polar bears.

AARON MEEWSEN   

9      
GARY MEEWSEN

     1
ADAM MEEWSEN

     7
RICK POQUETTE             10

BOBBY CARTER

      11
BRANDON PICKETT          4

BEN ZANON                       6

BOB VAN LANNEN            12

BRIAN ESHLEMAN             5



LOGAN SOBIECK           1

JUSTIN SOBIECK          12

SARAH POQUETTE        14

RICK (APRILS BOYFRIEND)   6

JULIUS CORNELIUS       10

J. D. BUNKER                 12

BEN HOCK                      11

JOE SIEHR                       2

STEVE PURSHOCK          3

DEE JOSEPHI                   9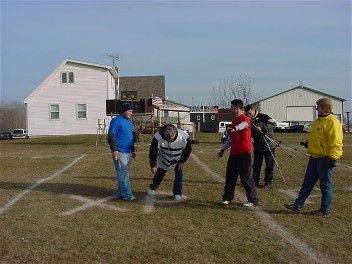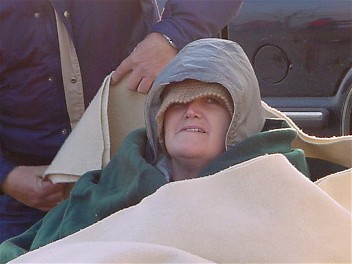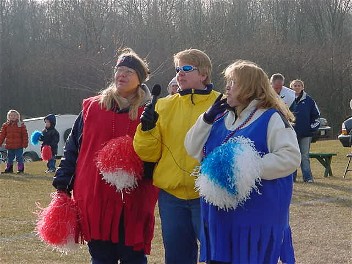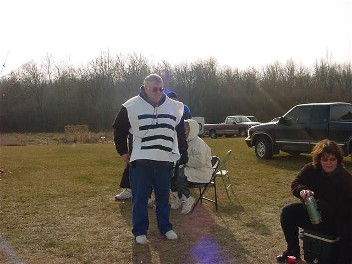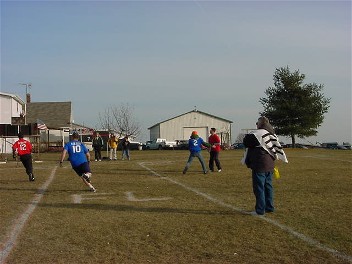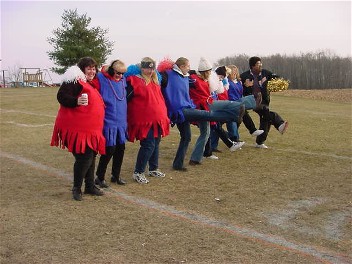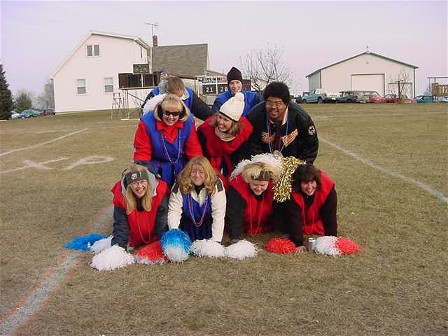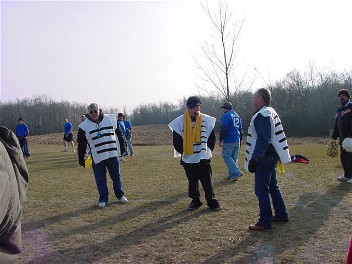 ABOUT THE OFFICIAL XPFL FIELD

LENGTH: 50 YARDS

WIDTH: 25 YARDS

GOAL POSTS: NONE

LIGHTS: NONE

PRESS BOX : 25 YARD LINE EITHER SIDE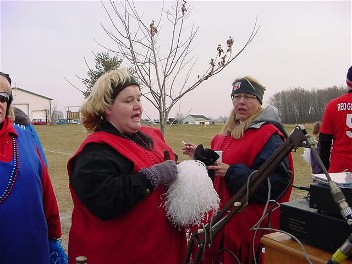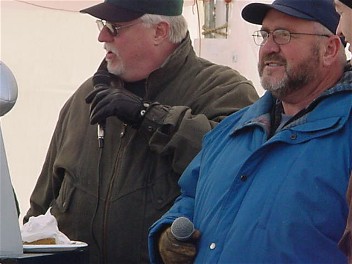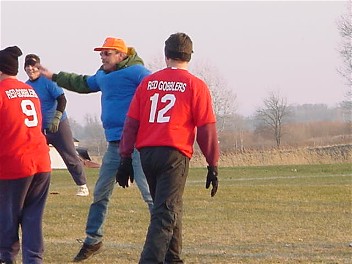 LOYAL XPFL FAN MARIE KROHN BRAVES THE COLD WEATHER TO BE AT THE TURKEY BOWL

KAT, JOANIE, AND JEANIE (THE QUEEN) SING THE NATIONAL ANTHEM

HEAD OFFICIAL EARL POQUETTE WITH BUTTERFLIES IN HIS BELLY BEFORE THE GAME STARTS

PLAY ACTION ON POQUETTE FIELD

THE CHEERLEADERS PUT ON THEIR HALF TIME SHOW

MOVE YOUR CURSER OVER THE CHEERLEADERS TO KNOCK THEM DOWN

THE OFFICIALS CONFERENCE TO DETERMINE THERE WAS NO PENELTY AND THEY PICK UP THE FLAG

DEE JOSEPHI CHECKS TO SEE IF THE BALL IS OUT OF BOUNDS

JOE SIEHR HAD THE LEADING NUMBER OF SACKS FOR THE DAY

XPFL ANNOUNCERS TIM LADE AND DAVE POQUETTE AT THE MICROPHONES

THE CHEERLEADERS GET THE HALF TIME SHOW STRAIGHT WHILE THEY BURN SMOKES BETWEEN CHEERS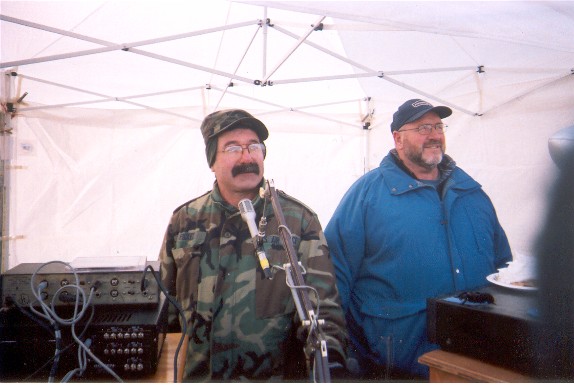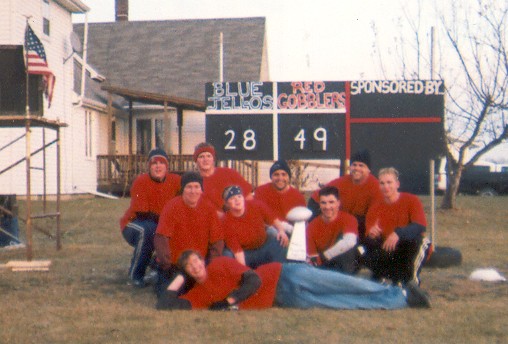 ANNOUNCERS MIKE PICKETT AND DAVE POQUETTE ARE RIVETED AT A CRITICAL PART OF THE GAME

THE WINNING TEAM POSES FOR PUBLICITY PHOTOS AFTER THE GAME