US News Headlines

Click headline to read story

Saturday July 30, 2011

Wisconsin Timber Ratlers VS Burlington Bees

Tickets $9.00 Each - Box seats section 104. Click here to view seating.
Saturday August 13, 2011

Poquette Family Golf Outing

$25 per person includes cart at The Royal Scot in New Franken

Pot luck dinner after golf at the Prevost Mansion

Click here to register for golf, or dinner, or both, or to see who's going.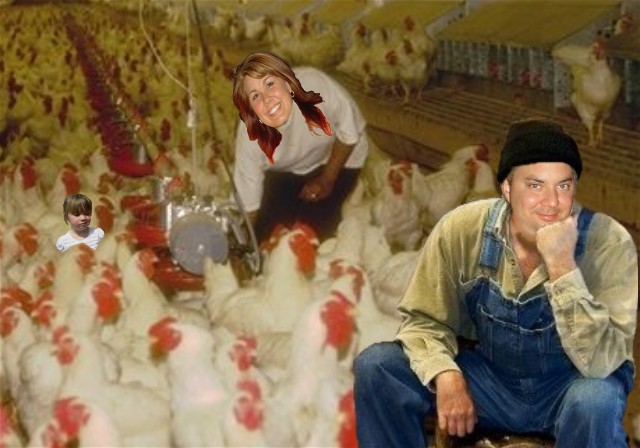 Storm razes homemade chicken coop scattering chickens over the countryside with at least 7 missing and feared dead, Richey says death toll likely to rise.

                 untie Em, Auntie Em my chickens! That's what Dorothy would have said if she was looking after the Richey's chickens in Indiana this week.

An unconfirmed tornado has ripped through the neighborhood of Chris Richey's sister where the Richeys have located their chicken operation some 20 miles from their home. The small Indiana community sustained damage to many structures and trees but worst hit was the Richey's hen house. Richey: "The chicken coop was tipped over and smashed and there was chickens everywhere." Richey believes a small tornado touched down near the coop and destroyed it then went back up in the sky after the damage was done. Richey began raising the chickens back in April as a source of food for his family and had just completed his modern day chicken coop only weeks ago as covered in the KAMR. See story
here
.
Richey devastated after seeing the damage began counting chickens to see if they were all there. In a panicked voice Richey screamed "I only count 43." Richey had 50 chickens in his coop and was shocked to see that 7 were missing. Richey: "At this time this is a search and rescue mission for any survivors that may be trapped in the debris." Richey was hoping that there may be a pocket of debris where the missing chickens are all hiding but remained realistic by saying "there's always a possibility of finding them all alive but we are prepared for the worst." Richey says that some chickens appear to be injured but does not know to what extent because as you know chickens can't talk. He fears that if the missing chickens are eventually declared dead, the death toll may rise even higher if some of the injured cluckers cash in their chips. Richey did not know how he would be able to recover from the catastrophe and had no immediate plan for such a disaster.

VANLANENS PLAN 4TH OF JULY ON THE 4TH

The annual 4th of July party that has been a staple of summer activity for decades will again occur at the Vanlanen household on the actual date of independence. Peg Vanlanen says that this years event is to be held on the 4th to avoid confusion as to when the party is held. She says that last years party date was toggled back and forth several times confusing party goers to the point where they couldn't figure out what day it was so they didn't come at all.

The usual spread will be in place and those wishing to shoot fireworks later in the evening are encouraged to bring their pyrotechnic stash along. Contact Peg Vanlanen as to what dish to bring to pass.

POQUETTE-HANSEN PLANS PARTY FOR BEN

A small but meaningful graduation party is what Ben Hansen's mother says she will give the last remaining offspring of the now broken Steve Hansen and Jean Poquette marriage.

Anya is surrounded by chickens as Aimee and Chris tend to the feeding duties in their modern day chicken coop now destroyed.

Jean Poquette-Hansen was delighted to find out that her only son would graduate from high school and promised him a party if he did so. Saturday June 18th Poquette-Hansen will make good on her promise. The party begins at 2PM at Poquette-Hansen's modest Greenleaf home, 6788 Crippen St. and will last as long as it takes to get the job done. Hansen graduated from Wrightstown one week ago and is undecided if he will further his education, continue to work at the A&W, or become a rapper. Hansen recently celebrated his 18th. birthday as well.

PREVOST PLANS GOLF OUTING

Plans are already in the works for the annual Poquette Family Golf outing to be held in August. Prevost has made the date and tee time already with the golf course and plans for the dinner and after party are in the planning stages.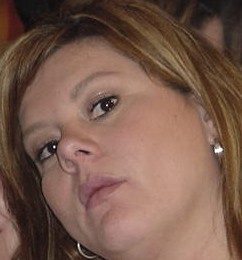 Stephonia Prevost insists that this years event will go smoother than last years where golfers were left on their own as to what game they were playing and how to score the game. Some golfers played separate conventional games while others played the combined game known as

"best ball." Prevost says that this years match will have everyone playing the best ball scenario so scores can be analyzed on a level playing field and to make the game progress faster so the course doesn't loose money like last year as cited by James Seidl

Those attending the dinner will have to either be golfers or registered ahead of time to be able to eat. Wrist bands will be issued to golfers and people who are registered and those who are not on the list will not be allowed to enter the kitchen. This is necessary according to Prevost to prevent the debacle that happened last year whereby people attended the dinner who didn't play golf or register and some golfers had to get their food at McDonalds due to shortages in the kitchen. Other changes include golfing on the back 9 which will have the crowd pass the Prevost Mansion and a change in the tee time to 1PM.

That's all the news that is news, see ya.