US News Headlines

Click headline to read story

         ean Poquette-Hansen and James Seidl will be joined in matromony on Friday October 21 at the Brown County Courthouse. The medical billing agent announce the wedding with a hastily prepared statement at The Fat Club Saturday at the KAMR headquarters. The unflowerly ceremony will be a pagan ritual and all business according to Poquette-Hansen who prolonged the engagement as long as possible citing financial reasons for the delay.

Poquette-Hansen 49 the former Queen of Chicken Night agreed to marry Seidl after he engaged over 3 years ago. (see story
here
) Seidl 38 a truck driver became friends with Poquette-Hansen after they were drinking buddies for a long time. The two never became an item until Seidl proposed they go on a camping trip together and ever since then he has had little hearts in his eyes.
The newly weds are planning a reception on Halloween weekend at a local establishment near the De Pere area however none had yet been selected at press time. That will be disclosed at a later date. Several locations had been bandied about including one known as Pakula's south of De Pere on Hwy. 57 however a short discussion it was determined the establishment was closed and out of business.  The couple plan to live in the home owned by Jean Poquette-Hansen in Greenleaf. Their children would attend Wrightstown schools only 5 miles away from Greenleaf.

That's all the news that is news, see ya.

Search this site for anthing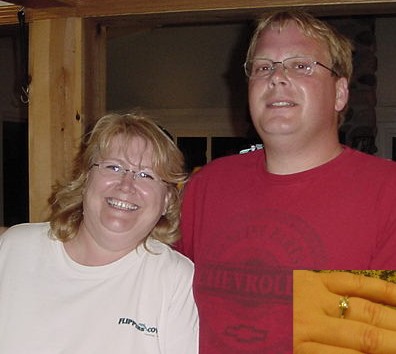 Jean Hansen and James Seidl beaming as they announce their engagement three years ago.