US News Headlines

Click headline to read story

SOBIECK ACCEPTS JOB AT MENARDS

Search this site for anything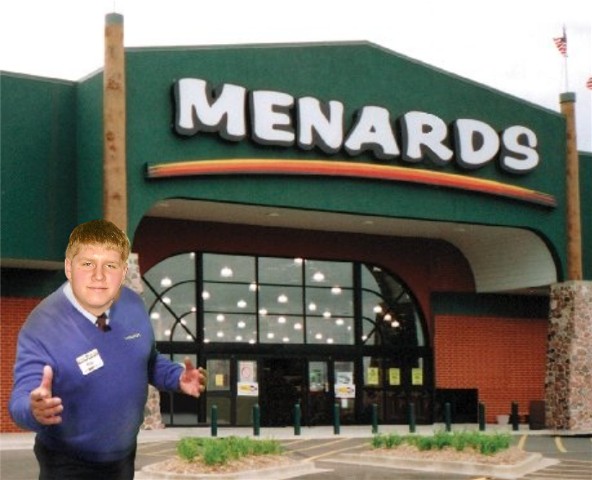 hoppers, visitors, and gawkers were treated to a special appearance by a new employee at the Menards Superstore which opened this week in West De Pere's popular market district next to the upscale De Pere Wal Mart.

Sobieck began his retail career at Stein's Garden and gifts and was immediately held in high regard by staff and customers, and management, for a while that is. Sobieck left the plant and outdoor trinket dealer under a cloud of suspicion after being implicated in a plot to defecate in the plastic flowers and greens within the store. Unnamed sources say that he was the main defector.  (Click
here
for story) Sobieck had been known in the past to be fixated with his own feces taking photographs of memorable movements he had created. Therefore it was no surprise to hear what had happened at the plant retailer concerning Sobieck's being sacked although he vehemently deny's any involvement in the defecation plot to this day.
While he had many duties in those days, such as head of The Oneida Posse as well as his racing commitment at the Seymour Speedway, Sobieck was employed by Hydroseeding of Wisconsin. He earned income until his turn came up to take classes at Northeast Wisconsin Technical College in the field of electricity distribution. Sobieck had planned to work for the Wisconsin Public Service Corporation however cutbacks in it's workforce left little hope to be hired on as a lineman soon. 

Logan Sobieck poses for a photo before the grand store opening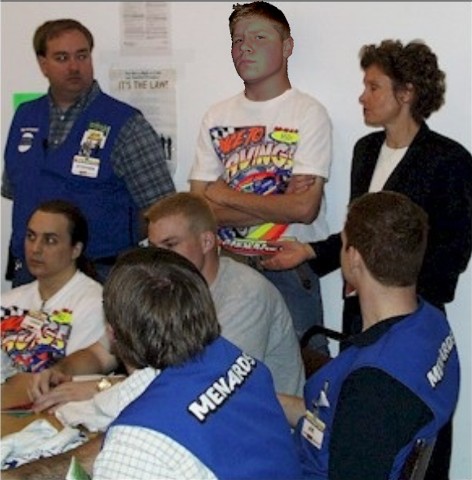 Logan Sobieck the "new guy" at a Menard's staff meeting

With no work available in the electrical distribution field Sobieck was forced to look for work in the retail sector. He did find work at Menard's Lumber and immediately won the hearts of those in control of the multi million dollar retailer. Sobieck was thrust out front of the store to welcome new guests to the facility as a good will ambassador because of his good looks and positive attitude. (See photo above)

It is not known how long Sobieck will remain at the retailer but it was noted that the first week of his employment was considered to be a roaring success because he almost hit his monthly sales mark by selling over $4, 000 worth of material.

While Sobieck has already passed all of his courses, he still needs to receive his diploma. His graduation is scheduled for March 9th but he says he will not be attending but would rather return to the De Pere Menards and work on keeping his aisles neat and organized.

KAT SETS DATE FOR "INDIAN TACO NIGHT"

Just as Native Americans feasted 200 years ago on fry bread and taco meat slathered in sour cream so again the tradition will continue at the KAMR headquarters on March 9. The Kat has planned an "Indian Taco Night" for that evening at our modest rural Town of Oneida home. Regular fat club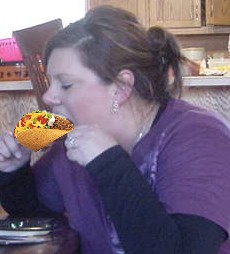 Typical Native American eating a taco

members, their spousal units and other family members are invited to partake in delicious taco ingredients wrapped in a traditional fry bread exterior. The delicacy was invented by Mexicans and  Native Americans over 200 years ago and was thought to be on the "table of plenty" at the

first thanksgiving. Since that time Indians as well as palefaces have been consuming the food developed from the melding of the American Indian and Mexican cultures.

That's all the news that is news, see ya.