news from oneida-news from oneida-news from oneida-news from oneida

  NOVEMBER 22   2001     2  PM POQUETTE FIELD

August 5, 2001

Oneida WI. - XPFL PLAYERS HOLDING UP WELL IN THE HEAT While people are passing out and passing away from the heat in the NFL practice sessions the XPFL is happy to report that no one is at risk of heat stroke during practice due to the fact that no practices are held in the hot weather. Actually no practices are held at all during the summer, so XPFL players are not at risk from the heat.

    On August 1 Alex moved into his new home on the east side of Green Bay. His apartment is within sight of the WNFL towers and just off of Bellevue Street. Part of the moving procedure included moving a female occupant out of the apartment to make room for Alex. I was told she was moving to East DePere when actually she returned to her parents home near Greenleaf. As I approached the home in my truck I realized that this girl was the daughter of someone I worked with at Agrilink, now a former employee, but both of us surprised to see each other in the middle of the moving mess.

    If your within the broadcast circle of channel 38 WPNE television you may have noticed that the signal is some what weakened, that's because they are operating at 25% power and a reduced antenna height of only about half of what they had before. The signal strength has been reduced considerably, but this is only a temporary situation and they will return to full power soon when a new antenna is mounted on top of the tower which will accommodate the analog and the digital signals of channel 2 and channel 38. When all is said and done the tower which is owned by WBAY will have four high power television signals radiating from a single antenna system atop of the present tower structure. By the end of 2002 all television stations are required to have a second signal on the air on the UHF band broadcasting a digital video format. By the year 2007 the television receiver as we know it today well be obsolete as all the analog signals will be pulled off the air.

    In order to finance our office on Mars when our man in space gets there, we have acquired some Martian money.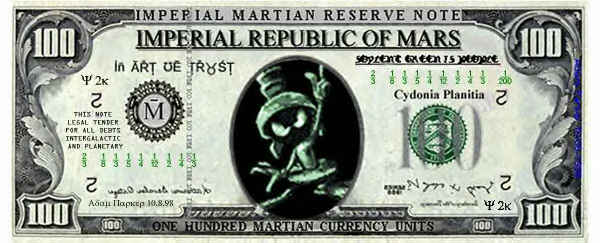 MARTIAN MONEY SECRETLY AQUIRED TO SPEND ON MARTIAN OFFICE EQUIPMENT

As you can see the money is not much different then our money in the United States, with the exception of the photo in the middle.

    Stephanie and Rick Prevost will be hosting a house warming party on August 25th. at their palatial mansion, the party will start at 2PM and will go until ??who knows, they have never been known to turn away strangers or friends. I will have more information about it as the date draws near, like directions, an address, and what to bring.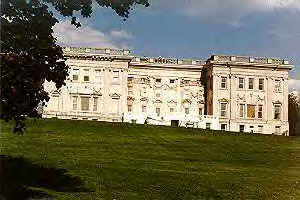 RICK AND STEPHANIE PLANNING A SUMMER COTILLION AT THEIR PALACIAL NEW FRANKEN MANSION

    There's a new birthday page and a note about cheerleader practice on the XPFL page so check it out. If you know someone's birthday and have a photo, you can still get it in the August birthday corner. That's it for now, see ya.

A little more about Rick, apparently he is somewhat of a local celeb around these parts since he posed for an ad in a local flier circulated in the papers for a department store special on clothes. He has been sought after by throngs of women since his image has appeared in the ad. Stephanie has had to keep him

August 12, 2001

Oneida WI. -  TURKEY BOWL TO BE BROADCAST ON INTERNET  One of my friends from work and a former broadcast engineer in California is going to begin radio broadcasting on the Internet. Hans Geisholt says that he is unhappy with what is being broadcast now on the Internet and he wants to begin broadcasting his own programming. When I mentioned to him about doing a remote from the Turkey Bowl and broadcasting the game live he was all for it. Of course we will have to borrow a phone line from Dick or Trixie's house but once we are hooked up and have live audio from my console to Hans' house we are in business. Hans has set his goal to be on the air by Thanksgiving so that TB01 will be on the air.

    Justin Sobieck now has a steady main squeeze which is no surprise, Justin being the handsome young dude he is. Her name is Janel and she is very cute herself and smart as well. They make a handsome couple, and for

Justin I think this was a wise choice to begin his harem with. You know start with local girls then spread out to neighboring communities later. Although if she wants to be a Turkey Bowl cheerleader she will

have to put some meat on those bones, she is much too flimsy for the XPFL.

JANELL SHOWS OFF HER FLIMSY LEGS

    The Queen of Chicken Night has disgraced the monarchy by being late and somewhat tipsy when she showed up for Chicken Night last Friday at Cliff and Ceils. Falling back into the same lifestyle she was in last year when the peasantry became displeased with her, Princess Jean Poquette Hansen strolled in on the closing moments of Chicken night, sporting her C.N. Queen Crown dangling from her messed hair. More obvious to her subjects then to her was the fact that she was plastered, and out of control. Once again there were rumblings of a new Queen, a Queen who the subjects of the land of chicken could embrace without embarrassment as their ruler.

    The lovely but extremely difficult to understand Marge Wenzel stayed at our house this past week while Zues went to the Sturges Bike Rally. Upon her arrival it seemed novel to have her here, maybe even enchanting as I have never had a daughter myself. Now I grow fatigued with the whole Idea, as she spends all of her time either on the computer, talking on the phone, or listening to goat roping music.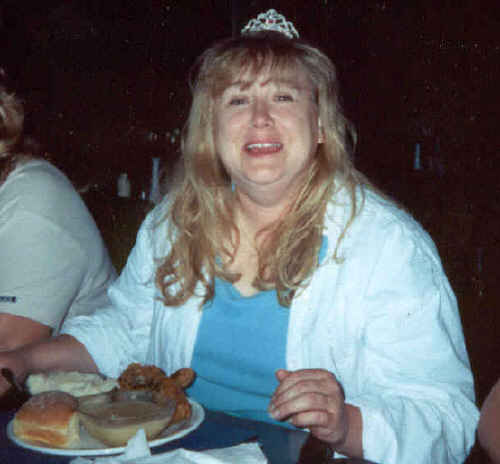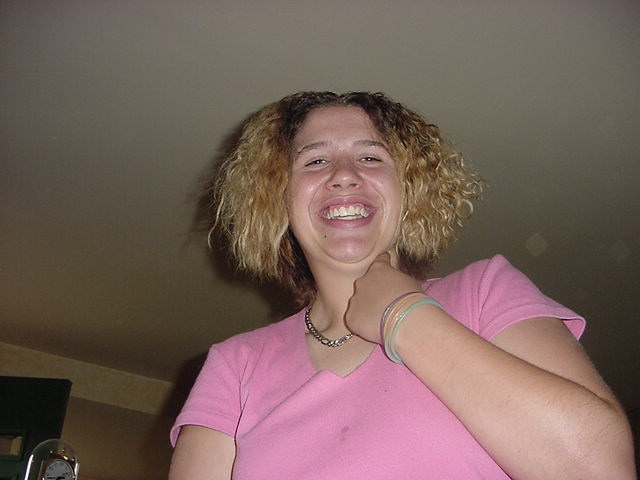 THE LOVELY AND BUT SOMEWHAT SCARY

MARGE WENZEL

QUEEN JEAN POQUETTE HANSEN SHOWS UP AT CHICKEN NIGHT NOT QUITE AS REGAL AS A QUEEN SHOULD BE

    Bunky and Peggy have announced that they will wed next June. They have been together for about a year and a half but they have taken a little break from each other last year. I have not talked to Lance but I'm sure he's probably as excited about it as we are here, as he's been talking for months about getting a brother or sister.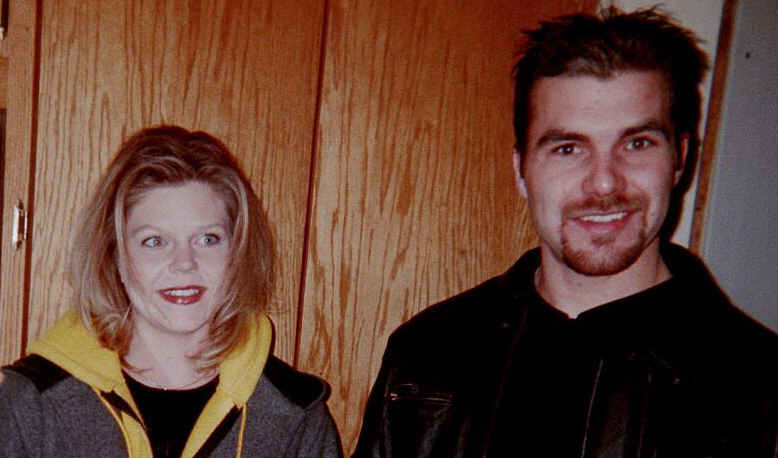 WEDDING BELLS ARE PLANNED FOR JUNE FOR PEGGY AND BUNKY

The way I figure it if they are so stuck on each other, then they might as well get married and take advantage of those tax breaks for married couples the Republicans enacted. You hardly get any tax breaks at all if your single, and they can both use them. Check out the new photos on the party page from rockfest. That's it for now see ya.

IT WAS THE FIRST CHICKEN NIGHT FOR MARGE, SURROUNDED BY HER AUNTS, UNCLES, AND COUSINS

August 19, 2001

Oneida WI. - SHELLY (VANLANEN) SOBIECK IMPREGNATED, OFFSPRING DUE IN APRIL

    Joel Sobieck who was wed to the lovely and hard working Shelly VanLanen in May of this year has succeeded in planting his seed and will see the result of his hard work in April.

    Jessie Poquette has landed a job as an office manager, and I'm sure that her new stern look with her shortened eye brows had a lot to do with it.

    Bunky and Peggy are looking for corporate sponsors to finance their wedding if possible. They are looking for business' to provide sponsorship for certain aspects of the wedding by purchasing the amenities and having their corporate name or local business name on the item. Some examples could be a Bridgestone Firestone Cake, in the shape of a tire, the wording could read something like this: Congratulations from Bridgestone Firestone we hope you never "tire" of each other. Another avenue that is open is in the formal attire dept. where the wedding dress could have the name of the establishment stenciled on the back of the dress (not in real large letters though) and the same could be done for the tuxes. It could be sewn into letters like, you know, a bowling shirt, which would be a lot more classy then paint. I'm sure once local merchants see this article in THE KAT AND MICK REPORT their phones will be ringing off the wall.

    It appears that Dave has gotten tired of the bright lights of Las Vegas and has moved, or is in the process even as this report is published, to Clarksville Tennessee. This spot is closer to his family then Las Vegas, and Lettica has a terminal there. I have checked and there is no Amtrak service there, so you will not be able to take the last train to Clarksville because you have missed it by about 25 years. I do not know what kind of domicile he will chose to live in, or how big it is, or even if he can put up guests. One thing is for sure though, if you go to visit Dave there will be no more gambling.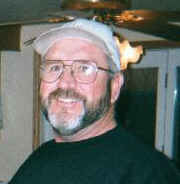 A recent break in at his home in Las Vegas was one of the reasons that he decided to move to Clarksville. As far as he could tell there was nothing taken but the place was all messed up and his personnel space was violated. I hope we are able to see Dave more that he is moving closer to good old Wisconsin.

DAVE HAS MOVED TO CLARKSVILLE TENN.

    Justin Sobieck is changing professions and will now become a plumber, as you remember he was in training to become a wood butcher but he has now quit at Valley Cabinet and has taken a position with Nies Plumbing. A plumber is not to be confused with a pipefitter for as you know a plumber puts his face where a pipefitter puts his ass. Good luck Justin in your new endeavor.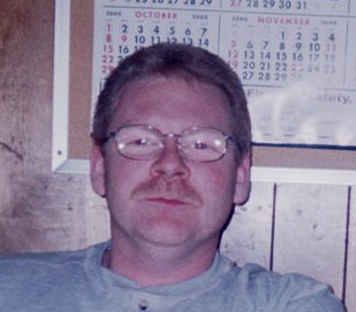 Kevin young will be starting in maintenance at Agrilink Foods this week. In case you don't remember that is the same place of employment as the writer. He is leaving the Cruisers boat factory in Oconto after acting on information that the plant would be closing later this year. Welcome aboard Kevin.

KEVIN YOUNG STARTS A NEW CAREER THIS WEEK

    Don't forget about the party at Rick and Stephanie's this coming weekend on Saturday. She will call the people that are supposed to bring items for the party so don't just go running over there with a lot of stuff as Stephanie assures me that unsolicited items will be thrown on to the sand traps of the golf course next door.

    Sorry for the delay on getting this weeks edition of the newsletter out. I was working at a silo fire at the Larrand Dairy late into Saturday night and was unable to publish until late Sunday morning. My apologies to those of you who get up early Sunday to read the news.

    For those of you that are keeping up with the Chandra Levy and Gary Condit situation there's a website you might be interested in and it's not pro Condit. It's at
www.condidit.com
  click it if you want to see more about Gary Condit, and if your sick of the whole thing leave it alone. That's it for now, see ya.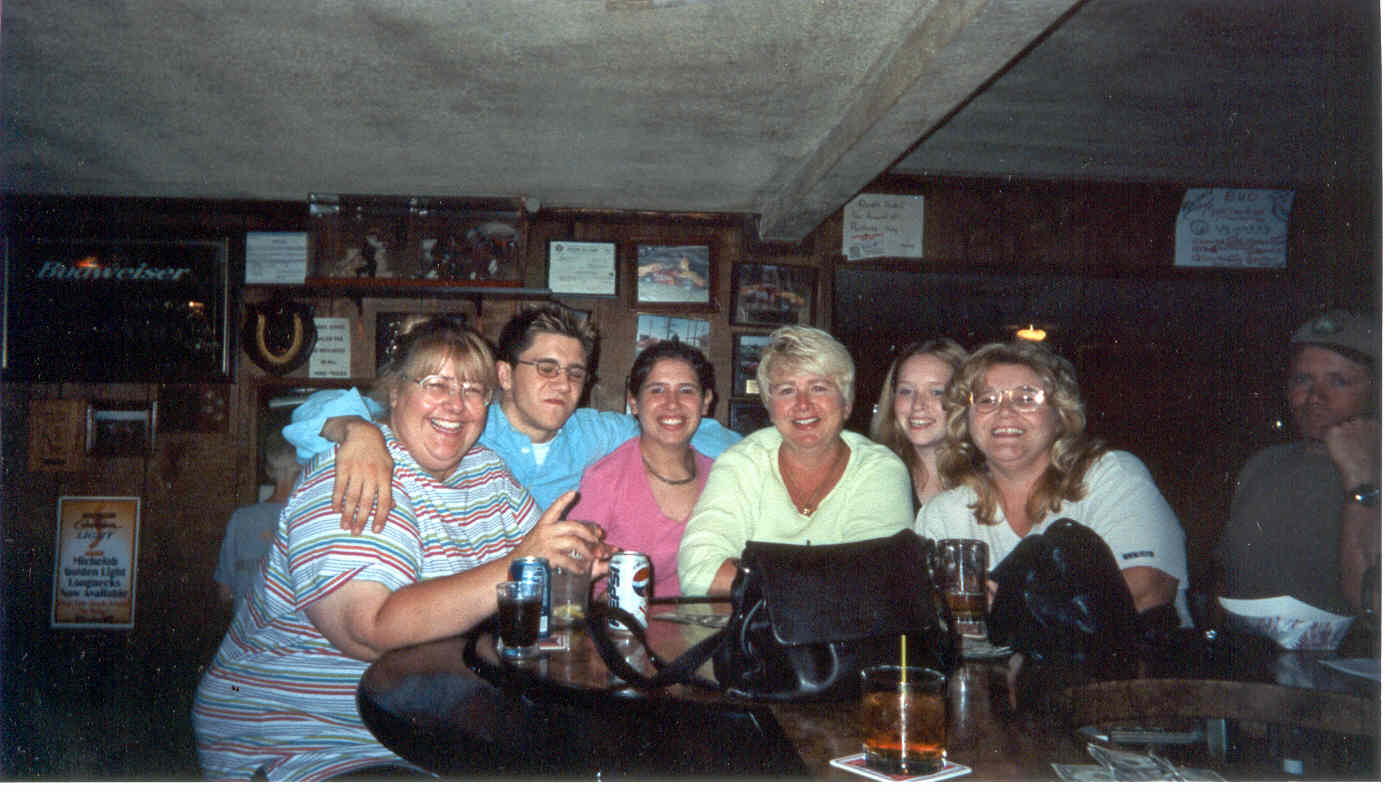 August 26, 2001

Oneida WI. - STEPHANIE AND RICKS PARTY A SUCCESS EVEN WHEN RAINING CATS AND DOGS

There was a huge turnout at the party held in New Franken on Saturday, even though the weather didn't cooperate as well as it could have. With all the people unable to go outside, the Prevost Mansion comfortably housed the hundreds of party goers inside. During a small break in the weather a number of guests were entertained by the children hijacking an abandoned golf cart at the Prevost Golf Course adjoining Prevost Mansion.

    Friday night was the first Chicken Night for Zues and also was the birthday celebration for Chicken Night Princess, Ashley Hansen.


WITH THE QUEEN AT HER SIDE, ZUES EXPERIENCES THE JOY OF CHICKEN NIGHT WITH HER FAMILY

With the attendance tying the record of twenty people attending Trixie's birthday party, people laughed and joked and made Zues feel like a welcome member to the Chicken Night Clan.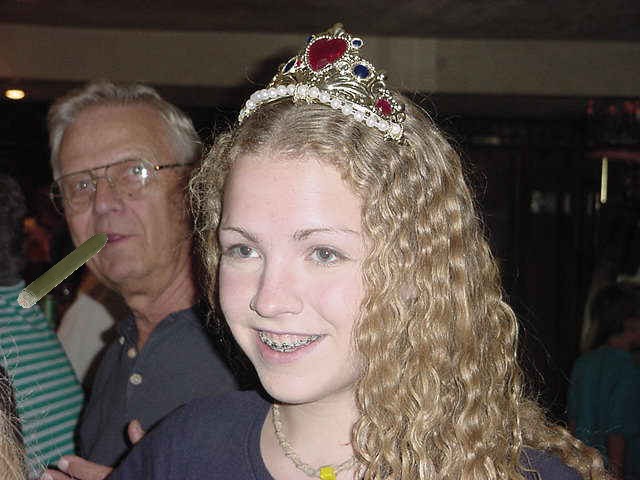 Princess Ashley who was wondering what it's like to reign over Chicken Night was allowed to wear the Chicken Night Jewels for one minute while Queen Jean Poquette Hansen looked on. Queen Jean looked pleased, and took comfort in knowing that her daughter will carry on the long and honorable tradition.

PRINCESS ASHLEY'S GREATEST BIRTHDAY PRESENT, ALLOWED TO WEAR THE CN JEWELS 1 MINUTE

Peter has finished moving into his new (or new to him at least) house in Clarksville and it looks like a very nice structure.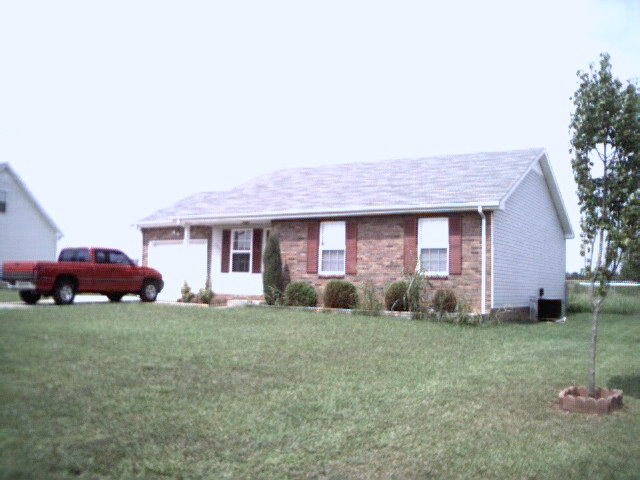 I would assume that there is plenty of room for guests and the like. But the chatter around here is that he moved to Clarksville because of a women. The "Fat Club", the same fat club that

Peter is the exhaled ruler of, has had a lot of talk and speculation lately that Peter has moved to please the wishes of a female acquaintance. He has not spoken of this during any live conversation or through e-mail and the writer thinks that Peter would not move on a whim for the wishes of some women.

PETERS CLARKSVILLE DOMICILE

    Dick and Colleen will be hosting the Labor Day party / cheerleader practice at their Hobart homestead. As you remember the party was scheduled for here but recent developments deemed that unworkable. Colleen will supply all the meat and buns everyone else is to bring the side dishes, desert, etc. I would also assume that any beverages you would want should also be brought along. Perhaps some people can double up on items and just bring large quantities of one thing, one person bring chips, one bring pop, etc.

    The date for the Halloween party has been set and it will be Saturday Oct. 27th. at Dick and Colleens house again which will be nice in their large garage. Start thinking of a costume! That's it for now see ya.